'Tis the Season for Christmas Macarons
Christmas is the best time of the year to be baking macarons as gifts and party favours. Imagine just how much your loved ones will appreciate the time and effort you spent creating such cute creations for them. In addition, the "WOW" factor of receiving these beautiful French pastries just can't be beat. This is especially true when you take the time to pipe them into cute characters. But even if you decide to pipe them into the traditional round shape, filling them with a boozy Baileys Irish Cream filling will be sure to please during the cold winter season. Here is my ultimate guide to making Christmas macarons complete with my Best Macaron Recipe, Christmas macaron templates, homemade macaron boxes and a list on where to buy the proper supplies.
I hope you enjoy it and good luck with your holiday baking this winter season.
XOXO,
Mimi
Winter Macaron Recipe Flavours
Below are a few macaron fillings that are perfect for the holiday season.
Gingerbread Baileys Chocolate Macarons
Biting into this macaron is like biting into a miniature chocolate liqueur bottle. The chocolate filling is liken to a boozy Frappuccino sandwiched in between two macaron shells that are infused with gingerbread spices.
Baileys Irish Cream Gingerbread Macarons
A bit creamier than the former and without the chocolate, it allows more of the Irish whiskey, chocolate and coffee flavours to come through.
Candy Cane Peppermint Macarons
A cool peppermint candy cane flavour is a must for the holiday season and this one is very easy to execute. If you're new to making macarons, this is one recipe which you should take a look at first.
Other Winter Macaron Flavour Ideas by Other Bakers
Hot Chocolate Macarons by Goodie Godmother
Eggnog Macarons by Gunny Sack
Cranberry & White Chocolate Macarons by Hint of Vanilla
Salted Caramel Ginger Macarons by Baked by an Introvert
Christmas Macaron Inspiration and FREE Templates for Newsletter Subscribers
Here are some Christmas macaron inspiration for you. All of these projects have an accompanying macaron template which you can download and use to pipe with. They are available exclusively for Newsletter Subscribers. Just sign up for the newsletter and wait for the double opt-in confirmation email. Confirm your subscription and you'll be sent the password to the Subscriber's Only Area.
All the different Christmas macaron designs build upon the techniques that are discussed in this first foundation tutorial. Take a look at it first if you are unfamiliar with making macaron art.
Bear in Ugly Christmas Sweaters
Full tutorial on how to make Christmas Macaron Art. Read this post first if you don't know how to make macaron art.
Bear on Christmas Tree Macarons
Piping order:
Pipe tree with green batter.
Add confetti sprinkles onto the tree before it fully dries. Let a light skin develop before moving onto next part.
Pipe bear head with brown batter.
Pipe tree stump with brown batter.
Once a light skin develops on the bear head, pipe snout, ears and paws in that order.
Once the macaron art develops a thick strong skin, bake and let cool.
Once baked and completely cooled, draw in eyes and nose with edible pen.
Bear with Winter Cap Macarons
Piping order:
Pipe the bear's face with brown macaron matter. Wait until a thin skin develops.
Pipe the bear's ears. Wait until a thin skin develops.
Pipe the bear's cap with red macaron batter.
Carefully add a round green sprinkle on the top of the hat in the center.
Lightly sprinkle white nonpareil sprinkle onto the cap.
Add snout on the bear's face.
Add a row of red batter underneath the cap for the visor.
Once the macaron art develops a thick strong skin, bake and let cool.
Use edible pen to draw in nose and eyes.
Christmas Bears Hanging Onto Candy Canes
Piping order:
Pipe the candy cane with red macaron batter.
Add a thin white stripe on the candy cane with white batter.
Gently add the Christmas sprinkles onto the candy cane.
Pipe the bears head with brown batter.
Gently add the holly sprinkle onto the side of the bear's head.
Pipe the bears snout with the white batter.
Once a thin skin develops on the bears head, pipe the bear's ear and paws.
Once the macaron art develops a thick strong skin, bake and let cool.
Use an edible pen to draw in the eyes, nose and mouth.
Winter Holiday Puppy Dog Macaron Pops
Piping order:
Pipe dog's face with brown batter.
Gently add holly sprinkles to the side of the dog's face.
Once a thin skin develops on the face, pipe the dog's ears and feet.
Pipe the nose and eyes with black batter.
Once the macaron art develops a thick strong skin, bake and let cool.
Use some edible glue/royal icing to add pink confetti sprinkles onto the face for rosy cheeks. (Recipe for royal icing here.)
Draw in the mouth with edible pen.
Pipe a dollop of filling on the center of the shells, add lollipop stick, assemble 2 shells together.
Let set in fridge before packaging.
Multi-color Christmas Macarons 
Full tutorial for these tri-color macarons here.
Various Designs Using Simple Bear Template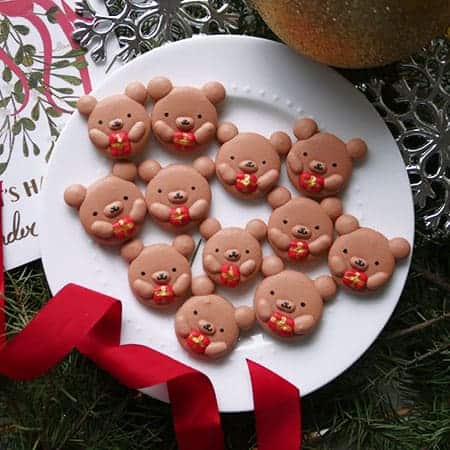 Gingerbread Men Macarons
These gingerbread men macarons are decorated with Bailey's royal icing and gold and silver flakes. You can also make the gingerbread men and allow your children to decorate them with cute faces and maybe some clothing for the gingerbread men.
Full tutorial for Gingerbread Men Macarons here.
Dacshund Puppy Macarons
Everyone loves a sweet puppy dog and these sweet dacshunds are wrapped in ugly Christmas sweaters! Full tutorial on Dacshund Puppy Dog Macarons here.
Gingerbread House Macaron
Gift Box for Packaging Christmas Macarons
Once you're done with piping your macaron art and filling them, you'll also want to package them beautifully so they have a certain "WOW" factor when you present them to the receiver. Here is a tutorial that will teach you how to make this flat box which has a window for visibility and is shallow enough to show off the beautiful macaron art inside.
Full tutorial on DIY Macaron Gift Box here.
Shopping List for Xmas Macarons
Disclosure: affiliate links
Special Recent Posts