What's the difference between French vs. Italian macarons? It's all in the meringue! Did you know there's a Swiss meringue macaron too?
There are actually 2 main methods of making macarons - the Italian method and the French method (the third method is the Swiss which is not as popular).
Both methods yield essentially the same yummy and gorgeous looking concoction that most people will recognize as a macaron. However, there are a few subtle differences in the shape and taste between the two types. For the consumer, both types are equally delicious, where it really matters is which method you prefer and is able to master as a baker.
Techniques:
The name for the two different methods is derived from the meringue it utilizes - French or Italian. As you may know already, the making of a French meringue involves whipping uncooked egg whites and sugar to create a fluffy and airy base for your dessert. In contrast, the Italian method involves heating up the sugar with water making it into a syrup that is poured into the uncooked egg whites while beating it simultaneously. It is a little trickier to do and also requires a stand mixer. That's why some people think that the French method is simpler and can actually be considered a more "kid-friendly" recipe.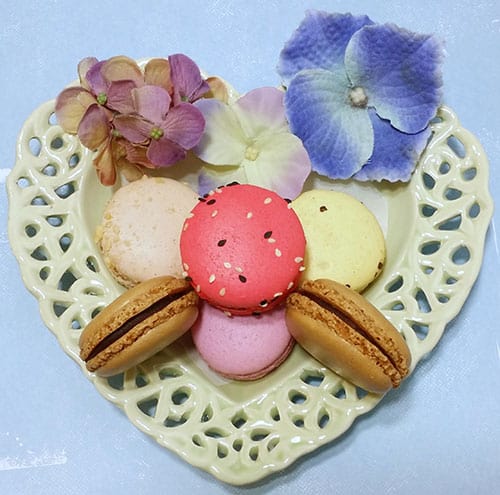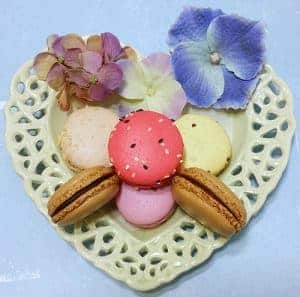 Stability
Even though the Italian Method may be more complicated with more steps, it actually produces a meringue that is very stable to use during the tricky 'macaronage' stage when the dry and wet ingredients are incorporated together. Conversely, the French Meringue may be easier to master but it the macaronage stage is relatively more difficult because the meringue is so delicate. With the French meringue, it's very easy to over mix the batter leading to less than desired results. The Italian method is the more popular method used in most bakeries due to its stability and visual appeal.
LADUREE VS. PIERRE HERME
The two main undisputed authorities on French macarons are the famed bakeries of Laduree and Pierre Herme. In Laduree's Macaron Book, the French method is used. Whereas, Pierre Herme uses the Italian method. (I'm talking purely talking about the baking method provided in their book and not the method used in the stores.)
Appearance
In the Italian method, the cookies usually exhibit a more vertical rise whereas the French ones remains more like a flat disk. The baking temperature and the French meringue itself can affects the feet's development causing their appearance to be more "ruffly" with bigger air pockets in the feet. In contrast, the feet to Italian macarons are usually more vertical and cleaner with delicate air pockets.
Taste
Besides the visual differences, Italian method macarons tend to be more crumbly/powdery while the French method macarons are less sweet, chewier and tastes more like almonds due to the lower ratio of sugar to almonds.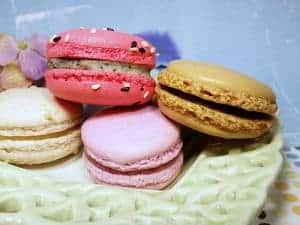 "Which method is better?"
This is purely a personal preference. When I started baking macarons, I really liked the Italian method for its stability and effectiveness but over time, I grew to LOVE the french method since it involved less steps and is generally just easier once you get the hang of it. Also, the chewier texture of the shell is heavenly and allowed the macarons to stay fresh longer and transport more readily.

Which method do you prefer?

XOXO,
Mimi