Pumpkin spice cheesecake macarons with extra flavorful shells infused with holiday spices. Filled with a ring of smooth pumpkin cheesecake buttercream and a dollop of pumpkin spice curd - a classic fall flavor re-imagined in macaron form.
This year I was actually inspired to get on this Fall bandwagon a bit early. Maybe it's that ever impatient push in our commercialized world to have Halloween themed products out on the shelves before summer BBQ equipment is even put away that had me thinking about pumpkin spice since late August.
How to Make a Sturdy Pumpkin Cheesecake Macaron Filling
I decided early that this year's fall project would be a recipe for a Pumpkin Spice Cheesecake Macaron. Sure, there were a few other recipes out there already with variations of pumpkin, spice and or cheesecake but I wanted to create one that didn't involve mixing cream cheese with powdered sugar (too sweet).
For this recipe, I've infused the shells with pumpkin spice to give it that extra flavor. Then I followed up with a cheesecake filling with a meringue buttercream instead of American buttercream which contains powdered sugar. A ring of this cheesecake frosting is piped on the outside to create a dam and the inside is filled with a dollop of pumpkin spice curd. This combo is structurally sturdy and tastes delicious!
Ingredients & Substitutions
Almond flour - I prefer to make my own almond flour via this tutorial but many bakers have used this brand successfully.
Icing sugar - also referred to as powdered sugar by some. Note: icing sugar in North America usually contains corn starch as an anti-caking agent.
Aged egg whites for the macaron shells - measure it before aging.
Castor sugar - Castor sugar is an extra fine granulated sugar also known as berry sugar. Castor sugar is easily dissolved, making it preferable for meringues. It can be substituted with granulated sugar.
Ground Cinnamon - Try to get cinnamon and at least one other of the spices, then substitute the remaining missing spices with what you have. Use a mixture for a more multi-dimensional flavor.
Cream of tartar – its used to stabilize the meringue and usually found by the spices in the baking aisle. It can be substituted with lemon juice or vinegar in double the amount. Or left out completely if you cannot find it.
Cream cheese - use block cream cheese as the tub versions are too soft for this filling.
Egg whites for the buttercream - make sure this is separated carefully in a clean bowl, taking care not to get any yolks inside. It's hard to whip up egg whites that are compromised with fat or oils.
Granulated sugar
Butter - it should be at room temperature. It will clump up and not incorporate into the meringue if it's too cold.
100% pumpkin puree - a simple can of store- bought pumpkin puree was used in this recipe. There's a lot of discussion that the pumpkin puree found in canned pumpkins isn't really pumpkins but different types of squash. This is because of the looser restrictions allowed on labelling this product, read more here. If you're a stickler for using real pumpkins, try making your own.
1 egg for the puree
Butter - for the puree
How to Fix a Curdled Cream Cheese Frosting

One of the challenges of working with cream cheese is that it can separate if over beaten. You'll see that the mixture will become curdled, sweaty and very lumpy. One of the extra steps taken to combat this is to cream and soften the cream cheese ahead of time so that it can be easily incorporated into the buttercream without the need for much more beating.

Now let's just say, despite all your best efforts to prevent the cream cheese frosting from separating, it does. You'll see that the mixture will become broken, sweaty and lumpy. Normally, a broken looking buttercream can usually come back together after beating some more. With the addition of the cream cheese, this doesn't happen. The water separates from the cream cheese and the more you beat it, the worse it gets. Don't throw the mixture away in frustration. I know, it will look so ugly that you might be tempted to.
To fix it, boil a pot of water and once it comes to a boil, hold the mixture (in a heat-proof boil) over the boiling water and let it heat up. Stir it gently to keep it moving. Once it has melted to an almost smooth consistency, immediately remove it off the heat. Let it cool to room temperature. ( I like to put it in the fridge for a few minutes to speed it up.) Beat it on low speed with the paddle attachment on a stand mixer. Now watch as it slowly and miraculously turns from a runny mixture into a thick and fluffy cream cheese frosting!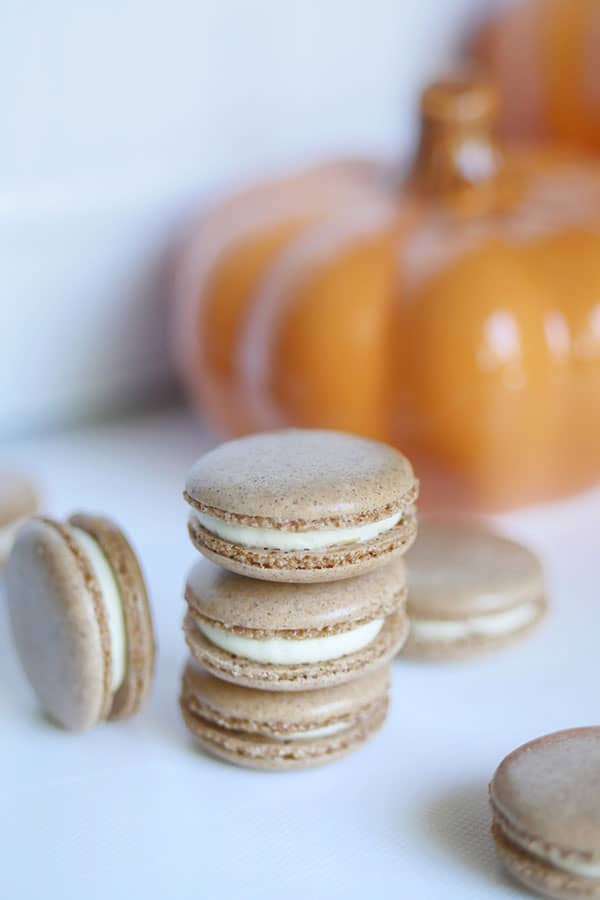 I hope you enjoyed reading a little bit of the thought and journey that went into creating this recipe. Recipe development for me takes days and multiple test batches because I like to work from scratch, I'm always excited to share the end result with all of you. Print out this recipe, try your hand at it and let me know how it goes.

Thanks so much for reading. If you need another idea for Fall, try my super fluffy Japanese Carrot Spice Cake Roll. Oh, I've also included a special pumpkin macaron template for you all to download too. See below.

XOXO,
Mimi
Pumpkin Macaron Template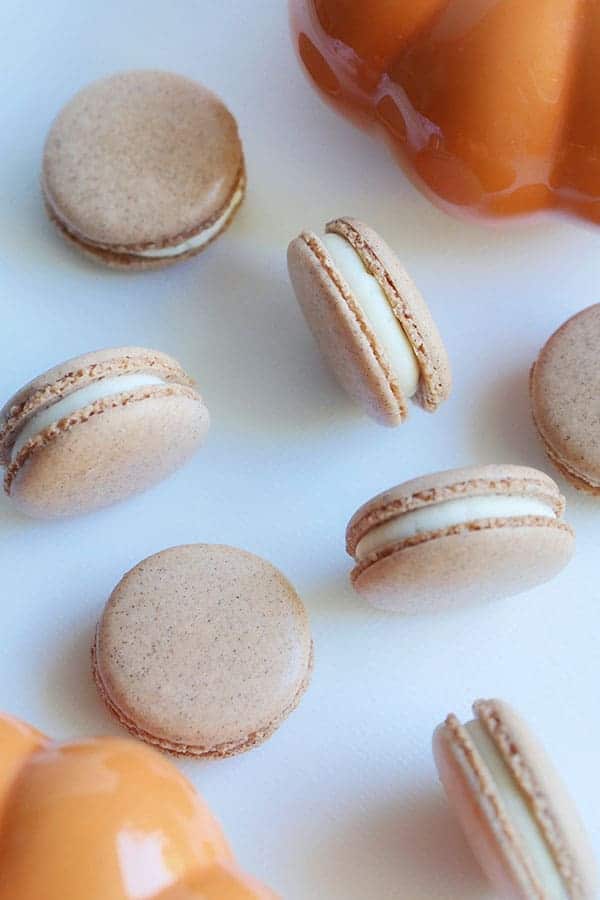 Recipe
Yield: 24 macarons
Pumpkin Spice Cheesecake Macarons
Pumpkin spice cheesecake macarons with spice infused shells that make it extra flavorful. In the middle is a smooth pumpkin cheesecake filling - a classic fall flavor re-imagined in macaron form.
Prep Time
1 hour
18 minutes
Ingredients
Pumpkin Spice Macaron Shells
130 grams almond flour
130 grams icing sugar
100 grams egg whites
90 grams castor sugar* see note
2 teaspoon ground cinnamon
½ teaspoon ground nutmeg
½ teaspoon ground ginger (powder)
¼ teaspoon ground cloves
¼ teaspoon cream of tartar
Cheesecake Frosting
40 grams cream cheese* see note
65 grams egg whites
130 grams granulated sugar
195 grams butter at room temperature
Pumpkin Spice Filling
½ cup 100% pumpkin puree* see note
1 egg
50 grams granulated sugar
45 grams butter
½ tsp. grated ginger root
¼ tsp. ground cinnamon
¼ tsp. ground nutmeg
⅛ tsp. ground cloves
Instructions
Pumpkin Spice Macaron Shells

Print out the big macaron template provided in post.
Set aged egg whites out at room temperature.
Pulse spices (cinnamon, ginger, nutmeg, cloves) with the almond flour and icing sugar together in a food processor.
Sift dry ingredients. Discard big pieces of almond that can't be sifted.
IF YOU ARE NEW TO MAKING MACARONS, please read the instructions to my BEST MACARON RECIPE before attempting to follow the rest of the instructions since it is condensed for the advanced macaron baker
With the balloon whisk attached, whip the room temperature egg whites on low-medium speed.
Add cream of tartar when it becomes foamy.
Turn up the speed to medium.
Once the whisk starts to leave tracks in the egg whites, add sugar a little at a time.
Turn the speed up to medium-high and whip until firm peaks, stop mixer and
add gel food color if desired. Continue whipping on medium-high until
stiff peaks.
Fold the dry mix and meringue together until the batter becomes a "lava" or honey-like consistency.
Transfer batter into a piping bag fitted with a #6 round piping tip.
On parchment paper or silicone mats, pipe the big macaron cake shape.
Rap the tray hard on the counter to remove any excess air bubbles. Use a toothpick to pop any remaining bubbles.
Wait until the shells become completely dry before baking. Depending on the humidity, this can be between 30 min. to an hour.
Bake at 325F for 25-35 minutes. Every oven is different, you may need to adjust your own temperature settings. Please read How to Use Your Home Oven Properly for Baking Macarons if you are unsure.
Macarons are done when the foot doesn't push back and the tops don't move when you wiggle it.
Once baked, let cool completely before removing from the baking mat/parchment paper.

Instructions for Cheesecake Frosting

Set butter and cream cheese out at room temperature.

Beat the softened cream cheese until creamy. Do NOT over beat since it can cause the water to separate out from the cheese.

Bring a small pot of water to a boil.

Place egg whites and sugar into a heat proof bowl. Stainless steel is light and safe.

Whisk the whites & sugar mix over the boiling water.

Pay attention to whisking the mixture when it starts getting hot, you don't want to cook the eggs.

Whisk the mixture until the temperature reaches 160F. This temperature is generally accepted to be able to kill salmonella in eggs.

Pour the mixture into the Kitchenaid mixer and whisk on low with the balloon whisk, then turn it up to medium.

Once the mixture is stiff and the bottom of the bowl is cool to the touch, stop mixer. Change the whisk attachment to the paddle attachment.

Add the room temperature butter a little bit at a time while beating with the paddle attachment at medium speed.

The mixture might look curdled or separated for a while but keep mixing. It will all come together.

Keep 100 grams of the buttercream for use in our current recipe. Freeze the rest of the buttercream for use at a later date.

Add the softened cream cheese into the buttercream and beat until incorporated. It should look very smooth and creamy. Do NOT over beat. Once the water comes out of the cream cheese, the mixture will curdle. If this happens, see how to fix it in the introduction to this post.

Instructions for Pumpkin Spice Filling

Cream butter and sugar together until light and fluffy.

Add cinnamon, nutmeg, cloves, ginger root and mix until incorporated.

Add egg and mix until incorporated.

On the slowest speed, mix in the pumpkin puree until incorporated.

Pour mixture into a pot and cook it on med. heat until it reaches 180F.

Take off the heat and drain the excess liquid out with a strainer. Let
mixture sit on the strainer until all the liquid is drained out.

Place in the fridge for a minimum of five hours or overnight.

Pipe a ring of cream cheese frosting on the macaron shell and fill the center with a dallop of pumpkin spice filling.

Assemble the shells together, wait at least 12 hours and enjoy!
Notes
1. Castor sugar is an extra fine granulated sugar also known as berry sugar. It can be substituted with granulated sugar.
2. 100% pumpkin puree from a can was used in this recipe
3. Use block cream cheese, not the type that comes in a tub.
4. If cream cheese is over beaten, the water will start to separate from it. Read the introduction in this post to learn how to fix it.
5. This is a higher moisture filling so it's best to consume it within 12-36 hours.
Nutrition Information
Yield
24
Serving Size
1
Amount Per Serving
Calories

183
Total Fat

12g
Saturated Fat

6g
Trans Fat

0g
Unsaturated Fat

5g
Cholesterol

31mg
Sodium

85mg
Carbohydrates

19g
Fiber

1g
Sugar

17g
Protein

2g
This information is provided as a courtesy and is an estimate only. This information comes from online calculators. Although indulgewithmimi.com attempts to provide accurate nutritional information, these figures are only estimates.