A darling half cake to celebrate a 6-month birthday or any occasion really! Composed of a Japanese chiffon cake base filled with layers of fresh strawberries and a not-too-sweet whipped cream that is stabilized with gelatin.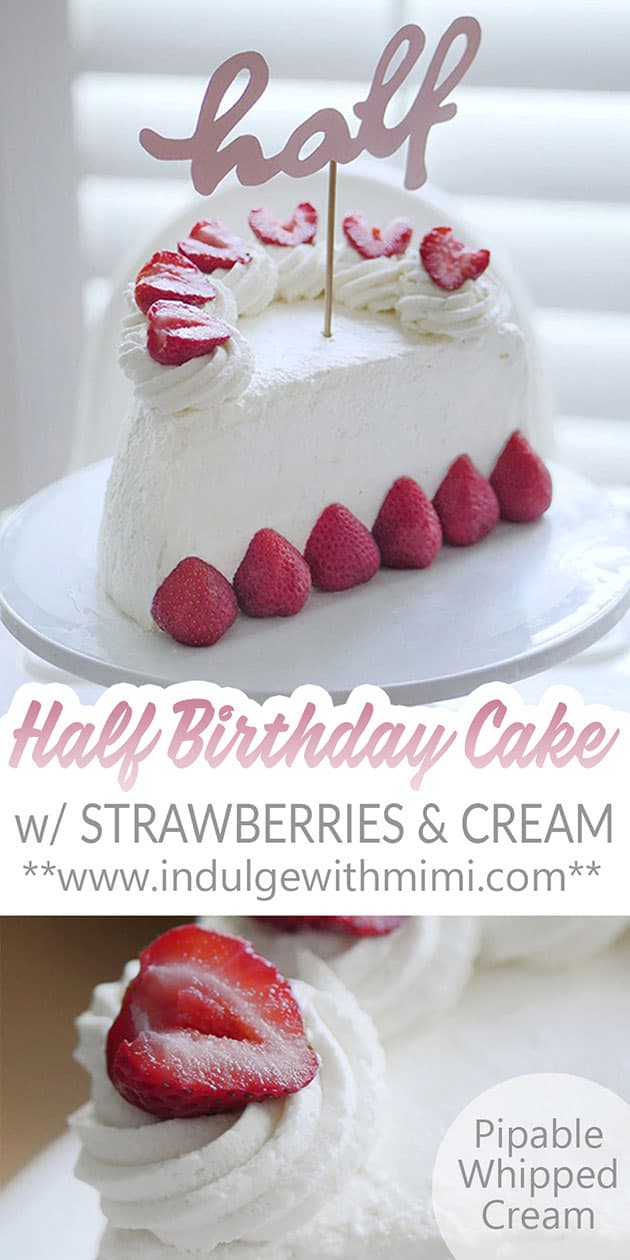 A while ago we celebrated Bibi's 6-month birthday with a half birthday cake made by yours truly 🙂 I know... some of you might be thinking it's rather absurd to celebrate a baby's half birthday but I hope that one day maybe Bibi will look back on her half birthday photos and appreciate that at one moment in time she was surrounded by mom and dad and her extended family who were all there to celebrate her unbirthday simply because we loved her. And if not, at the very least, we all enjoyed cake!
The inspiration for this "incomplete" half birthday cake came from Pinterest when I was looking for 6-month birthday cake ideas. I'm not sure who started this trend so I don't know who to credit for this great idea to use half a cake to symbolize a baby's half year milestone.
The cake base and frosting are the exact same ones I used in my popular Japanese strawberry cake roll recipe, but this time I baked the cake in round cake pans instead of in a jelly roll pan. The whipped cream frosting is stabilized with gelatin making it super stable - strong enough to pipe rossettes!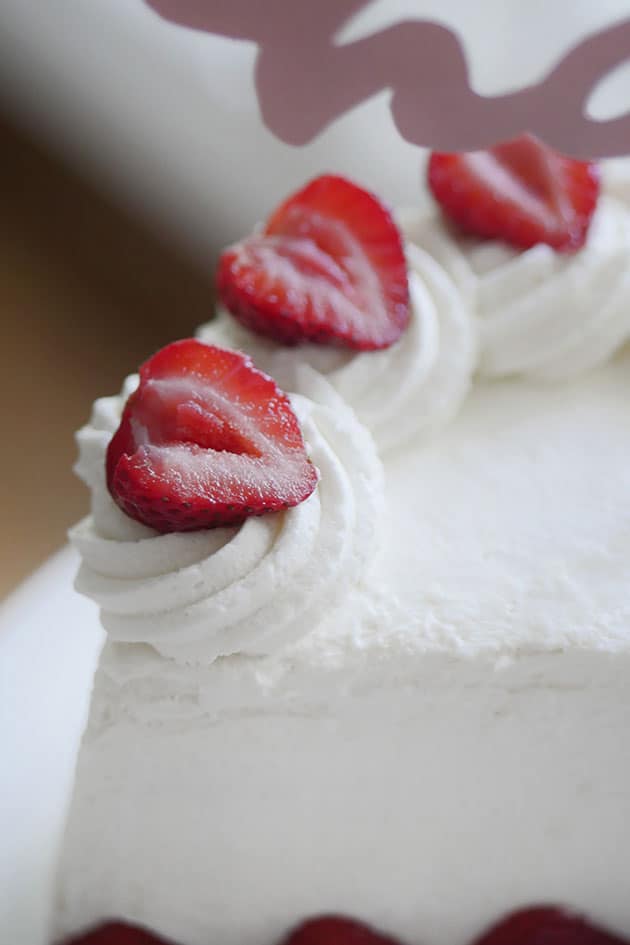 I had toyed with the idea of making a fondant or buttercream rossette cake because they looked more glamorous but I knew this particular cake is a favorite of my family's; I didn't want to compromise our enjoyment of Bibi's cake purely for a pretty photo. This cake contains no artificial flavoring or overly sweet decorations. The fresh strawberries cut into halves actually looked like little hearts. The cake tasted delicious but was still attractive. No sugary or colorful fondant here - it looks like a cake that you actually want to bite into!
To complete the half cake look, I wanted a cake topper that said "half". But it turns out they are really hard to come by here in Canada and I didn't have time to wait for one to be shipped to me from the USA. I decided to make one myself. I found a suitable script font to create a "half" template which I cut out and traced upside down onto hard card stock in pink (of, course). After that, I used scissors to cut along the outline and glue it onto a long skewer with a glue gun. To save you time from making these templates from scratch, I've provided you with a whole bunch I made. You can download them from the subscriber's only area once you subscribe to my email newsletter.
Early on in Bibi's life, we experienced some unexpected challenges. Having complications during the delivery and postpartum really forced me to not take our health and happiness for granted. It meant a lot to have our loved ones join us in celebrating Bibi. I look forward to making even more memories with my sweetie who seems to be growing up all too fast. I bet, in a blink of an eye, I will be making her an entire cake (see Bibi's Healthier First Birthday Smash Cake here) but in the meantime, I will enjoy this half cake. I hope you will too.

XOXO,
Mimi
Recipe
Yield: 8 slices
Half Birthday Cake - Fresh Strawberries and Cream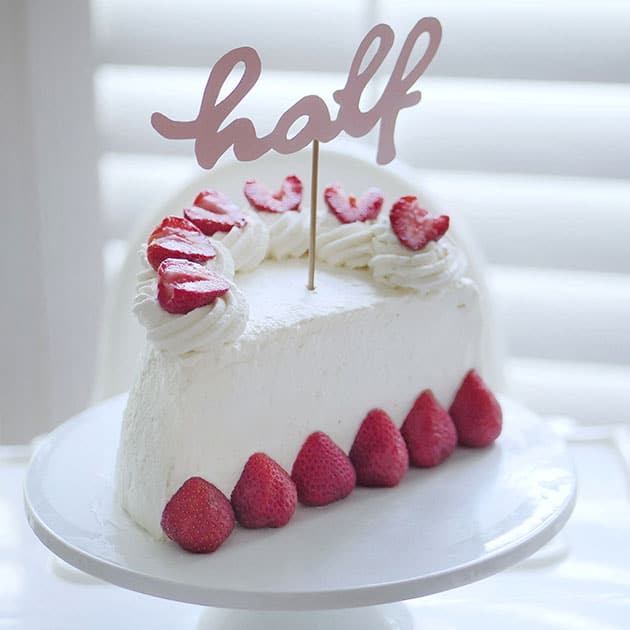 A darling half cake to celebrate a 6-month birthday or any occasion really! Composed of a Japanese chiffon cake base filled with layers of fresh strawberries and a not-too-sweet whipped cream that is stabilized with gelatin. So pretty and delicious!
Total Time
1 hour
14 minutes
Ingredients
Japanese Style Chiffon Cake
25 grams granulated sugar
45 grams cake flour
¼ teaspoon baking soda
½ teaspoon cream of tartar* (Substitutions Note 1)
¼ teaspoon salt
50 ml whole fat milk
3 egg yolks
40 ml vegetable oil (e.g. canola)
¼ teaspoon vanilla extract
4 egg whites
50 grams granulated sugar
¼ teaspoon cream of tartar
Stabilized Fresh Cream
2 ½ teaspoons powdered gelatin
8 teaspoons water
2 ½ cup whipping cream (33%)
2 ½ tablespoon granulated sugar
16 small fresh organic strawberries
Instructions
Japanese Style Chiffon Cake
Line 2 round 8" cake pans with parchment paper.
Preheat oven to 325 F.
In a large mixing bowl, sift in cake flour, sugar, baking soda, cream of tartar and salt. Stir to combine.
Create a well in the center. Inside it, add yolks, oil, vanilla extract and milk.
Stir to combine until fully incorporated, do not over mix. Set this milk-flour mixture aside.
In a clean and dry, non-plastic mixing bowl, whip egg whites on slow speed until frothy, add cream of tartar.
Increase speed to medium, once the whites become opaque and bubble size have tightened up, add sugar a little bit at a time.
Increase speed to med-high, whip until stiff peaks. You've now made a meringue. (Note 2)
Gently fold ⅓ of the meringue into the milk-flour mixture to get it moving. Once incorporated, fold in the rest of the meringue. Do not stir. Use batter immediately.
Dab a little bit of batter onto the parchment paper and stick it to the pan to prevent the parchment paper from sliding around in the pan.
Pour equal amounts of batter into lined cake pans from one spot, spread out the batter evenly with an angled spatula.
Tap the pan on the counter to release large air pockets.
Bake for 14-16 min. at 325 F until a skewer pulls out clean and cake springs back in the center.
Let cool 5 min. in the pan before removing.
Place cooling rack over cake pan.
Flip cake over onto the rack, gently remove paper.
Let cool and cut each cake in half.
Stabilized Fresh Cream Instructions
Refrigerate mixing bowl and beaters in the fridge for a minimum of 15 minutes. This will help cream whip better.
Clean and pat dry strawberries. Remove the husk and cut 10 of them into thin slices. Save the rest for decorating the top of the cake.
Place water in heatproof cup and sprinkle gelatin on top to bloom. Wait 5 minutes.
Place cup in a small sauce pan filled with simmering water. Once gelatin becomes liquid, take it out of the water. Let cool on the counter.
Immediately start beating the cream and sugar in a stand mixer fitted with the chilled bowl. Whip on low speed and then increase to medium.
Check on the gelatin. It should no longer be warm but still runny.
Once the beaters leave tracks in the cream, pour the gelatin into the bowl slowly and steadily. Aim for the area in between the whisk and the bowl.
Stop beating once the cream turns stiff. Do not over whip.
Use cream to assemble the cooled cake immediately.
Assembly
Add some whipped cream to the bottom of the first layer of the cake to act as a "glue" to help it stick onto the cake stand.
Gently add a thin layer of cream and some strawberries on the first layer of cake. Then add the second layer of cake on top. Chill it in the fridge until it sets before adding the next layer. (Note 3)
Once all the layers are assembled and chilled, add a thin layer of whipped cream to the whole cake with an angled spatula to hold all the crumbs in place. Chill.
Use some more whipped cream to add another thin layer of frosting to the cake for a cleaner finish.
Put remainder of whipped cream in a piping bag fitted with a large open star tip (e.g. Wilton 1M).
Pipe 6 swirls on top of the cake along the edge. Top with half of a strawberry.
Line half strawberries along the bottom edge of the cake on the open face side.
Insert cake topper in the center. Keep entire cake chilled until serving.
Notes
Cream of tartar can be substituted with lemon juice in double the amount.
Stiff peaks in characterized by the egg whites having pointed peaks that point upwards without drooping when the whisk is pulled out.
Since this is a half cake made with a soft chiffon cake base, the shape and texture of the cake is not as stable as a whole round cake. Chilling the cake in between frosting each layer will help prevent it from sliding around as you assemble it. Use only a thin layer of frosting to keep the cake lightweight. Keep whole cake refrigerated until serving.
Organic strawberries were used in this recipe. Try to buy them organic if possible as they are on the "dirty dozen" list of fruits and vegetables which is better to buy organic.
Recommended Products
As an Amazon Associate and member of other affiliate programs, I earn from qualifying purchases.
Nutrition Information
Yield
8
Serving Size
1
Amount Per Serving
Calories

269
Total Fat

20g
Saturated Fat

10g
Trans Fat

1g
Unsaturated Fat

9g
Cholesterol

112mg
Sodium

151mg
Carbohydrates

18g
Fiber

0g
Sugar

13g
Protein

5g
This information is provided as a courtesy and is an estimate only. This information comes from online calculators. Although indulgewithmimi.com attempts to provide accurate nutritional information, these figures are only estimates.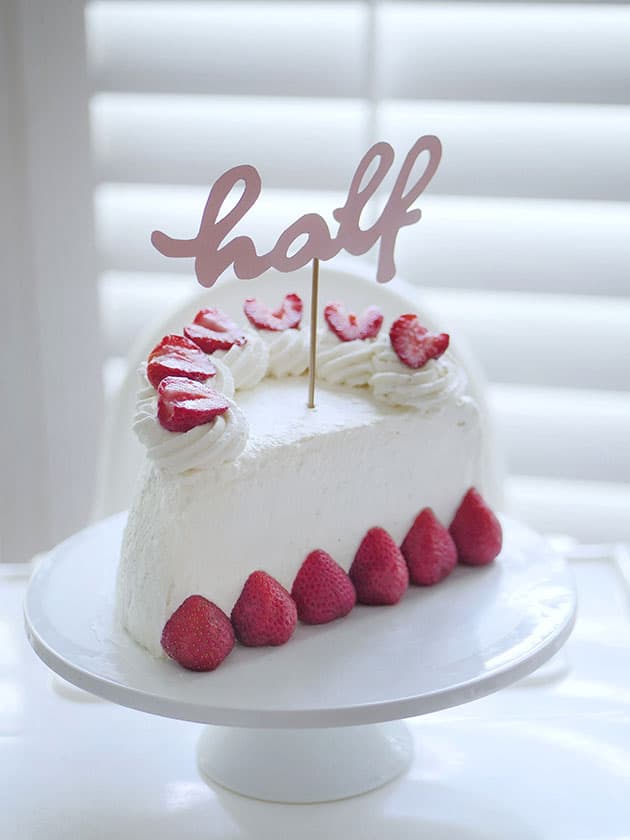 [pt_view id="6552ec350q"]