Mimi's best macaron recipe for making non-hollow macarons successfully. Perfect for beginner or professional use. Covering proper techniques: macaronage, aging the egg whites, making the meringue, figure-8 test, resting the shells and more.
Why This Recipe Works
I'm happy to share this updated version of my best macaron recipe with you all. I first learned to make macarons from a French pastry chef and after a lot of trial and error and a lengthy recipe development process in my home kitchen, I created this user-friendly macaron recipe. It was originally published in 2014, since then countless home bakers have used it to successfully make macarons at home and professionally. Why it works:
Ingredient ratios yield more consistent results, suited for bakers at every experience level.
It covers all the foundation techniques you need.
Tons of tips and video to help you nail down each step. Includes links to further in-depth articles.
Free macaron template to help you pipe perfectly round macarons.
Remember, there isn't one magical recipe out there - including mine! What's important is that you learn the proper techniques and then tweak them with what works best in your kitchen and in your oven. Below I've included all the foundation techniques you will need. Start by following each step carefully and practice, practice, practice! Good luck my dears!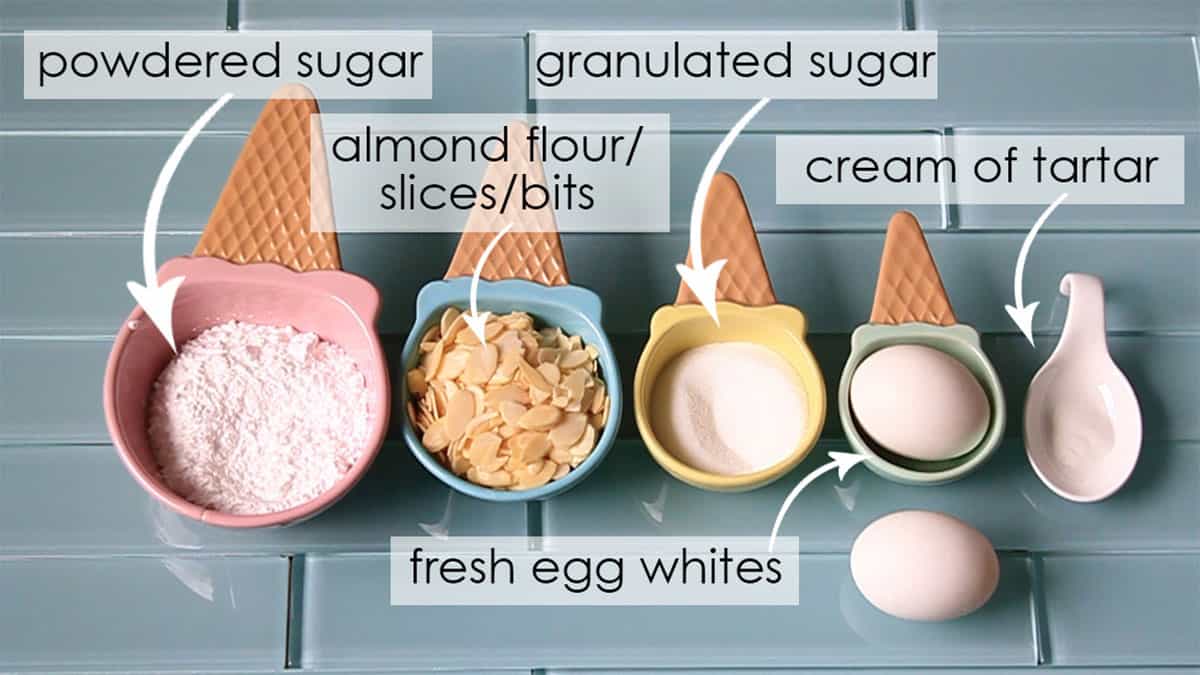 Ingredients Needed & Substitutes
Almond flour - it should be ground from blanched almonds. Some brands are more "oilier" than others so for the most consistent results, I like to make my own homemade almond flour. Alternatively, many readers have had good results with this brand.
Powdered sugar - this is also known as icing sugar or confectioner's sugar. The type sold in North America usually contains a bit of corn starch as an anti-coagulant.
Castor sugar - this is also known as extra fine granulated sugar or berry sugar. It's a finer granulated sugar that dissolves readily into the meringue making it ideal for macarons, which is heavily dependent on a strong and healthy meringue. If you can't find castor sugar, just use regular granulated sugar. Do not try to pulverize regular granulated sugar in the food processor to make castor sugar, it results in "chopped-up sugar crystals that will not perform well." (Source: chsugar.com)
Egg whites, aged - egg whites that have been separated and let to "age" in the fridge have more relaxed proteins which makes it easier to whip to volume without overwhipping. It's recommended for the beginner macaron baker but is not absolutely necessary. Most carton egg whites are not intended for whipping into a meringue, check the back of the carton. A few (but not many) readers have reported success with carton egg whites.
Cream of tartar - is an acid that is added to the meringue to make it more stable. It is usually found in the baking aisle next to the spices. If you do not have cream of tartar, you can substitute it with another acid like lemon or vinegar in double the amount. You can skip this ingredient if you can't find it. Make sure your bowls are clean and dry and whip carefully with room temperature aged egg whites until it reaches still peaks. If your egg whites take too long to whip or breaks apart, reconsider using cream of tartar.
Gel food color - this is a more potent form of food color that doesn't add unwanted moisture into the macaron batter. Some brands perform better than others, I prefer this brand for its color stability, it doesn't fade after baking.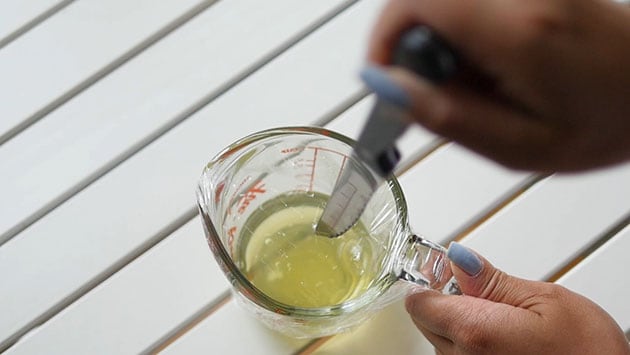 Prep Work & Tips for Success
If you're new to macaron baking and don't yet own all the tools needed for this recipe, please see my other tutorial on how to make macarons without a mixer and fancy tools.
Wipe down mixing bowls with some vinegar to remove leftover oils. Then use bowls to store egg white for "aging". The meringue will be prepared in this bowl and it does not whip well in the presence of oil or water. It's best to use non-porous bowls like stainless steel or glass as opposed to plastic.
Age the egg whites 24 hours in advance. Separate the egg whites with an egg separator while the egg is still cold, making sure that no traces of egg yolks remain. Wrap with plastic wrap and poke a few holes into it. Place it in the fridge to "dehydrate" until ready to use. Read this post for detailed instructions on how to age egg whites.
About 30 minutes before baking, take out the aged egg whites and place them on the counter. Let it come to room temperature before using. To speed up the process, soak the vessel holding the egg whites in warm water. Be very careful not to let any water get into the egg whites.
If your parchment paper comes on a roll, flatten it out by laying heaving objects on top. Providing a smooth flat surface for piping your shells will prevent them from spreading into odd shapes.
Print out macaron template and place it underneath the parchment paper on a baking tray. You can get access to all my free macaron templates after you sign up for my newsletter.
Measure out all your ingredients with a kitchen scale like this one. Ingredients can weigh differently depending on the way it is packed into a cup. Sometimes it's this difference that can make or break your macarons.
Set up piping bag. Push the piping tip firmly into the bag to ensure that it doesn't move around when you start piping. Twist the bag and push it into the piping tip. It will act as a seal and stop any macaron batter from leaking out of the tip when you begin to fill it. Set this bag inside a tall glass. Open up the top so that you can have both hands free to fill up the bag later. If you have piping bags use them instead of Ziplock bags. Ziplock bags are not sturdy, bends and shuffles around as you hold it, making it hard to pipe nice round circles. I like these piping bags, they are very thick and sturdy, especially good for piping thick buttercreams without breaking. WATCH VIDEO: How to Set up Piping Bag for Macaron Batter
Sift the almond flour and powdered sugar together, mix well. Sifting will allow your macarons to develop smooth shiny shells. Throw away course almond or sugar bits as they can cause the egg whites to deflate and you will end up with a collapsed or uneven macaron. Remember to add back sifted amounts to compensate for the discarded amounts. I prefer using a strainer like this one as opposed to a sifter with lever. The almond bits are usually not fine enough to fit through the latter and ends up clogging.
Set dehumidifier to bring humidity level in the room below 50. This is the dehumidifier I have. I turn it on in the kitchen after washing dishes or cooking a dish that releases steam into the kitchen. Alternatively, if the kitchen is humid after water use, open the windows and turn on the range hood fan. A dryer environment will allow the macaron shells to "rest" and develop a skin after piping. This resting period will further help the macarons develop feet during baking.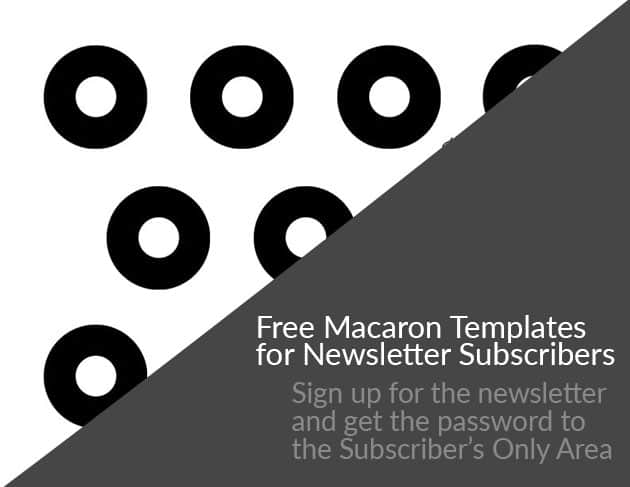 Macaron Templates
Generally, the most popular size for round macarons is 1.5". However, you can definitely pipe the shells larger or smaller. Try to pipe the batter using a template as your guide resulting in similarly sized shells for matching during assembly. You can download free templates in 1.25", 1.5", 1.75" and other various sizes and shapes by subscribing to my newsletter.
How to Make
Step 1: Whip Egg Whites & Add Acid For More Stability
Beat egg whites with a handheld mixer until foamy, then add cream of tartar.
Step 2: Add Sugar to Egg Whites
Once the beater starts leaving tracks in the egg whites and the foam bubbles have tightened up in size, add granulated sugar ⅓ at a time.
Step 3: Add Gel Color
Once all the sugar has been fully incorporated and before reaching stiff peaks, add 1-3 drops of gel colour to your liking. Beat until Stiff Peaks. It has reached this stage when the whisk is pulled out of the meringue, the point is so firm that it point upwards without falling back into itself. Also, test the meringue by flipping your bowl COMPLETELY upside down. The whites should not slip or fall, instead it stays firm inside the bowl. WATCH VIDEO: How to Make Perfect Meringue for Macarons
Step 4. Test Meringue Stiffness
This is the important part. Once the meringue has reached "Stiff Peaks", stop and do not whip any more. The meringue should also start clumping up inside the whisk like this:
Step 5: Macaronage or Folding
Pour a third of the almond mixture into the egg whites. Gently fold the egg whites into the almond flour and sugar mixture. Then add the rest of the almond mixture. Do not mix or stir. Folding properly will ensure that the air bubbles that you beat into your egg whites do not all deflate when incorporated with the heavier dry ingredients. You want to beat out some of the air that was created in the whipping of the egg whites, but not so much that its fully deflated and prevents feet from developing.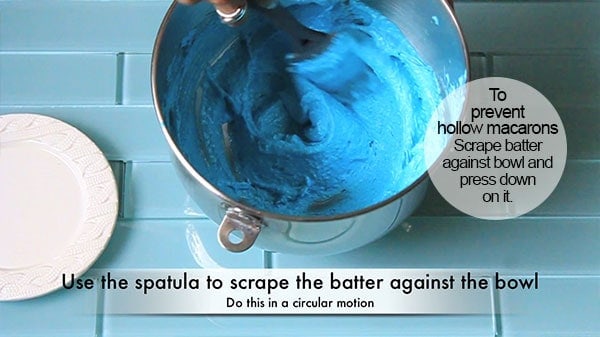 How to Fold Macaron Batter: This is a very critical step in the macaron making process called "macaronage". Take the spatula and gently go under the mixture, use a sweep down-across-up-and-over motion (like you're scraping around the bowl towards the middle) while turning the bowl at the same time. Occasionally, cut down through the center of the mixture to incorporate the ingredients in the center. As well, very gently take your spatula and sweep against the top of the batter to properly deflate some of the air in the mixture. Do not "dump" the mixture back into itself. If you fold gently, it will eventually incorporate into one mixture even though it may not look like it will at first.
Step 6: Stop Folding & Check Batter Consistency
Stop folding once your batter has reached a "lava" like or honey consistency. Occasionally check the consistency to test doneness. The success of your macarons will depend largely on your ability to gauge when to stop folding your batter. WATCH VIDEO: How to Fold Macaron Batter Shown in Real Time
How Long Should I Fold My Macaron Batter?

As soon as the batter begins to look homogenous, start testing the consistency. With your spatula, pick up the batter and drop it back into the bowl. It should not "plop" down into the bowl but flow very slowly like thick molten lava. It should fold into itself just a few times like a ribbon but no more than that. Pick up the batter and let it flow down while drawing the figure "8". If it can do that, immediately stop folding when you see that you have reached this stage. If it looks like a runny pancake batter, then you've gone too far! Watch my YouTube video as a visual guide.

It's always better to under mix than to over mix. When you under mix, your macaron shells will still form albeit, they'll be bumpy. But if you over mix, you will deflate the air in your egg whites and your macaron shells will spread like crazy when you try to pipe it.
Step 7: Piping
If using parchment paper, dab a little bit of batter on the bottom of all four corners of the parchment paper. Use it as a "glue" to keep the paper attached to the tray while piping. Or use magnets to secure the paper onto the tray. Using the spatula, gently transfer the batter into the piping bag.

To pipe, start from the center while holding the piping bag vertically and squeeze while applying even pressure to all sides until the batter has nearly reached the size of the template, swing the tip around back towards the center and pull away, that's where you want your batter to end. Ideally, if your batter has been mixed properly and is at the correct consistency, any "nipples" or "tails" should sink back into itself. Also, remember to squeeze out the batter from the top of the bag without handling it excessively since you don't want the structure of the batter near the end to be compromised. Here's a post showing you the proper consistency of a macaron batter after piping.
Step 8: Rap the Tray
Remove the paper template from underneath the parchment paper. Rap the tray several times on the counter. This will allow any air bubbles to escape and prevents your macarons from cracking during the baking process. Rap it once or twice, rotate the pan and repeat. If the points do not smooth out after rapping, then the batter is too thick. Next time, try to fold the batter just a bit more before piping.
Step 9: Pop Bubbles
Before the batter dries, pop any remaining bubbles with a toothpick.
Step 10: Resting
Let it rest on the counter for 30 min. AND until a "skin" has developed. Let the piped shells rest under the range hood fan. It will help dry them out. Do not use a fan which blows on an angle since it will cause your macarons to become lopsided. Once the shell looks dull and matte as opposed to glossy like when it was first piped, test on a sacrificial shell. Lightly touch the surface of the shell and if no batter sticks to your fingers, a "skin" has developed. It will be very clear when a skin has developed, you will be able to touch it without the batter transferring to your fingers. It will also not indent easily as well.
Is it necessary to rest the macaron batter?
Resting the macaron is a crucial step that allows your shells to harden up and thereby, preventing cracking and allowing it to develop feet during its time in the oven. Sometimes in a humid environment OR if the batter is weak, the shells can be rested for 30 minutes and a skin may still not develop. The timing is not as important as the presence of a skin and a matte dull finish. You DON'T have to rest the shells but it is extra insurance for those who are new to macaron baking. Click here for a full post on this topic.
Step 11: Baking
Preheat your oven to 320 F. Place an external oven thermometer inside the oven to ensure that the temperature is correct. Many bakers assume that their ovens are at the correct temperature when in fact the temperature has increased or decreased during the baking process without their knowledge. A steady and consistent temperature is needed for macarons to bake without deflating, resulting in hollow macarons. Click here to read how to prevent hollow macarons.
Place the tray on the middle shelf and bake for 12-14 minutes. Bake only one tray at a time. Every oven is different so I suggest using this temperature and rack position as a baseline if it's your first time making macarons, then make any adjustments you need to perfect them.
---
Click here to read about the different ways to set your oven for baking perfect macarons.
Click here to read about how to control the oven temperature for baking macarons.
---
Step 12: Check Doneness
Take them out and test to see doneness. Use a spatula to lightly tap the feet, it should be firm and not push back. Wiggle the top of the shell from left to right, it should not be wobbly. Lightly peel back the parchment paper and the macaron should peel off easily without sticking. (This does not work well on silpats though.) If it doesn't pass the tests above, put them back in the oven and bake an extra 1 min. at a time.
Keep on pan to cool off or take them off. If the bottoms are just a tiny bit sticky (just a little bit though), keep them on the tray to cool off for about 15 min. If however, the bottoms are already brown, they peel off cleanly or appear over-baked, take them off the hot tray to cool down. Break one open and check the inside, it should be fully set and not overly moist. If it is too moist the cookies will collapse when they cool. Err on the side of over baking rather than under baking as the maturation process will be able to salvage over baked macarons. See step 15
Step 13: Fill and Assemble
Fill with your favorite filling. Place the filling in a pastry bag and squeeze a dollop of it in the center. You don't need too much, you don't want it to squish out past the shell once you assemble the other macaron shell. Click here to get some yummy filling ideas.
Step 14: Maturation
Leave them in the fridge in an airtight container and let them mature for 24 hours. They are best eaten after 24 hours since the flavors will be absorbed into the shell. If your shell is hard/crunchy/over baked, letting them develop will also allow the shells to absorb the moisture from the filling and it will develop that distinctive soft and chewy texture. The maturation process can also be sped up by lightly brushing the bottom of the shells with a syrup that is the same flavour as the filling. Milk works too! After 24 hours of maturation in the fridge, bring them back to room temperature 30 min. before serving. ENJOY!
How to Store and Freeze Macarons
Macarons should be stored in the fridge after it has cooled down and assembled. The shells by itself will stay fresh for 4-6 days while the assembled macarons will stay fresh for 2-4 days, depending on the type of filling that is used. If you're making them in advance and want to extend the shelf life, you can either assemble them closer to the serving date or freeze them. The shells alone or fully assembled can stay frozen for up to one month without affecting the freshness or quality. Take a look at this dedicated post on How to Store and Freeze Macarons for ideas on what types of fillings freeze well and further details on this topic.
FAQ
What is the Difference Between French and Italian Macarons?
It all comes down the the preparation of the meringue. In the French method, the meringue is made by pouring sugar into egg whites that are being whipped, creating a French meringue. In the Italian method, sugar is heated with water to create a hot syrup first and then simultaneously poured into egg whites that are being beaten. If you have no previous experience making an Italian meringue for other pastries, this French macaron method is the easier one to start with. However, both would yield the same type of magical chewy and flavorful cookies that most people would know to be a macaron. (Click here to read more about the textural differences between a French and Italian macaron).
How Do You Pronounce Macaron?
The pronunciation between macaron and macaroon is quite different as well. The 'on' in macaron is pronounced more like 'aw' as in lawn. Whereas, macaroon is pronounced exactly as it's written, the 'oon' is pronounced the same as in the word moon.
What is the Difference Between a Macaron and a Macaroon?
A macaron and macaroon are two totally different pastries. Because of the similar spelling, the two have been mistakenly used interchangeably in the last few years. A macaron is a French pastry that is composed of 2 airy meringue cookies containing egg whites and almonds, and then sandwiched with a softer flavored filling in between. Macaron cookies come in a variety of colors and shapes. A macaroon, on the other hand, is usually made with shredded coconut, sugar, flour and egg whites. It's simply mixed together and formed into a ball for baking. It looks more like a melted snowball.
Do I Need to Rest The Macaron Shells?
Yes and no. First of all, I should make clear that there is absolutely nothing special about a recipe that says no resting is required. It is simply the author telling you not to do so. They are not guaranteeing that your macarons will not crack in the oven. This part is all up to you. I have a whole post on whether resting the macaron shell is necessary. If your batter is prepared correctly, it can go right into the oven without resting. Resting the macaron shell is great for those times when the batter is a bit thin and needs some time to develop a skin so it doesn't crack in the oven.
Do I Need a Silicone Mat to Bake Macarons?
No, you can bake them just as easily on parchment paper. Silicone mats are better for keeping the shapes perfectly round, however, they are a bit trickier to use because they don't conduct heat as well. I prefer using the official Silpat brand silicone mat because it is made with food grade silicone and conducts heat well.
Common Problems and Troubleshooting
Cracked Macarons
Cracked macarons are caused by trapped excess air in the batter, using too high heat or a weak meringue. Tips: Rap the tray after piping to release all the excess air out of the batter, find an optimal oven temperature that is not too hot but still allows the macarons to develop. Make sure meringue has reached stiff peaks.
Macarons With No Feet
Macarons without feet are caused by a weak meringue and low baking temperature. Tips: Whip the meringue to stiff peaks and make sure to rest the macaron batter after piping. After that, use a higher temperature to assist the rise in the oven during baking. Increase the temperature by 25 degree intervals.
Lopsided Shells
Lopsided macaron shells can be caused by problems in the batter, oven conditions, baking tools, resting time or piping techniques. Tips: Deflate a sufficient amount of air from the batter by using proper folding techniques until the batter reaches the figure-8 stage; turn off convection fans inside the oven if it's too strong; use sturdy flat baking trays that don't buckle; watch out that the shells are not overly dry after resting; and pipe the batter while holding the bag completely vertically. More problems and troubleshooting in this dedicated post below: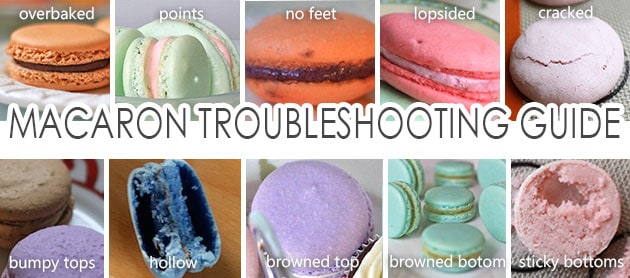 Readers Share Their Success Stories
So how did yours turn out? I hope you enjoyed the process and the recipe worked out well for you. If you didn't quite achieve the results you're looking for this time, try using some of the tips I've provided in my macaron troubleshooting guide and other macaron technique posts I've written below.
And don't forget to share all your beautiful babies with me on Instagram and Facebook. I love sharing everyone's results here. Let's talk baking! Until next time.
XOXO, Mimi

Note: This post was originally published on September 27th, 2014.
Recipe
Yield: 12
Best Macaron Recipe by Mimi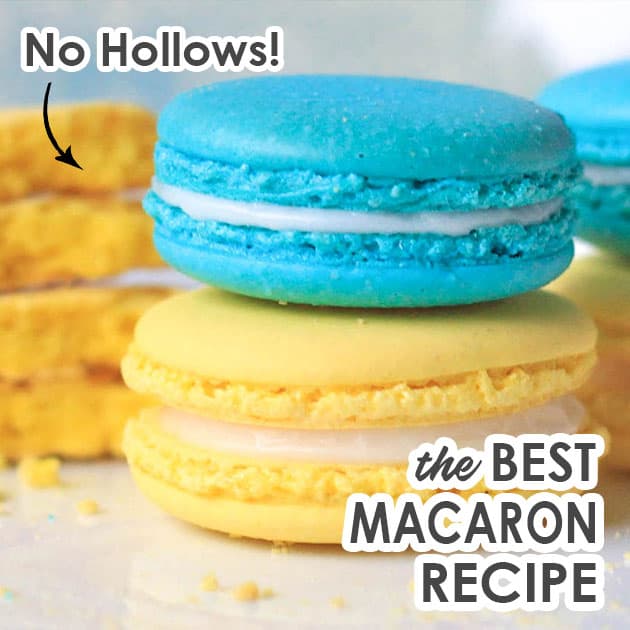 Mimi's best macaron recipe for making non-hollow macarons successfully. Perfect for beginner or professional use.
Total Time
1 hour
30 minutes
Ingredients
Macaron Ingredients
65 grams almond flour*
65 grams powdered sugar
45 grams castor sugar (a.k.a "berry" sugar or extra fine granulated sugar)*
50 grams egg whites, aged, room temperature*
⅛ teaspoon cream of tartar
GEL color of your choice*
Supplies
Electronic scale
2 very clean and dry mixing bowls
Hand mixer
Sifter
Flexible spatula
Piping bag
Round piping tip*
Good quality baking pan
Template with macaron outline
Oven thermometer
Parchment paper or silicone mat
Instructions
Complete all the PREP WORK as listed in post.
In a big bowl, sift together the almond flour and powdered sugar.
In a separate bowl, whip room temperature egg whites on low speed with a handheld mixer until foamy, add cream of tartar. (Further reading: How to make perfect meringue for macarons.)
Once the beater starts leaving tracks in the egg whites and the bubbles have tightened up in size, add granulated sugar ⅓ at a time. Increase to med speed.
Once all the sugar has been fully incorporated and before reaching stiff peaks, add 1-3 drops of gel color to your liking. Whip on med-high until Stiff Peaks.
Test meringue stiffness. It should have pointed peaks when the whisk is pulled out.
Pour a third of the almond/powdered sugar mixture into the egg whites. Gently fold it into the egg whites. Then add the rest of the mixture and fold.
Stop folding once the dry ingredients have been fully incorporated and the batter has reached a "lava" like or honey consistency. The batter should pass the figure-8 test. (Watch video: How to Macaronage for No Hollows)
On parchment paper or silicone mats, pipe the batter to the size of the circle on the template. Sign up to my newsletter to get free templates of various sizes. (Further reading: Proper macaron batter consistency while piping.)
Remove the paper template from underneath the parchment paper or mat.
Rap the tray several times on the counter to rid of excess bubbles.
Before the batter dries, pop any remaining bubbles with a toothpick.
Let it rest on the counter for 30 min. AND until a "skin" has developed. This will prevent the shells from cracking during baking. (Further reading: Resting the macaron shell.)
Preheat oven to 320 F. (Further reading: How to use your home oven for baking macarons.)
Place the tray on the middle shelf and bake for 12-14 minutes. Bake only one tray at a time.
Take them out and test doneness. The feet should not push back and the shell should not be wobbly.
Let them cool off on the pan (or off if they are overdone).
Fill macarons with an easy 3 ingredient chocolate filling or your own favorite filling. (Further reading: Yummy Macaron Filling Ideas)
Leave them in the fridge in an airtight container and let them mature for 24 hours. (Further reading: Can macaron shells be frozen?)
After 24 hours of maturation in the fridge, bring them back to room temperature 30 min. before serving. They will remain fresh stored in an airtight container in the fridge for up to 4 days, depending on filling used. ENJOY!
Notes
- This recipe yields 12 assembled macarons. This recipe can be doubled, tripled, and so forth.
- Read this post on How to Make Your Own Almond Flour
- Regular granulated sugar can be used but castor sugar is preferable.
- Measure out 50 grams of fresh egg whites and then age it before using. Do NOT use meringue powder
- Use GEL food color, do not use liquid color.
- Recommended round piping tips: Wilton #12 or Wilton #1A. I prefer Wilton #1A or Ateco #805 Plain Seamless Tip for regular round macarons or Wilton #12 for more control with character macarons.
- To further shelf life, unfilled macaron shells and assembled macarons can be frozen for up to one month.
Nutrition Information
Yield
12
Serving Size
1
Amount Per Serving
Calories

73
Total Fat

3g
Saturated Fat

0g
Trans Fat

0g
Unsaturated Fat

2g
Cholesterol

0mg
Sodium

9mg
Carbohydrates

11g
Fiber

1g
Sugar

10g
Protein

2g
This information is provided as a courtesy and is an estimate only. This information comes from online calculators. Although indulgewithmimi.com attempts to provide accurate nutritional information, these figures are only estimates.