Japanese style chocolate cake roll made from a super soft and fluffy chiffon cake filled with a light chocolate whipped cream. Airy, semi-sweet chocolate goodness, it's so easy to indulge in the whole cake all by yourself!
A "Not-Too-Sweet" Japanese Style Dessert
One of my husband's favorite desserts is a chocolate swiss roll that we used to buy at a Japanese bakery on Robson street in downtown Vancouver. Every time we'd go there, there would be a few other desserts that would pique his interest by their attractive appearance but after trying several kinds, he eventually set his heart on getting this one particular chocolate cake every single time. (I hope that it's a good indicator of his decision making style for life partners too HAHA.)
The cake roll is chocolate flavoured and consists of a soft fluffy chiffon cake base which is rolled up and filled with a light and airy chocolate whipped cream. Like most popular desserts in Asia, it has a light texture and creamy taste and most importantly, it's not too sweet. We had a good few years of dropping by the little bakery to pick up this heavenly cake until one day, to our dismay, it had closed down. I was never able to find a replacement dessert for hubby so I decided that if there was a cake I wanted to recreate in my kitchen, this would be the one! (update: it was such a hit that I ended up adapting it to a strawberry cake roll and matcha cake roll too.)
Please note, this post contains affiliate links. As an Amazon Associate I earn from qualifying purchases.
Chiffon vs. Sponge Cake
One of the most appealing aspects of this cake is the soft and fluffy cake body. I have found cake rolls in other Asian bakeries but I wasn't able to find one with such a light airy texture. In developing this recipe, I experimented by making it 7 times, each with different ratios of flour, eggs, etc. I think I finally developed the perfect recipe for a soft and fluffy chiffon chocolate cake which could be rolled into a chocolate cake roll.
For the cake, I decided to use a chiffon cake technique because it is lighter and fluffier. A chiffon cake is a type of cake under the sponge cake umbrella. Technique-wise, the main difference between the two is the use of oil in a chiffon cake vs. no butter/butter in a sponge cake. Oil in a chiffon cake makes the cake lighter and more tender. It is also great for refrigeration since butter hardens up in cooler temperatures.
Another signature technique used in the making of chiffon cake is the separate whipping of the egg whites. A flour mixture is first created with the flour, egg yolks and oil, next the whipped egg whites are then folded into this flour mixture to make the chiffon cake batter. It's an easy cake to master for you macaroners out there since you've probably brought egg whites to a stiff peak condition many times before. And if you're a bit time crunched and want to make a chocolate cake with less steps, try this very easy Chocolate Cream Cheese Pound Cake that doesn't require rolling of the cake or any fillings.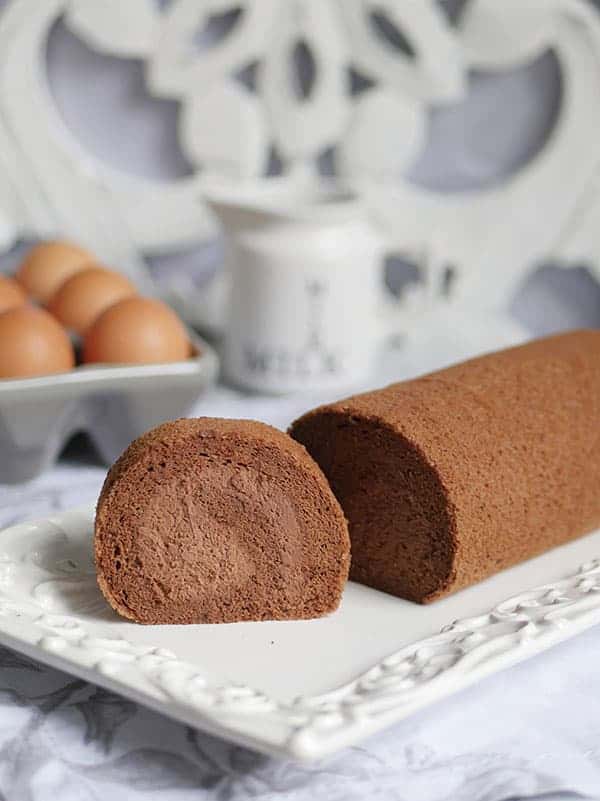 Tips for Making a Great Chiffon Cake Roll
Use a lower protein content flour like cake or pastry flour. These flours usually have a protein content of 6-8% and 8-9% respectively. I recommend having a bag on hand in the pantry for baking the softest fluffiest baked goodies. In addition to use in cakes, cake flour can also be used to make fancy soft chocolate chip cookies too!
A strong and healthy meringue (whipped egg whites with sugar) is needed to act as one of the leavening agents in this cake. Egg whites should be whipped in a clean and dry non-plastic bowl since plastic tends to trap oil. Use a paper towel and wipe down the mixing bowl with lemon or vinegar before you start.
Carefully separate the egg whites and yolks. Make sure no yolks are present in the egg whites. An egg separator can come in handy.
Bring the egg whites to a stiff peak. This is characterized by egg whites that have a beak that points upwards (instead of slumped over) when the whisk is pulled out.
Use a Dutch processed cocoa powder like this one. There is a difference between natural cocoa and dutch processed cocoa. Dutch processed cocoa has been treated with an alkalizing agent that makes it darker in color and give it a milder taste. This process neutralizes the cocoa's acidity and makes it less reactive to baking soda. This recipe was written for use with a dutch processed cocoa.
Once the liquid (chocolate milk in our case here) is introduced to the flour, do not over mix. This will produce more gluten, making the cake less tender.
Use a gentle folding movement with a spatula to incorporate the meringue into the wet flour mixture. Do not stir, this will prevent the air in the meringue from deflating.
Rap the tray a few times on the counter to get rid of large air pockets.
Add more cream along the short edge of the cake which is to be rolled first. This will prevent the cake from cracking due to large gaps in between the folds. Instead of putting your hands directly onto the cake, use the parchment paper to push the cake onto itself as you roll.
Fold gently and do not worry too much about rolling the cake very tightly. As long as the cream is spread out evenly (with a bit more along the short edge as per #7), the amount of cream in this recipe will allow the sheet cake to hold up without cracking due to large gaps. See accompanying video in post on how to roll.
When peeling off the parchment, try to remove as much of the "skin" as possible. The cake looks better with exposed crumbs.
If rolling the cake seems too daunting or you don't have the right pan size, try making this cake in a cup. This post will teach you how to bake this chiffon cake base with any sized pan.
I absolutely adore this cake and even after making 7 of these and eating most of it by myself for the purpose of "taste testing", I can say I still crave for more. I really hope you enjoy this recipe as well.
XOXO,
Mimi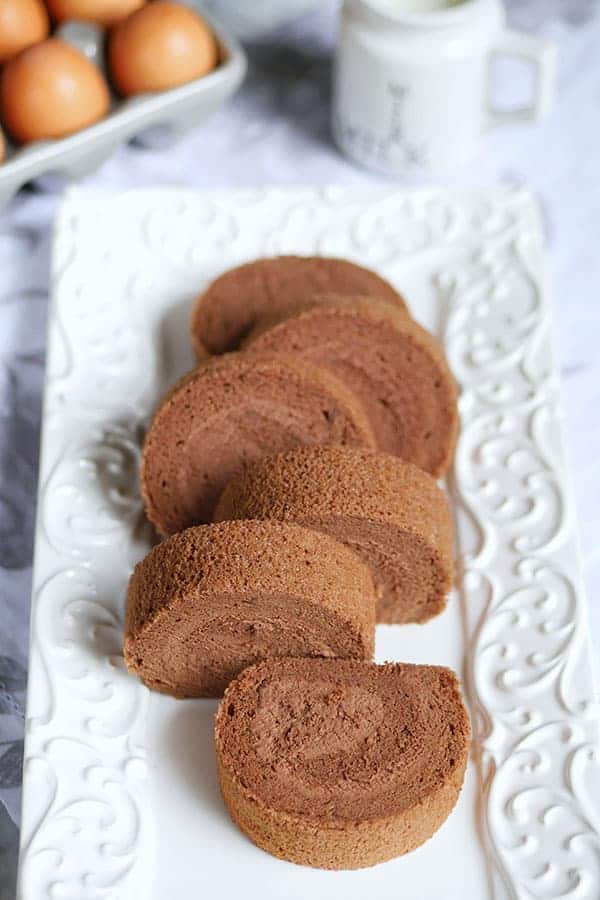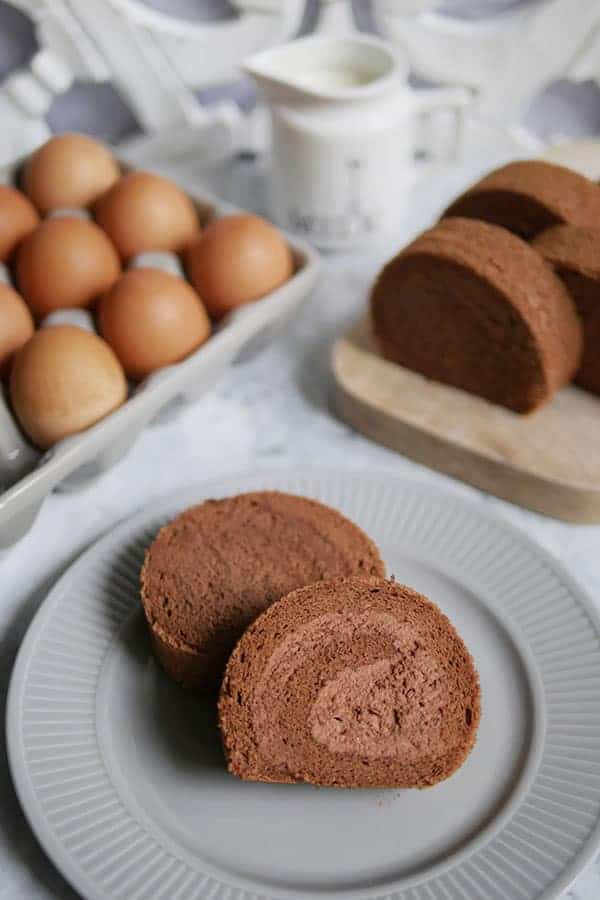 Here is the much anticipated version with a vanilla cake base. You can use this cake base to roll with any fruit. Click to get recipe for Fresh Strawberry and Cream Japanese Cake Roll.