We just hosted our first holiday party of the season last night at our house and here is one of the desserts I wanted to share with you first (they'll be more to come!) . I love these panna cottas topped with a mixed berry compote because they are gluten-free, present beautifully, taste delicious, and are super easy to make! They're a real life saver when you're hosting a party and already have a lot on your plate.
I still remember the first time I had this dessert at a party and one of our friends thought it was the most delicious thing ever. He literally ate over 10 of these and exclaimed, "these are so good!", each time he reached for another one. Since it was my first time meeting him that day, I have forever remembered him as "the guy at the party who ate all the panna cottas".
For the berry compote, you can use both fresh or frozen berries and yes, you do need to use the lemon. Some berries are already naturally tart but they can also be a little bit flat compared to that mouth-watering high acidity that lemon can bring to any dish.
Panna Cotta is a dessert that is simply "boiled cream". It's a creamy base that pairs wonderfully with the tarty berry compote. These contrasting flavours are amazingly addictive! It was like deja-vu all over again when my guests told me that "they are so good!", while grabbing another one and asking that I pack some home for them.
I hope you enjoy making this easy dessert and I'm positive you'll get the same enthusiastic response to it as well. Remember to show me how you display these pretty babies and your holiday baking. I'll be over on IG and FB.
Xoxo,
Mimi
Recipe
Yield: 16 shot glasses 1 oz. each
Mixed Berry Panna Cotta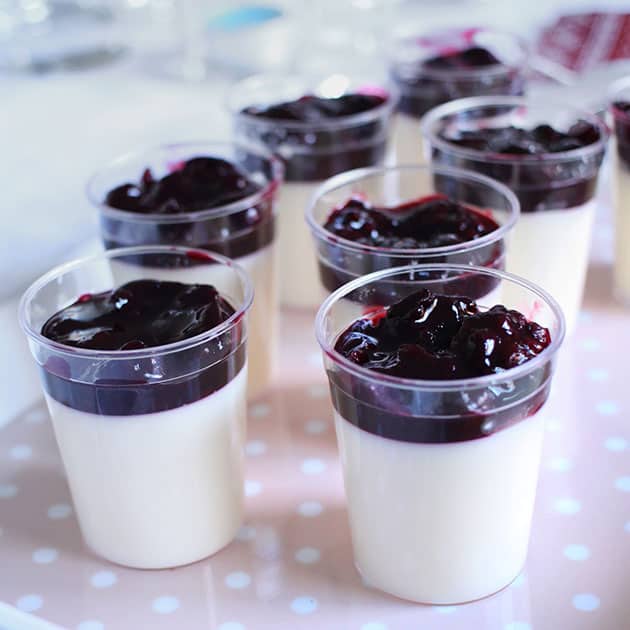 An easy to prepare mixed berry panna cotta. Prepare them in under 30 minutes with no baking involved. All the ingredients can be found at any grocery store. Rich, creamy and tart. They are so delicious!
Ingredients
Easy Panna Cotta
1 ¼ cup half and half (see Note 1)
2 teaspoon unflavored gelatin
1 ¾ cups heavy cream
45 grams granulated sugar
Pinch of salt
1 ½ teaspoons vanilla extract
Mixed Berry Compote
2 cup mixed berries (e.g. blueberries, pomegranate, raspberries, strawberries, cherries) see Note 2
1-2 tablespoons of granulated sugar to taste
2 teaspoon cornstarch
1 tablespoon water
1 lemon
Instructions
Easy Panna Cotta

Start recipe a day ahead as panna cotta will need to set in the fridge.
Put 2 tablespoons of the half and half in a small cup and sprinkle the gelatin on top evenly to bloom.
Put the rest of the milk, sugar and salt into a sauce pan on low heat but do not let it boil. If it does, immediately remove it from the heat. Keep a constant watch over as it can over-boil very quickly.
Stir until the sugar is fully dissolved.
Add the cream and stir until fully incorporated. Do not let boil.
Whisk in the bloomed gelatin.
Take off heat.
Add vanilla extract.
Stir gently until the mixture has come to room temperature.
Pour the mixture into shot glasses or ramekins. Before pouring into each new glass or ramekin, stir the mixture to prevent it from separating.
Place in an air tight container in the fridge to set overnight. Once set, add the berry sauce on top.


Mixed Berry Panna Cotta

Cut lemon in half. Remove all the seeds.
In a small bowl, dissolve cornstarch in the water.
On medium heat boil 2 cup of mixed berries in a pot.
Add 1 tablespoon of granulated sugar. Add the remaining sugar if a sweeter taste is desired. Boil until sugar is fully dissolved. Once the mixture begins to bubble up, remove from the heat to prevent the fruit from becoming too soft.
Squeeze the lemon juice into the mixture to taste.
Add the cornstarch into the mixture, stir until fully incorporated and the mixture has thickened. It will thicken further as it cools.
Let the mixture cool off and then place in the fridge.
When you're ready to serve the panna cotta, add it on top. Can be made 1 or 2 days before serving.
Notes
1. Whole milk can be used to substitute but half and half is preferable to prevent separation into different layers after setting.
2. Frozen berries were used in this recipe.
Nutrition Information
Yield
16
Serving Size
1
Amount Per Serving
Calories

134
Total Fat

11g
Saturated Fat

7g
Trans Fat

0g
Unsaturated Fat

4g
Cholesterol

36mg
Sodium

28mg
Carbohydrates

7g
Fiber

0g
Sugar

6g
Protein

2g
This information is provided as a courtesy and is an estimate only. This information comes from online calculators. Although indulgewithmimi.com attempts to provide accurate nutritional information, these figures are only estimates.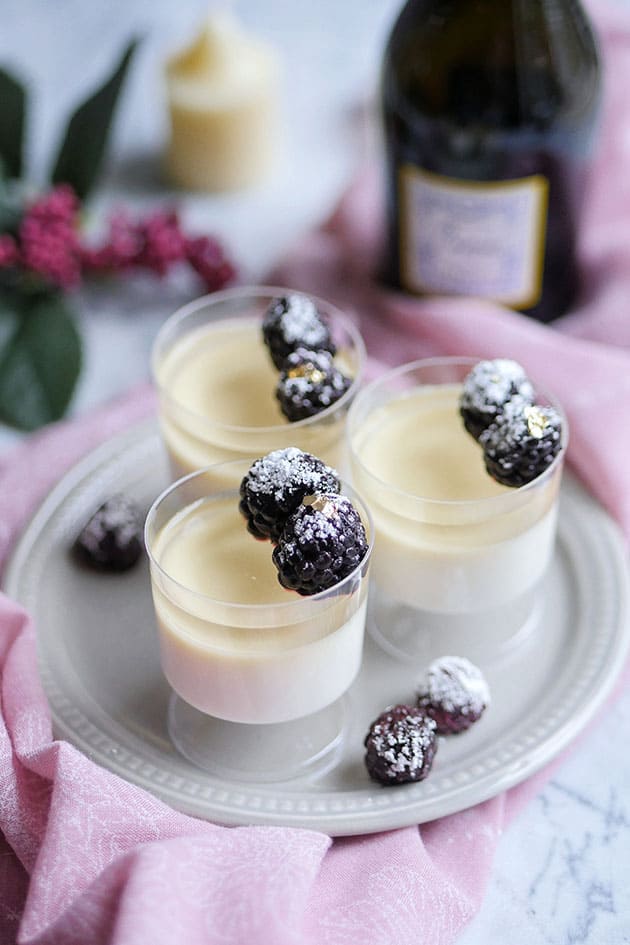 [srp post_limit='5' post_random='yes' post_include= 3477 widget_title = 'First Instalment in This Year's Holiday Party Posts']
[srp post_limit='5' post_random='yes' post_include= 3497 widget_title = 'First Instalment in This Year's Holiday Party Posts']