You may have already discovered that afternoon tea in Vancouver is not one of those dining experiences which you can casually decide on last-minute. You might run into obstacles such as full-houses, tea sets which requires 24 hours advance booking and weekend-only offerings. So on Friday morning when my friend and I decided on the spur-of-the-moment to go for afternoon tea, I was really scrambling to find one that would have us on such short notice. One place that has always been on my radar is Rose House. I remember that they close on Mondays which was why I could not visit the last time I wanted afternoon tea in Kerrisdale. This time, it was around 8 am when we decided on tea but I knew Rose House would not be open for another three hours. I took the chance hoping that when 11 am came around, they would pick up and tell us it would be okay to come down and indulge in some sweet treats. And indeed, when I called back several minutes after opening (yes, I am that neurotic client!), they enthusiastically welcomed us to come in for afternoon tea. It was a great start already.
Rose House is located on Balsam street off of 41st in Kerrisdale. I can't believe how many times I have passed by without ever noticing it. I guess to be fair, it is situated on a side street. It is very interesting to note that this is perhaps the third tea house in Kerrisdale besides the much-hyped, Secret Garden and the classically sweet, Adonia.
Walking inside, we were warmly greeted by the hostess, which I later discovered did double duty as a server too. I quickly scoped out the layout and immediately asked for the table by the windows. How else would I take these lovely photos, right? 🙂 The interior design is Traditional European characterized by the white walls, plush velour chairs, solid bold dining benches and brick archways.
Their traditional 3 course afternoon tea is named Prince William Tea Set and includes a drink worth $7.95. If you choose a beverage item over that, you pay the difference between the two. There are even cold tea selections too, which I find refreshing. I imagine it would be really nice to have one when the weather becomes warmer. My friend and I both chose hot teas that came in exquisite tea pots that were kept warm by teapot warmers. I really like this special detail.  The warmers are not only practical for keeping the tea warm but adds that special elegance to the tea time experience.
Immediately afterwards, the 3 tier food tray is brought out. Besides the little detail of the customized ribbon with "Rose House" printed on it, the tray is simple, white colored and each level is the same in size. One thing I noticed right away was how tiny all the food was. I'm not a big eater and we didn't even end up finishing everything but I guess what I'm trying to say is that if I noticed it, then someone else who has a heartier appetite might find this set a little underwhelming in terms of the quantity. Now, I'm not saying that anyone should go to afternoon expecting to be stuffed with food but there are other options available in Vancouver, ex. Neverland Tea Salon, which offers a more robust selection of "regular" sized food items in their tea sets.
Below are the photos of each tier starting from the top working its way to the bottom plus a bonus waffle dessert which we ordered on the side. The savouries were good and the shrimp cocktail was fresh, which seems to be a good sign that the food preparation is well taken care of. In contrast, the dessert items weren't very memorable with the exception of the strawberry mousse in a chocolate mold cup. It had the right combination of both tangy and sweet - a perfect dessert that you can probably eat a few at a time.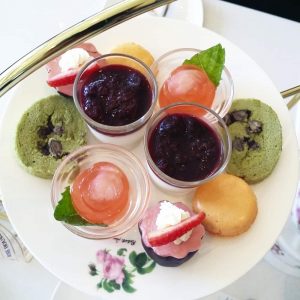 Overall, I really appreciated tea at the Rose House for its elegant atmosphere, attention to detail and its ease of access in Kerrisdale. The food wasn't very memorable but it's always nice to shake things up, try new places where you can sit down and catch up with your girlfriends. After all, any good afternoon experience is only as good as the company.
XOXO,
Mimi
❤ OTHER NOTES:
One word description: Rose!
Ambience: Traditional European Luxury. Spacious as they do not try to cram as many seats as possible into the space. There are several sections which can be segregated to create a more intimate space for larger groups.
Savoury: Good, fresh but small
Sweets: Average. Macarons were soggy and we were told they only offer one flavour at a time.
Tea: Very extensive collection centering around the rose flavour. Cold teas are also available.
Service: Very friendly. Perhaps understaffed as we only saw one server for at least 5 parties and we weren't able to receive help in a timely manner.
Location: Kerrisdale. Vancouver West, 5687 Balsam St, Vancouver, BC V6M, T: (604) 620- 3668
Parking: Street parking right outside on Balsam if you're lucky. There are lots of other spots all along 41st Avenue.
Other notes:
Vegetarian option for afternoon tea is available.
Besides the Full and Mid-sized Tea Sets, they also offer lunch dishes and desserts so you can stop by for something simpler if you like.
♥ Prince William Afternoon Tea is $28.95
(includes one pot of tea worth $7.95)
7 savouries, scones, 5 desserts
♥ Little Prince Set is $16.95
(includes one pot of tea worth $7.95)
2 mini sandwhiches, 1 scone, and 3 desserts
♥ Petit Four Set is $11.95
(includes one pot of tea worth $7.95)
4 mini desserts
[srp post_limit='5' post_random='yes' category_include= 29 widget_title = 'Indulge in Vancouver Life with Me']