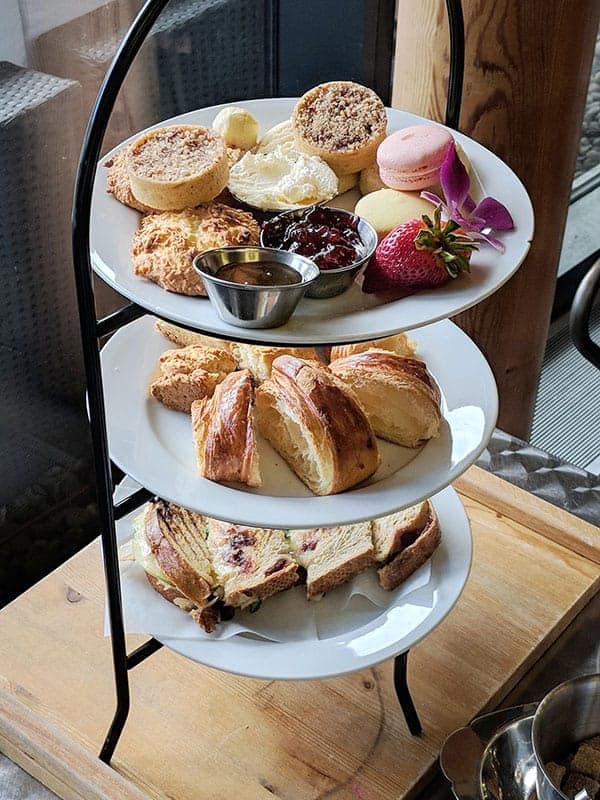 Beyond the Festival of Lights
I have always been a bit intrigued with the afternoon tea service at VanDusen Gardens. Mainly because its not very well-known and the format is less defined than the other afternoon teas I've been to. VanDusen Gardens is located in the Vancouver West neighborhood of Shaughnessy and is most widely known for its annual Festival of Lights in the winter season and the plant sale in the summer. It doesn't have a reputation as a destination for dining let alone afternoon tea. Even so, I have come across their tea set occasionally while browsing through Instagram and have always been curious to try it. Since my good foodie friend, Roanna, wanted to meet Bibi and I wanted to have a walk in the gardens with her afterwards, we decided to meet there for afternoon tea.
The afternoon tea service is held in the Truffles Fine Food Cafe that is located in the same area as the admissions desk. It's on the right hand side before entering the entrance so a ticket is not required in order to dine there. The cafeteria-style tea service is the most casual one I've experienced so far. After lining up, paying at the counter and seating ourselves, the tea set was brought out to us on a 3-tier tea tray. There are no refills for hot water in our kettle or service of any kind beyond that. The ambiance is like a bustling garden cafeteria - informal and lively during lunch hour (yes, there are long line ups!). The decor inside is not particularly inspiring but the patio has 2 sectionals that are quite lovely. In fact, all the tables on the patio are wonderful. It's a hidden gem for Vancouver patios. Even if you don't snag any outside seating, all the tables inside the cafe enjoy a beautiful view of the garden's beautiful water fountain.
The tea set itself is simple but hearty. There were more savouries and not enough sweets for my liking. I found the variety a bit boring but this was offset by the fact that the price was also only $50/2 people which is on the low end for afternoon tea in Vancouver now. Personally, I wouldn't make a special trip out for this set since it is offered on a first-come-first-served basis but I would recommend it as a great lunch alternative at the Truffles Fine Foods cafe for anyone who happen to visit the garden on a regular day or for any of the numerous events they hold throughout the year.

Until our next tea date.

XOXO,
Mimi
Grilled Turkey Sandwich

Croissants and Scones

Sweets selection of the 3-tier afternoon tea tray.
Notable Points:
- Casual afternoon tea concept available everyday without requiring reservations (but is on a first-come-first-served basis until they sell out).
- Reasonably priced
- Beautiful view of Van Dusen Garden's fountain from all tables.
- Good lunch alternative for those already visiting the gardens.

Ambience: The tea set is served informally in the cafeteria-style setting of the Truffles Fine Foods Cafe located in the admissions area of the garden. The decor inside is not particularly inspiring but every table has an amazing view of the garden's fountain. There are two outdoor sectionals on the patio which are very comfy and are absolutely wonderful if you can get it. Actually, every table on the patio is great as their patio is a hidden gem for enjoying the summer months without the line-ups.

Scones: The cheese and herb scone was robust in size and flavour. It was served with clotted cream, jam and honey.

Savoury & Sweets: The tea set is heavy on the savouries with a few sweet treats. The grilled turkey sandwich is one of the regular menu items and has always been one of my favorite items on their lunch menu. I've tried a few of their hot sandwiches and they are all packed with flavour and fixings. There are a variety of sandwiches to choose from for your tea set. Except for the macarons, I found the sweets selection a bit boring for me. Instead of a macaroon or cookie, it would have been nice for it to be substituted with one of the mini desserts sold separately at the counter such as cheesecake, chocolate mousse or tiramisu. We also received only one chocolate truffle instead of two which was a bit confusing.

Tea: One pot of tea is provided for both guests to share. There are around 8 different teas to choose from.

Tea Ware: The tea set is served on a white 3-tier tea tray which is placed on a wooden serving tray.

Alcoholic Beverages: none

Service: Guests line up to order and pay, food that requires preparation are then brought out to the table by the kitchen staff. There is no service beyond that but top-ups for tea can be requested by bringing over the teapot to the counter staff. It's very busy during lunch hour so it's not quite convenient.

Other notes:
♥ Casual fternoon Tea Set $50/2 people

Lunch and Desserts
There are quick lunch and dessert options to choose from. Most of them are artisanal sandwiches, salads and a few pre-made meals like mac n cheese which can be reheated.

♥ Parking: Lots of free parking in the Van Dusen Garden parking lot or on 37th avenue (also free). Car2Gos and Evos can be parked on 37th avenue for free. Closest skytrain station is Oakridge Centre 15 minutes away by foot or you can take the 41st bus from Oakridge Centre and get off on Oak Street. From there, it is only 5 minutes away.

♥ Hours: Causal Afternoon Tea is served from 11:00 am till 2 hours before cafe closes.

A: 5151 Oak Street, Vancouver, BC, V6M 4H1
T: (604) 505 4961
[pt_view id="d749ae79dr"]
[pt_view id="342f946uh1"]