Easy pink meringue cookies made using the French method - sugar syrup not required! It's light and crisp, perfect for Valentine's Day gift giving, bridal and baby showers, afternoon tea and decorating cakes and cupcakes.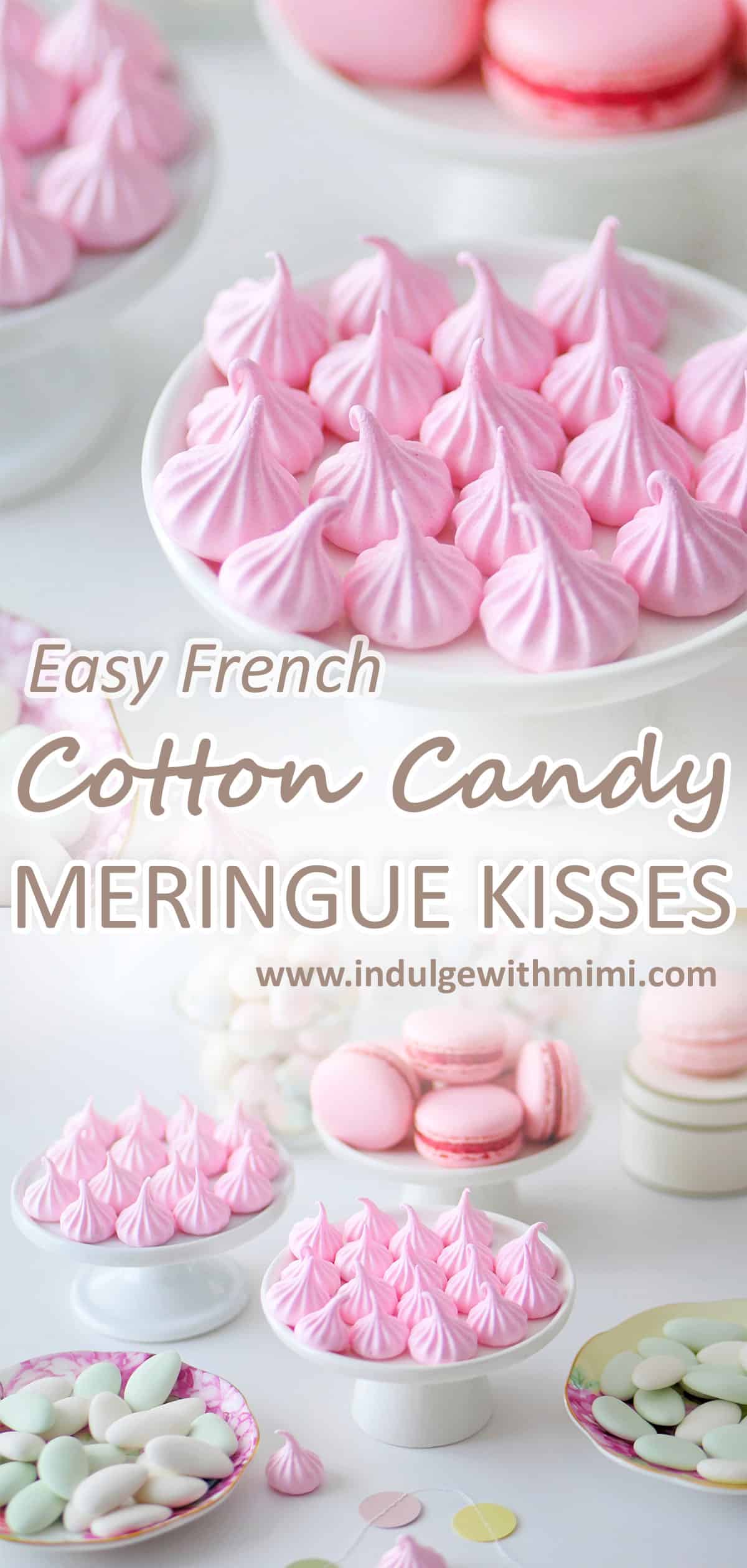 Jump to:
I made these pretty pink cotton candy meringue kisses for Bibi's second birthday party that conveniently doubled as party favors and sustainable table decorations. I really love them because they made the dessert table look fantastic and they could be packed up afterwards in little goodie bags for Bibi's friends who came to do contactless present drop offs. After making white meringues in a mushroom shape with vanilla extract flavoring, I thought it would be nice to try a fun flavoring this time for these pink candy kisses. I was gifted a specially formulated bottle of cotton candy extract by Jenna Rae Cakes and thought it would be perfect for this occasion.
Why You'll Love Making French Style Meringue
Easy to Make - French method meringue technique requires no heating of sugar syrup.
Multiple Uses - perfect for topping off Valentine's Day cakes & desserts or for gift giving by itself.
Minimal Ingredients - utilizes simple pantry ingredients that are easy to stock.
Prepare in Advance - save time by making these Valentine's goodies up to weeks in advance.
Creative Uses - meringue can be piped into various shapes and sizes. Once you prepare the batter, you can experiment with a variety of designs like hearts, meringue lollipops etc.
Ingredients You'll Need & Substitutes
Castor sugar - also known as 'fine granulated sugar' or 'berry sugar'. Can also be substituted with regular granulated sugar but castor sugar is preferable.
Egg whites - make sure egg whites are at room temperature before whipping for maximum volume.
Cream of tartar - is an acid that adds more stability to meringue. It can be substituted with double the amount in lemon juice or vinegar.
Cotton candy or pure vanilla extract - these flavorings can be substituted with a few drops of your favorite extract. Use ⅛ teaspoon a more subtle flavor and increase to ¼ teaspoon for a more potent flavor. See below on where I bought my cotton candy extract.
Gel Food Color - I used Americolor brand here. Gel colors are great because they provide vibrant color with just a small amount. (Excessive use of liquids can cause meringues to deflate.)
Where to Buy a Good Cotton Candy Extract?
To make these special cotton candy meringue kiss, I used a cotton candy extract that was specially concocted by Jenna Rae Cakes to have that unique spun sugar taste. It's the same flavoring that is used in the cotton candy products sold in their popular bakery chain in Canada. Updated, January 2023: I liked it so much that I decided to use it again to make a pink Japanese cotton candy cake roll for Valentine's Day.
I also think Cotton candy is a great flavoring for those times when you can't decide what rainbow colored goodies should taste like 🙂 I will make a note to use it next time for my rainbow crepe cake or 3D rainbow macarons.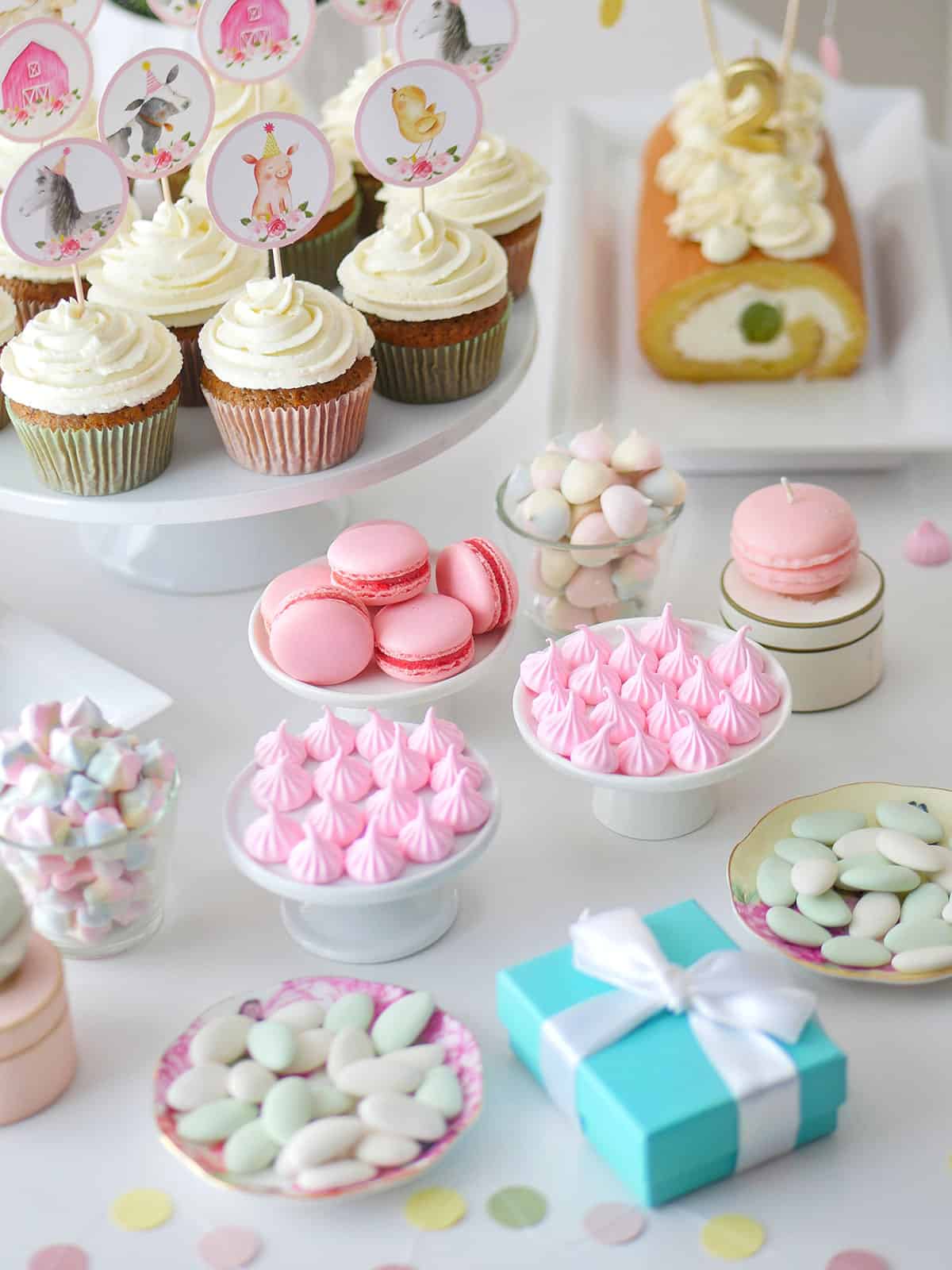 What is Meringue and How to Use It
Meringue is made from a mixture of whipped egg whites and sugar, this mixture can be baked or left unbaked. If left unbaked, it's soft and fluffy and is usually reserved as toppings on desserts like lemon meringue pie and Baked Alaska (Note: for food safety, usually these meringues are prepared by heating the egg whites and sugar to a temperature that can kill any harmful bacteria inside the eggs). If baked, it becomes a wonderful treat all on its own. It's sweet and crispy with a light texture. Cotton candy meringue kisses make a wonderful homemade candy using minimal ingredients.
The Differences Between French, Italian and Swiss Meringue
This recipe uses the French method for preparing meringue. In this method, sugar is simultaneously added to egg whites that are being whipped. Whereas in the Italian method, the sugar is first heated with water to create a syrup that is then added to egg whites that are being whipped. In the Swiss method, the egg whites and sugar are heated together in a bowl until it reaches a temperature that can dissolve the sugar and kill bacteria inside the eggs.
The French method is especially suited for beginners and many of you may already have experience making a French meringue from my Best Macaron Tutorial. You will find all that practice you had making a strong and healthy meringue for macarons will now come in handy for these meringues cookies. For those of you who are new to making meringues, here are some tips below for mastering this little cookie.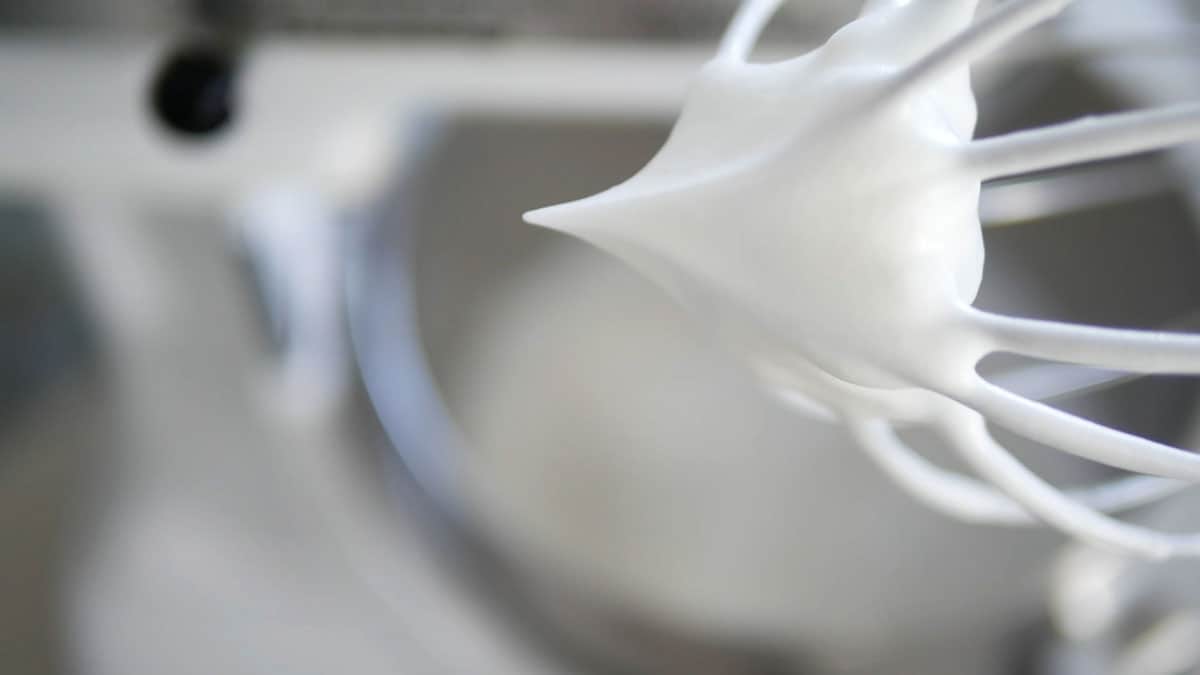 Tips for Making French Meringue
Meringues don't whip up well when mixed with oil or water. Use a non-plastic bowl like glass or copper and wipe it down with some vinegar or lemon juice to remove leftover oils. (Plastic bowls are porous and may contain leftover traces of oil.)
Wash and dry hands completely then separate egg whites straight from the fridge. They are easier to separate when cold. You can use an egg separator to help you do it.
Make sure no yolks are present in the egg whites. If a trace amount comes into contact with the whites, you can scoop it out with the egg shell.
Bring egg whites to room temperature before whipping.
Always start on low speed when whipping egg whites and then gradually increase the speed. This will help the egg whites develop a more stable structure.
Add cream of tartar or any other acid to stabilize the egg whites. Lemon juice or vinegar in double the amount can be used as substitutes.
If possible, use castor sugar a.k.a berry sugar or extra fine sugar. This fine sugar will dissolve more readily than regular granulated sugar.
Add the sugar slowly so it has time to dissolve.
Whip the egg whites until stiff peaks has been reached. Stiff peaks is characterized by egg whites that have pointed peaks that don't collapse on itself (See photo above). A method to test stiffness is to tip the bowl upside down, if the egg whites don't slip, it's ready.
If available, pipe the meringue onto silicone mats instead of paper since it's easier to pull the piping bag away quickly to stop piping without dragging the paper up with the meringue.
To prevent the meringues from cracking, don't open the oven during the baking time.
Once the meringues are finished baking, let it stay in the oven for 2 hours or more to let it cool off gradually without collapsing.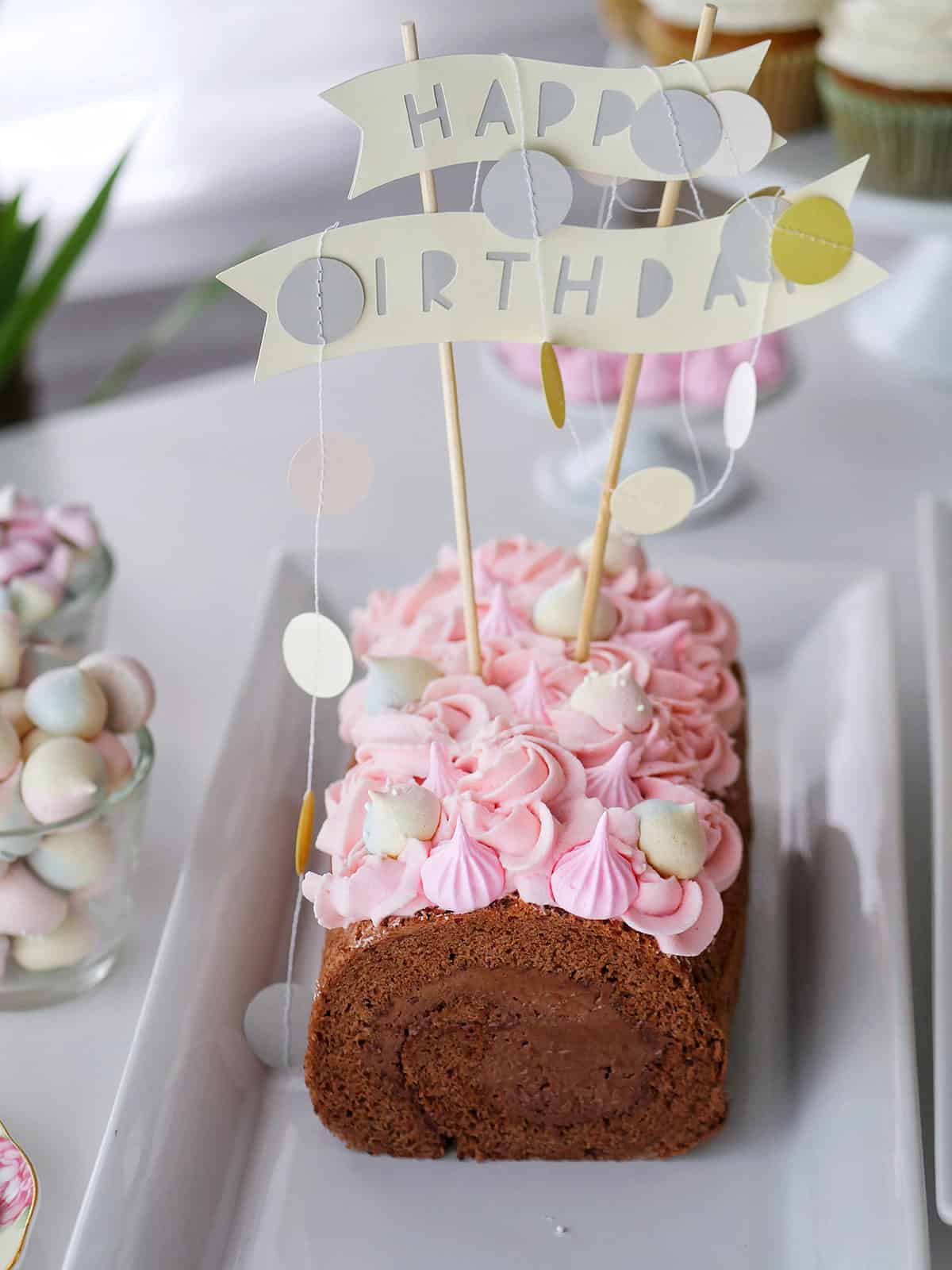 How to Serve & Store Meringue Kisses
There are so many uses for these cotton candy meringues. They're great for decorating Valentine's Day desserts like the chocolate cake roll shown above, cupcakes, cheesecakes and macarons. They can also be wrapped up individually in a gift box for gift giving. Those with a sweet tooth will really love the sweet crispy texture of these meringue cookies. As mentioned above, I've used them as sustainable and delicious decorations for Bibi's second birthday party.
These meringue cookies can be made up to 2 weeks in advance and kept in an air-tight container. If you're using them purely as table decorations and not for consumption, they can be kept even longer, up to one month.
Tip: If you're making a Valentine's Day cookie box, try this easy recipe, marbled heart cookies without royal icing.
Heart Meringue Lollipop Templates
To make heart meringue lollipops, you can use this recipe for piping heart shapes onto the provided templates below. Sprinkle some sprinkles onto the top if desired. Next, insert a heat-safe paper straw in them before baking. Once baked and left to cool completely, cover with clear plastic treat bags and secure the end with a twist tie or ribbon. These will make wonderful Valentine's Day gifts and even just one will make a huge impact!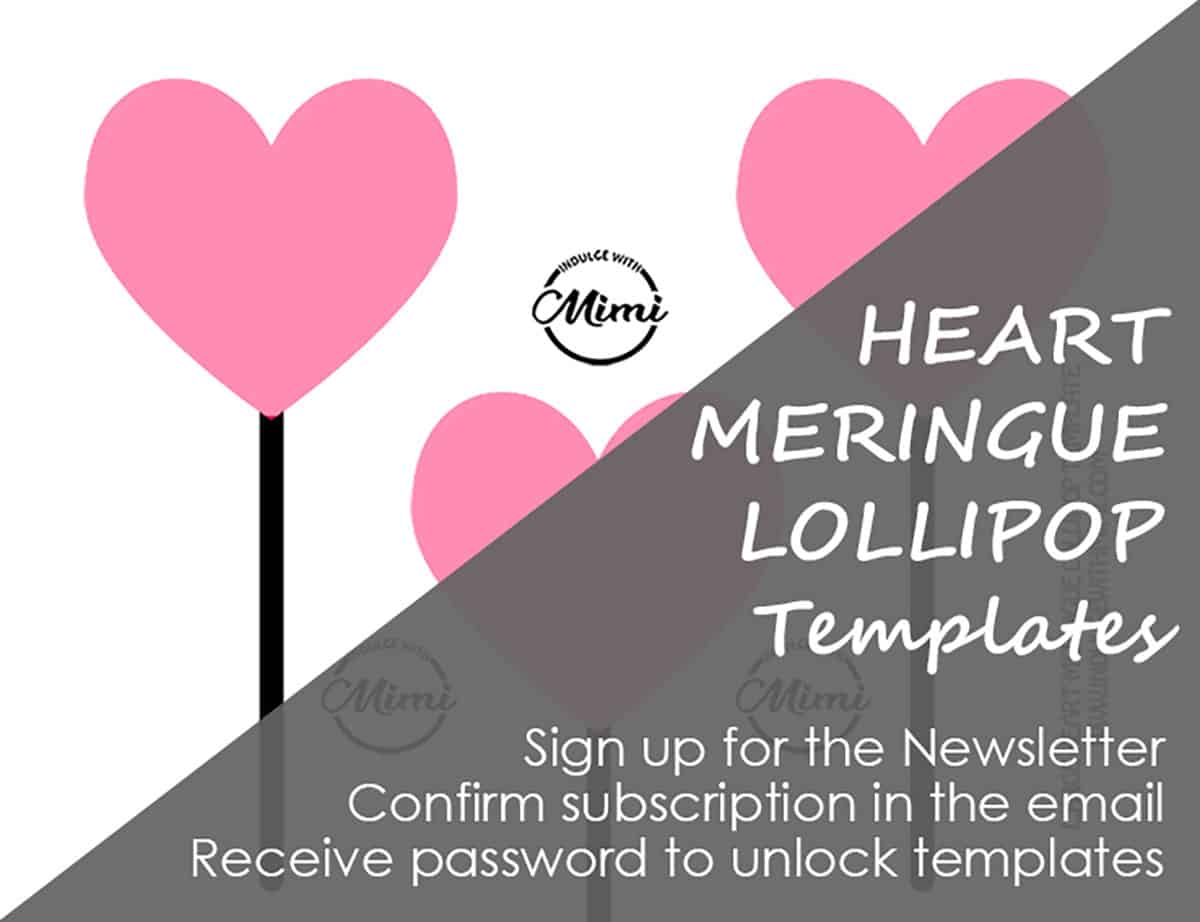 Recipe
Yield: 60 small cookies
Pink Cotton Candy Meringue Cookies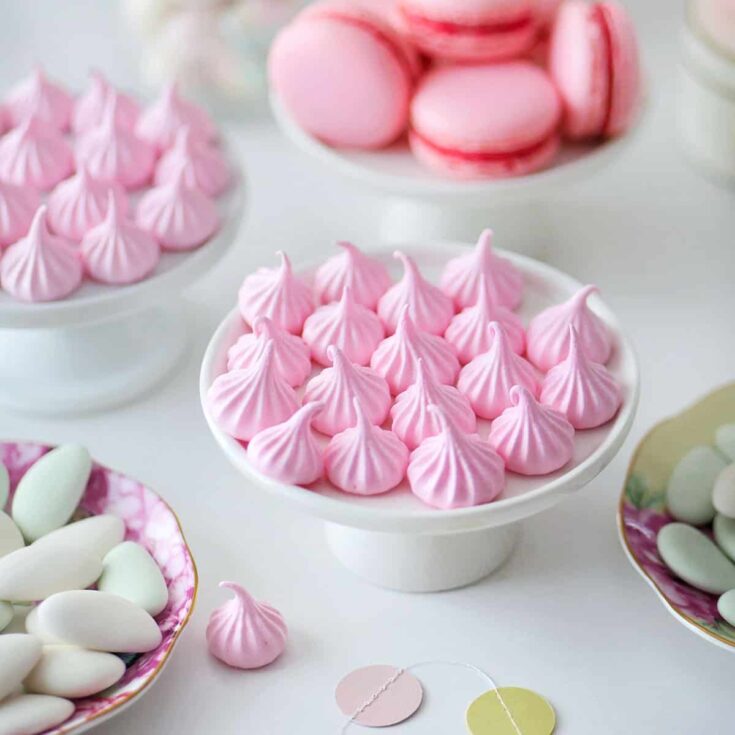 Easy pink meringue cookies made using the French method - sugar syrup not required! It's light and crisp, perfect for Valentine's Day gift giving, bridal and baby showers, afternoon tea and decorating cakes and cupcakes.
Total Time
3 hours
25 minutes
Ingredients
Pink Meringue Cookies
135 grams castor sugar (Note 1)
60 grams egg whites (room temperature)
⅛ teaspoon cream of tartar (Note 2)
⅛ - ¼ teaspoon cotton candy extract or pure vanilla extract (Note 3)
1-2 drops of pink gel color
Instructions
Pink Meringue Cookies
Set egg whites out at room temperature.
When the egg whites comes to room temperature, whip on low speed. Once it begins to foam, add cream of tartar.
Increase speed to medium.
Continue whipping until egg whites become opaque and the whisks starts to leave tracks inside the whites.
Add the sugar a little at a time until soft peaks is reached. (Note 4)
Add gel color and keep whipping.
Add vanilla extract and increase speed to med-high speed until stiff peaks are reached (Note 5). You have now made a meringue.
Transfer the meringue to a piping bag fitted with a coupler and a small open star decorating tip (e.g. Wilton #32).
Pre-heat oven to 200F.
Place parchment paper or Silpat mats onto baking tray. If using paper, dab a bit of meringue onto the bottom of the paper and stick it to the pan to prevent it from shuffling around as you pipe.
Hold the piping bag vertically over the mat at a 90 degree angle, pipe the meringue and pull away quickly while releasing pressure to create a pointed tip.
Bake for 1 hour at 200F. Do not open the doors while baking.
Meringues are fully baked when they can be pulled cleanly away from the mat without sticking.
Turn off the oven. Leave meringues inside with the door ajar for at least 2 hours or overnight.
French meringue mushrooms can be kept in an air-tight container at room temperature for up to 2 weeks.
Notes
1. Castor sugar is also known as 'fine granulated sugar' or 'berry sugar'. Can also be substituted with regular granulated sugar but castor sugar is preferable.
2. Cream of tartar can be substituted with double the amount in lemon juice or vinegar.
3. Flavorings can be substituted with extracts of your choice. For a stronger flavor, use ¼ tsp.
4. Soft peaks is reached when the meringue holds a soft tip that droops back on itself after the whisk pulled out.
5. Stiff peaks is characterized by egg whites that hold a stiff peak that stands upright without falling over when the whisk is pulled out of the egg whites. Additionally, the egg whites don't slip in the bowl when tipped upside down.
Nutrition Information
Yield
60
Serving Size
1
Amount Per Serving
Calories

9
Total Fat

0g
Saturated Fat

0g
Trans Fat

0g
Unsaturated Fat

0g
Cholesterol

0mg
Sodium

2mg
Carbohydrates

2g
Fiber

0g
Sugar

2g
Protein

0g
This information is provided as a courtesy and is an estimate only. This information comes from online calculators. Although indulgewithmimi.com attempts to provide accurate nutritional information, these figures are only estimates.