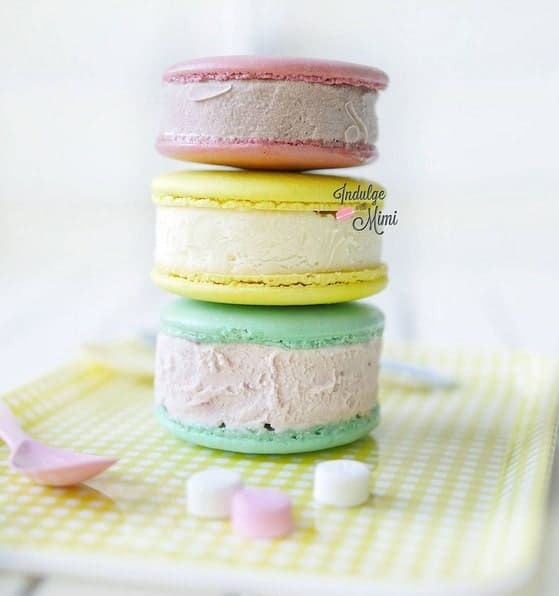 After last year's Big Macaron Cake debacle, I was a little hesitant to bake big macarons again. However, I decided, it's another year and I should tackle this baby one more time to see how my macaron baking skills have improved within the last year. I'm happy to report that the big macarons baked beautifully the very first time and I am now the proud owner of several batches of delicious big macaron ice cream sandwiches. I plan to give these away to friends and family during this beautiful and warm summer season that we've been enjoying in Vancouver. Here are a few photos I took these few weeks of my city:
Now onto the goodies:
Previous Posts which Paved the Way to Big Macaron Success
Here are three previous posts which highlight the techniques I found most useful in achieving success with baking big macarons:
How to Assemble a Big Macaron Ice Cream Sandwich
Instructions:
1. Bake Big Shells
Use my Best Macaron Recipe to bake your Big Macaron Shells.
TIP: Here is the link to how I baked big macaron shells for making a big macaron cake.
To achieve success with baking the big shells, make sure you pay attention to these issues:
- Big Macaron Template
Trace the outline of a big round cookie cutter, leaving a space of 1.5 inches in between each shell. I am not providing the template here since you need your shells to bake to the same size as the ice cream which you will "cut out" with the same cutter (see video on the bottom of the page before starting).
- Resting Time
Big shells take longer to rest. Before baking them in the oven, make sure you are resting them until they develop a firm "skin".
- Baking Time
Big shells take longer to bake. In my oven, it takes 30-40 min. at 350F. Judging the doneness can be a little more difficult since you won't have many sacrificial shells to break open to check if it's done. Unlike small shells, big shells also don't budge easily even though they are still not done. I judge the doneness by the uniformity in it's color and just from experience with my own oven.
- Bake Only One Size at Once. 
Smaller shells take less time to bake than bigger ones so you'll be sacrificing one size or the other if you bake them on the same mat at the same time.
2. Remove shells from mat once cooled. 
3. Cut open ice cream container and slice them down to the desired thickness. 
For convenience sake, I like to buy pre-made ice cream in small paper containers.  Plus, you'll be able to use your favourite branded flavours like I did with mine - Haagen Daaz Strawberry, Hershey's Reeces and the ever controversial Durian flavour.  Paper containers are great because you can slice open the box easily and cut the ice cream into the desired shape and thickness. Open up the paper box, slice the ice cream into the desired thickness.
4. Cut out ice cream with round cookie cutter. 
Take the round cookie cutter which you used to make the macaron template and use it to "cut out" the ice cream. With the leftover ice cream bits, place them into a shallow baking pan lined with ceram wrap to make one compact ice cream block, place in the freezer. Once firm, it can be used again to "cut out" more round ice cream. Be careful not to let the ice cream bits melt too much while doing this since melted ice cream will refreeze with larger crystals and result in a grainy ice cream texture. The ceram wrap used to line the pan will prevent the ice cream from sticking to the bottom of the pan.
5. Assemble the ice cream in between each shell. Place in freezer immediately. 
Take the now perfectly round ice cream slice and sandwich it between two big macaron shells. Immediately place it in an airtight container and transfer it to the freezer. Place each sandwich with the flat side down since the ice cream sinks easily. Keep parchment paper in between each big macaron sandwich since the shells can stick to each other when placed in the freezer. Big macaron ice cream sandwiches can be kept for up to one month in the freezer. Enjoy!
[srp post_limit='5' post_random='yes' category_include= 24 widget_title = 'Other cuties you might like']