Dinner Party Macarons
When I was on Deborah Moore's radio show last time, I told you about our private dinner experience prepared by Chef Travis Petersen and showed you the macarons I made for the event. I promised a recipe as well so I'm finally sharing it with you all tomorrow morning on the show along with some of the other activities I've been up to: Cooking a Gourmet Meal at the Dirty Apron and Tea at the new Avery Tea House.
In case you didn't read about our private dinner party experience last time, here are some photos: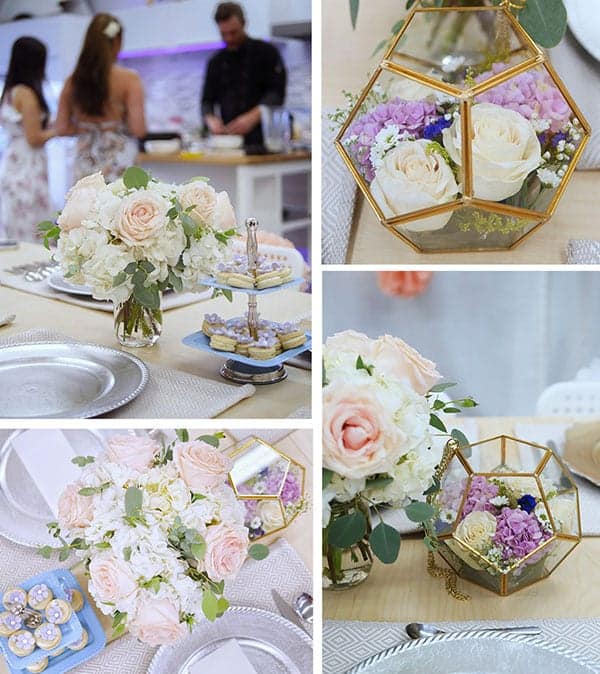 3 Part Recipe
This recipe consists of three parts:
 Lavender infused shells: For this, you'll need to pulse three teaspoon of lavender buds along with the almond flour and icing sugar then use my Best Macaron Recipe to finish making the shells. This is a great way to add additional flavouring to the shells without compromising it's structure.
Lavender white chocolate "ganache": We'll be adding food grade lavender oil to the white chocolate ganache which we then pipe into a circle creating a dam. Then we fill the center with a dallop of lemon curd
Lemon Curd.
A Strong and Sturdy Lemon Curd
A very important element of this recipe is the strong and sturdy macaron-friendly lemon curd. Most macarons containing lemon curd tends to be wet and soggy since lemon curd is a high-moisture filling. Today, we'll be making one that is strong and sturdy and it keeps well in a macaron for a few days.
This recipe is multi-part but I think the results are worth the effort since the flavours really shine through. Any recipe with flavour infused into the macaron shell is going to be very flavourful and I hope you get a chance to try it.
XOXO,
Mimi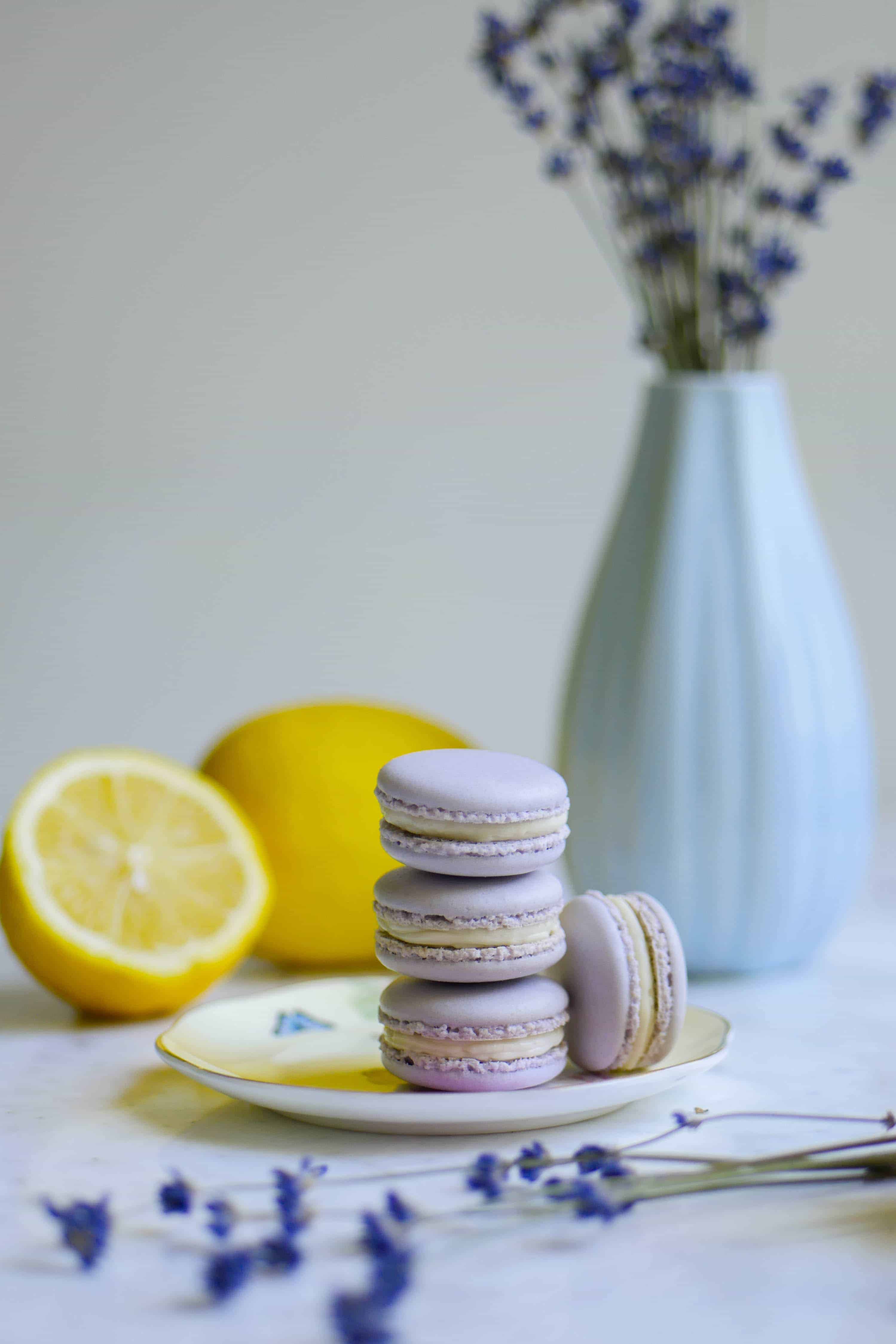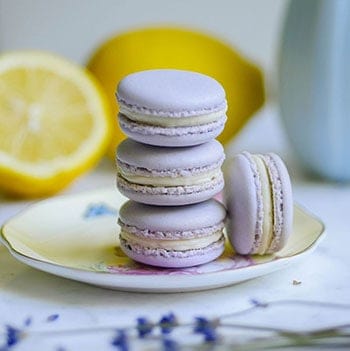 Lavender Macaron Shells
Ingredients
3

tsp

finely pulsed lavender

245

grams

almond flour

245

grams

icing sugar

185

grams

egg whites

165

grams

castor sugar or granulated sugar

1/2

tsp

cream of tartar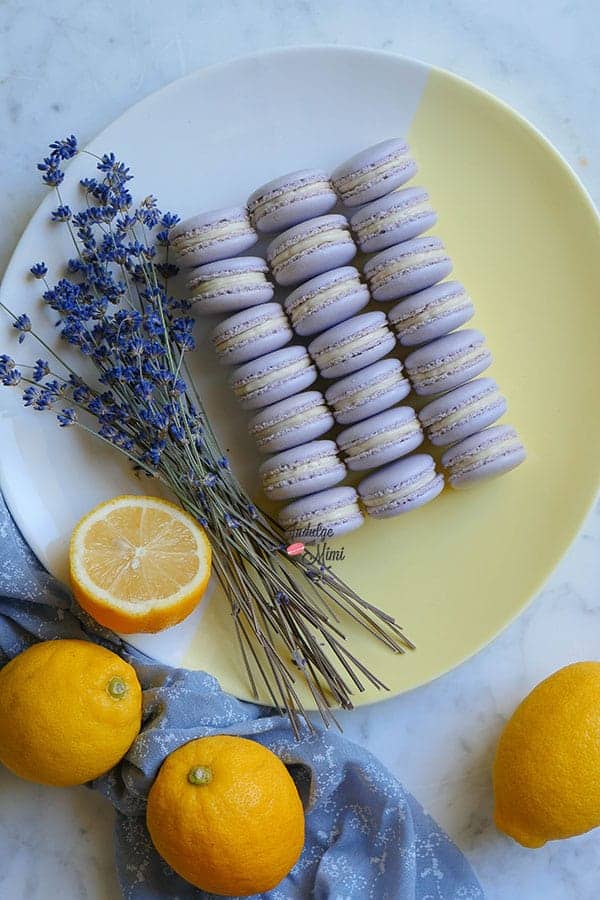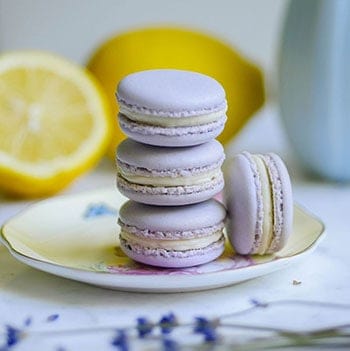 Lemon Lavender Macaron Filling
Ingredients
Lavender White Chocolate "Ganache"
50

grams

heavy cream

150

grams

couveture white chocolate (not chocolate chips)

few drops of food grade lavender oil
Sturdy Macaron-Perfect Lemon Curd
zest of two organic lemons

76

grams

organic lemon juice

2

eggs

50

grams

butter

180

grams

granulated sugar
Instructions
Instructions for Lavender White Chocolate "Ganache"
Chop up couverture chocolate into small pieces.

In a pot, heat cream on medium heat until just before boiling.

Take cream off heat immediately once you see steam and a few bubbles along the edge.

Pour cream onto chocolate. Wait one minute.

Stir the mixture until incorporated.

Add a few drops of food grade lavender extract to the mixture to your taste and stir until fully incorporated. Add only one to two drops at a time since you don't want it to end up tasting like soap!

Put into fridge to firm up a bit before placing in pastry bag.
Instructions for Sturdy Macaron-Perfect Lemon Curd
Zest the organic lemon, set aside.

In a heatproof glass bowl, cream butter and sugar together. Do not use metal bowls as it will react to the acidity in the lemon juice.

Add egg and beat until incorporated.

Add lemon juice and beat until incorporated.

Place over a pot of boiling water. Do not let the bottom touch the water.

Whisk gently to keep the mixture moving as it heats up.

Occasionally, check the temperature of the mixture. You should see the curd thicken up and it will coat the back of your spoon. Allow the mixture to reach 180-185F. It might take a while (10-15 min), so be patient.

Take the mixture off the heat, add the lemon zest into the hot mixture to release the oils and mix until combined.

Pour through a sieve into another bowl for a smooth curd.

Let it cool down then place in the fridge. It will set up into an even firmer and thicker curd after you've chilled it in the fridge.

Pipe a ring of lavender ganache onto the macaron shell then fill the center with a dallop of lemon curd.

Assemble the macaron shells together. Place in fridge for 24 to 48 hours so it can mature before eating. Enjoy!
[srp post_limit='5' post_random='yes' category_include= 23 widget_title = 'More Macaron Recipes by Mimi']