Here is Part 1 of 3 events that I will share with Deborah Moore tomorrow on AM1470.
I'm always up for a good time in the company of other women who enjoy a nice meal and pretty party decors so this past weekend's ladies night was a real delight. A fellow blogger, Maggie, YouTuber, Cici, her two friends and I had a lovely private dinner prepared by Vancouver's original Dinner in the Sky chef, Travis Petersen. The night was made all the more special by the group effort bringing the beautiful dinner to fruition. Maggie organized, Cici hosted and decorated, Kelly contributed an exquisite floral arrangement for the table and I made macarons, of course 🙂
Here's a little glimpse into our night:
The Decor
Many private chefs hold private "underground" dinners in their own homes nowadays but part of this special experience was having our chef, Travis Petersen, come to us which allowed us to decorate the space in any way we desired. Cici, our gracious host, did all the decorating. She made a colorful feature wall with hanging pom poms in pretty pastel colors which ended up looking marvelous in photos. She also prepared a pretty table setting complete with a pastel colored floral arrangement, photogenic tableware and plate chargers. Kelly also contributed by bringing a beautiful arrangement of roses and hydrangeas encased in a modern gold trimmed terranium.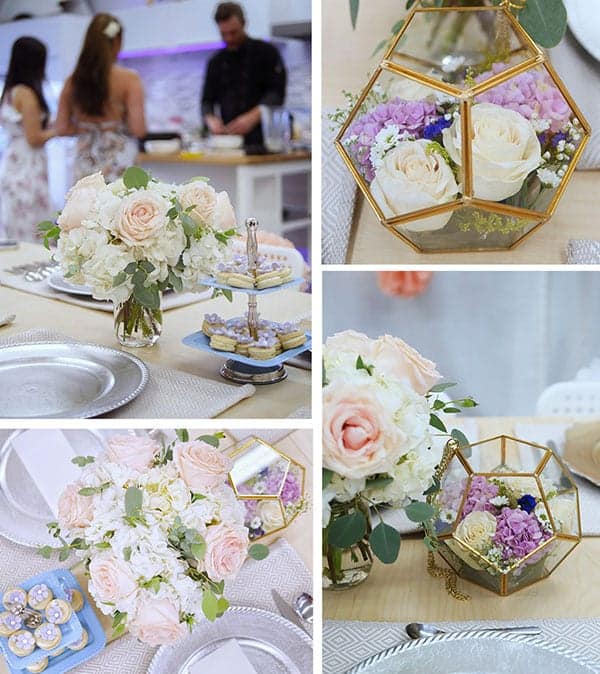 The Drinks
Prior to the party, Cici showed me her idea of putting edible flowers into ice cubes for our drinks. She asked me where she could find them and I was at a loss even though I had always intended to use real flowers in my macarons one day. The next best thing I could think of was my mom's organic garden. She had organic lavender which I thought just might work. So I dropped them off with Cici prior to the party and she put them into ice cubes. I just didn't know they were long ice cubes. WOW! The long ice cubes ended up working perfectly because lavender is a vertical growing flower, and the long cubes looked wonderful peaking out of the wine glass. (BTW, I discovered you can find organic edible flowers at Whole Foods! It's in the refrigerated herbs section.)
The Food
Chef Petersen prepared a scrumptious 4 course meal that one would find in any fine dining restaurant. We had Grilled Portobello mushroom nicoise and ahi tuna ceviche crispy sesame wonton crackers with asian mango and avocado salad to start. The main was an absolutely delicious Crispy skin salmon with squid ink noodles on a roasted red pepper and saffron veloute. Lastly, we ended the meal with a port poached pear with vanilla pastry cream, edible flower and cake crumble.
And not only does he cook, he also does the dishes too. So you can sit back and relax with a glass of wine and enjoy the night without worrying about the work that awaits you once your guests leave.
The Photos
When you eat with food bloggers nowadays, it's almost a rule to make natural light readily available either through a window or open door for the purpose of food photography. Here we are outside on the pavement making use of the little bit of sunlight left before dinner.
The Macarons
And finally, I think we can all agree that a floral themed party absolutely requires floral themed macarons right? Here is my little contribution to the party - lavender lemon macarons. The shell color was kept mostly in its original almond colour with a tiny bit of Americolor gold. Once they were assembled, I brushed a tiny bit of gold dust onto the surface to create a pretty shimmer effect.
As for the filling, I piped a ring of lavender buttercream on the outside and placed a dallop of lemon buttercream on the inside. It's one of my favorite flavor combos! After having one, I was pleasantly surprised when Chef Petersen asked me for more of these 🙂
There's been a lot of request for this recipe so I'll get it up for you as soon as I can. It's been a beautiful, busy and crazy summer. There has been so many wonderful experiences that I am trying to live-in-the-moment for so please bear with me and I hope you are all enjoying your summer too!
Thanks for reading!
XOXO,
Mimi
[srp post_limit='5' post_random='yes' category_include= 131 widget_title = 'Other Vancouver Life Moments']