Lemon Lavender Macaron Recipe with lavender infused shells and a sturdy macaron-friendly lemon curd. Naturally flavored and so mouthwatering!

Dinner Party Macarons
When I was on Deborah Moore's radio show last time, I told you about our private dinner experience prepared by Chef Travis Petersen and showed you the macarons I made for the event. I promised a recipe as well so I'm finally sharing it with you all tomorrow morning on the show along with some of the other activities I've been up to: Cooking a Gourmet Meal at the Dirty Apron and Tea at the new Avery Tea House.
In case you didn't read about our private dinner party experience last time, here are some photos: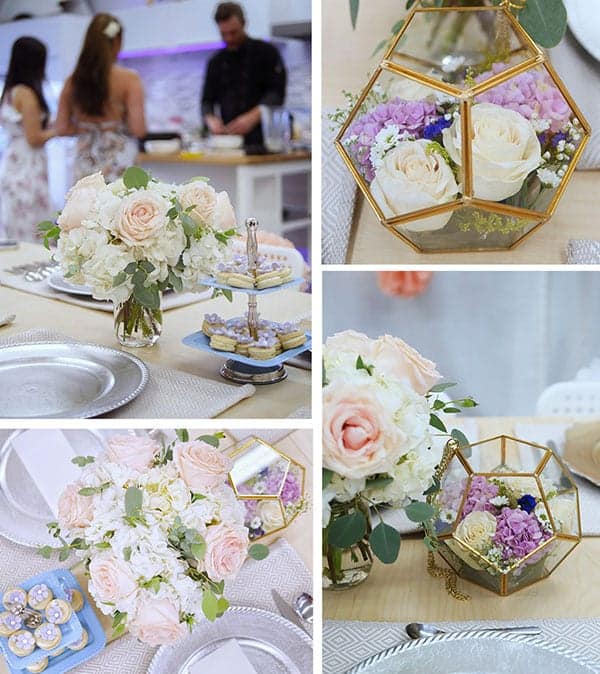 3 Part Recipe
This recipe consists of three parts:
Lavender infused shells: For this, you'll need to pulse three teaspoon of lavender buds along with the almond flour and icing sugar then use my Best Macaron Recipe to finish making the shells. This is a great way to add additional flavoring to the shells without compromising it's structure.
Lavender white chocolate "ganache": We'll be adding food grade lavender oil to the white chocolate ganache which we then pipe into a circle creating a dam. Then we fill the center with a dollop of lemon curd
Lemon Curd.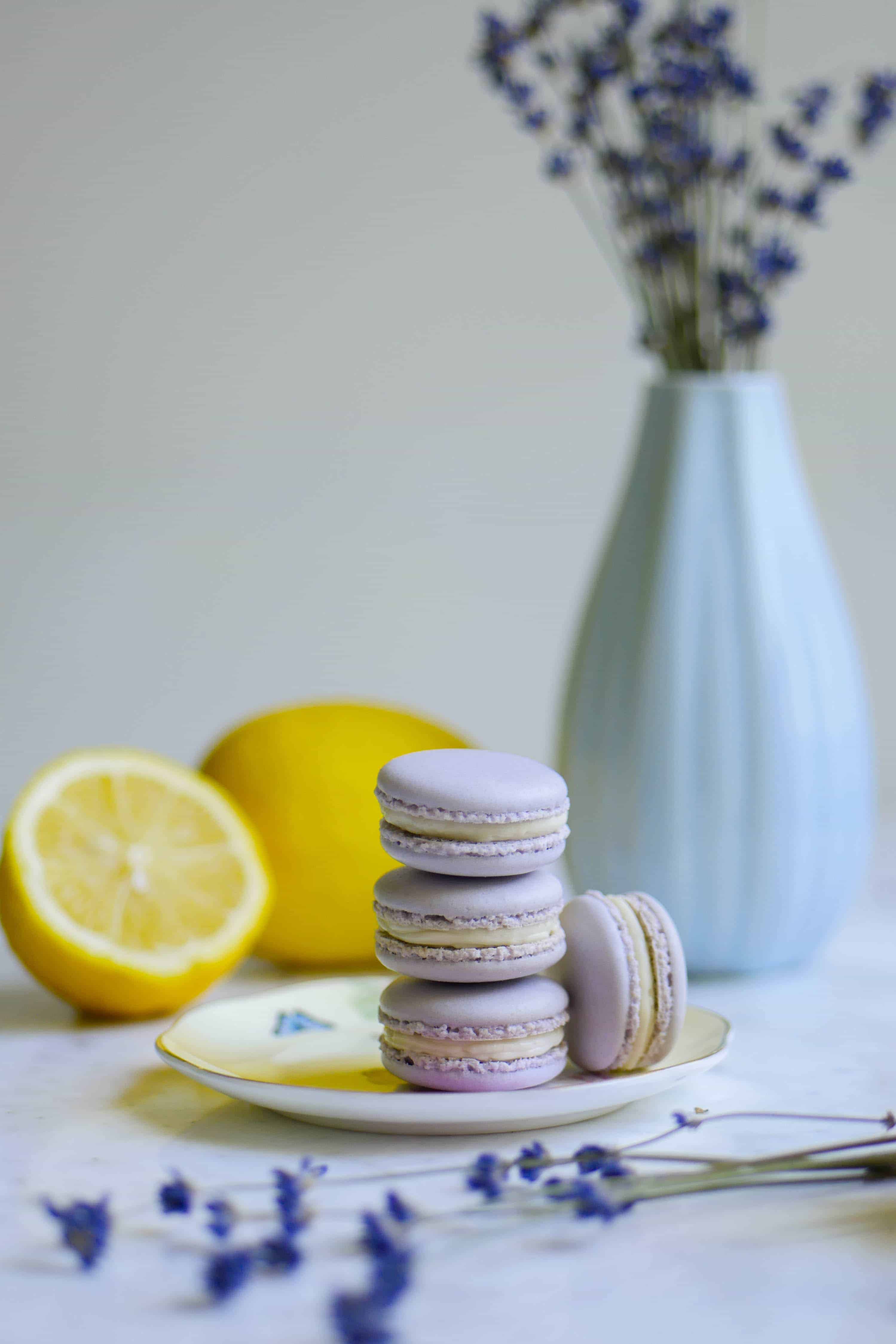 A Strong and Sturdy Lemon Curd
A very important element of this recipe is the strong and sturdy macaron-friendly lemon curd. Most macarons containing lemon curd tends to be wet and soggy since lemon curd is a high-moisture filling. Today, we'll be making one that is strong and sturdy and it keeps well in a macaron for a few days.
This recipe is multi-part but I think the results are worth the effort since the flavours really shine through. Any recipe with flavour infused into the macaron shell is going to be very flavourful and I hope you get a chance to try it.

XOXO,
Mimi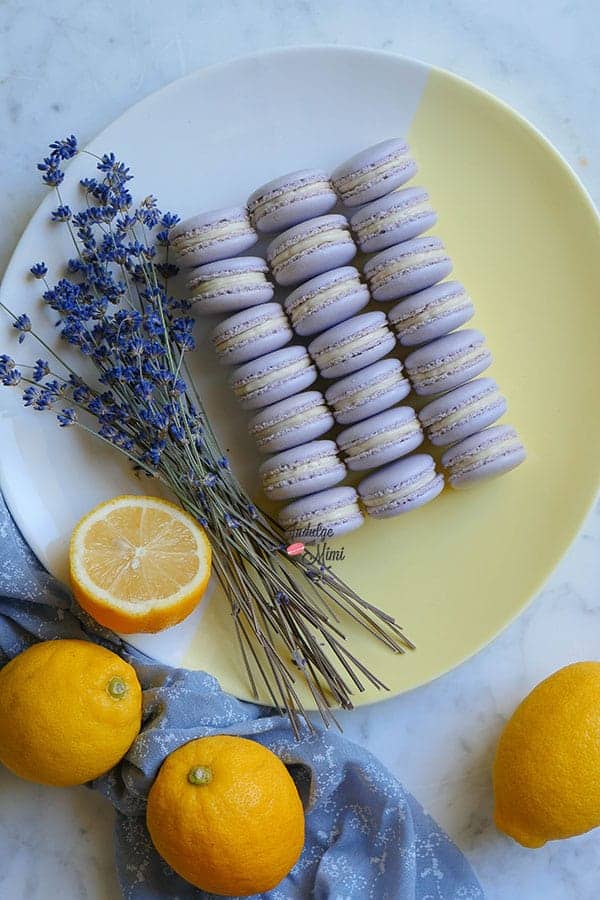 Recipe
Yield: 45 macarons
Lemon Lavender Macaron Filling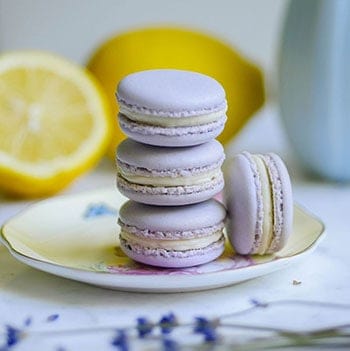 Ingredients
Lavender Macaron Shells
3 teaspoon finely pulsed lavender
245 grams almond flour
245 grams icing sugar
185 grams egg whites, aged, room temperature
165 grams castor sugar (Note 1)
½ teaspoon cream of tartar
Lavender White Chocolate "Ganache"
50 grams heavy cream
150 grams couverture white chocolate (not chocolate chips)
few drops of food grade lavender oil
Sturdy Macaron-Perfect Lemon Curd
zest of two organic lemons
76 grams organic lemon juice
2 eggs
50 grams butter
180 grams granulated sugar
Instructions
Lavender Macaron Shells
Set aged egg whites out at room temperature.
Pulse almond flour, icing sugar and lavender buds together in a food processor to further break down any large pieces of almond flour and lavender.
Sift dry ingredients: almond flour, icing sugar & lavender. Discard big pieces of almond and lavender that can't be sifted
If you are new to macaron baking, please read the instructions to my BEST MACARON RECIPE before attempting to follow the rest of the instructions since it is condensed for the advanced macaron baker.
With the balloon whisk attached, whip the room temperature egg whites on low-medium speed.
Add cream of tartar when it becomes foamy.
Turn up the speed to medium.
Once the whisk starts to leave tracks in the egg whites, add sugar a little at a time.
Turn the speed up to medium-high and whip until firm peaks, stop mixer and add gel food color if desired. Continue whipping on medium-high until stiff peaks.
Fold the dry mix and meringue together until the batter becomes a "lava" or honey-like consistency.
On parchment paper or silicone mats, pipe out round shaped macarons.
Rap the tray hard on the counter to remove any excess air bubbles. Use a toothpick to pop any remaining bubbles.
Wait until the shells become completely dry before baking.
Bake at 325F for 12-14 minutes. Every oven is different, you may need to adjust your own temperature settings. Please read How to Use Your Home Oven Properly for Baking Macarons if you are unsure.
Macarons are done when the foot doesn't push back and the tops don't move when you wiggle it.
Once baked, let cool completely before removing from the baking mat/parchment paper.

Instructions for Lavender White Chocolate "Ganache"
Chop up couverture chocolate into small pieces.
In a pot, heat cream on medium heat until just before boiling.
Take cream off heat immediately once you see steam and a few bubbles along the edge.
Pour cream onto chocolate. Wait one minute.
Stir the mixture until incorporated.
Add a few drops of food grade lavender extract to the mixture to your taste and stir until fully incorporated. Add only one to two drops at a time since you don't want it to end up tasting like soap!
Put into fridge to firm up a bit before placing in pastry bag.
Instructions for Sturdy Macaron-Perfect Lemon Curd
Zest the organic lemon, set aside.
In a heatproof glass bowl, cream butter and sugar together. Do not use metal bowls as it will react to the acidity in the lemon juice.
Add egg and beat until incorporated.
Add lemon juice and beat until incorporated.
Place over a pot of boiling water. Do not let the bottom touch the water.
Whisk gently to keep the mixture moving as it heats up.
Occasionally, check the temperature of the mixture. You should see the curd thicken up and it will coat the back of your spoon. Allow the mixture to reach 180-185F. It might take a while (10-15 min), so be patient.
Take the mixture off the heat, add the lemon zest into the hot mixture to release the oils and mix until combined.
Pour through a sieve into another bowl for a smooth curd.
Let it cool down then place in the fridge. It will set up into an even firmer and thicker curd after you've chilled it in the fridge.

Assembly
Pair two similar sized shells together.
Pipe a ring of lavender ganache onto the macaron shell then fill the center with a dallop of lemon curd.
Assemble the macaron shells together. Place in fridge for 24 hours so it can mature before eating. Enjoy!
Notes
Castor sugar is also known as extra fine granulated sugar or berry sugar. Granulated sugar can be used by castor sugar is preferable.
Nutrition Information
Yield
45
Serving Size
1 grams
Amount Per Serving
Calories

122
Total Fat

6g
Saturated Fat

2g
Trans Fat

0g
Unsaturated Fat

4g
Cholesterol

13mg
Sodium

21mg
Carbohydrates

17g
Fiber

1g
Sugar

15g
Protein

2g
This information is provided as a courtesy and is an estimate only. This information comes from online calculators. Although indulgewithmimi.com attempts to provide accurate nutritional information, these figures are only estimates.
[pt_view id="bf4423c0yu"]