Making macarons in advance for a special event or special order can save time and eliminate stress. Learn the different ways to prepare macarons ahead of time.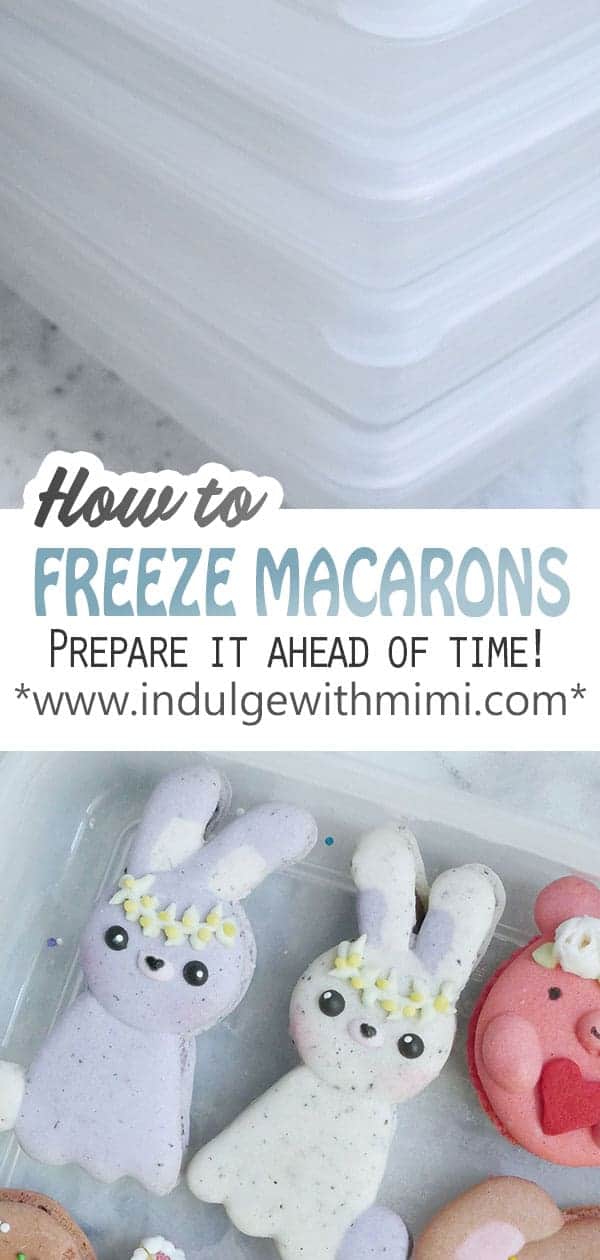 Can I Make Macarons Ahead of Time?
Yes! You can definitely freeze macarons and making them in advance. This is a very valid question because macarons can be so finicky that it's safer to make them ahead of time for a special event, saving time and lowering anxiety. This is especially important if you are making macarons in your home baking business. READ: How to Price Homemade Macarons. Although many home bakers would agree that it's probably easier to prepare a cake for a special event, macarons have their own special advantage too. They don't need to be made on the same day as they are served.
Macarons can be made ahead of time and refrigerated or frozen in advance of an event without compromising its freshness or quality. In fact, many of the big names in the industry freeze macarons and transport them around the world for sale at a later date. For the home baker, freezing macarons in advance can provide more time to focus on other aspects of party planning and a sense of peace knowing that the macarons are all prepped and ready to go.
How to Refrigerate Macarons in the Fridge or Freeze in the Freezer
There are several different ways to make and store macarons in advance:
Refrigerate the fully assembled macaron: Fully assembled macarons usually stay fresh 2-4 days after it's made depending on the moisture level in the filling. Decorate and serve before this date is up.
Refrigerate the shells only: Macaron shells usually stay fresh 4-6 days after it's made. Decorate, assemble and serve before this date is up. After filling, it can stay fresh for a further 2-4 days depending on the filling.
Freeze the fully assembled macaron: After filling the macaron, let it mature for 12-24 hours (depending on the filling) and then freeze. This method is great for macarons with fillings that can be successfully thawed without releasing too much moisture. Stack them in an air-tight container to prevent breakage. On the day before serving, thaw macarons a few hours in advance. Allow extra time to decorate macarons if needed. From this point on, they will stay fresh for a further 2-4 days depending on the filling.
Freeze the shells only: After baking and cooling off, the shells can be frozen in an air-tight container. This method is great for macarons that need to be assembled on the same day they are served (e.g. macaron cakes etc.) or for macarons with fillings that don't freeze well (e.g.jellies). Stack them in an air-tight container to prevent breakage. On the day of assembly, transfer them from the freezer to the fridge a few hours in advance. Once thawed, they can be assembled and decorated as usual. From this point on, they will stay fresh for a further 2-4 days depending on the filling.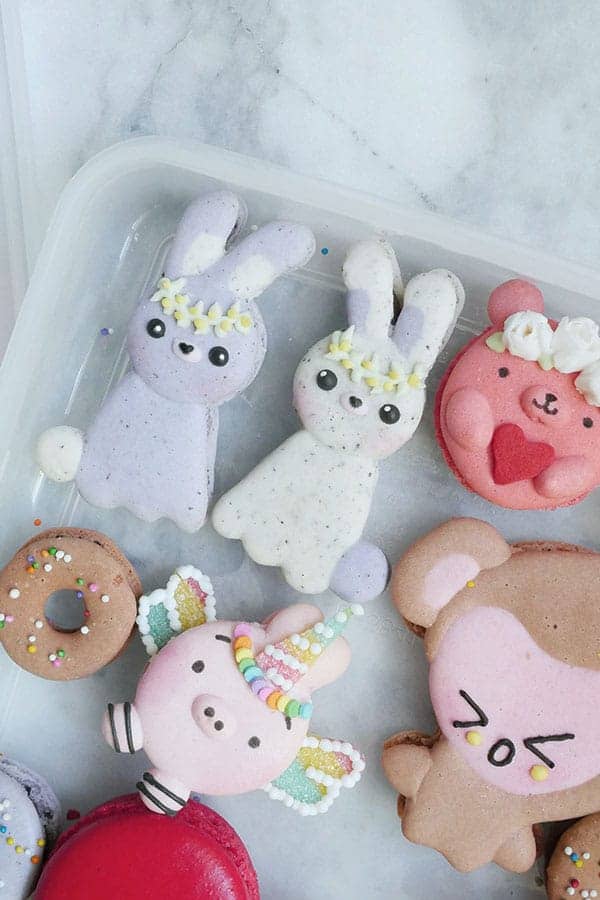 How Long Can Macarons Stay Frozen in the Freezer?
Macaron shells can stay frozen for up to one month without affecting the freshness or quality. The quality starts to decline a bit after that with reduction in flavor intensity, slight changes in flavor profile and freezer burn etc. The one month mark is a good place to start for a best before date and some sources vouch for storing macarons in the freezer for up to 3 months. For fully assembled macarons, the length of time will fall within these parameters depending on the filling that is used. How the macaron is stored will also affect its longevity.
Which Containers to Use for Freezing Macarons?
Macarons stay nice and fresh in the fridge or in the freezer when stored in air-tight containers. They can usually be stacked one on top of another in the container. If the bottom of your macarons are a bit gummy or sticky, I recommend placing a piece of plastic wrap or parchment paper in between each layer. Better yet, I recommend putting one single layer by itself in a shallow BPA-free tupperware container. These containers are usually made for storing pasta sheets or sandwiches. And because they are shallow, they are also great for storing decorated macarons face up without compromising the design. I purchased mine from a Japanese home goods store but I was able to find comparable ones here, I like that these are even bigger at 12X8.5 so it can fit even more macarons.
Taking Macarons Out of the Freezer
Once the macarons are ready to be assembled, decorated or served, take them out of the freezer and place them in the fridge to thaw for a few hours. (My readers mentioned in the comments below to keep them in the original container.) Once they are completely thawed, they will last 2-4 days more depending on the filling used. (This is assuming that they were frozen immediately after baking/cooling or assembly.)
Decorate Macarons Before or After Freezing?
Most decorations that have been applied onto a macaron can be frozen and thawed with no problems. When in doubt, always test run one decorated macaron by freezing and thawing it and see how it holds up. Below are some decorations and how they hold up after freezing:

- Edible marker: good, try to keep them face up in shallow containers, one level per tray as they do get smudged when rubbed.
- Buttercream flowers: good
- Sprinkles baked in or glued on with edible glue: good
- Royal icing decorations: fair - icing might run after thawing if the consistency is runny. If this happens, it can usually be cleaned off with a wet paper tower if the color is light enough. Avoid using black royal icing to decorate macarons if the consistency is too runny.
- Fondant glued on with edible glue: good
- Shimmer powder brushed onto macaron: good
- Sugar flowers: good
[pt_view id="5e3969cf64"]
Which Macaron Fillings Freeze Well in the Freezer?
Basic Chocolate ganache and buttercream are the best fillings to use when freezing macarons. They both thaw very well without adding moisture back into the macaron shell when taken out of the freezer. These fillings can be used to fully assemble a macaron for freezing.
Jelly, jams and curds should be used with caution. Jelly and jams tend to release moisture back into the shells when thawed while curds might start to separate. If you'd like to make a lemon curd for freezing, try this macaron-friendly lemon curd recipe which can be frozen. If using jelly, jams and curds in advance, try the method of baking and freezing the shells ahead of time. Jelly and jams are best served on the day of serving so thaw the macaron shells a few hours on the day of, assemble and then allow a few hours for maturation. Curds should be matured for 12-24 hours in advance so thaw the shells a few hours before assembly and then let it mature.
Whipped cream should never be used for macarons with or without freezing because it's too high in moisture content. If you want to know more about the different types of macaron fillings, here's a guide on yummy macaron fillings.
[pt_view id="9c1c354a2v"]