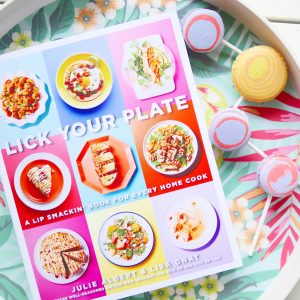 On Monday night I attended the book launch party for the new cookbook, Lick Your Plate, by Lisa and Julie of BiteMeMore. It was a fun and delicious evening that I spent with familiar faces like LiveForCake, MyKitchenLove and PorkNinjas and I also met a couple of new ones too! We were treated to cocktails and refreshing iced tea drinks filled with fresh ingredients of herbs and fruits by sponsors, Pure Leaf Tea. There were also lots of scrumptious canapes and bite sized desserts that were all from the new cookbook. I had the chance to pick up a copy and had it signed by the lovely authors and sisters. It is an amazing book filled with colourful pictures on almost every page. I'm also impressed by how thick it is. There are so many recipes (160!), you can never run out of meal ideas. Some of these dishes include Pho Noodles (!), Herb Crusted Beef Tenderloin with Mushroom Red Wine Sauce and even Easy Fudge Brownie!
I'll be drawing one lucky winner to win this signed copy of Lick Your Plate. Just click on the link which will take you to my Instagram page. Leave a comment that you want to be included and that's it! No need to tag your friends, follow or regram etc. It's about bringing something fun and special to all of you 🙂 I'll be drawing one winner on April 12th and you do need to be a resident of either Canada or USA to be included.
Below are a few snapshots from the night. And if you want to see more of my life in Vancouver, just add me on SNAPCHAT: indulgewithmimi .
Until our next delicious rendevouz.
XOXO,
Mimi