Donut shaped macarons naturally flavored from real lavender buds. A delicate and aromatic lavender chocolate ganache is sandwiched in between two light purple macaron shells that are infused with lavender buds making it extra flavorful. 
Jump to:

Delicate and Naturally Flavored
Lavender is one of my favorite flowers to use in my macarons, it has an aromatic and clean note which is very delicate. Used in the proper quantities, it can be fresh and uplifting, but moderation is key here since there can be "too much of a good thing" when it comes to using lavender in food. Some people say that lavender infused foods remind them of soap which I don't completely disagree with. I find that lavender extracts tend to highlight lavender's sharp top notes so instead, I've opted to use real lavender buds to give this macaron flavor a fuller body.
How to Extract Lavender Flavor for Macarons
Lavender buds are such a joy to use in baking since it can be ground down in it's dry form while retaining it's fragrance/flavour. For macaron use, this is especially helpful, we can add flavour to the macaron shells without compromising the batter with too much moisture. For use in the chocolate ganache, just set aside plenty of time for the lavender to macerate with the cream. This is preferably done overnight or up to 24 hours in advance if you have the time.
Where to Buy Lavender Buds
It's not too difficult to buy lavender, it is sold in the spice aisles of many of the better grocery shops. If you're buying it elsewhere, just make sure it's labelled as food grade. I've included a link below on a brand that you can consider. I usually get my lavender from mom's garden because I know it's 100% organic and the bonus is that it's free too 🙂 The lavender flower is usually ready to be harvested in the summer, we would remove the buds and put them in an air tight container and then save them for use throughout the year. It really gives us a sense of achievement to create a sort of "farm-to-table" dish together.
Whichever way you acquire your lavender, I hope you'll try your hand at this and feel the same sense of accomplishment as well.

XOXO,
Mimi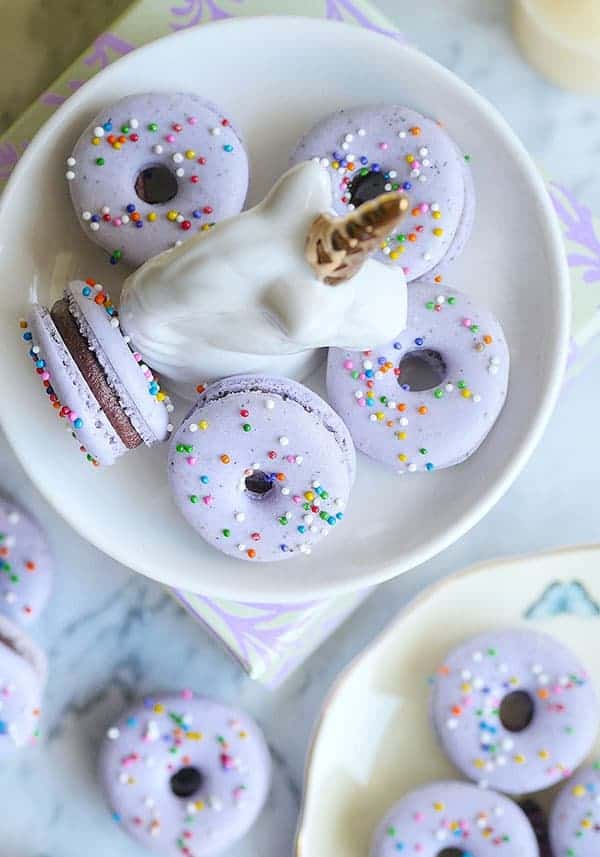 Donut Macaron Template
Available exclusively for my newsletter subscribers. Just sign up for the newsletter and wait for the double opt-in confirmation email. Confirm your subscription and you'll be sent the password to the Subscriber's Only Area.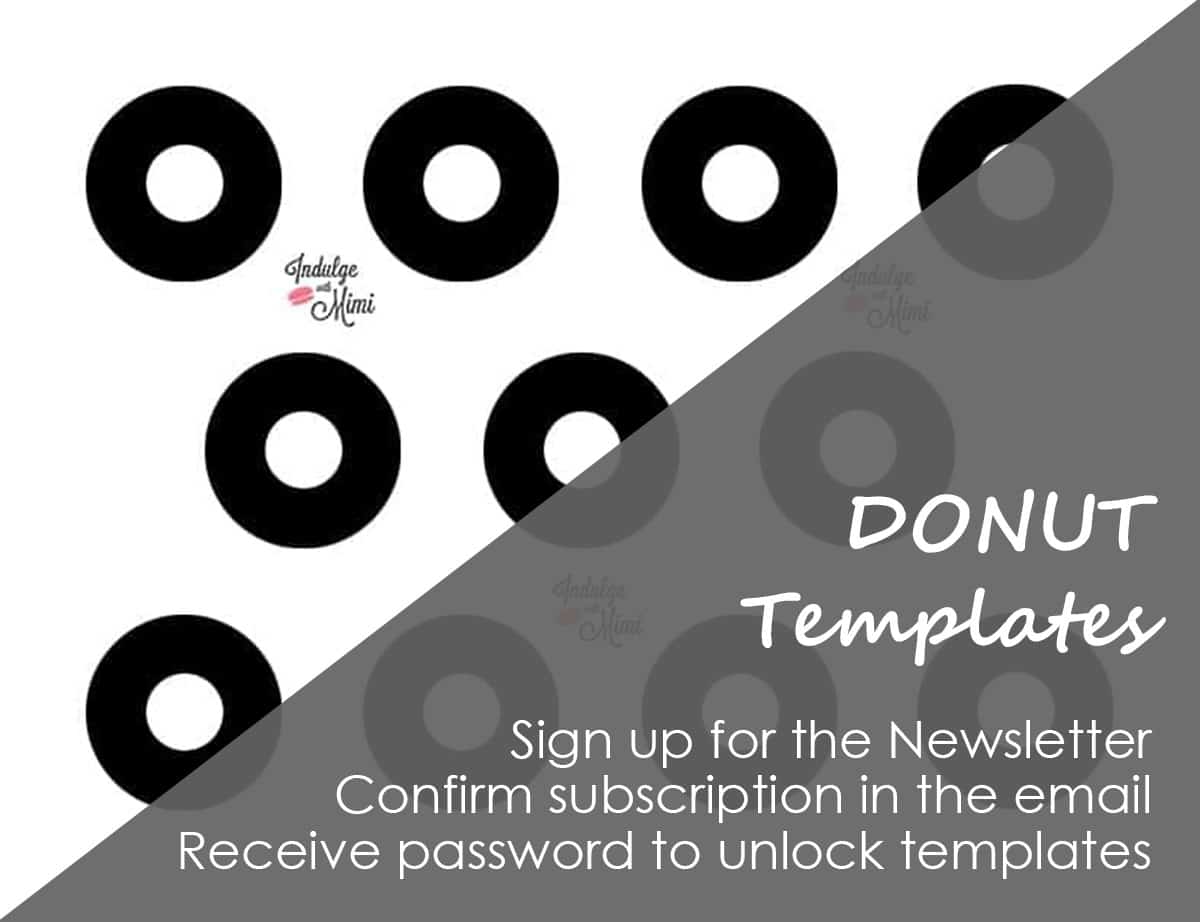 Recipe
Yield: 18 donut shaped macarons
Naturally Flavored Lavender Macarons with Lavender Chocolate Ganache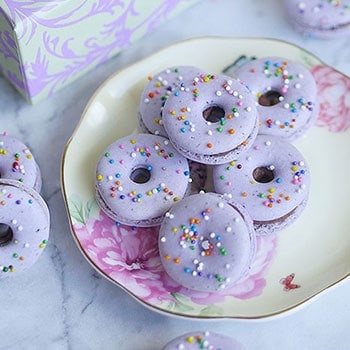 Donut shaped macarons that are naturally flavored from real lavender buds. A delicate and aromatic lavender chocolate ganache is sandwiched in between two light purple macaron shells thare are infused with lavender buds making it extra flavorful. 
Prep Time
1 hour
30 minutes
Total Time
2 hours
14 minutes
Ingredients
Lavender Chocolate Ganache
1 ½ tsp. lavender buds
65 grams heavy cream, only 50 grams is needed after maceration
50 grams semi-sweet baking chocolate
10 grams butter
Lavender Infused Macaron Shells
2 teaspoon lavender buds
65 grams almond flour
55 grams powdered sugar/icing sugar
45 grams castor sugar (Note 1)
50 grams egg whites, aged, room temperature (Note 2)
⅛ teaspoon Cream of tartar
A few drops of purple gel food color, (optional)
Instructions
Lavender Chocolate Ganache
In a small pot bring the heavy cream and lavender buds to a light simmer. Take off heat. Once cooled, place in the fridge to macerate overnight.
The next day, pour the mixture through a strainer. Keep 50 grams of the macerated cream for our current use.
Chop up chocolate into small pieces, place in a bowl with the butter.
Bring the 50 grams of macerated cream to a light simmer.
Pour over chopped chocolate and butter, let it sit for 1 minute.
Stir until incorporated. Let it cool to set before transferring to piping bag.
Lavender Infused Macaron Shells
Print out the donut macaron template provided in post.
Set aged egg whites out at room temperature.*
Pulse lavender buds, almond flour and powdered sugar together in a food processor.
Sift dry ingredients. Discard big pieces of almond that can't be sifted.
IF YOU ARE NEW TO MAKING MACARONS, please read the instructions to my BEST MACARON RECIPE before attempting to follow the rest of the instructions since it is condensed for the advanced macaron baker.
With the balloon whisk attached, whip the room temperature egg whites on low-medium speed.
Add cream of tartar when it becomes foamy.
Turn up the speed to medium.
Once the whisk starts to leave tracks in the egg whites, add sugar a little at a time.
Turn the speed up to medium-high and whip until firm peaks, stop mixer and add gel food color if desired. Continue whipping on medium-high until stiff peaks.
Fold the dry mix and meringue together until the batter becomes a "lava" or honey-like consistency.
Transfer batter into a piping bag fitted with a #6 round piping tip.
On parchment paper or silicone mats, pipe the donut shape out using template as a guide according to the video provided in post. Leave plenty of room in the middle unfilled since the batter likes to spread into the middle.
Rap the tray hard on the counter to remove any excess air bubbles. Use a toothpick to pop any remaining bubbles.
Lightly sprinkle the nonpareils on top before the shells develop a skin.
Wait until the shells become completely dry before baking. This is a critical step to prevent the batter from escaping from the center.
Bake at 325F for 12-14 minutes. Every oven is different, you may need to adjust your own temperature settings. Please read How to Use Your Home Oven Properly for Baking Macarons if you are unsure.
Macarons are done when the foot doesn't push back and the tops don't move when you wiggle it.
Once baked, let cool completely before removing from the baking mat/parchment paper.
Pair two similar sized donuts together, fill them with the Lavender Chocolate Ganache filling. Place in an airtight container in the fridge and give it 12-24 hours to mature before eating.
Notes
1. Castor sugar is also known as extra fine granulated sugar or berry sugar. Granulated sugar can be used by castor sugar is preferable.
2. Measure out 50 grams of egg whites, then age.
Recommended Products
As an Amazon Associate and member of other affiliate programs, I earn from qualifying purchases.
Nutrition Information
Yield
18
Serving Size
1 grams
Amount Per Serving
Calories

102
Total Fat

5g
Saturated Fat

2g
Trans Fat

0g
Unsaturated Fat

3g
Cholesterol

4mg
Sodium

10mg
Carbohydrates

14g
Fiber

1g
Sugar

12g
Protein

2g
This information is provided as a courtesy and is an estimate only. This information comes from online calculators. Although indulgewithmimi.com attempts to provide accurate nutritional information, these figures are only estimates.
[pt_view id="bf4423c0yu"]