The Trouble with Hollow Macarons
When most bakers begin baking macarons, they are most likely trying to overcome common hurdles like cracked tops and bumpy shells. As a result, they tend to covet smooth non-cracked shells and frilly macaron feet above all else. But as their macarons start looking better (on the outside anyways), they realize there's a hidden issue that lies deep within their macarons – hollow shells.
Do Hollow Macarons Go Away with Maturation?

Severely hollow macarons cannot be fixed with maturation. If most of the body has burst out of the shell into the feet or sank down to the bottom causing a huge gaping hole, no amount of maturation will really help these types of macarons. Pressing into the back of the shells in order to push the body back up to the top – which some bakers do to hide hollows – may be a temporary solution. But, ultimately, you might want to fix the root causes of your hollow macarons since there is something inherently wrong with your technique.
A truly non-hollow macaron is not hollow even BEFORE filling and maturation as shown in the video above. If you're dealing with just small gaps in your shells, these do benefit from filling and maturation. You'll find that they can completely go away after 24 hours of maturation.
Should You Fix Hollow Macarons?
Having said of all that, it's important to remember that hollow macarons are not a problem for most people who eat your macarons unless they're macaron snobs and to which I say, why are you sharing your precious babies with those people anyways 🙂 All kidding aside, although hollow macarons may taste the same as non-hollow ones, severely hollow macarons are more fragile and lack the distinctly chewy texture of a full and fluffy macaron. Those are two of the reasons why you might want to work on your hollow macarons. But if you're obsessed with non-hollows for the glory, save yourself the frustration. It's important to remember that no matter what they look like, macarons are for eating!
For those who are keen on fixing this problem. Here are a few issues to look out for:
Meringue Stiffness
Over-beating the meringue can cause your shells to deflate while baking, resulting in a hollow shell. A good stiff meringue is required for my recipe, however, over-beating it can be the culprit to your hollow macaron problem. This is especially true if your macaron looks almost perfect in every way except for a little gap inside the shell.
If your macarons are looking fabulous in every way already(dainty feet, smooth tops), then this fix is for you. Beat the meringue up to stiff peaks and stop immediately once that is reached.
How stiff is stiff? Beat the meringue until a small peak points upwards when you pull the whisk out of the meringue. The peak can be small! If you beat until a big clump of egg whites can point upwards, you are probably over-beating. This is worth mentioning as some of you may have been trying to test the peaks with a lot more meringue than is needed.
Another way to scale back on how much you have been beating your meringue is to test the bowl by tipping it upside down. Once the egg whites can cling securely onto the bowl without slipping and you have a SMALL stiff peak, stop beating the meringue.
Macaronage & Batter Consistency
The batter should be properly deflated. If you tend to over-beat the meringue, this is important for you. In the beginning of our macaron baking journey, we were told to be careful with the batter. "It's better to under-fold than over fold,"…etc. But that's where a lot of hollow macaron problems begin – from an under deflated batter. When you're folding, you don't need to baby it as much as you think. Here is a video on how to fold properly to avoid hollows:
On the flip side, over-folding can also cause hollows and widely spread feet. When you are folding, constantly test the batter with the Figure-8 test in the video. The batter should flow steadily without breaking but it should not be too runny either. Aim for a honey-like consistency.
Here is what to look for in terms of consistency during and after piping: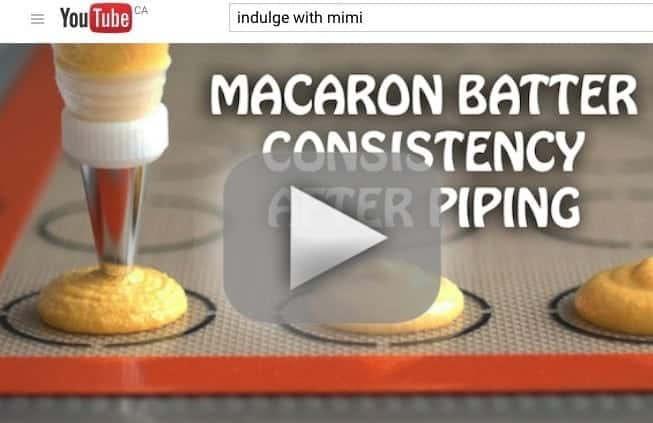 Rap Tray
Rapping the tray after piping will further eliminate the small gaps in your shells. Make sure you are tapping it hard enough against a hard surface. In my macaron class, the instructor literally dropped the baking trays from waist level down onto the floor. It's quite a violent action and sometimes the shells do change in shape after tapping, I would recommend piping on Silpat mats which are great for retaining the macaron's shape. Pop any remaining bubbles with a toothpick.
Silpat Mats
Disclosure: Affiliate Links
Bake Time & Temperature
Meringues and by extension, macarons, love heat! Give it as much oven love as you can and you'll see less hollow macarons in your kitchen. You can do this by either using a:
a.) higher temperature OR
b.) lower temperature with a longer bake time
325F for 12-14 minutes is a great place to start. (I know of a baker who likes to go even higher at 350F for 10 minutes.) Most readers have found 325F or higher can cause their shells to become browned so another temperature/time combo I can recommend is 275F for 18 minutes. You can play with the time/temperature combinations. For every 25F, compensate with a 2-3 minutes change in the inverse direction.
Some Recommended Baking Temperature and Times:
350F for 10 minutes – suitable for spacious large ovens
325F for 12-14 minutes – standard starting point for my recipe
300F for 16-18 minutes
275F for 18-20 minutes – suitable for smaller ovens with small compartments
Silpats VS. Parchment VS. Teflon
Some bakers complain about hollows when using Silpat mats and have given up on them completely even though Silpats produce much better results in terms of preserving the macaron's shape. Sometimes Silpats don't perform as well for fully fluffy shells because of the related issue discussed in the last section: heat. The mats are thicker than parchment paper and don't conduct heat nearly as well.
You can adjust a few things to compensate for this.
Use better heat conducting pans.
Put it closer to the heat source if your heating coils are on the bottom.
Try Teflon paper which better conducts heat.
Keep a pizza stone underneath the baking tray.
Here are some equipment that might help you:
Disclosure: affiliate link
Convection VS. Non Convection
You don't have to get too hung up over this point. If your batter is at the right consistency, it can bake with no hollows in both a convection or non-convection oven granted that you have found an optimal temperature and bake time.
Magic Ingredient for Non-Hollows?
Although, technically, you should be able to overcome hollow macarons with the right technique, there is one special ingredient you can consider. There's a lot of buzz around adding egg white powder to the dry ingredients to help combat hollows. I haven't tried it yet but it's something that some bakers have discovered worked for them. If all the above fixes don't work for you, you might want to try it.
Egg white powder is NOT the same as meringue powder. Meringue powder contains a mixture of sugar, acids and flavorings while egg white power is just purely egg albumen.
My Secret for Testing Macaron Doneness
If you lower the oven temperature as per above, it's important that you bake for a longer amount of time, otherwise, the meringue will collapse after it cools. How to test the macaron for doneness? I'll cover it in an upcoming post. Stay tuned!
I hope you found this post useful and let me know below if you have any further questions.
XOXO,
Mimi
Other Macaron Posts You Might Like