My first afternoon tea experience at Neverland was a while back so I appreciated the invitation to visit the salon again from my dear friend @yvreats. This time, we tried their newest tea set which had a Mad Hatter theme.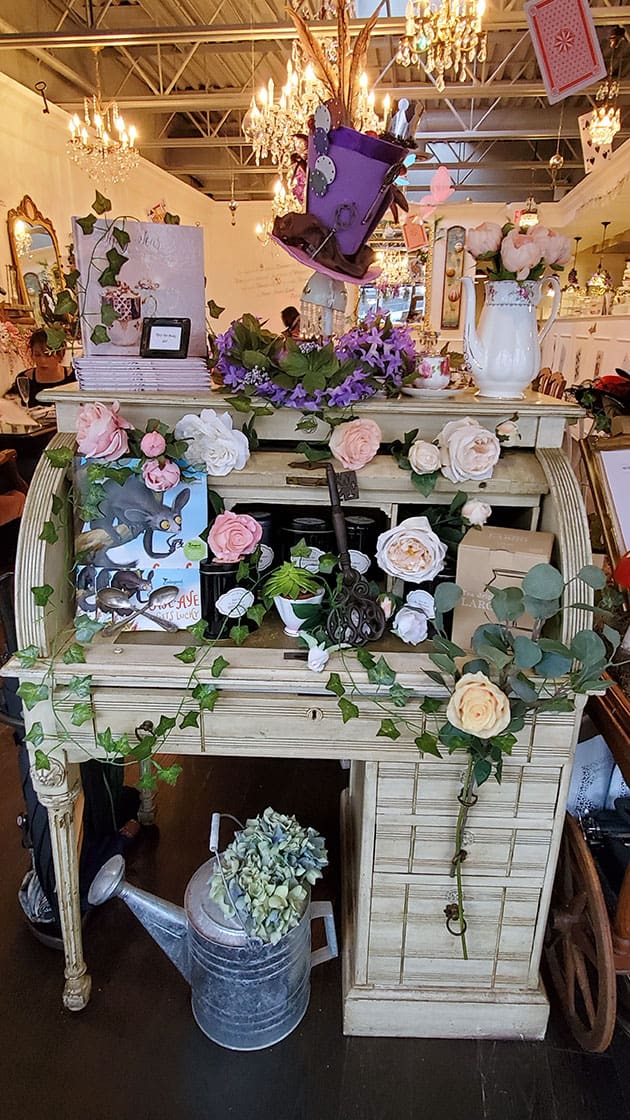 Walking into the salon, we immediately noticed that - along with the beautiful chandeliers, dreamy vintage tea ware and salon chairs which are the salon's permanent decor - there were new decorations that were on point with the new Alice in Wonderland/Mad Hatter theme.
From a combination of my last visit and, generally, keeping an eye out for their current offerings, I knew that their tea sets were of good quality and offers a great value. Most notably, it's the size of their treats that really stands out from the other tea sets in the city.
For the tea, I chose a Guava black tea this time because I had never tried that flavour before, here or anywhere else. It tasted just like guava with the astringency of black tea so it wasn't sour. Exactly the type of tea I like. I also asked for cream on the side because I basically LOVE cream. I only needed to use a bit of it and it tasted great.
We started with an amuse bouche of a watermelon shooter which had an on-theme "Drink me" tag on it.
The scones are of a regular size and served with a fruit preserve and clotted cream. I was very impressed with the scones and the cream. The scones had a nice crumbly top sprinkled with sugar and was nice and fluffy on the inside. The cream is very rich and thick without any of the excess moisture that can make it less desirable for spreading.
The savories were all very good and my favourites were the crab roll and croque monsieur because they were especially flavourful.
The sweets are all of a very substantial size, no teeny tiny treats here. After all the savories and scones, I felt quite satiated so I packed up 3 of the dessert pieces and enjoyed them at home afterwards. I found them to be on the sweeter side so I think those with a sweet tooth will enjoy them a bit more than I did. However, I was still able to find 2 favorites in the collection which were the vanilla cheesecake on a chocolate crumble base and a chocolate ganache tart. Both were rich and creamy without being too overwhelmingly sweet.
This new Mad Hatter set is available for 4 different types of diets: regular, vegetarian, gluten-free/dairy free and vegan. That is quite an impressive feat and this is one reason to consider such an accommodating establishment. Besides that, I think you'll really love the value of the tea set, the selection of the food and the whimsical decor and ambiance.

Until our next tea date.
XOXO,
Mimi
Notable Points:
- Substantially sized treats for heartier appetites.
- Regular sized scones served with a thick and luscious clotted cream.
- New Mad Matter theme is picture worthy along with the on-theme decorations inside the salon.
- 'Neverending Tea' program means you can try as many different teas as you like!

Alcoholic Beverages: sparkling wine can be ordered with the set

Mad Hatter Afternoon Tea Set: $38/set, $48/set with bubbly

Hours: Afternoon Tea is served daily 2:00 pm–6:00 pm
A: 3066 W Broadway, Vancouver, BC V6K 2H1
T:  (604) 428-3066
R: Reserve on Opentable Neverland Tea Salon Website
[pt_view id="d749ae79dr"] [pt_view id="342f946uh1"]