Naturally speckled Lavender and Earl Grey tea macarons shaped like the Easter Bunny. Multi-colored macaron tutorial and free templates.
Jump to:
Lavender Earl Grey Macarons with that "Easter Speckle"
I've always loved the speckled Easter egg effect on a macaron and after my Easter Egg macaron tutorial two years ago, I wanted to recreate this effect again but this time, the speckles would be embedded inside of the macaron instead of splattered on top with food coloring. We can achieve this effect naturally by adding some earl grey tea and lavender buds into the macaron batter. The resulting batter is one that looks neatly speckled without colors that will rub off on your fingers, and the bonus is that it's also packed with natural flavor.
To make the bunnies with two colored batters, I followed the method I outlined in this post: How to Make Multi-colored Macaron Batter from One Batch of Macarons.
Tips for Infusing Chocolate Macaron Filling with Lavender and Earl Grey
To finish off these bunnies, I created this chocolate ganache infused with lavender and earl grey tea. It's one of the easier macaron fillings in my recipe box but yet oh so good! And who says there's anything wrong with easy? After spending so much time piping these macaron bunnies with macaron batter, easy is welcomed!
Use a good quality chocolate for the ganache. This will usually be labelled as "baking" or "couverture". These chocolates are meant of melting into recipes whereas chocolate chips contain stabilizers which won't work as well for a smooth velvety chocolate ganache texture.
Use a dark chocolate for this recipe, some brands have a distinction between semi-sweet and bitter sweet with the former being more sweet.
Use food-grade lavender buds, you can find it online in the previous link or in the spice or tea aisle at your local gourmet grocery store.
Use ground Earl Grey tea leaves. The ones found in tea bags are ground to a nice fine consistency which will allow more flavor to come through.
Make sure you give yourself plenty of time (preferably, the night before) to macerate the heavy cream with the tea leaves and lavender buds.
Use a sieve to filter out any big pieces once it's done macerating.
I think the ratios in this recipe work perfectly with the lavender earl grey  macaron shells. It has just the right amount of both ingredients, which is especially important when working with lavender since too much of it can make your desserts taste like soap. If you plan on making the ganache for use in a plain unflavored macaron shell, I would recommend increasing the amount of lavender and tea leaves in the maceration process.
You can also make this chocolate ganache filling a different flavor by experimenting with other ingredients. See this more detailed post on How to Make Chocolate Filling for Macarons.
Details of the Big Easter Macaron Cake
If you want to take your Easter macarons to the next level, try baking this big macaron cake and add the Easter bunny macarons on top. I used the basic principles in How to Bake a Big Macaron Cake to bake the big macaron shells. Then I filled it with Vanilla Swiss Meringue Buttercream. For the green "leaf" effect, I piped the cream with a Atecco #352 or Wilton#68 leaf tip. I really hope you enjoyed this tutorial. If you're pressed for time, please take a look at my Gorgeous Last Minute Easter Egg tutorial.

XOXO,
Mimi
Easter Bunny Macaron Templates
Since I had a chance to show you how to make Easter egg macarons already, I decided to make this year's Easter macarons into a shape of an Easter Bunny. To pipe them, just print out the two brand new macaron templates I created for you: Sitting Bunny and Bunny Face macaron template. They are available exclusively for my newsletter subscribers. Just sign up for the newsletter and wait for the double opt-in confirmation email. Confirm your subscription and you'll be sent the password to the Subscriber's Only Area.
This is Part 1 of 2 of what I shared with Deborah Moore on AM1470 on March 27, 2018, Part 2 Afternoon Tea at H Tasting Lounge in the Westin Bayshore is here.
Recipe
Yield: 8 bunny macarons
Lavender Earl Grey Bunny Macarons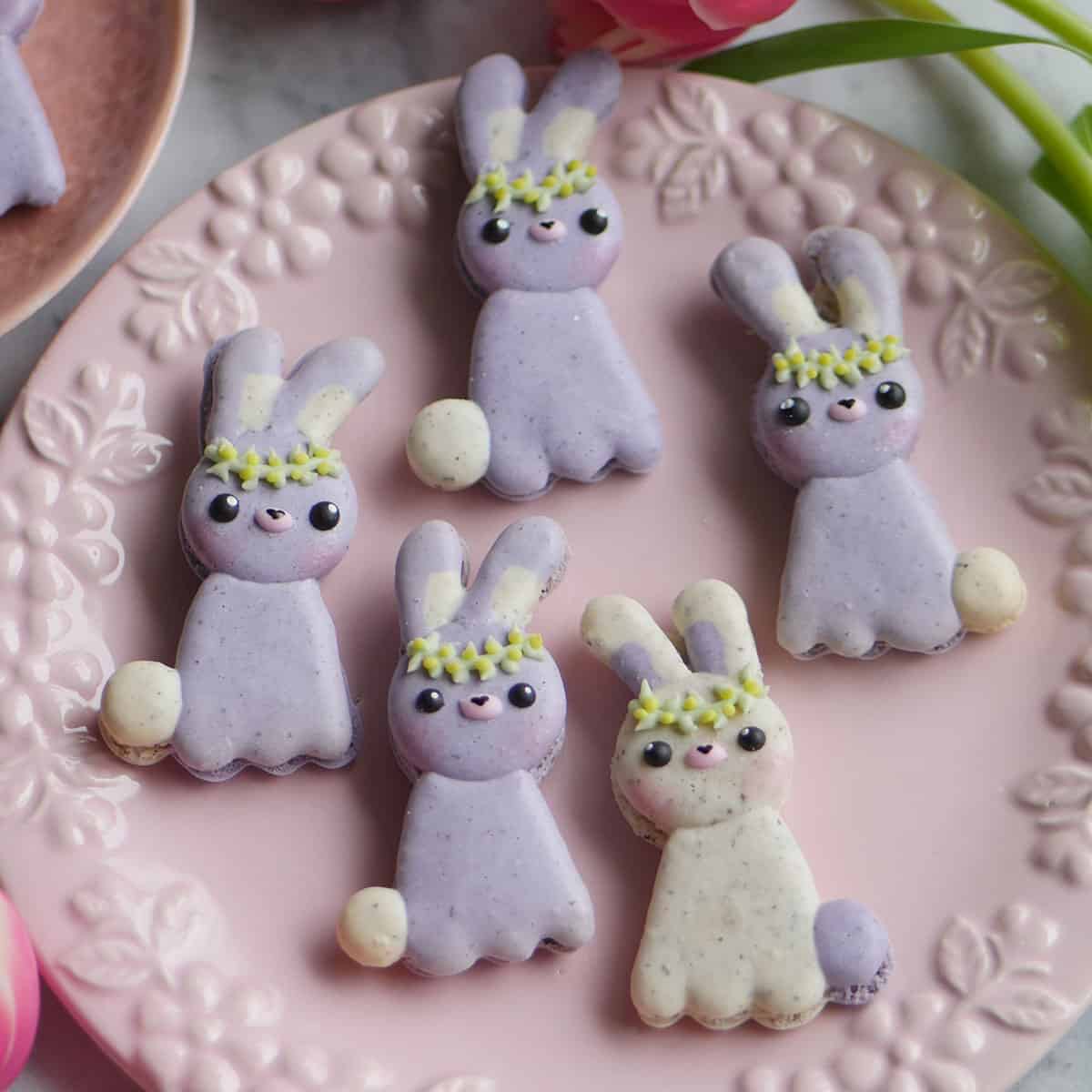 Naturally speckled Lavender and Earl Grey tea infused macarons shaped like the Easter Bunny. 
Prep Time
1 hour
30 minutes
Total Time
2 hours
16 minutes
Ingredients
Lavender Earl Grey Chocolate Ganache
½ tsp. Earl Grey Tea Leaves
½ tsp. lavender buds
65 grams heavy cream (only 50 grams is needed after maceration)
50 grams dark baking chocolate (semi-sweet or bitter sweet)
10 grams butter
Lavender Earl Grey Bunny Macaron Shells
1 teaspoon lavender buds
1 teaspoon earl grey tea leaves (Note 1)
65 grams almond flour
55 grams powdered sugar
45 grams castor sugar (Note 2)
50 grams egg whites, aged, room temperature
⅛ teaspoon Cream of tartar (Note 3)
A few drops of purple gel food color
Small Batch 15-Second Royal Icing
40 grams icing sugar
1 teaspoon meringue powder
3 teaspoon water
Small spray bottle filled with water
Gel food color of your choice
Instructions
Lavender Earl Grey Chocolate Ganache
In a small pot bring the heavy cream, lavender buds and Earl Grey tea to a light simmer. Take off heat. Once cooled, place in the fridge to macerate overnight.
The next day, pour the mixture through a strainer. Keep 50 grams of the macerated cream for our current use.
Chop up chocolate into small pieces, place in a bowl with the butter.
Bring the 50 grams of macerated cream to a light simmer.
Pour over chopped chocolate and butter, let it sit for 1 minute.
Stir until incorporated. Let it cool to set before transferring to piping bag.
Lavender Earl Grey Bunny Macaron Shells
Print out the bunny macaron template provided in post.
Set aged egg whites out at room temperature.
Pulse Earl Grey tea leaves, lavender buds, almond flour and powdered sugar together in a food processor.
Sift dry ingredients. Discard big pieces of almond that can't be sifted.
Split up the dry ingredients into two equal parts to make two different colored macaron batters.
If you are new to making macarons, please read the instructions to my BEST MACARON RECIPE before attempting to follow the rest of the instructions since it is condensed for the advanced macaron baker.
With the balloon whisk attached, whip the room temperature egg whites on low-medium speed.
Add cream of tartar when it becomes foamy.
Turn up the speed to medium.
Once the whisk starts to leave tracks in the egg whites, add sugar a little at a time.
Turn the speed up to medium-high and whip until stiff peaks.
Split up the meringue into two equal parts.
Add the purple gel colour to one set of meringue. Leave the other set uncolored for white.
Fold the almond flour and meringue together until the batter becomes a "lava" or honey-like consistency.
Transfer batter into 2 piping bags fitted with a #6 round piping tip.
On parchment paper or silicone mats, pipe the round head first with the "main" color. Do this part for every bunny first, this will allow time for the different parts to develop a thin skin. Do not attempt to pipe one whole bunny at a time.
Pipe a small dab of batter with the inverse color for the center of the bunny's ears. Do this for every bunny before moving onto next step.
Pipe the bunny's main body with the main color. Do this for every bunny before moving onto next step.
Fill in the rest of the ears with the main color. Do this for every bunny before moving onto next step.
Pipe the bunny's tail with the inverse color.
Wait until the shells become completely dry before baking. This is critical to prevent cracking.
Bake at 325F for 16 minutes. Every oven is different, you may need to adjust your own temperature settings. Please read How to Use Home Oven Properly for Baking Macarons if you are unsure.
Once baked, let cool completely before removing from the baking mat/parchment paper.
Pair two similar sized bunnies, fill them with the Lavender Earl Grey Chocolate Ganache filling. Place in an airtight container in the fridge and wait for it to set before decorating.
Add eyes, nose and wreath with some 15-second royal icing (recipe below). Place in an airtight container in the fridge and wait for it to dry completely before packaging.

Small Batch Royal Icing
Sift icing sugar and meringue powder into a mixing bowl.
Add 1-2 teaspoon of water to the dry mixture and stir with a spatula to get the mixture going. If it's still lumpy, add another 1 teaspoon of water and stir again.
With the spray bottle, slowly spritz water onto the mixture until it reaches the proper consistency of a "15 second" icing. When a knife cuts through the icing, it will take 15 second for the cut to disappear.
If it's still too thick, spritz more water. If it's too runny, add more icing sugar.
Optional: Split up the icing and add gel food color to the mixture and mix gently until fully incorporated.
Place in a piping bag and seal the ends so the icing doesn't dry out.
Notes
1. Earl Grey tea: preferably pre-ground from a tea bag.
2. Castor sugar is also known as extra fine granulated sugar or berry sugar. Granulated sugar can be used by castor sugar is preferable.
3. Cream of tartar can be substituted with double the amount of lemon juice or vinegar.
4. The lavender Earl Grey filling was created to pair with a flavoured macaron shell. If making this filling for a non-flavoured shell, increase the amount of lavender and tea to 1-1 ½ teaspoon, respectively. 
Nutrition Information
Yield
8
Serving Size
1 grams
Amount Per Serving
Calories

234
Total Fat

11g
Saturated Fat

5g
Trans Fat

0g
Unsaturated Fat

6g
Cholesterol

12mg
Sodium

23mg
Carbohydrates

31g
Fiber

2g
Sugar

28g
Protein

4g
This information is provided as a courtesy and is an estimate only. This information comes from online calculators. Although indulgewithmimi.com attempts to provide accurate nutritional information, these figures are only estimates.