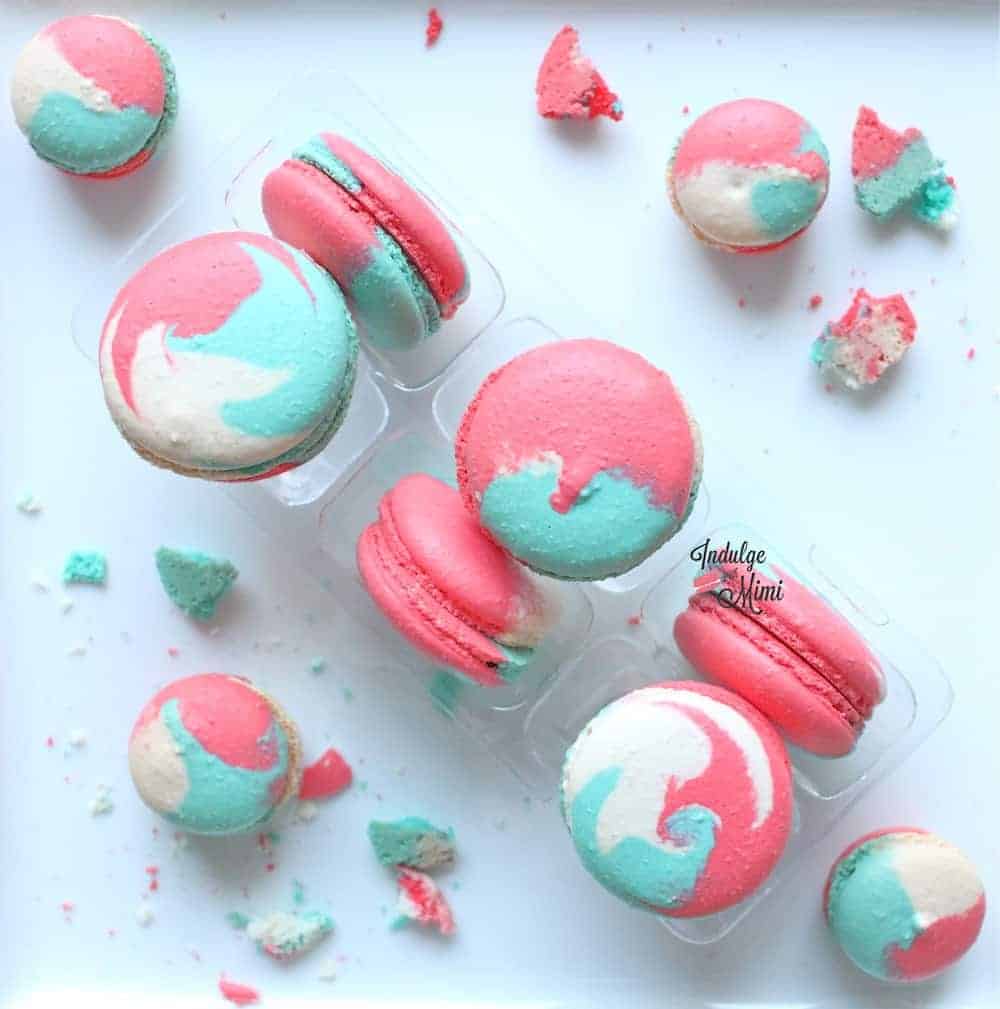 For the third instalment of the goodies from our most recent holiday party this winter season, I'm sharing these multi-color macarons with you. They are just so much fun to pipe! If you already think piping macaron batter is so therapeutic, you'll have an amazing time watching all the colors come out onto the mat while it creates a unique pattern each time. It's so mezmerizing!
These macaron's tri-color look was achieved by using a special 3 part coupler and piping bag set by Wilton which was origanally produced for use with buttercream. It's called the Color Swirl Decorating Set. You'll see this tool in action in the new video tutorial I made on my YouTube channel. And if you are reading this before December 16, you'll have a chance to win this tool by simply leaving me a comment under my IG post or Youtube video. Just comment that you want to be included in the draw and that's it.
To make these macarons, you'll need to prepare 3 batches of macaron batters in different colors but don't worry, you can save time by leaving one batch un-colored. And if you're concerned about preparing so many different colors, you can even use just two colors by putting the same color in two bags and just one color in the other bag.
I hope you were able to get some holiday party ideas from this post along with my two previous ones. They are the "30 Minute Panna Cotta Dessert" and "How to Bake Round & Smooth Macarons". I had a lot of fun preparing for this party. In the end, we had a really wonderful night with our friends and enjoyed some good dishes that they brought over. Afterwards, we played a party game together. It's called Cranium and every player on each team takes turns doing a variety of activities like acting, drawing, molding or humming and their team members had to correctly guess what they were asked to convey on their card. The teams were split between guys and girls and of course, the ladies won through their teamwork and ingenuity 🙂 After we won, we decided to unilaterally give the men a "punishment". Some ideas included eating gingerbread cookies off their faces without using hands, twerking or staying in an "invisible chair position". The men spent several minutes refusing to do ALL of those tasks and brought up a really good point - we should have laid out the ground rules before we began playing. Well... who wants to do that if they knew they could potentially lose. But once we won, it was a whole different story LOL.
Let's talk again soon!
XOXO,
Mimi
You can purchase the 3 Piece Coupler Tool right here: (Disclosure: this is an affiliate link.)
[amazon_link asins='B00TM6VW32|B00TM6VW32' template='ProductGrid' store='indulgewith05-20|indulgewithmi-20' marketplace='US|CA' link_id='57a4e136-00fd-11e9-8b8d-7579facb1ba5']
Here are some photos from the night and the video tutorial is at the very bottom:
Here is the video tutorial for the Multi-Color Macarons which I've uploaded onto my YouTube channel:
[srp post_limit='5' post_random='yes' post_include= 3477 widget_title = 'Second Instalment in This Year's Holiday Party Posts']
[srp post_limit='5' post_random='yes' post_include= 3404 widget_title = 'First Instalment in This Year's Holiday Party Posts']