On a typical winter day in Vancouver, the list for fun things-to-do can wither down somewhat due to the never ending West Coast rainfall. Since most outdoor activities are out of the question at this time, we tend to gravitate towards trying new restaurants and dessert shops at the expense of our ever growing food belly. However, last weekend we found a non-food related indoor activity which had the ability to capture both of our attention for the afternoon - pottery painting.
Painting pottery has always been something I wanted to do because I love creating things and all types of handcrafts intrigue me. This was my first visit to Bella Ceramica. The second floor arts studio, located in West Vancouver's main street front retail hub on Marine Drive, provides all the materials (paint, brushes, smocks) you will need to paint your own pottery.
My previous conceptions of painted pottery are from childhood. In my mind, self-painted pottery had bold colours and crude paintbrush strokes. You know, the typical type of handcraft you'd make at school to bring home as gifts for mom and dad. I was pleasantly surprised to find out that wasn't the case. Although the studio is perfect for children, it is also a great place for adults too. They offer so many different colour of paints (pastels being my favourite) and they even have fine tipped brushes which they will lend you upon request since they don't want the children to be too rough with them.
In the end, I was able to create my very own pastel coloured macaron plate. Of course, you knew I was going to include macarons right? I'm so happy with my plate and I can't wait to build my very own collection. I will definitely make a revisit on a rainy weekend day. On my very short list of fun things-to-do in the city on a rainy day, I just added one more activity to it.
Until next time.
Xoxo,
Mimi
Bella Ceramica is located on: 1381 Marine Dr, West Vancouver BC V7T 1B6, 604-925-3115
Another Macaron Project You Might Like: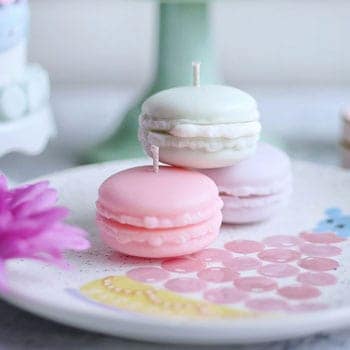 [srp post_limit='5' post_random='yes' post_include= 6251 widget_title = 'Top Picks for Macaron Inspired Projects']
[srp post_limit='5' post_random='yes' category_include= 24 widget_title = 'Some more of my Macaron Art']