Flavorful strawberry basil filling for macarons made with real strawberries and herbs! Free strawberry shaped macaron template provided.
Jump to:
How to Extract Flavor From Strawberries
On the road of recipe development, there are those recipes which feels somewhat effortless and taste great the very first or second try, and then there are those which make you want to pull your hair out and abandon the project altogether. This recipe definitely belonged to the latter. I was initially hoping to release this recipe last month but I had to make this recipe over five times to get it just right. Yes, I am seriously picky with my fillings. There are so many different types of fillings that you can use for cakes and cupcakes but macarons have their own special needs. Their fillings can't be too soft or high in moisture so it created some of the challenges which I'll discuss below.
One of the challenges in this recipe was adding fruit flavours into a swiss meringue buttercream using real fruits. The acids found in fruit juices do not mix particularly well with fats and if you've added too much, the mixture will become a curdled mess that is hard to fix. It's easier to add such a juice to an American buttercream with it's sturdier profile but I find the American versions just taste horrid as macaron fillings since it's already sickeningly sweet, and coupled with a sweet macaron shell... oh my! It's no wonder why some people claim they don't like macarons.
There's also the issue with moisture too, we can't have too much of it. So what can we do? To obtain real strawberry flavouring without the unnecessary liquids, the strawberries and sugar are simmered together on low heat to make a strawberry compote. LOW heat is key here, we want the fruit to break down slowly and the moisture to evaporate as much as possible, leaving us a very concentrated, flavourful and thick compote which we then puree. Don't forget to watch the video below to see how thick the consistency should be when we take the strawberries off the heat.
Extracting Flavor From Basil for the Filling
Another challenge was the addition of the basil. Which way would be best? I tried mincing basil leaves and beating it into the buttercream at the end but then little chunks of it would make its presence felt after a few bites. I didn't like that. To counter this, I decided to cook the basil with the strawberry compote from the beginning as suggested by Preservatory author, Lee Murphy, whom I had the pleasure of meeting and cooking with at her charming farm, Vista D'oro. If anyone knows about making jams or compotes, it's definitely Ms. Murphy. Read about what we cooked here. And for those who don't like basil, you can definitely leave it out of this recipe.

Tip for Potent Strawberry Flavor
You'll notice also that the addition of a strawberry extract is optional. You might wonder why we're using it after we took so much time to create a nice real strawberry puree for the flavouring. The extract's role is to help lend emphasis to the strawberry flavour in the top notes while the real strawberry puree provides that lingering full bodied strawberry flavour. I used the Strawberry flavour from L'orann Oils from their Naturals collection which means that the flavours are derived naturally from the fruit, it is not an artificial flavouring. It actually taste almost identical to the compote so it's a great way to add more flavour without having to add more strawberry puree into the buttercream, lowering the chances of it becoming unstable and/or too soft to use as a macaron filling. Of course, for those who don't want to add more flavour, you can definitely leave it out. It's just something that adds a little more oomph to the taste since some audiences may be more akin to and prefer macarons that have a more potent flavour, think kids and people who prefer eating intensely flavoured foods.
Free Strawberry Macaron Templates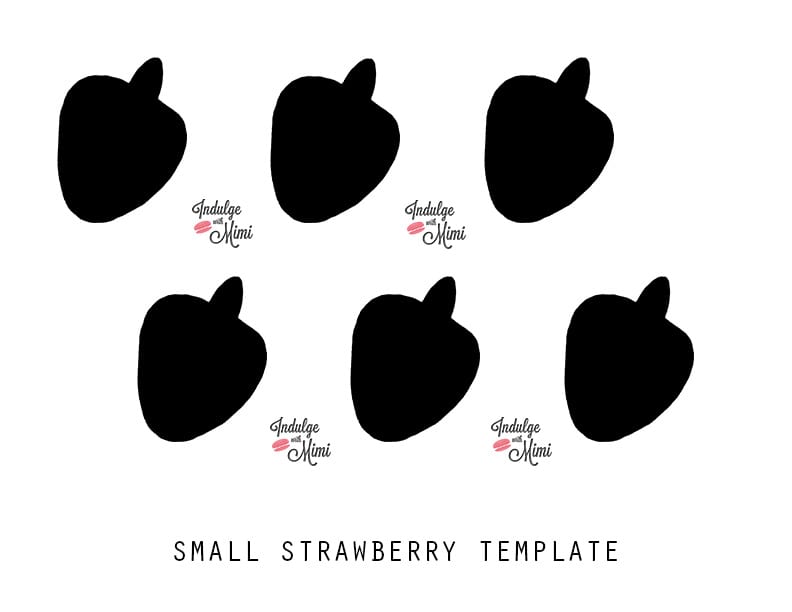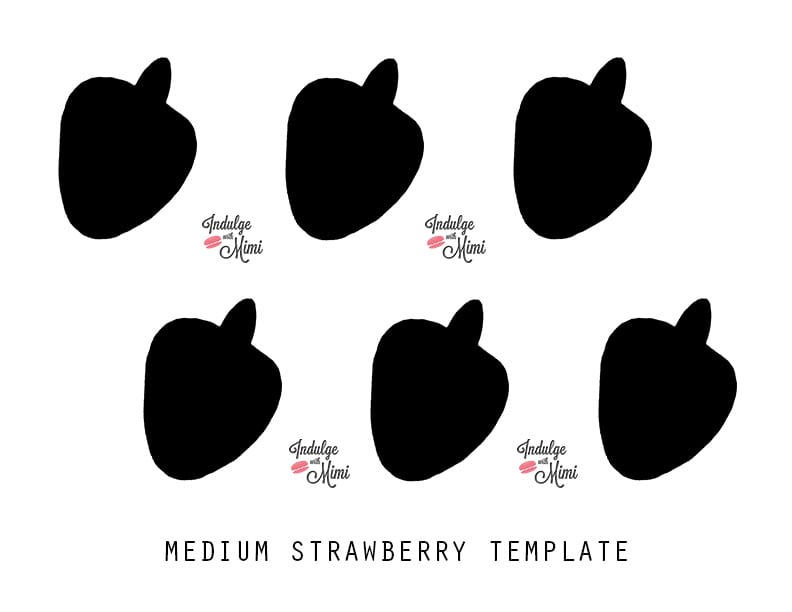 Recipe
Yield: 24 macarons
Strawberry Basil Macaron Filling
Prep Time
1 hour
30 minutes
Total Time
2 hours
14 minutes
Ingredients
Basic Macaron Shell
240 grams almond flour
240 grams icing sugar
185 grams egg whites, aged, room temperature
165 grams castor sugar (Note 1)
½ tsp. cream of tartar
For Strawberry Basil Puree
350 grams fresh organic strawberries
6 teaspoon granulated sugar
50 basil leaves
For Swiss Meringue Buttercream
65 grams egg whites
130 grams granulated sugar
195 grams butter
¼ teaspoon salt
1 - 1 ½ teaspoon strawberry extract (optional)
Instructions
Basic Macaron Shell
Set aged egg whites out at room temperature.
Pulse almond flour and icing sugar together in a food processor to further break down any large pieces of almond flour.
If you are new to macaron making, please read the instructions to my BEST MACARON RECIPE before attempting to follow the rest of the instructions since it is condensed for the advanced macaron baker.
With the balloon whisk attached, whip the room temperature egg whites on low-medium speed.
Add cream of tartar when it becomes foamy.
Turn up the speed to medium.
Once the whisk starts to leave tracks in the egg whites, add sugar a little at a time.
Turn the speed up to medium-high and whip until firm peaks, stop mixer and add gel food color if desired. Continue whipping on medium-high until stiff peaks.
Fold the dry mix and meringue together until the batter becomes a "lava" or honey-like consistency.
On parchment paper or silicone mats, pipe out round shaped macarons.
Rap the tray hard on the counter to remove any excess air bubbles. Use a toothpick to pop any remaining bubbles.
Wait until the shells become completely dry before baking.
Bake at 325F for 12-14 minutes. Every oven is different, you may need to adjust your own temperature settings. Please read How to Use Your Home Oven Properly for Baking Macarons if you are unsure.
Macarons are done when the foot doesn't push back and the tops don't move when you wiggle it.
Once baked, let cool completely before removing from the baking mat/parchment paper.
For the Strawberry Basil Puree
Wash and dry basil with a paper towel. Chop into small pieces.
Wash strawberry and remove stem and a bit of the surrounding white flesh with a paring knife. Dry it with paper towels.
Place the basil, strawberries and sugar in a small pot, boil on LOW heat for approx 30 minutes.
It will start to break down by itself. Occasionally, stir the mixture so the sugars and juices come together.
Using a heat proof spatula, occasionally press down on the fruit very gently to help break it down. If it is still hard, just let it break down by itself until its soft enough to push down on it with the spatula.
It will reduce into a very thick, chunky compote that is not runny. Take off heat after appr. 30 min. (Watch accompanying video to see the proper consistency. You may need to keep it on the heat some more if it is still runny.)
Pour the compote into a food processor or blender and blend for a minute or two until the fruit is all broken down.
Pour through a sieve into a heat proof cup. The mixture is thick so use a spoon to push it through. If the consistency is correct, you should have about 3 tablespoons of puree. Set puree aside.
For the Swiss Buttercream
Cut up butter and let it come to room temperature as you measure out other ingredients.
Add sugar and egg whites into a heat proof mixing bowl. Stainless steel is light and safe.
Place over a pot of boiling water.
Whisk the whites & sugar mix over the boiling water.
Pay attention to whisking the mixture when it starts getting hot, you don't want to cook the eggs.
Whisk the mixture until the temperature reaches 160F. This temperature is generally accepted to be able to kill salmonella in eggs.
Pour the mixture into the Kitchenaid mixer and whisk on low with the balloon whisk, then turn it up to medium.
Once the mixture is thick and glossy, and the bottom of the bowl is cool to the touch, stop mixer. Change the whisk attachment to the paddle attachment.
Add butter a little bit at a time while beating with the paddle attachment on medium speed.
The mixture might look curdled or separated for a while but keep mixing. It will all come together.
Add strawberry basil puree a tea-spoonful at a time to a max of 3 tablespoons. Beat until incorporated.
Add strawberry extract if desired and incorporate.

Assembly
Pair two similar sized shells together.
Pipe a dollop of strawberry basil filling onto one shell. Assemble with other shell.
Place in an airtight container in the fridge and let it mature for 24 hours before eating. Enjoy!
Notes
1. Castor sugar is also known as extra fine granulated sugar or berry sugar. Granulated sugar can be used by castor sugar is preferable.

2. I always use organic strawberries in my kitchen since it's part of the "Dirty Dozen" group of fruits which are highly recommended to buy organic. 

3. Basil and strawberry extract is optional. You can leave it out if you do not like or have these ingredients. 

4. There is a strawberry template for you to download along with a video to show you the proper consistency of the compote when you take it off the heat. 
Nutrition Information
Yield
24
Serving Size
1 grams
Amount Per Serving
Calories

90
Total Fat

7g
Saturated Fat

4g
Trans Fat

0g
Unsaturated Fat

2g
Cholesterol

17mg
Sodium

81mg
Carbohydrates

8g
Fiber

0g
Sugar

7g
Protein

1g
This information is provided as a courtesy and is an estimate only. This information comes from online calculators. Although indulgewithmimi.com attempts to provide accurate nutritional information, these figures are only estimates.
[pt_view id="9c1c354a2v"]