The fluffiest matcha swiss cake roll paired with a semi-sweet azuki bean cream. Heavenly Japanese style green tea dessert just like the ones at the shops.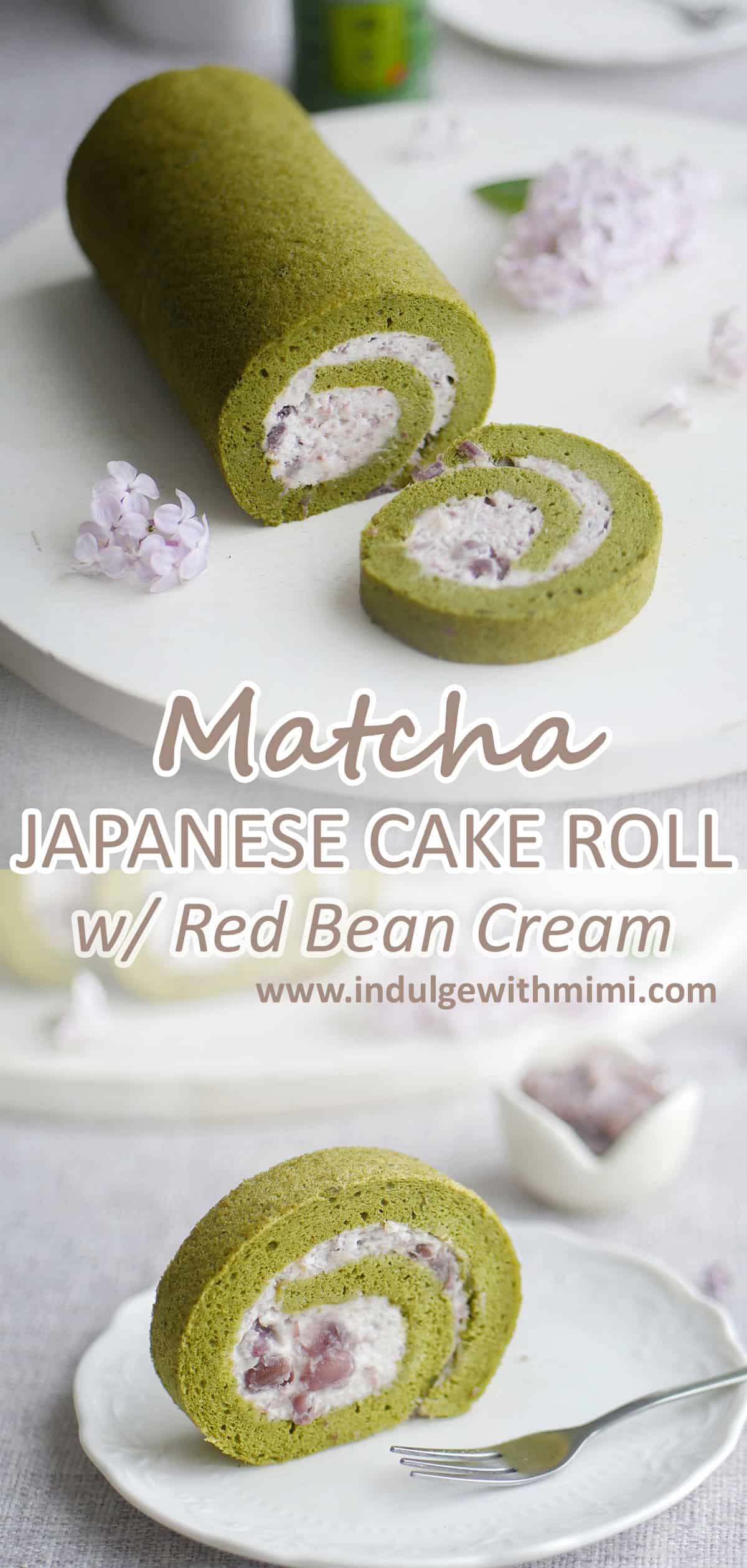 Jump to:
A Dessert in the Japanese Style
An earthy Matcha cake roll made in the Japanese style and filled with a semi-sweet Azuki bean whipped cream is one of the best cake combinations I can think of. Besides wanting to have a cake to enjoy after dinner without having to venture out to the stores, I wanted to make this cake for all the readers who have requested it after their success with making my fluffy and soft chocolate cake roll and fresh strawberries and cream cake roll. I've seen how creative readers have been at adapting my original recipe in various flavours like Hojicha and Earl Grey, I must say it inspires and motivates me to work even harder to bring this new recipe to you.
This matcha cake roll is made with the same chiffon cake body so it's super fluffy and soft. After baking, it's filled with a whipped cream filled with Azuki beans, also known as the red mung bean, which is a popular bean used in food and desserts in East Asia. This flavor combination of matcha and red bean is very popular in Japan and this recipe follows the same Japanese culinary style of keeping desserts light, airy and not-so-sweet.
The Fluffiest Chiffon Cake Body
Chiffon cakes fall under the umbrella of the sponge cake family. It relies on egg foam to leaven the cake. But instead of little or no butter, it uses oil, making it especially soft and fluffy (for example, butter hardens when refrigerated.) For this matcha cake roll, we need to make a matcha milk mixture first, then whip the egg whites to stiff peaks, and gently fold it into the other ingredients. It's not too difficult at all but if you want an even simpler, one-bowl style matcha cake, you can try my Easy Matcha Cream Cheese Pound Cake instead.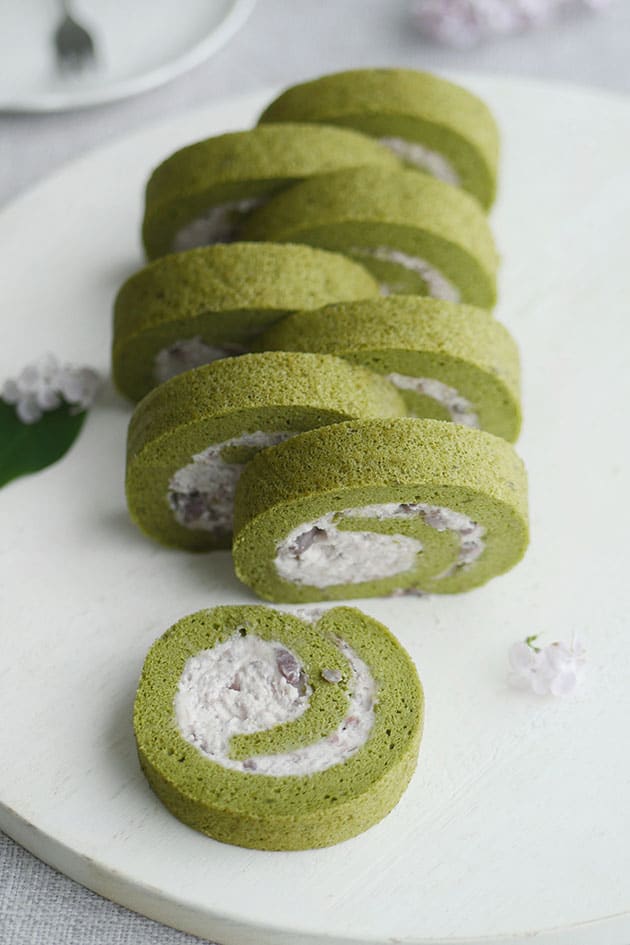 What is Matcha Green Tea?
Matcha is a finely ground powder of specially cultivated green tea leaves that come from trees grown in the shade for several weeks before undergoing a special processing technique which involves stem removal and de-viening. It is then ground up into a fine green tea powder and consumed with water or milk, like in a matcha latte. It is also a beloved flavor used in desserts because the earthy profile and astringency contrasts extremely well with the sweetness in most desserts. Here are a few of my matcha flavoured desserts that are reader favorites: matcha mille crepe cake, matcha macarons, matcha coconut cookie.
Where to Buy Matcha Powder?
For those living in Japan, Matcha powder is extremely easy to find because it is a big part of the Japanese culture. It is consumed on a regular basis as a simple cup of tea or as part of their intricate tea ceremony rituals and it's also used extensively in desserts. Here in North America, matcha flavoured foods aren't as mainstream but it can be easier to find in cities with a large Asian population. If you plan to buy some matcha for yourself, it can usually be found in well stocked grocery stores selling Asian produce. Some specialty tea shops also sell matcha powder. Alternatively, Amazon offers a good selection to choose from, like this highly rated one with Japanese origin.
How to Cook the Adzuki Red Beans
For this recipe, I consulted with my mom on how to best cook Adzuki beans since these little beans are a very common ingredient used in Asian cooking. These little red beans can be purchased in Asian grocery markets or in the baking aisle of some well-stocked grocery stores. Amazon also sells this one from Bob's Red Mill.
For our use in this cake roll, it's best to pre-soak the beans in 3X the amount of water at least 1 hour before cooking to soften them and cut down on the cooking time. You can leave them soaking overnight as well. Make sure to use a big enough bowl as the beans will swell and enlarge. After that, we wash and drain it to remove any impurities, then simmer it for about 30 minutes, until it becomes soft. Lastly, we add the sugar and salt and let it immerse with the beans. Once all the water evaporates and a line can be drawn in the beans without disappearing, it's done! So easy!
Step By Step for Cooking Adzuki Red Beans
Soak Adzuki beans in 3X the amount of water for a minimum of 1 hour or overnight. Rinse pre-soaked beans to rid of any impurities and throw away damaged beans
Place in medium sized pot. Add enough water to go past the beans by 2 inches. Using a medium-high heat, bring water to a boil, then reduce to low for a light simmer.
Let beans simmer until it becomes soft, about 30 minutes (time will depend on how long it was pre-soaked). The best way to test doneness is to taste it to see how soft it is. Pour cooked beans into a colander to drain water.
Add beans back into pot, add sugar and stir on low heat until the water has evaporated and a line can be drawn in the beans with a spatula without disappearing. Set aside to let cool.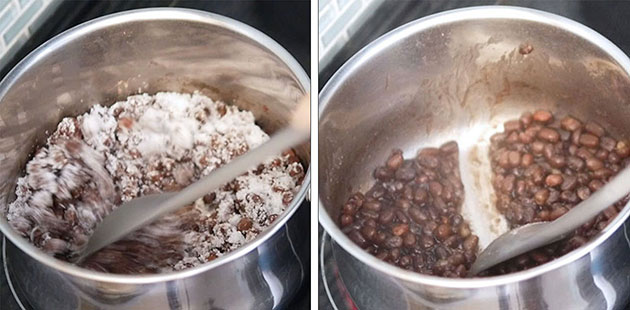 Mash up half of the beans with a fork or pulverize in a food processor. Add it into the whipped cream along with the rest of the whole adzuki beans.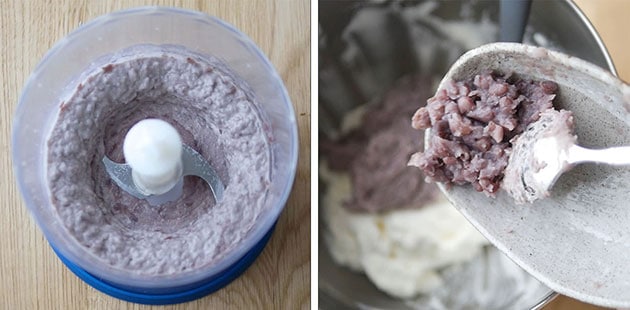 Tips for Making a Nice Roll Cake
A strong and healthy meringue (whipped egg whites with sugar) is needed to act as one of the leavening agents in this cake. Egg whites should be whipped in a clean and dry non-plastic bowl since plastic tends to trap oil. Use a paper towel and wipe down the mixing bowl with lemon or vinegar before you start.
Carefully separate the egg whites and yolks. Make sure no yolks are present in the egg whites. An egg separator can come in handy.
Bring the egg whites to a stiff peak. This is characterized by egg whites that have a beak that points upwards (instead of slumped over) when the whisk is pulled out.
Once the liquid (matcha milk in our case here) is introduced to the flour, do not over mix. This will produce more gluten, making the cake less tender.
Rap the tray a few times on the counter to get rid of large air pockets.
Use a gentle folding movement with a spatula to incorporate the meringue into the wet flour mixture. Do not stir, this will prevent the air in the meringue from deflating.
Add more cream along the short edge of the cake which is to be rolled first. This will prevent the cake from cracking due to large gaps in between the folds. These angled spatulas will come in handy for even frosting any time of cake. Instead of putting your hands directly onto the cake, use the parchment paper to push the cake onto itself as you roll.
Fold gently and do not worry too much about rolling the cake very tightly. As long as the cream is spread out evenly (with a bit more along the short edge as per above), the amount of cream in this recipe will allow the sheet cake to hold up without cracking due to large gaps.
I like to test the doneness of the Adzuki beans with my mouth instead of my fingers since it gives me a better idea what the mouthfeel will be like. It can seem softer than it actually is when mushing it between your fingers.
Keep half portion of the beans whole to give the Adzuki cream some texture.
Chill the bowl, beaters and whipped cream for optimal whipping volume. They should all be be very cold.
Gelatin is added to the whipped cream to help stabilize it. Many recipes do not include this step but I prefer it when using whipped cream in a cake roll. It prevents the cream from deflating so the roll stays rounder and looks nicer. The red beans added to the cream will also make it a bit softer looking than usual so stabilizing it is a good idea. You can leave this step out if you plan on serving the cake immediately. If you need further guidance on stabilizing the cream, please read my post on How to Stabilize Whipped Cream with Gelatin.
If you find rolling the cake and stabilizing the whipped cream is too time-consuming, try this easy Japanese Peach Cake in a Cup, it has the same great chiffon base but doesn't require rolling or whipped cream stabilization and can be baked in a pan of any size.
You might also like these new versions I created: Japanese Carrot Cake Roll with Stabilized Mascarpone Cream & Coffee Cake Roll with Kaluha Cream, Fancy Pattern Cake Roll.
Step By Step Green Tea Cake Roll




How to Make Rolled Cake Round
Once the rolled cake has been assembled with the Adzuki cream, finish up with this final tip to make the cake look nice and round instead of soft and floppy. Wrap the assembled cake in plastic wrap. Once it's secured inside the first piece of plastic, place it on a new piece of plastic and start wrapping it again while gently rolling it away from you, making sure you are creating a log shape at the same time. Just use gentle pressure, we don't want to squish the fluffy cake base! Allow the assembled cake to firm up in the fridge for several hours before serving. Doing both of these will give you a beautiful round cake log at home.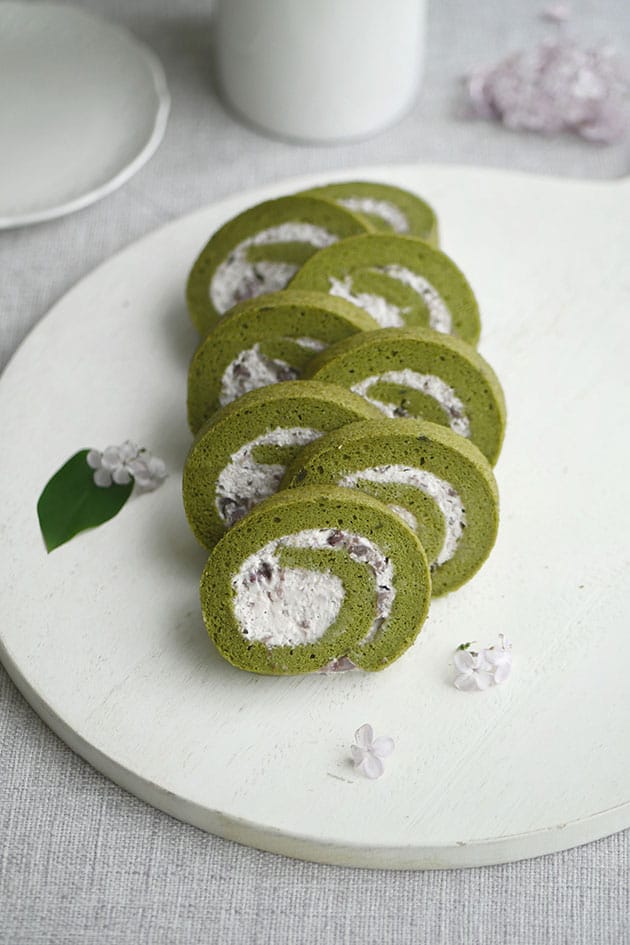 After making and remaking this matcha cake roll over 20 times during recipe development to get the taste and texture just right, I'm happy to add to the blog another original recipe from my home kitchen. It's a dessert I would be proud to bring to a party or gathering. Everyone loves the texture of a nice fluffy cake roll, and when pre-cut and displayed on a beautiful presentation board, it looks just like the luxurious cakes you find at high-end bakeries. I love both the taste and look of a good roll cake and I know you and yours will too.

Stay safe and thank you so matcha 🙂 for coming by again.

XOXO,
Mimi
Recipe
Yield: 8 slices
Matcha Cake Roll w/ Adzuki Cream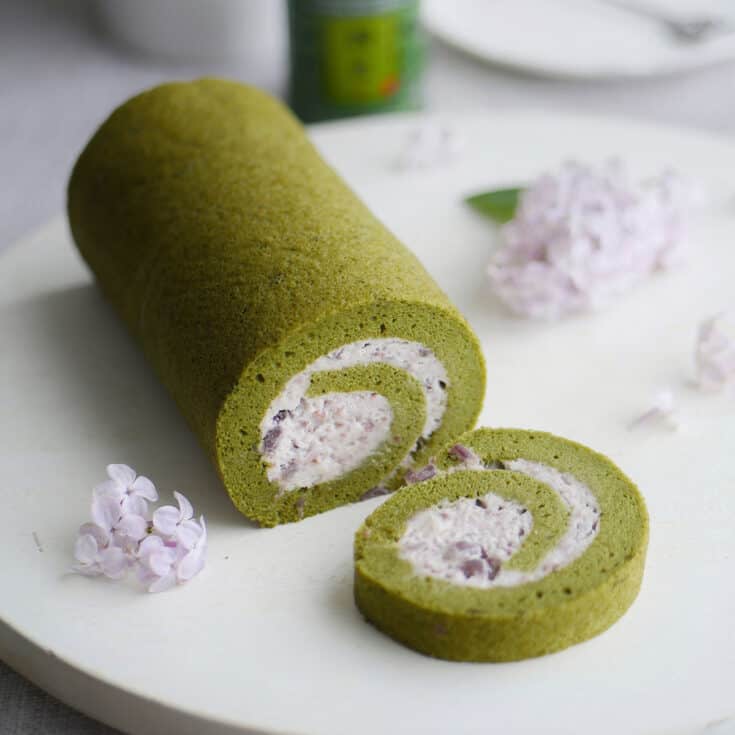 The fluffiest matcha swiss cake roll paired with a semi-sweet adzuki bean cream. Heavenly Japanese style green tea dessert just like the ones at the shops.
Total Time
1 hour
45 minutes
Ingredients
Japanese Style Matcha Chiffon Cake
60 ml whole fat milk
5 teaspoon matcha powder
4 egg whites
¼ teaspoon cream of tartar
50 grams granulated sugar
45 grams cake flour
30 grams granulated sugar
1 teaspoon baking powder
¼ teaspoon sea salt
3 egg yolks
40 ml vegetable oil
¼ teaspoon vanilla extract
Adzuki Red Bean Cream
160 grams Adzuki red bean (pre-soaked)
115 grams granulated sugar
¼ teaspoon sea salt
1 teaspoon powdered gelatin
5 teaspoon water
1 cup whipping cream 33% M.F.
1 tablespoon granulated sugar
¼ teaspoon vanilla extract
Instructions
Adzuki Bean Cream Preparation
Soak Adzuki beans in 3X the amount of water for a minimum of 1 hour or overnight.
Matcha Chiffon Cake Instructions
Line a 8 X 12" rectangular cake pan with parchment paper.
Preheat oven to 325 F.
In a small sauce pan, pour in milk, sift in matcha powder.
Place over medium heat, keep stirring mixture until it starts to steam and no visible clumps of powder can be seen. Take off heat and set aside to cool. Do not let boil.
In a clean and dry, non-plastic mixing bowl, whip egg whites on slow speed until frothy, add cream of tartar.
Increase speed to medium, once the whites become opaque and bubble size have tightened up, add sugar a little bit at a time.
Increase speed to med-high, whip until stiff peaks. (Note 2) You've now made a meringue.
In a large mixing bowl, sift in cake flour, sugar, baking powder and salt. Stir to combine.
Create a well in the center. Inside it, add yolks, oil, vanilla extract and the now cooled matcha milk mixture.
Stir to combine until fully incorporated, do not over mix.
Gently fold ⅓ of the meringue into the milk-flour mixture to get it moving. Once incorporated, fold in the rest of the meringue. Do not stir. Use batter immediately.
Pour batter into lined cake pan from one spot, spread out the batter evenly with an angled spatula.
Tap the pan on the counter to release large air pockets.
Bake for 10-12 min. at 325 F until a skewer pulls out clean and cake springs back in the center.
Let cool 5 min. in the pan before removing.
Place cooling rack over cake pan.
Flip cake over onto the rack, gently remove paper.
The side facing up will eventually become the top of the cake roll. Let it sit on cooling rack for 5 min.
Place a new piece of parchment paper on top of the cake.
Flip the cake over and start rolling, allowing the parchment paper to be in between the folds. This will prevent the cake from sticking to itself. It's important to roll the cake before it cools completely, otherwise, it will crack while rolling.
Let it cool in this wrapped condition while making the fresh cream.
Adzuki bean cream Instructions
Refrigerate mixing bowl and beaters in the fridge for a minimum of 15 minutes. This will help cream whip better.
Rinse pre-soaked beans to rid of any impurities and throw away damaged beans
Place in medium sized pot. Add enough water to go past the beans by 2 inches.
Using a medium high heat, bring water to a boil, then reduce to low for a light simmer.
Let beans simmer until it becomes soft, about 30 minutes (time will depend on how long it was pre-soaked).
Pour beans into a colander to drain water.
Add beans back into pot, add sugar and salt and stir on low heat until the water has evaporated and a line can be drawn in the beans with a spatula without disappearing.
Set aside to let cool.
Place water in a heatproof cup and sprinkle gelatin on top to bloom. Wait 5 minutes.
Place cup in a small sauce pan filled with simmering water. Once gelatin becomes liquid, take it out of the water. Let cool on the counter.
Immediately start beating the cream and sugar in a stand mixer fitted with the chilled bowl. Whip on low speed and then increase to medium.
Check on the gelatin. It should no longer be warm but still runny.
Once the beaters leave tracks in the cream, pour the gelatin into the bowl slowly and steadily. Aim for the area in between the whisk and the bowl.
Stop beating once the cream turns stiff. Do not over whip.
Check that the beans have completely cooled off.
Mash half of the azuki beans into a paste with a potato masher or pulverize it in the food processor to make a paste.
Gently fold in the cooled Adzuki bean paste and whole beans into the whipped cream.
Use cream to assemble the cooled cake immediately.
Assembly
Gently unwrap rolled cake and spread an even layer of cream on it. (Note 3)
Carefully roll up the cake from the short edge using the parchment paper to help push the cake onto itself.
Wrap with plastic wrap and place in refrigerator to set before cutting.
Before serving, cut off sides for a cleaner presentation. Matcha cake roll can be kept in the fridge in an air tight container for 2-3 days.

Notes
1. Some ingredients are repeated, use them in the same order as outlined in instructions.
2. Stiff peaks are characterized by egg whites that have a pointed peak when the whisk is pulled out. It points upwards and doesn't droop on itself.
3. Depending on the volume your cream attains once whipped, not all of the cream may be needed. A layer about ½" is recommended, with a bit more on the edge that will be rolled first.
Nutrition Information
Yield
8
Serving Size
1
Amount Per Serving
Calories

291
Total Fat

15g
Saturated Fat

6g
Trans Fat

0g
Unsaturated Fat

8g
Cholesterol

95mg
Sodium

248mg
Carbohydrates

35g
Fiber

1g
Sugar

25g
Protein

6g
This information is provided as a courtesy and is an estimate only. This information comes from online calculators. Although indulgewithmimi.com attempts to provide accurate nutritional information, these figures are only estimates.
Other Cake Roll Flavors You Might Like
Here are all the other cake roll flavors you might like. You can use them as a guide to help you adapt the cake for different flavors using techniques like adding different ingredients to the dry mix, the wet mix or the filling. Try these rolls: Fancy Pattern Cake Roll, Fresh Strawberry Cream Cake Roll, Earl Grey Cake Roll, Coffee Kahlua Cake Roll, Chocolate Cake Roll, Carrot Cake Roll, Gingerbread Cake Roll, Pumpkin Spice Cake Roll and Peach Cake Roll in a Cup.