A souffle-style cheesecake that is light, fluffy and moist. Topped off with a light, airy and stabilized lemon whipped cream that's fit for piping - just heavenly!
Jump to:
A Fluffy Japanese Cheesecake with a Western Twist
Japanese cheesecakes seem to be all the rage right now in Vancouver. With the opening of the world-famous, Uncle Tetsu, in my hometown I was really craving a nice fluffy and moist Japanese cake. Instead of driving to the mall and lining up for hours (yes, literally), I decided to revisit an old recipe of mine: Chocolate Japanese Cheesecake, this time changing it up by incorporating a beloved Western flavour pairing of Earl Grey tea and lemon.
Btw, if you like cheesecakes, here are several more cake recipes which have that special tangy and rich cheesecake taste: no-bake pumpkin cheesecake cups, matcha cream cheese pound cake & chocolate cream cheese pound cake.
Tangy Mouthwatering Lemon Whipped Cream
The tangy lemon whipped cream that I added on top of the cake is light and airy just like the texture of the cake. Because it's so light weight, you can also use it to frost a whole chiffon cake. And even though it's a whipped cream, the addition of icing sugar helps to stabilize it and allows it to be piped with different decorative piping tips. Of course, it will have less definition than say a Swiss Meringue Buttercream but it's a good compromise considering how good it tastes! People who find meringue based buttercreams too "buttery" and American based buttercreams too sweet, will really love the taste of this whipped cream. It's not too buttery, not too sweet; it's just light, airy and creamy. With the addition of a tangy lemon, it's really mouthwatering! (On a side note, this cream is not suitable as a macaron filling since it is higher in moisture. Please take a look at this lemon buttercream instead.)
Lastly, please note that, if left unused after a while, this cream has a tendency to deflate and separate a little so it's important to make this cream immediately before serving or up to one day ahead. It will need a bit of re-whipping before you pipe it. Once piped or spread, it can hold up for 3-4 days. If you're really adventurous, you can make an even more stable whipped cream by stabilizing with gelatin, here's How to Stabilize Whipped Cream with Gelatin.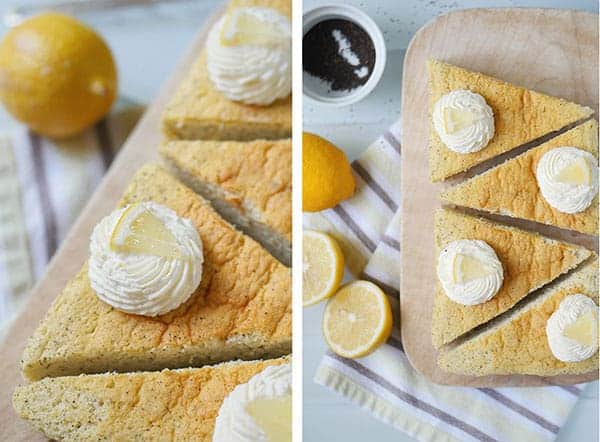 A Hot Water Bath
Lastly, you'll see that the instructions call for the cheesecake to be baked in a hot water bath. Japanese cheesecakes are usually baked at low temperatures in a hot water bath to keep the moisture level in the oven high and the heat gentle. It helps bake the cheesecake slowly and evenly to prevent cracking. At the end of the baking time, we also leave the cheesecake in the oven with the door ajar to prevent shrinkage and cracking from the sudden change in temperature. It's a sweet little process to bake this delicious fluffy treat but well worth the effort!

XOXO,
Mimi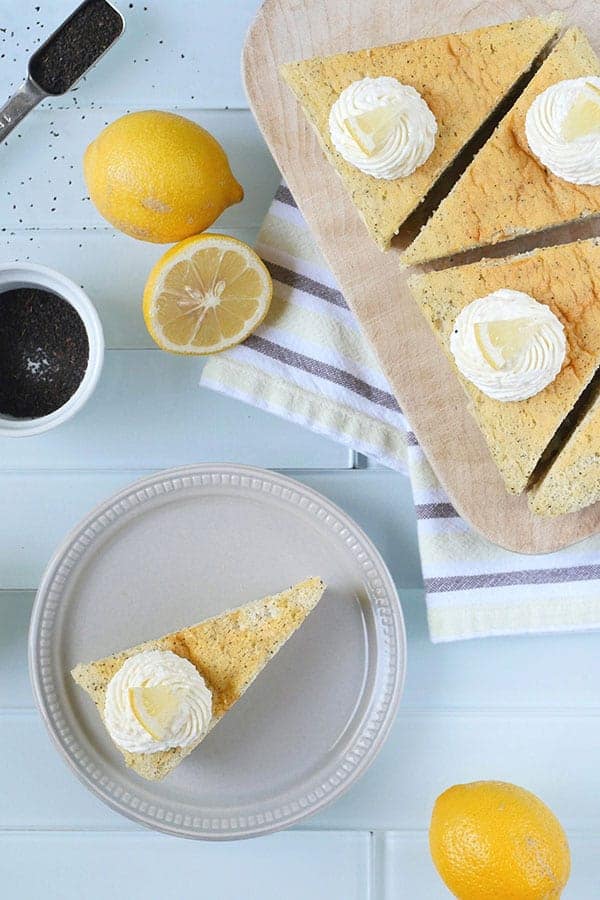 Recipe
Yield: 6 people
Earl Grey Japanese Cheesecake Topped with Lemon Cream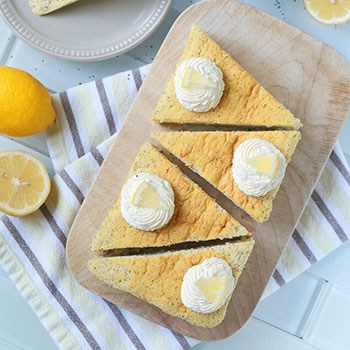 A souffle-style cheesecake that is light, fluffy and moist. Beloved Western flavour pairing of Earl Grey tea and tangy lemon brings this Japanese dessert to the next level. Topped off with a light, airy and stabilized lemon whipped cream that's fit for piping - just heavenly!
Total Time
1 hour
15 minutes
Ingredients
For the Cake Batter:
100 grams whole milk
90 grams cream cheese, (block cream cheese, NOT cheese spread)
38 grams unsalted butter, (cut into cubes)
3 egg yolks
10 grams cake flour
5 grams corn starch
50 gram granulated sugar
3 egg whites, (at room temperature)
⅛ teaspoon cream of tartar
4 grams Earl Grey Tea , (approx. 4 tea bags)
½ tsp. vanilla extract
For the Lemon Whipped Cream:
120 ml heavy cream
1 ½ tablespoon icing sugar
1 organic lemon, (zest of whole lemon & 1 tbsp. juice)
Supplies:
Loaf pan 5X9"
A pan large enough to fit a 5X9" loaf pan , (for the water bath)
Parchment paper
Whisk
Flat spatula
Glass mixing bowl
Kitchenaid or handheld mixer
Small strainer
Instructions
Earl Grey Japanese Cheesecake
The night before, place the milk and 2 grams tea leaves in a small sauce pot on medium heat. Once the milk starts to steam and a few bubbles can be seen, take off heat and place a plate over it to steep. After it cools off, put in the fridge overnight.
The next day, pour the milk through a strainer. Keep 90 ml of milk for our current use. Discard the excess along with the tea leaves that can't be strained.
Cut up the cream cheese into cubes, place it inside a heat safe bowl, microwave it for 15 to 20 seconds to bring to room temperature
Heat up the milk and cream cheese in a heat safe bowl over a boiling pot of water, stir with a spatula until well incorporated. *a
Add the butter.
Put the cream cheese mixture aside and let it cool down before adding the egg yolks to avoid cooking it.
Once the mixture has cooled off, add the egg yolks and vanilla extract, incorporate well with the spatula.
Sift the dry ingredients of cake flour, cornstarch, and remaining 2 grams of tea into the melted cream cheese mixture. Do this in two parts.
Gently stir it with the spatula. Do not stir too vigorously as this will toughen up the cake. Stop as soon as it becomes homogeneous.
Prepare a very clean non-plastic bowl free of oil or residue for making the meringue. *b
Put the whites into the clean bowl, leave the egg whites on the counter to bring back down to room temperature (around 20 minutes).
Using a hand blender or Kitchenaid, whip the egg whites on low speed until foamy, then add the cream of tartar and increase the speed to medium.
Once the whisk starts leaving tracks in the egg whites, which have become opaque, add one third of the granulated sugar at a time. Keep beating on med-high until stiff peaks.
Pre-heat oven to 300F
Fold a third of the meringue into the cake batter. Then fold in the rest of the meringue. Keep folding until the mixture is homogeneous and no visible clumps of meringue can be seen.
Line the rectangular cake pan with parchment paper. *c
Pour the batter into the small loaf pan lined with parchment paper. Rap it once on the counter to smooth out the top and get rid of excess air pockets.
Place the cake pan in a water bath. For the water bath: place the cake pan inside a larger pan filled with 2 cm of hot water. *d
Bake for 40 to 50 minutes at 300F. It's ready when a skewer pulls out clean when inserted and the cake bounces back when you gently press into it with your fingers. The top should also be golden brown.
Turn off the oven. Leave the oven door ajar for 10-15 minutes before taking the cake out of the oven. *e
Gently lift the cake out of the pan. Peel off paper and let it cool off on a cooling rack. Be careful, it is very fragile at this point.
Once cooled, place in the fridge in an air-tight container overnight to set. This will allow the flavours and texture to develop. The cake is best eaten within 3-4 days.
Fresh Lemon Whipped Cream
Work on lemon cream immediately before serving. *f
Place whisk (of handheld mixer) and glass mixing bowl in the fridge to chill. Do not use metal bowls since the acid in the lemon will react with metal.
Zest (whole) and juice (1 tbsp) the organic lemon. Set aside. *g
Whip the cream inside the chilled mixing bowl on low speed. Once it has thickened and increased in volume, add the icing sugar. Increase speed to medium.
Once it has reached soft peaks, add the lemon juice and zest and whip until stiff peaks. Look for the cream to develop ridges along with a matte surface. DO NOT OVER WHIP *h
Pipe immediately.
Notes
*a. Ensure that your cream cheese is totally blended and there are no large lumps left. The cake won't rise properly if there are large clumps of dry ingredients holding it back.
*b. You can use some lemon juice or white vinegar to wipe down the bowl to remove any leftover oils. Meringues do not like any type of oil!
*c. This will help the cake lift off easily from the pan and prevent cracks due to over-handling.
*d. Water baths keeps the moisture level in the oven high and the heat gentle. It helps bake the cheesecake more slowly and evenly to prevent cracking.
*e. This will help prevent shrinkage and cracking from the sudden change in temperature.
*f. It's best to use lemon cream immediately but it can be successfully re-whipped for use within 24 hours. Stop whipping once the cream has become matte again.
*g. Use organic lemons since there may be pesticides on the peel of conventional lemons.
*h. Whip cream cannot be salvaged once over whipped. Stop beating once the cream starts to develop ridges and becomes matte. If the cream is just a bit overwhipped, you may be able to salvage it by adding more whipped cream and beating again.
Recommended Products
As an Amazon Associate and member of other affiliate programs, I earn from qualifying purchases.
Nutrition Information
Yield
6
Serving Size
1 grams
Amount Per Serving
Calories

267
Total Fat

20g
Saturated Fat

12g
Trans Fat

0g
Unsaturated Fat

7g
Cholesterol

145mg
Sodium

92mg
Carbohydrates

16g
Fiber

0g
Sugar

13g
Protein

6g
This information is provided as a courtesy and is an estimate only. This information comes from online calculators. Although indulgewithmimi.com attempts to provide accurate nutritional information, these figures are only estimates.