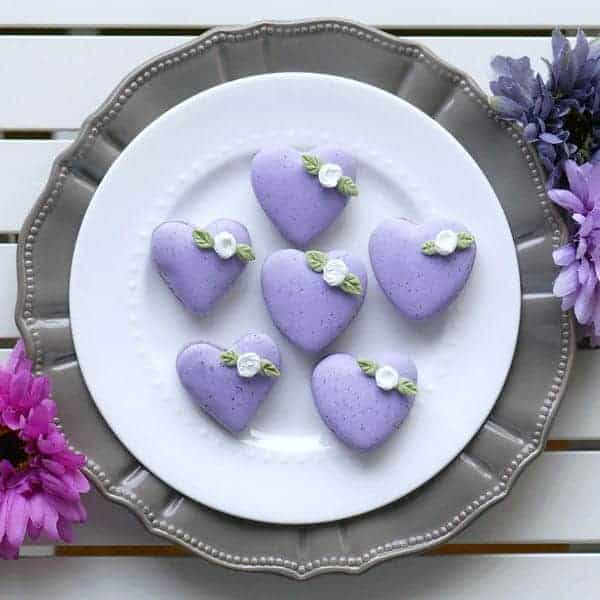 I'm often asked how to add flavour into the macaron shells so today I'm introducing this new macaron recipe which incorporates this element. After a few days of recipe development, I'm finally happy with this new flavour. At first bite, you'll notice the mouth-watering acidity from the lemon buttercream filling and it ends with an after taste of Earl Grey from the tea-infused shell. I think this might be the flavour for those who prefer a less sweet macaron. Instead of playing around with the sugar ratios (which can be dangerous), a better way is to use a tarty fruit filling to cut down the sweetness. This flavour is definitely one of my new favourites. It would be nice to have this macaron as part of an afternoon tea break at home with some girlfriends.
I know some bakers have told me that they had trouble with getting enough of the tea flavour into the shells. I used the Earl Grey tea leaves from TAZO teas and found it to be quite aromatic and flavourful. I didn't have to run the risk of adding too much leaves and compromising my macaron batter with too much foreign ingredients. Keep in mind, how much of the tea flavour you get will depend on how fine you process your tea. After processing the tea leaves in the food processor with your almond flour and icing sugar, you'll need to sift it. Some of the bigger pieces may not be able to make it through the sieve and you'll end up losing some of your tea that way.

I've also included a heart template for you to pipe the batter into heart shapes if you have the time. This is the small-medium heart version. I also have the medium to large heart template here. And if you'd like to add the extra sugar rose detail, you can get the sugar rose recipe here. The leaves were made of fondant and I cover that here.
Hope you enjoy it and don't forget to sign up for the newsletter. I'll be sending emails 2-4X a month only to let you know of new posts and free templates.
XOXO,
Mimi

♥EARL GREY MACARON BATTER INGREDIENTS:
- 65 grams almond flour
- 65 grams icing sugar
- 45 grams castor sugar
- 50 grams aged egg whites
- ⅛ teaspoon cream of tartar
- Purple Gel Colour (1 drop of Violet from Americolor)
- 2 Earl Grey Tea Bags
Preparation:
Process the Early Grey tea leaves in the food processor and sift it with the almond flour and icing sugar.
♥To continue making the batter, follow instructions on my ORIGINAL Best French Macaron Tutorial ♥
♥  LEMON SWISS BUTTERCREAM
- 65 gr egg whites
- 130 gr granulated sugar
- 195 gr butter at room temperature
- pinch of salt
- Zest of 1 organic lemon
- Juice of 1 organic lemon
Process:
Bring a small pot of water to a boil.
Place egg whites, salt and sugar into a heat proof bowl. Stainless steel is light and safe.
Whisk the whites & sugar mix over the boiling water.
Pay attention to whisking the mixture when it starts getting hot, you don't want to cook the eggs.
Whisk the mixture until the temperature reaches 160F. This temperature is generally accepted to be able to kill salmonella in eggs.
Pour the mixture into the Kitchenaid mixer and whisk on low with the balloon whisk, then turn it up to medium.
Once the mixture is stiff and the bottom of the bowl is cool to the touch, stop mixer. Change the whisk attachment to the paddle attachment.
Add butter a little bit at a time while beating with the paddle attachment at medium speed.
The mixture might look curdled or separated for a while but keep mixing. It will all come together.
Use a grater to zest the lemon. Add it into the buttercream and keep beating.
Remove seeds from lemon. Squeeze the juice of the lemon into the buttercream in four parts and mix well each time. Every time you add the juice, it will look like it is not incorporating. This is normal since you are trying to bring an acid and fat together. Just add a little bit of juice at a time and keep beating, it will eventually come together. Once it does, you can add the next portion of the juice.
Buttercream can be kept at room temperature until use within the same day.
NOTES:
Organic lemons were used for zesting due to concerns with the pesticides and wax on non-organic lemon peels.
Small-Medium Heart Template:
Medium Heart & Large Heart Template can be found here.
[srp post_limit='5' post_random='yes' category_include= 24 widget_title = 'Some more of my Macaron Art']