Make perfect Valentine's Day Macarons with Mimi's best French macaron recipe. Download free V-day templates, instructions for DIY gift box and video included.
Jump to:
Say I Love You with Valentine's Day Macarons
For the longest time, I thought that Valentine's Day in my adult life was meant to be celebrated with the person I was romantically involved with. It was only until I started to receive little tokens of love from friends, colleagues and children that I started to consider it as a somewhat inclusive celebration. It's a day that you can use to show others your appreciation and love. Well, that's what the chocolate and flower companies want us to believe right? I think Bill Maher said it best, "It's the one day when the whole country is telling you to buy flowers." Instead of flowers this year, maybe you can try your hand at making these sweet V-day macarons from the heart. I've included a variety of heart and Valentine's themed macaron templates, my best macaron recipe, macaron troubleshooting guide, shopping list and more. I hope this Ultimate Guide to Making Valentine's Macarons will help you get started and offer you some V-day inspiration. Wishing you a lot of love, hugs and kisses this V-day... and oh, flowers... we can't forget flowers, can we now? 🙂

XOXO,
Mimi
Useful Macaron How-To Tutorials
Before we get started on different Valentine's Day Macarons you can make, here are some useful links which will help you get started:
Valentine's Day Project Inspirations & Macaron Templates
First of all, here are some Valentine's Day macaron inspiration and free macaron templates for you. Print out the ones you like to get started. Just sign up for the newsletter and you'll be sent the password and link to download these templates in the subscriber's only area.
Bear Macarons Hanging Onto Red Hearts
These little bears on heart macarons have been a reader favorite for quite a while. They are so cute and looks wonderful packaged in individual bags for Valentine's gift giving. I also love that they require only two different macaron batters and then you can decorate them with sprinkles of your choice.
♥ BROWN BEAR BATTER INGREDIENTS:
– 65 grams almond flour
– 65 grams icing sugar
– 45 grams castor sugar
– 50 grams aged egg whites
– ⅛ teaspoon cream of tartar
– Brown Gel Colour (3-4 drops of Light Brown from Americolor)
♥ RED HEART BATTER INGREDIENTS:
– 65 grams almond flour
– 65 grams icing sugar
– 45 grams castor sugar
– 50 grams aged egg whites
– ⅛ teaspoon cream of tartar
– Red Get Color (3-4 drops of Super Red from Americolor)
Tips for making Valentine's Bears on Heart Macarons:
Follow my BEST MACARON RECIPE for the step-by-step instructions to creating a strong and healthy macaron batter that's perfect for piping macaron art.
Prepare all the ingredients in advance in order to make two batches of different colored macaron batters back to back. Here's how I like to create 2 different colored macaron batters.
Piping order for batter should be:

pipe red batter for heart (Wilton 10 tip)
pipe brown batter for head (Wilton 10 tip)
gently apply the heart sprinkle on the side of the head
once bear heads have developed a skin, pipe brown batter for ears (Wilton 5 tip)
pipe the bear's snout
once heart dries, pipe brown batter underneath head for the paws (Wilton 5 tip)

After baking, use an edible pen to draw in nose and mouth
Sweet Heart Macarons
You can never go wrong with using hearts to express your love on Valentine's Day. Below are a variety of projects and heart macaron templates you can use this season.
These Earl Grey heart macarons were filled with a mouthwatering lemon buttercream. The hearts were piped with the small heart template provided below. Once baked, sugar roses and fondant leaves were applied to the top with edible glue. Recipe to the Earl Grey Macarons and Sugar Rose Tutorial here.
These open-heart macarons were piped using the medium heart template provided above. To eventually fill them with sprinkles after baking, pipe a solid heart for the bottom shell and pipe an open heart for the top shell. You can also leave it an open-heart design by piping an open-heart for both top and bottom shells.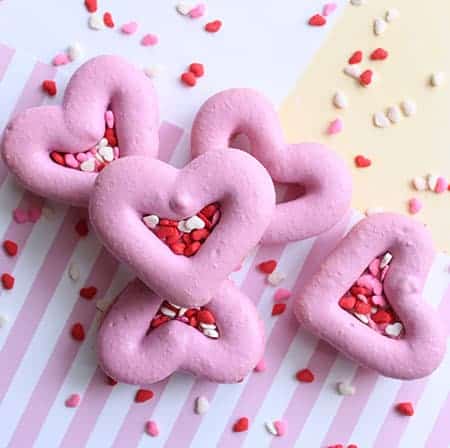 Who says V-day has to be all about pink and red? You can also try non-traditional colors in pastels such as aqua and purple. This is a batter-on-batter technique. The aqua macaron batter was piped first and once it develops a thin skin, the purple was piped on top.
Marbled pink macarons can be achieved by following my Galaxy Macaron tutorial and mixing up the batter a bit more before sealing the piping bag.
Cute & Cuddly Animal Macarons
Bear bear macaron pop using the batter-on-batter technique. Follow my Rilakkuma Bear Macaron tutorial to learn how to make 3D macaron art.
If you already know how to make 3D macaron art, follow this piping order to make these bear macarons hanging onto their huge marshmallows.
Prepare macaron batter in three colors: white, purple, pink.
Pipe marshmallow with purple batter.
Apply sprinkles onto marshmallows before a skin develops.
Pipe head with pink batter.
Once the head develops a thin skin, pipe the ears.
Once the marshmallows develops a thin skin, pipe the paws directly below the bear's head.
Pipe the bear's snout with white batter.
Fill in the ear details with white batter.
Wait until your macaron dries completely before baking.
After baking, draw in the nose and eyes with edible pen. (I used black macaron batter instead.)
How to Pipe Heart Macarons
Using piping tip Wilton 10 and my small heart template, squeeze a dollop of pink macaron batter into the rounded curve of the heart on one side. You don't need it to fill entirely as it will spread later. Pipe slowly on a slant while decreasing the amount of pressure as you move further down to the tip. To stop piping, flick quickly back upwards towards the center. Do the same for the other side. Smooth out further with a toothpick.
Top Flavors for Valentine's Day
After making the macaron shells, you can choose to fill your Valentine's Day macarons with the fillings below. They are classic flavors that everybody loves so they are perfect for gift giving!
DIY Macaron Box for Gift Giving
Once you're done piping, baking and filling your macaron art, you'll need a pretty box to put them in. Here is a tutorial that will teach you how to make a flat box which has a window for visibility and is shallow enough to show off your beautiful macaron art nestled inside. Full tutorial on DIY Macaron Gift Box here.
Macaron Troubleshooting Guide
Before you start baking, I wanted to give you this handy macaron troubleshooting guide if your macarons aren't as perfect as you'd prefer. The guide explains some of the reasons behind wrinkly, cracked, hollow macarons and how to fix them.
Basic Recipe Using the French Meringue Method
Finally, here's a basic macaron recipe to help you get started. It utilizes the easy French method of whipping up meringue by adding sugar gradually into egg whites that are beating, eliminating the need for heating up a sugar syrup.
Recipe
Yield: 12 macarons
Valentines Macarons
Make perfect Valentine's Day Macarons with Mimi's best French macaron recipe. A variety of flavored fillings, free V-day macaron templates, DIY gift box and video instruction included.
Total Time
1 hour
30 minutes
Ingredients
Macaron Ingredients - recipe can be doubled, tripled and so forth
65 grams – almond flour (Note 1)
65 grams – powdered sugar
45 grams – castor sugar (a.k.a "berry" sugar or extra fine granulated sugar, Note 2)
50 grams – egg whites aged (Note 3)
⅛ teaspoon cream of tartar OR 1 teaspoon of lemon juice
GEL color of your choice (Note 4)
Supplies
Electronic scale
2 very clean and dry mixing bowls absolutely free of oil or water – preferably NOT plastic.
Hand mixer
Sifter
Flexible spatula
Piping bag
Round piping tip (Note 5)
Good quality baking pan
Template with macaron outline
Oven thermometer
Parchment paper or Silpat mat (Note 6)
Instructions
If you're new to macaron baking, please read all the additional information in Best Macaron Recipe before starting.
Set aged egg whites out on counter to bring back to room temperature.
Print out your favorite Valentine's macaron template from the post.
Sift almond flour and powdered sugar together, mix well.
Whip room temperature egg whites with a handheld mixer until foamy, add cream of tartar. (Further reading: How to make perfect meringue for macarons.)
Once the beater starts leaving tracks in the egg whites and the bubbles have tightened up in size, add granulated sugar ⅓ at a time.
Once all the sugar has been fully incorporated and before reaching stiff peaks, add 1-3 drops of gel color to your liking. Whip until stiff peaks.
Test meringue stiffness. Pull the whisk out, the points left in the egg whites should point upwards instead of drooping on itself.
Pour a third of the almond/powdered sugar mixture into the egg whites. Gently fold it into the egg whites. Then add the rest of the mixture and fold.
Stop folding once the dry ingredients have been fully incorporated and the batter has reached a "lava" like or honey consistency. The batter should pass the figure-8 test. (Watch video: How to Macaronage for No Hollows)
On a baking tray, place Valentine's Day macaron templates underneath the parchment paper or silicone mats. Pipe the batter to the shape of the design. (Further reading: Proper macaron batter consistency while piping.)
Remove the paper template from underneath the parchment paper or mat.
Rap the tray several times on the counter to rid of excess bubbles.
Before the batter dries, pop any remaining bubbles with a toothpick.
Let it rest on the counter for 30 min. AND until a firm "skin" has developed. This will prevent the shells from cracking during baking and it's especially important for character macarons. (Further reading: Resting the macaron shell.)
Preheat oven to 320 F. (Further reading: How to use your home oven for baking macarons.)
Place the tray on the middle shelf and bake for 12-14 minutes. Bake only one tray at a time.
Take them out and test doneness. The feet should not push back and the shell should not be wobbly.
Let them cool off on the pan (or off if they are overdone).
Fill with your favorite Valentine's Day macaron filling.
Leave them in the fridge in an airtight container and let them mature for 24 hours. (If making ahead for a holiday party, read: can macaron shells be frozen and made in advance?)
After 24 hours of maturation in the fridge, bring them back to room temperature 30 min. before serving. ENJOY!
Notes
1. Read this post on How to Make Your Own Almond Flour
2. Regular granulated sugar can be used by castor sugar is preferable.
3. Measure out 50 grams of fresh egg whites and then age it before using. Read this post on how to age egg whites. Do NOT use meringue powder
4. Do not use liquid color.
5. Wilton #12 or Wilton #1A. I prefer Wilton #1A or Ateco #805 Plain Seamless Tip for regular round macarons or Wilton #12 for more control with character macarons.
6. I prefer the Macaron Silpat mat with macaron outline. Do not use wax paper
8. This recipe yields 12 assembled macarons. It can be doubled, tripled and so forth.
Nutrition Information
Yield
12 macarons
Serving Size
12
Amount Per Serving
Calories

403
Total Fat

40g
Saturated Fat

3g
Trans Fat

0g
Unsaturated Fat

36g
Cholesterol

0mg
Sodium

10mg
Carbohydrates

11g
Fiber

1g
Sugar

10g
Protein

2g