Easy and delicious Mandarin Jasmine Chocolate macarons to celebrate Chinese New Years. A lucky symbol to ring in the new year.
It's Chinese New Years tomorrow and this year we will be welcoming the year of the Monkey! As in many other Chinese households, Chinese New Years has always been a BIG thing for us growing up. There were lots of fun visits to the homes of friends and families where we'd be given red pockets or "li see" by married adults. These red envelopes were filled with money so needless to say, children were especially excited to make these visits to their relative's homes.
Once together, we'd have many scrumptious meals together partaking in "auspicious" foods that are phonetically synonymous with positive attributes like good luck (oysters), prosperity (black fungus), abundance (fish), improvement (glutinous rice cake), reunion (sweet rice balls), longevity (noodles) and last but not least, wealth (mandarin). Hence, my little sweeties today.
These mandarin orange macarons are really easy to make. You only need to bake the orange shells and then spend some time sculpting the fondant. Once you get the hang of it, you'll be able to make them quickly and the results are well worth it. I'll be bringing them to Chinese New Years dinner and I'll surely leave with some "li see" of my own. It sounds like an amazing new year already 🙂
I wish you a very happy, healthy and prosperous new year ahead. And if you haven't yet, subscribe to my blog newsletter or YouTube channel. In this latest Mandarin Macaron video, you will even hear me speak Chinese! You don't want to miss me embarrassing myself lol 🙂

XOXO,
Mimi
Chinese Lunar New Year Macaron Templates
Recipe
Yield: 12
Chinese New Years Macarons with Mandarin Jasmine Ganache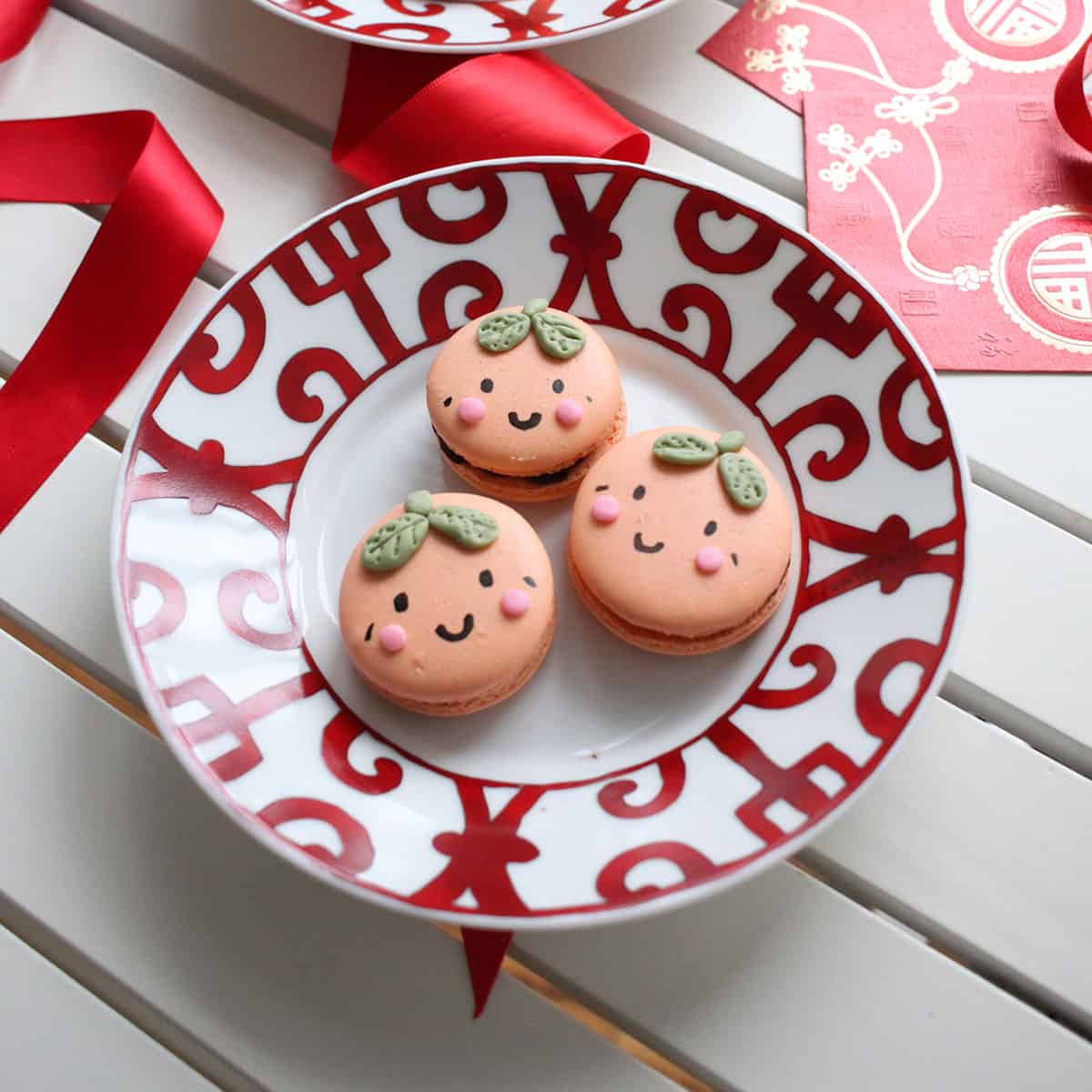 Easy and delicious Mandarin Jasmine Chocolate macarons to celebrate Chinese New Years. A lucky symbol to ring in the lunar new year.
Total Time
2 hours
42 minutes
Ingredients
Macaron Batter
65 grams almond flour
65 grams icing sugar
45 grams castor sugar (Note 1)
50 grams egg whites, aged (Note 2)
⅛ teaspoon cream of tartar
Orange Gel Colour (2 drops of Orange from Americolor)
Mandarin Jasmine Ganache
50 grams of semi-sweet baking chocolate (Note 3)
50 grams of heavy cream
12 grams butter, room temperature
1 teaspoon natural jasmine extract
Zest of one organic mandarin
Himalayan pink salt
Small Batch of Edible Glue
20 grams icing sugar
1 ½ tsp. of meringue powder
Water in a spritzer bottle
Extra Supplies (besides ones needed for regular macaron making)
Green Gel Colour (a smidge of Avocado from Americolor)
Pink Gel Colour (a smidge of Soft Pink from Americolor)
Bow Insterter Tool or Sharp Knife
Veining Tool or toothpick
Fondant (a very small amount)
Black Edible Pen
Instructions
Basic Macaron Shell
Set aged egg whites out at room temperature.
Pulse almond flour and icing sugar together in a food processor to further break down any large pieces of almond flour.
If you are new to making macarons, please read the instructions to my BEST MACARON RECIPE before attempting to follow the rest of the instructions since it is condensed for the advanced macaron baker.
With the balloon whisk attached, whip the room temperature egg whites on low-medium speed.
Add cream of tartar when it becomes foamy.
Turn up the speed to medium.
Once the whisk starts to leave tracks in the egg whites, add sugar a little at a time.
Turn the speed up to medium-high and whip until firm peaks, stop mixer and add gel food color if desired. Continue whipping on medium-high until stiff peaks. (Note 4)
Fold the dry mix and meringue together until the batter becomes a "lava" or honey-like consistency.
On parchment paper or silicone mats, pipe out round shaped macarons. Free templates available in the subscriber's area.
Rap the tray hard on the counter to remove any excess air bubbles. Use a toothpick to pop any remaining bubbles.
Wait until the shells become completely dry before baking.
Bake at 325F for 12-14 minutes. Every oven is different, you may need to adjust your own temperature settings. Please read How to Use Your Home Oven Properly for Baking Macarons if you are unsure.
Macarons are done when the foot doesn't push back and the tops don't move when you wiggle it.
Once baked, let cool completely before removing from the baking mat/parchment paper.
Mandarin Jasmine Ganache
Zest the mandarin, set aside.
Chop up the chocolate into small pieces and place in a heat safe bowl.
Heat up the heavy cream in a small sauce pan on low heat, watch it so that it doesn't over boil.
Once it comes to a light simmer, immediately pour it over the chopped chocolate, wait one minute.
Gently stir with a spatula until chocolate is fully melted.
Add mandarin zest and stir.
Add the butter and incorporate.
Add jasmine extract when the mixture is no longer hot and incorporate.
Place it in the fridge and let it chill to firm up before piping (approximately 1 hour). Check on it every 15-20 minutes to ensure it isn't too firm to pipe. Alternatively, let it firm up at room temperature if time allows. Then transfer to piping bag fitted with a round piping tip.
Small Batch of Edible Glue
Combine the dry ingredients in a glass bowl.
Spritz the water onto the dry ingredients a little at a time and then blend everything together until you reach a thick consistency. If it's too runny, add more sugar. A spritzer is great for controlling the amount of water you are adding at one time. Use immediately to apply fondant decorations onto mandarin macarons.

Assembly
Find 2 matching shells, pipe mandarin chocolate ganache onto one shell.
Sprinkle Himalayan sea salt onto the ganache then assemble the other shell.
Place in an air-tight container and let chill to set before decorating according to video provided in this post.





Notes
1. Castor sugar, a.k.a extra fine granulated sugar or "berry" sugar, is a finer form of granulated sugar that dissolves more readily in a meringue. It is preferred for making meringues but regular granulated sugar can also be used to substitute.
2. Measure egg whites first, then age.
3. Baking chocolate is used for melting into recipes, which is especially suited for this ganache recipe. Some brands of chocolate have semi-sweet and bitter-sweet offerings (former being more sweet). If it doesn't have this distinction, it will simply be labelled as dark chocolate. Not to be confused with milk chocolate.
4. Stiff peaks is characterized by meringue hat has a pointed beak that points upwards when the whisk is pulled out.
Nutrition Information
Yield
12
Serving Size
1
Amount Per Serving
Calories

136
Total Fat

6g
Saturated Fat

2g
Trans Fat

0g
Unsaturated Fat

4g
Cholesterol

7mg
Sodium

49mg
Carbohydrates

20g
Fiber

1g
Sugar

17g
Protein

2g
This information is provided as a courtesy and is an estimate only. This information comes from online calculators. Although indulgewithmimi.com attempts to provide accurate nutritional information, these figures are only estimates.