Tutorial with video on how to bake two-colored galaxy macarons with regular tools you already have for baking French macarons.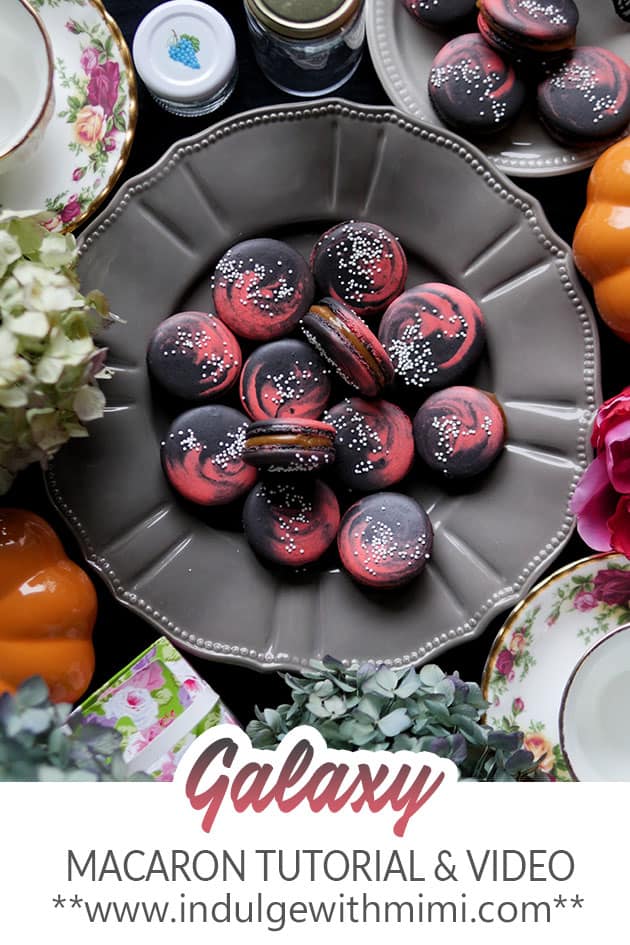 Galaxy Macarons without Special Tools
The last tutorial I wrote on How to Bake Multi-Colored Macarons required a specialized three part coupler. It's a great tool for creating more definition between the three different coloured batters. You can find the tool here. However, I appreciate that not everyone may have access to this tool so I created this new tutorial to show you another way to bake multi color macarons with the same tools you already use for baking regular macarons.
To create this dark moody galaxy look, I utilized two dark gel colours aptly named Super Black and Super Red from Americolor. I made two separate macarons batters following my Best Macaron Recipe and I added the gel colours in the meringue stage before folding. Lastly, I sprinkled on some white sprinkles before the shells completely dried. They kind of remind me of planets. What do you think?
How to Prepare 2 Different Colored Macaron Batters for Galaxy Macarons.
There are 2 main methods I use to prepare different colored macarons for galaxy macarons:
The first method is to prepare two completely new macaron batters with my Best Macaron Recipe. This is my preferred method as it creates two equally perfect batters because I can add the colors into the meringue while it's whipping. I have two mixers running at the same time while making the meringue. Now, if you don't have two mixers, you can also prepare one meringue at a time and then fold it into the dry mix. Once one complete ready-to-pipe batter is prepared, let it sit inside the bowl with a plastic wrap on top to prevent skin from forming. Then go ahead and quickly prepare the next meringue. Make sure to clean and dry the bowl for mixing the meringue very well.
The second method is to add the ingredients (egg whites + granulated sugar) together for the meringue and whip it as usual. Once the meringue is ready, weigh the total mass with a digital scale and split this in half. Add the 2 different gel colors into the meringue at this time by folding in the color very carefully without deflating the meringue. Fold each half portion of the meringue into the respective almond/sugar mixture. This method is simpler but does have some risks like over-mixing due to late incorporation of color and incorrect measurements resulting in unequal ingredient ratios. It's a little more complicated but this dedicated post on How to Make Multiple Colors from One Macaron Batter will show you how to use this method for making more than 2 colors of equal quantity.
When to Add Sprinkles to Macarons
To prevent cracking during baking, follow this timeline:
- Pipe the macaron batter and wait a few minutes for the batter to settle, if sprinkle is added on immediately, it might sink.
- Lightly sprinkle the sprinkles on top before the batter develops a skin.
- Let the macarons dry completely with a firm skin before baking. The skin should be harder to indent that usual, this will give more insurance against cracking during baking. Bake with the usual temperature for your oven while baking macarons.
I hope you enjoy this new galaxy macaron tutorial. Please make sure to sign up for my newsletter so you don't miss out on my new tutorials and free macaron templates.

XOXO,
Mimi

Note: This tutorial was originally published on November 17, 2016
Recipe
Yield: 24
Galaxy Macarons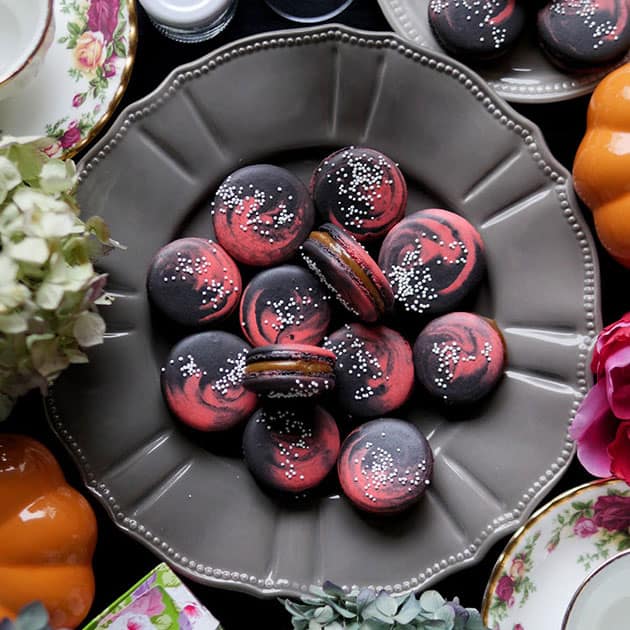 Tutorial with video on how to bake two-colored galaxy macarons with regular tools you already have for baking French macarons.
Ingredients
RED BATTER INGREDIENTS:
- 65 grams almond flour
- 65 grams icing sugar
- 45 grams castor sugar
- 50 grams aged egg whites
- ⅛ teaspoon cream of tartar
- Red Gel Colour (2 drops of Super Red from Americolor)
BLACK BATTER INGREDIENTS:
- 65 grams almond flour
- 65 grams icing sugar
- 45 grams castor sugar
- 50 grams aged egg whites
- ⅛ teaspoon cream of tartar
- Black Gel Colour (2 drops of Super Black from Americolor)
SUPPLIES in addition to ones used for regular macarons:
- White sprinkles
- Plastic wrap
- Rectangular cake pan
- Round #10 piping tip
Instructions
Set up a piping bag with a Wilton round 10 piping tip.
Prepare two sets of macaron batters in different colors according to desired method outlined in post.
Line a rectangular baking pan with plastic wrap (use video below as guidance).
Use a spatula to gently transfer the first batter into the pan. Be very careful not to deflate the batter any further.
Do the same with the second batter- Gently lift the plastic wrap and close off both sides by twisting the ends
Push the tip of one side into a piping bag, pull the end through the tip and cut off the end
Pipe from the center in a swirl pattern.
Wait a few minutes for the batter to settle but before it forms a skin, then lightly sprinkle the white sprinkles on top .
Wait until the shells have developed a strong membrane before baking. This is crucial for baking macarons with sprinkles.
Bake for 12-14 minutes at 325C. Read my oven guide on how to use your oven properly to bake macarons.
Notes
There are 2 methods to create multi-colored macarons. See blog post on how to prepare batters in different colors.
Recommended Products
As an Amazon Associate and member of other affiliate programs, I earn from qualifying purchases.
Nutrition Information
Yield
24
Serving Size
1
Amount Per Serving
Calories

91
Total Fat

3g
Saturated Fat

0g
Trans Fat

0g
Unsaturated Fat

3g
Cholesterol

2mg
Sodium

29mg
Carbohydrates

14g
Fiber

1g
Sugar

11g
Protein

2g
This information is provided as a courtesy and is an estimate only. This information comes from online calculators. Although indulgewithmimi.com attempts to provide accurate nutritional information, these figures are only estimates.
[pt_view id="f56aea0p7b"]