Do you really need to rest your macaron shells? Here's what to do to prepare a proper macaron batter and prevent macarons from cracking during baking.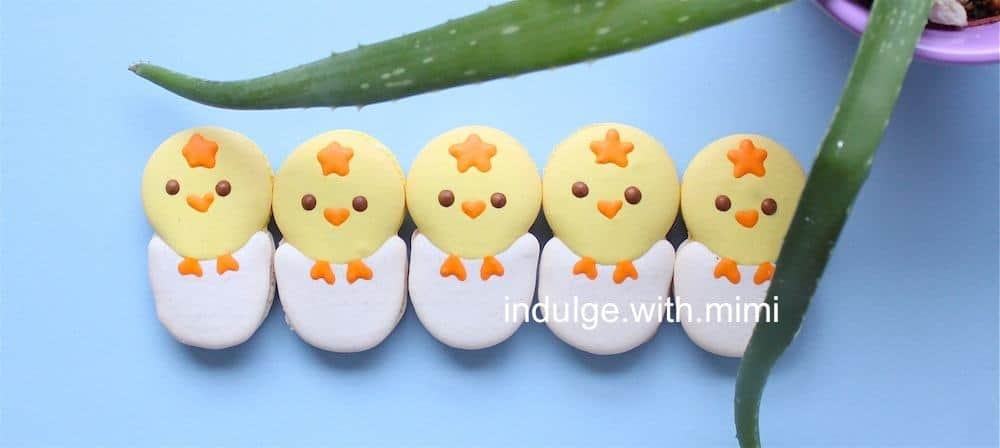 It's almost Easter! I have been seeing a barrage of baked goods in the form of bunnies, Easter eggs and chicks on Instagram. For this new Easter macaron, I wanted to blend the latter two together to make one cohesive design. Because really, what came first? The chicken or the egg? Well, I can tell you that for me, the chicken definitely came first because I piped them first lol.
After I posted these onto Instagram, I received a few questions about techniques and even a request for a tutorial. I will post those questions and answers here to make it easier for anyone not tracking my convos with others. As for the tutorial, I would love to have done one but I didn't get a chance to take any step-by-step photos since my original post theme was to discuss the issue of resting the macaron shell which I did end up making a video for.
What Does Resting the Macaron Shells Mean?
If you've been having bad luck with macarons, you've probably googled many different kinds of advice which seems conflicting at times. One of those is the procedure of "resting" the macaron shells after baking. "Resting" a macaron shell involves letting it air dry for 30 minutes after piping until the surface loses its glossy sheen and you can lightly touch the shell without any trace of the batter transferring to your fingers. Here, watch this video to see me "petting" these chickies:
"Why Should I Rest My Macarons?"
Letting the macaron shell dry out allows the outer surface to harden up so that when it is baked, the air in the batter will escape from the bottom edge (thereby, creating feet) instead of from the top of the macaron which can cause cracks and/or leave you with no feet at all.
No Rest Macaron Recipes
In my best macaron recipe, I do include instructions on resting until there is a skin. There are some macaron recipes out there that call themselves "no-rest" recipes but it should be clarified that there is nothing different that sets them apart from recipes that require resting. It is simply the author telling you not to do so. They are not guaranteeing that your macaron shells won't crack during baking, that part is all up to you.
"So, Do I Need to Rest My Macarons?"
This is definitely a controversial topic in macaron baking. Some bakers swear that they never rest their macarons and others swear by it. From all the readings I have done both online and in print, it appears that most bakers are in favor of doing this. Specifically, in both the Laduree Macarons Recipes Cookbook and Pierre Herme Macaron Cookbook, it instructs to do it in this way:
♥ Laduree: "Set aside uncovered for 10 minutes to allow a crust to form."

♥ Pierre Herme: "Allow the shells to stand at room temperature for about 30 minutes until a skin forms on the surface. The batter should not stick to your fingers."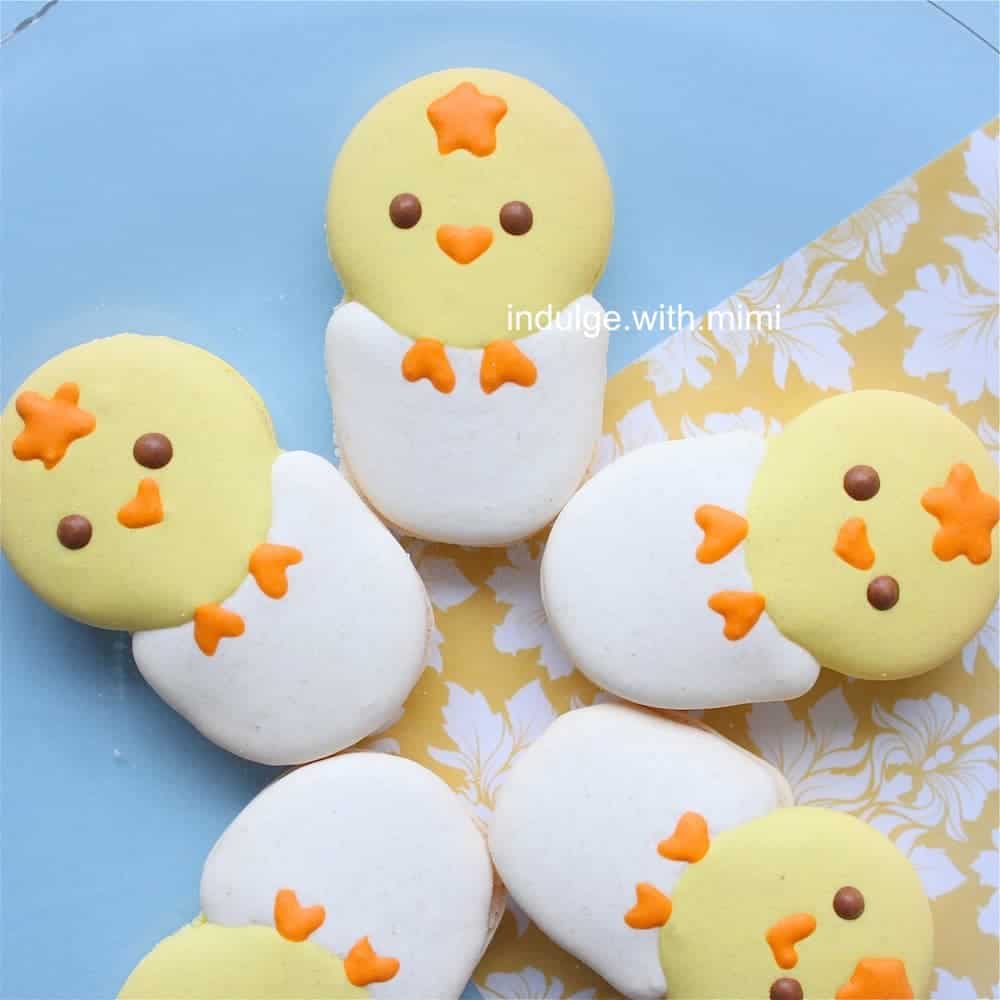 Even in my macaron class, it was advised to wait for about half an hour until a skin develops. The important wording to pay attention to is "waiting until a skin or crust forms". I don't think it depends so much on the time as it does on the condition of the shell. Sometimes, I can pipe a tray of shells and the ones I piped first can form a crust within the time it took me to finish piping the last one. It really depends on how wet your batter is and on how dry is the environment you are working in.
Now let's get back to the experience of other bakers who do not rest their shells at all and claims that it's not necessary. Yes, it is true, not every batter needs to be rested. If the macaron batter is prepared properly and the environment is ideal, it can be baked right away. Batters that are a bit weak and underdeveloped do benefit from resting. The formation of the skin will prevent shells made with these types of batters from cracking. So resting the macaron shells is extra insurance against cracked shells.
What to Do After Piping
- Rap the tray firmly on the counter several times to release the air bubbles inside the batter which can cause cracks
- Remove visible air bubbles with a toothpick by poking and running the tip around that spot to disperse the batter back into one uniformed batter.
- Wait until a "crust or skin" develops. This is characterized by being able to touch the shell without the batter transferring to your fingers.
- Wait until the surface becomes matte and dull and has lost its glossy sheen.
"My Shells Won't Dry Up"
Sometimes your batter just won't dry up regardless of how long you have been waiting. The two main reasons for that are "Bad/Wet Batter" and "Humid Environment":
Bad/Wet Batter
You should be gaging the health of your batter during the macaronage stage. If it is very easy for the dry and wet ingredients to become homogenous and the batter runs like pancake batter, you may have a case of bad batter on your hands.
There is really no way to fix a bad batter. I would recommend that you bake your shells anyways to gain experience on seeing how a bad batch develops. I recommend baking on parchment paper as it's more forgiving for wetter batters.
Two issues which can prevent a "bad batter" from resting and developing skin are: "wet batter" and "over folding".
To ensure that your macaron batter is not too wet:
- use aged egg whites READ: how to age egg whites for macarons
- beat your meringue very firm until stiff peaks
- do not add any liquids to the mixture, use only gel colour or powder colour
- make meringue in a clean bowl free of oil or traces of yolk or water
To prevent over-folding:
- ensure you are folding with the right techniques to deflate some of the air but not all of it
- use the Figure 8 test to gauge when to stop folding the batter VIDEO: How to Macaronage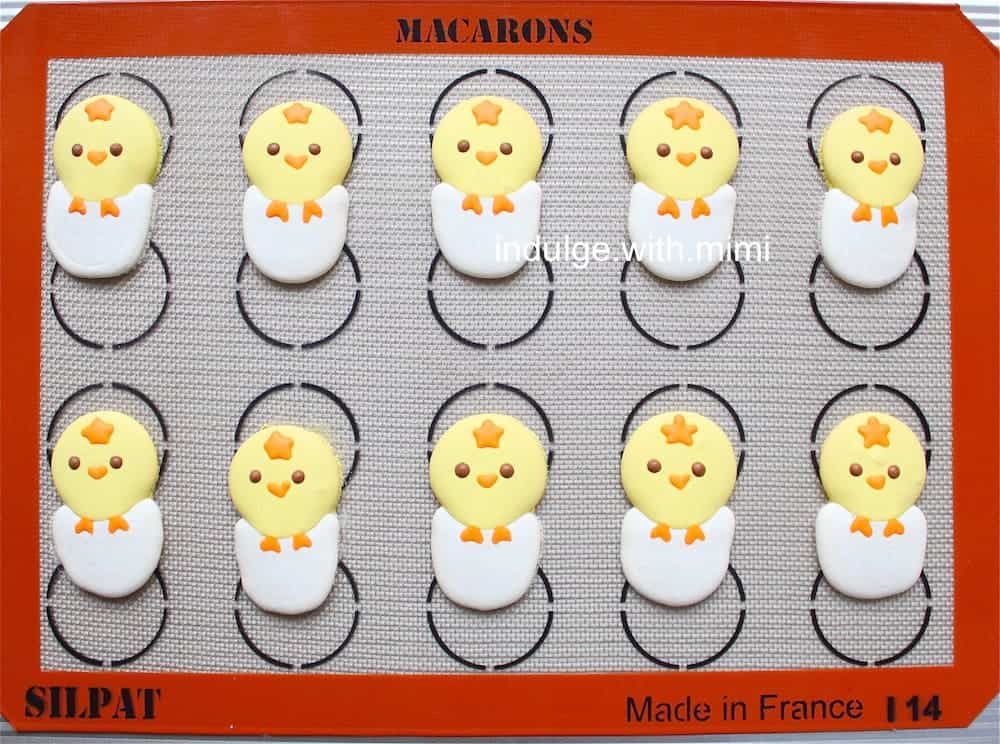 Air in the Baking Environment is Too Humid
There's cautionary tales of baking on rainy days and I can only share my experience. I know certain environments can be too humid for the macaron shells to develop a skin. I have heard of baker friends in Hawaii who let their shells dry for hours at a time. I, myself, live in Vancouver, Canada where it rains everyday for months at at time but I do not shy away from baking macarons on the days that it rains.
If you are sure that your techniques are fine and its not a case of bad/wet batter causing your shells to remain wet, you can start on fixing this issue by making changes in your baking environment.
Preparing an optimal environment for baking macarons:
- get a dehumidfier and set it for below 50
- avoid running water for prolonged periods of time in the kitchen
- open all the windows to let moisture escape from your kitchen
- place your shells underneath the range hood fan to further dry them up. (Do not use an external fan to blow directly on the shells. It will make them lopsided.)
"Can My Shells Be Too Dry or "Over-Rested?"
Yes, it can. More is definitely not better. If your shells have already developed a skin and lost its glossy sheen, put them in the oven. Shells that have become too dry may become lopsided when baked or the feet may get stuck to the mat and break off.
Final Verdict
I like to rest my macaron shells and have had great success with them when I rested them. I have also not rested them and a majority of the time, they bake perfectly because the batter was prepared correctly. For the batters that weren't prepared properly and I didn't rest the shells, I have shed a tear or two when they cracked during baking.

FURTHER READING: TOP TIPS ON BAKING SMOOTH AND ROUND MACARONS
Having said all of that, I am a firm believer that for macarons, you should do what works best for you in your kitchen and in your oven. I've given you some of my insights into this issue and I hope it will help you come to your own conclusions. What do you think? Feel free to share your own experience with other fellow bakers below in the comments.

Thanks for visiting!

XOXO,
Mimi
Note: This post was originally published on March 27th, 2015
[pt_view id="a19129e29z"]