A recipe for a beautiful pink "Ispahan" macaron cake made famous by Laduree and Pierre Herme. Filled with a fragrant rose buttercream, lychee cream, lychee and raspberries. Perfect for a Parisian afternoon tea party.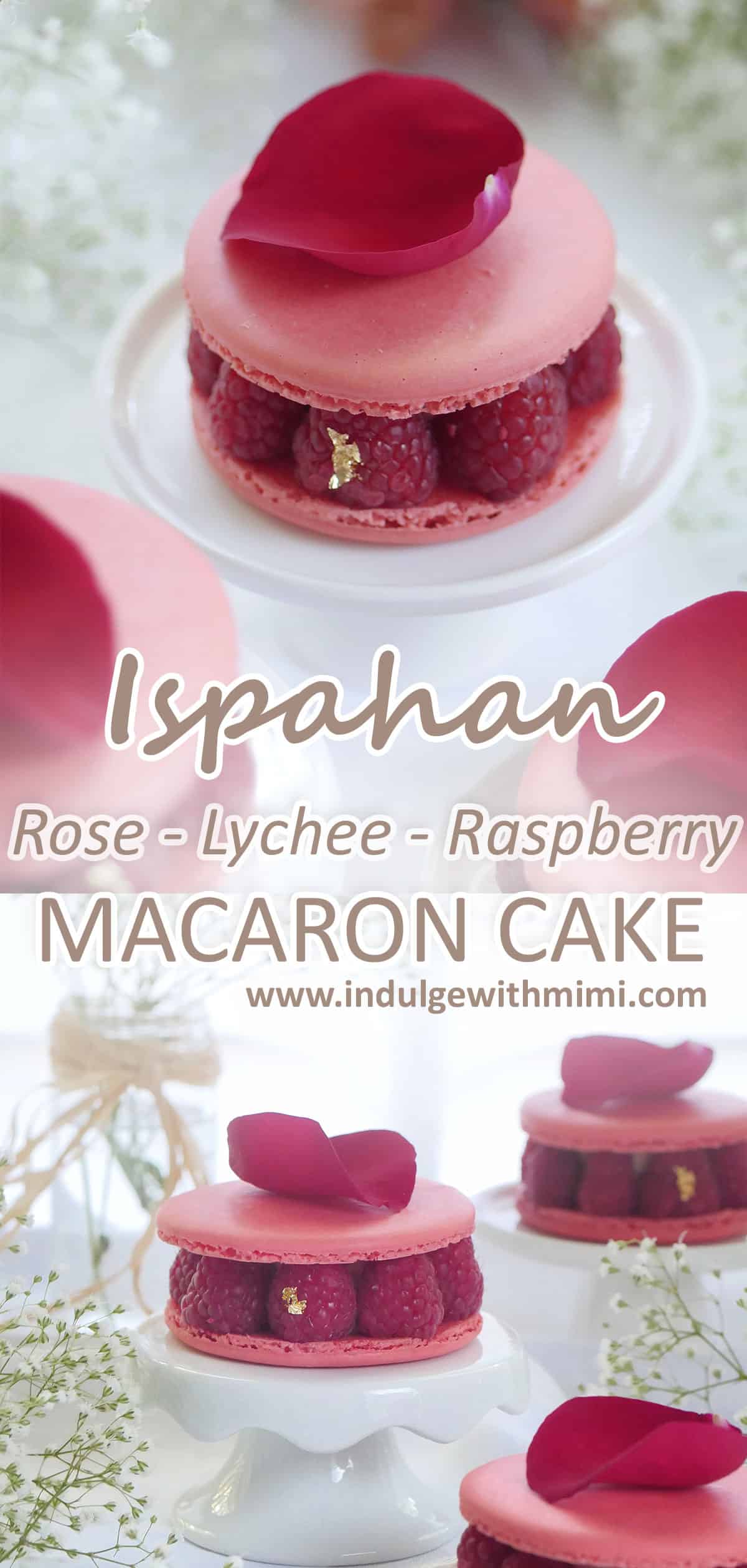 Jump to:
What is Ispahan Macaron Cake?
Even if you've never tasted the Ispahan, made famous by the famous macaron companies of Laduree and Pierre Herme, I'm sure you will recognize the sight of this iconic Parisian dessert - composed of a big macaron cake filled with rose petal cream and lychees, and decorated with fresh raspberries. It is a delicious constrast between refreshing and rich at the same time. After spending Bastille day sampling Laduree's new dessert offerings for afternoon tea two weeks ago, I went home totally inspired to create my own Ispahan Macaron Cake, here is the recipe.
The Addition of Lychee Cream
This new macaron recipe is inspired by the flavours of the Ispahan, it consists of both a rose buttercream and a lychee cream made from white chocolate. Instead of just embedding a piece of the fresh lychee flesh into the cake, I wanted to bring that fruit flavour forward by making a lychee cream with it too. With the addition of the fresh juicy raspberries, it's just the perfect combination between fragrant, sweet and tangy. Even those who usually find macarons too sweet will really enjoy this one.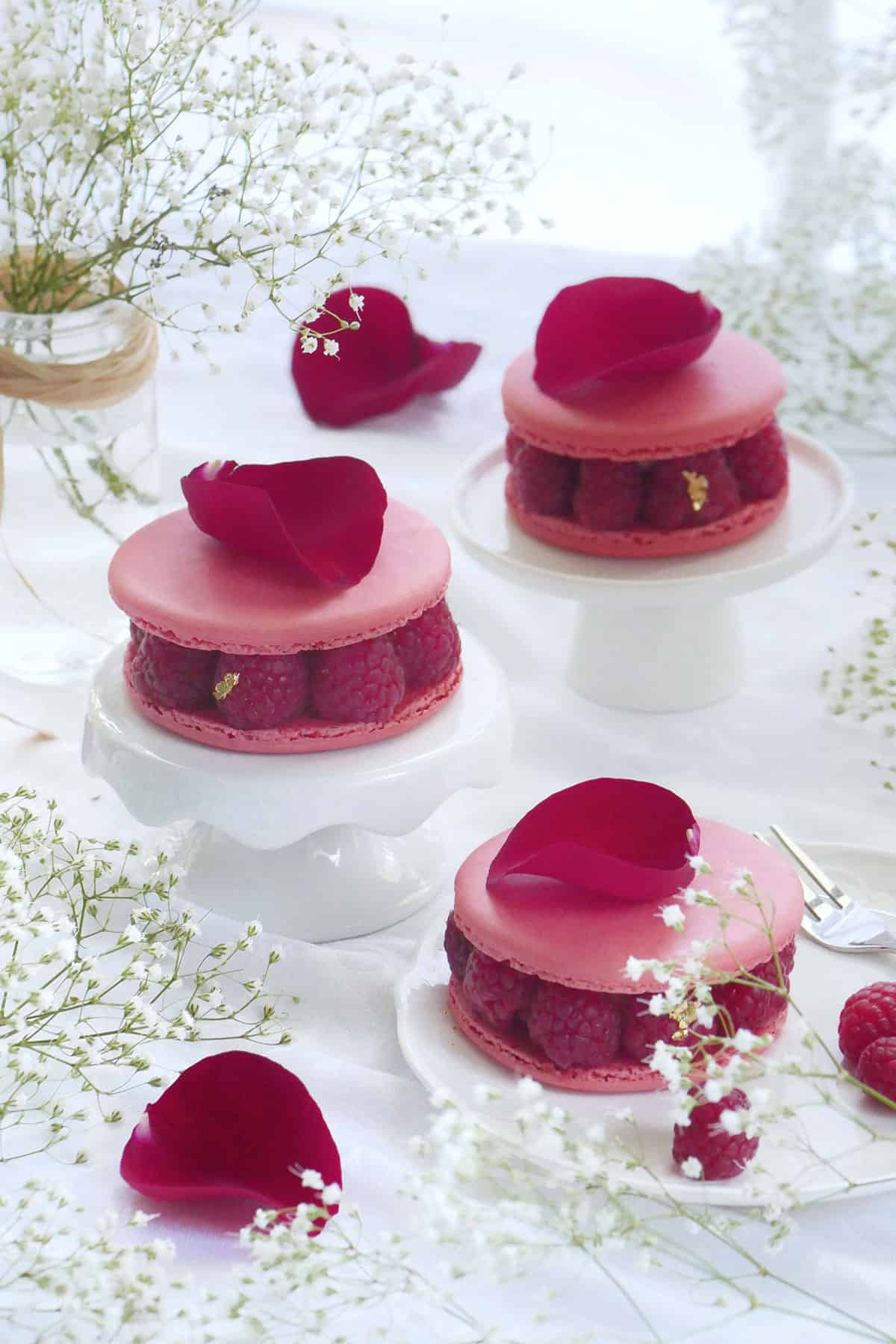 Tips on Macaron Cake Making
Lastly, here are some important steps to pay attention to in this recipe:
Add the edible gold decorations at the very end right before serving as they can fly away or disintegrate when it comes into contact with moisture. Order it here.
Wash raspberries thoroughly and gently pat dry with paper towel. Allow it to dry completely on the paper towel before assembly. Special care must be taken to dry the raspberries in order to prevent adding any excess moisture onto the macaron shells.
Because of the higher moisture that fruit adds to macaron shells, the Ispahan macaron cakes are best eaten between 12-24 hours after assembly.
Big macaron shells take longer to rest and bake. Allow plenty of time for the big macaron shells to dry before baking. This could be anywhere between 45 min. to 1.5+ hours to rest and 25-35 min. to bake at 325 F. Of course, every oven is different so please make sure you take a look at these two posts if you are unsure:
How to Make a Big Macaron Cake
How to Use Your Oven for Baking Macarons
2.5 Inch Macaron Cake Template
This macaron template makes six macarons according to the recipe above and utilizes approximately 8 fresh raspberries for decoration. This template and many more is free for my newsletter subscribers. Please sign up to have the password to the member's only area sent to you via email.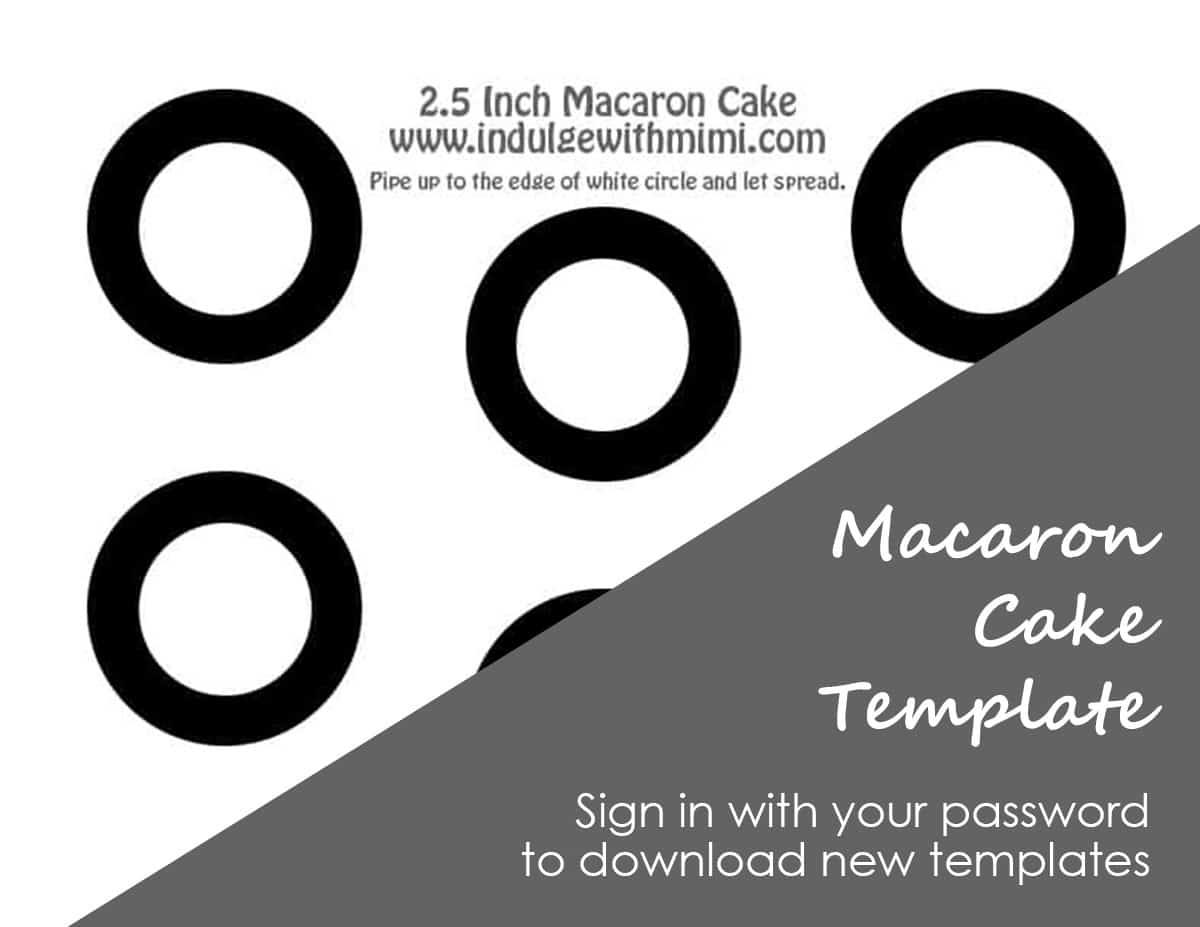 I really enjoyed making this cake. Not only is it so scrumptious, it really has that "wow" factor that all ages can appreciate. I would definitely remake it for a Parisian themed afternoon tea party. I don't remember any of the French I learned in high school but can I at least say that it's c'est merveilleux? 🙂

XOXO,
Mimi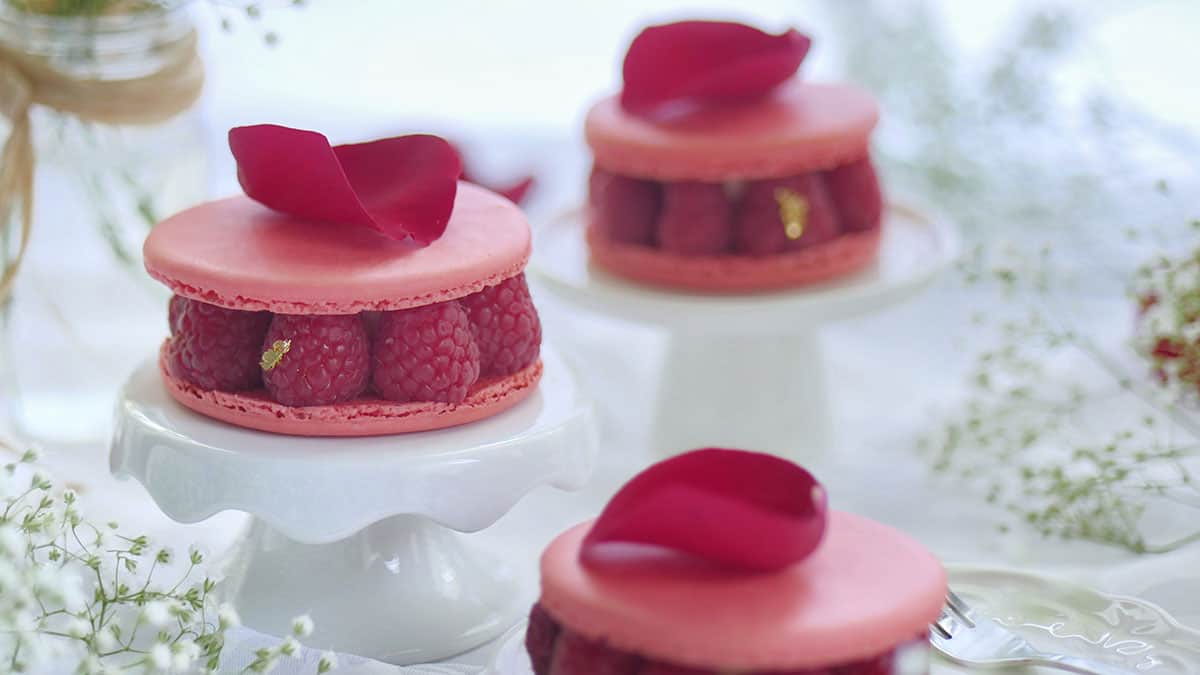 Recipe
Yield: 6 macaron cakes
"Ispahan" Inspired Macaron Cake with Fresh Lychees & Raspberries
A beautiful raspberry pink macaron cake inspired by the iconic "Ispahan" dessert made famous by Laduree and Pierre Herme. Inside, it is filled with a fragrant rose buttercream, lychee cream, and fresh lychee and raspberries. Absolutely perfect for a Parisian afternoon tea party.
Prep Time
1 hour
30 minutes
Total Time
1 hour
50 minutes
Ingredients
Macaron Shell Ingredients
65 grams almond flour
65 grams icing sugar
50 grams egg whites, (aged)*
45 grams granulated sugar/castor sugar
⅛ tsp. cream of tartar
A few drops of dark pink gel color, (Americolor's Super Red was used here)
Lychee Cream Ingredients
2 ½ teaspoon corn starch
90 ml strained juice from lychee puree, (from 1 can of lychee in syrup)*
50 grams granulated sugar
50 grams white chocolate
50 grams unsalted butter , (at room temperature)
Rose Buttercream Ingredients
65 grams egg whites
130 grams granulated sugar
195 grams unsalted butter , (at room temperature)
1 ¼ tsp. rose water
A few drops of rose extract
50 Organic Raspberries*
Instructions
Macaron Shells
Print out the big macaron template provided in post.
Set aged egg whites out at room temperature.
Pulse almond flour and powdered sugar together in a food processor.
Sift dry ingredients. Discard big pieces of almond that can't be sifted.
IF YOU ARE NEW TO MAKING MACARONS, please read the instructions to my BEST MACARON RECIPE before attempting to follow the rest of the instructions since it is condensed for the advanced macaron baker.
With the balloon whisk attached, whip the room temperature egg whites on low-medium speed.
Add cream of tartar when it becomes foamy.
Turn up the speed to medium.
Once the whisk starts to leave tracks in the egg whites, add sugar a little at a time.
Turn the speed up to medium-high and whip until firm peaks, stop mixer and add gel food color if desired. Continue whipping on medium-high until stiff peaks.
Fold the dry mix and meringue together until the batter becomes a "lava" or honey-like consistency.
Transfer batter into a piping bag fitted with a #6 round piping tip.
On parchment paper or silicone mats, pipe the big macaron cake shape.
Rap the tray hard on the counter to remove any excess air bubbles. Use a toothpick to pop any remaining bubbles.
Wait until the shells become completely dry before baking. This is a critical step to prevent cracking of the big macaron shell. Resting time for big macaron shells will take longer than regular sized macarons. READ: TIPS ON BAKING BIG MACARON SHELLS.
Bake at 325F for 25-35 minutes. Every oven is different, you may need to adjust your own temperature settings. Please read How to Use Your Home Oven Properly for Baking Macarons if you are unsure.
Macarons are done when the foot doesn't push back and the tops don't move when you wiggle it.
Once baked, let cool completely before removing from the baking mat/parchment paper.
Lychee Cream Instructions
Set butter out at room temperature.
Open canned lychees. Discard syrup.
Set aside 3 whole lychees for use later in the macaron assembly.
Pulse the rest of the whole lychees in food processor until it becomes a fine puree.
Pour puree through a strainer to separate the pulp and juice. Keep 90 ml of the juice for use in this recipe. With a spoon, push out as much liquid out of the pulp as possible. Discard pulp.
Chop up white chocolate into small pieces.
In a small bowl, whisk together 1 tablespoon of lychee juice and corn starch until no visible lumps can be seen.
Heat remaining juice and sugar on med-high heat until sugar fully dissolves. Take off heat before it comes to a full boil.
Pour a little bit of the hot juice into the corn starch mixture while whisking vigorously.
Take this mixture and pour it back into the pot of hot lychee juice while whisking vigorously.
Place pot back onto the stove on low-medium heat. It will thicken up considerably within 30 seconds to 1 minute. Take off heat.
Pour onto the chopped white chocolate. Wait one minute.
Mix well with a spatula until all the chocolate has melted.
Add butter and mix together until incorporated.
Pour into blender and blend on high for 1 minute.
Place in the fridge to set before putting in piping bag.
Rose Buttercream Instructions
Set butter out at room temperature.
Bring a small pot of water to a boil.
Place egg whites and sugar into a heat proof bowl. Stainless steel is light and safe.
Gently whisk the whites & sugar mix over the boiling water.
Pay attention to whisking the mixture when it starts getting hot, you don't want to cook the eggs.
Whisk the mixture until the temperature reaches 160F*
Pour the mixture into the Kitchenaid mixer with the balloon whisk attached. Whip on low to start, then increase to medium.
Once the mixture is stiff and the bottom of the bowl is cool to the touch, stop mixer. Change the whisk attachment to the paddle attachment.
Add butter a little bit at a time while beating with the paddle attachment on medium speed.
The mixture might look curdled or separated for a while but keep mixing. It will all come together to become a smooth and fluffy buttercream.
Keep 100 grams of the buttercream for use in our current recipe. Freeze the rest of the buttercream for use at a later date.
Add rose water and rose essence and beat until incorporated.
Ispahan Macaron Cake Assembly
Wash raspberries thoroughly and gently pat dry with paper towel.
Find two similar sized macaron shells to make a pair.
Starting 1 cm away from the edge of the shell, pipe a ring of rose buttercream as a dam then fill it with a small dab of lychee cream. Spread the cream out evenly so that it creates a "barrier" between the shell and the lychee flesh which is to be added next.
Pat dry whole lychees with paper towel and split into halves.
Add lychee flesh inside the dam and top off with more lychee cream.
Add raspberries around the mound of buttercream. Let it touch the cream slightly to help keep it in place.
Pipe more rose buttercream into the dam until it reaches the height of the raspberries.
Assemble remaining macaron shell on top.
Top off with an edible red rose petal and add 24K gold leaf if desired. Let the macaron cake mature for 6 to 12 hours before eating. (Best eaten within 24 hours.) Enjoy!
Notes
* Aged egg whites were weighed before aging. 
* Organic raspberries are preferable over conventional as they are part of the "Dirty Dozen" fruits/vegetables. 
* This temperature is generally accepted to be able to kill salmonella in eggs. However, always take caution when serving to those with compromised immune systems.
Recommended Products
As an Amazon Associate and member of other affiliate programs, I earn from qualifying purchases.
Nutrition Information
Yield
6
Serving Size
1 grams
Amount Per Serving
Calories

664
Total Fat

41g
Saturated Fat

23g
Trans Fat

0g
Unsaturated Fat

17g
Cholesterol

90mg
Sodium

57mg
Carbohydrates

68g
Fiber

3g
Sugar

63g
Protein

6g
This information is provided as a courtesy and is an estimate only. This information comes from online calculators. Although indulgewithmimi.com attempts to provide accurate nutritional information, these figures are only estimates.