This recipe was influenced by a dinner party experience I had in which one of the guests was concerned about food that contained food colouring. Before eating each dessert item, he asked diligently if it contained any food colouring. Unfortunately, I had indeed used some food colouring in the macaron shells so he couldn't have any due to his concern in regards to it. It really got me thinking. Yes, brightly colored baked goods are so cute and too darn photogenic for their own good but not everyone may feel comfortable ingesting it. So I created this new recipe which is naturally flavoured and colored. Today I present to you this Matcha Green Tea Macaron filled with Strawberry Swiss Buttercream.
The last recipe I wrote using Matcha, I included the addition of a few drops of Americolor's Avocado gel color to give the shells the typical vibrant green color one comes to expect in their macarons. This time, I left out the Avo green gel color and let the natural colors of the matcha come through. As you can see, the result is a more muted and mossy green. As for the strawberry buttercream, the pink color derives solely from the real strawberries used in the recipe. I quite admire this natural colour combo and believe you can take great pride in letting your guests know that this macaron is naturally colored and flavoured from raw ingredients. It also tastes absolutely delicious - a winning combo!
I'm proud to have this new recipe in my recipe box and I hope you will be too.
Happy Baking!
XOXO,
Mimi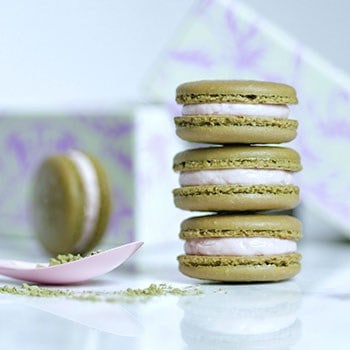 Matcha Green Tea Macaron Shells
Servings
:
12
macarons (assembled)
Ingredients
Matcha Green Tea Macaron Shell
65

grams

almond flour

65

grams

icing sugar

1

tablespoon

matcha green tea powder

45

grams

castor sugar/granulated sugar

50

grams

AGED egg whites

1/8

tsp.

cream of tartar
Instructions
Sift the almond flour and icing sugar. Discard the larger almond pieces that cannot be sifted. Compensate with more almond flour for the discarded amount.

Sift the matcha green tea powder into the mixture.

Follow my BEST MACARON RECIPE to continue making the shells. Link below.
REAL Strawberry Swiss Buttercream
Ingredients
For Strawberry Puree
350

grams

fresh organic strawberries

6

tsp

granulated sugar
For Swiss Meringue Buttercream
65

grams

egg whites

130

grams

granulated sugar

195

grams

room temperature butter

1/4

tsp

salt

1-1 1/2

tsp

strawberry extract (optional)
Instructions
For the Strawberry Puree
Wash strawberry and remove stem and a bit of the surrounding white flesh with a paring knife. Dry it with paper towels.

Place the strawberries and sugar in a small pot, boil on LOW heat for approx 30 minutes.

It will start to break down by itself. Occasionally, stir the mixture so the sugars and juices come together.

Using a heat proof spatula, occasionally press down on the fruit very gently to help break it down. If it is still hard, just let it break down by itself until its soft enough to push down on it with the spatula.

It will reduce into a very thick, chunky compote that is not runny. Take off heat after appr. 30 min. (Watch accompanying video to see the proper consistency. You may need to keep it on the heat some more if it is still runny.)

Pour the compote into a food processor or blender and blend for a minute or two until the fruit is all broken down.

Pour through a sieve into a heat proof cup. The mixture is thick so use a spoon to push it through. If the consistency is correct, you should have about 3 tablespoons of puree. Set puree aside.
For the Swiss Buttercream
Cut up butter and let it come to room temperature as you measure out other ingredients.

Add sugar and egg whites into a heat proof mixing bowl. Stainless steel is light and safe.

Place over a pot of boiling water.

Whisk the whites & sugar mix over the boiling water.

Pay attention to whisking the mixture when it starts getting hot, you don't want to cook the eggs.

Whisk the mixture until the temperature reaches 160F. This temperature is generally accepted to be able to kill salmonella in eggs.

Pour the mixture into the Kitchenaid mixer and whisk on low with the balloon whisk, then turn it up to medium.

Once the mixture is thick and glossy, and the bottom of the bowl is cool to the touch, stop mixer. Change the whisk attachment to the paddle attachment.

Add butter a little bit at a time while beating with the paddle attachment on medium speed.

The mixture might look curdled or separated for a while but keep mixing. It will all come together.

Add strawberry puree a tea-spoonful at a time to a max of 3 tablespoons which is equal to 15 teaspoons. Beat until incorporated.

Add strawberry extract if desired and incorporate.
[srp post_limit='5' post_random='yes' category_include= 23 widget_title = 'More Macaron Recipes by Mimi']