Here is the recipe for the scrumptious salted caramel chocolate macarons I shared on Fairchild Radio's Modern Deborah Show with Deborah Moore.
Cantonese Macaron Recipe
The segment was conducted mainly in Cantonese and some English because I can't always be expected to recall the right Chinese words when I need it. Luckily, Deborah, who is impressively articulate in both languages, was there to help translate where needed. I know many of her listeners enjoy being able to learn English from her show by the skillful way in which she sprinkles English words (with translations) into her speech but I think it's also a great way for others to learn Chinese as well! Deborah's show topics include a wide range of intriguing and easy to follow-along social interest topics like diet, travel, etiquette, music and more. See Deborah's Weekly Guest lists here
On the Radio
We usually record the show live so it's always a little exciting and nerve racking because you can't really "fix" your mistakes. I really don't know how Deborah does it five times a week! We use headsets to listen to our voices as we speak into a microphone and every now and then a technician in the sound room next to us will give a signal through the glass window to temporarily wrap things up for commercial breaks. Everything runs smoothly and it's just another day for these consummate professionals.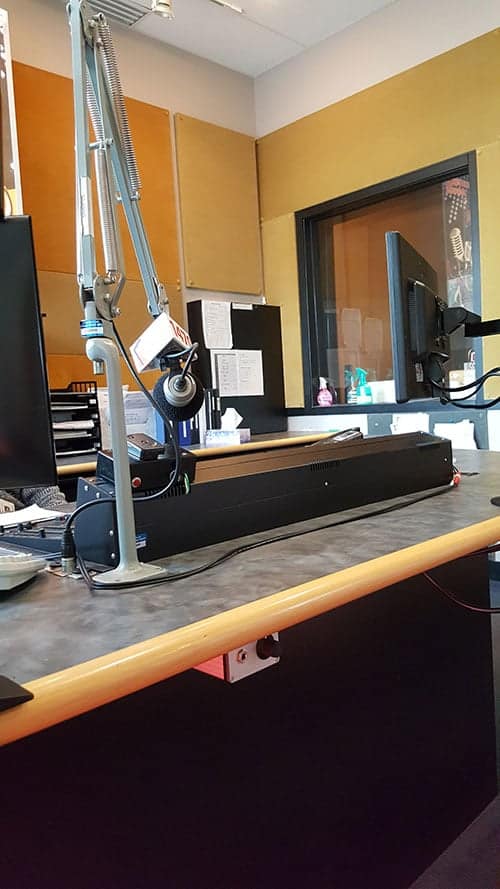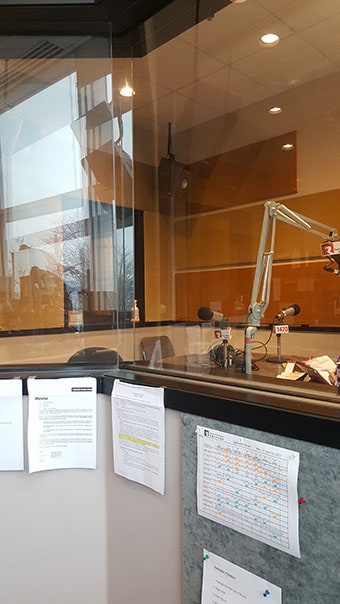 Scrumptious Salted Caramel Chocolate Macarons Recipe
Now here is the recipe. It is actually a combination of two of my favourite macaron recipes. The Double Chocolate Macaron Recipe with Chocolate Ganache piped on the outside and and a dallop of Salted Caramel right in the center! YUM!
Assembly Steps:
Make chocolate infused macaron shells
Make chocolate ganache, let it set in the fridge
Make salted caramel, let it set in the fridge
Once macarons have completely cooled, pipe a circle of chocolate ganache leaving the inside empty
Pipe the caramel filling in the center
Let it mature for 24 hours before eating.
I hope you enjoy it and don't forget to sign up for the newsletter. I have some cool new macaron templates that I'll be sharing only with my newsletter subscribers. Thank you so much for listening and reading everyone. I am ever so grateful!
XOXO,
Mimi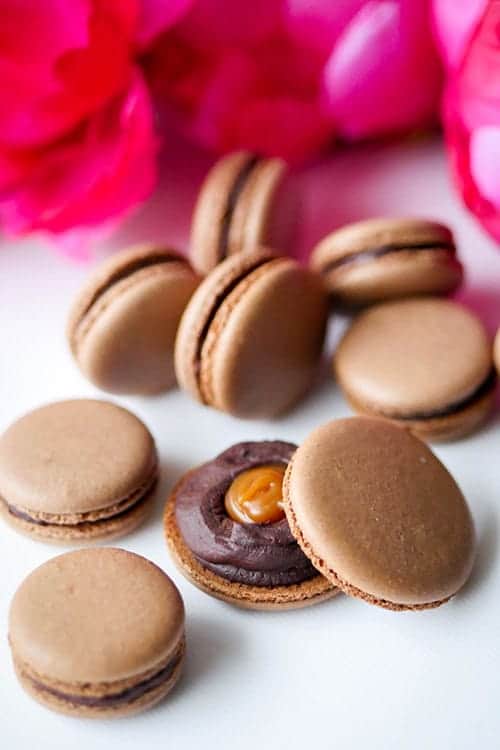 Chocolate Macarons
Makes 12 Chocolate Macarons
♥  CHOCOLATE MACARON SHELL BATTER INGREDIENTS:
- 65 grams almond flour
- 65 grams icing sugar
- 1 tablespoon of cocoa powder (sifted into the dry mix of almond and icing)
- 45 grams castor sugar
- 50 grams aged egg whites
- ⅛ teaspoon cream of tartar
♥Follow instructions on my ORIGINAL Best French Macaron Tutorial ♥

Basic Chocolate Ganache Recipe
♥ 100 grams of semi-sweet chocolate
♥ 100 grams of heavy cream
♥ 25 grams butter
- chop up the chocolate and place in a heat safe bowl
- heat up the heavy cream in a small sauce pan on low heat, watch it so that it doesn't over boil
- once it comes to a simmer, immediately pour it over the chopped dark chocolate
- let it sit on the chocolate for 1 minute
- blend vigorously with a spatula until fully incorporated
- add the butter
- place it in the fridge and let it cool off and firm up before piping (1-2 hours)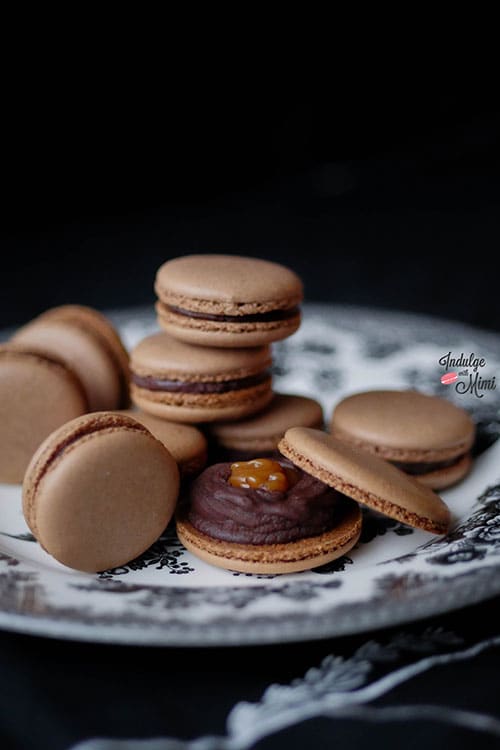 SALTED CARAMEL RECIPE
This delicious caramel recipe is adapted from Sally's Baking Addiction. Recipe is halved to make a small batch that can fill approximately 18 macarons. Remember to read my tips before starting.
Ingredients:
100 grams refined granulated sugar (not brown or powdered sugar)
45 grams butter
60 ml cream
½ - 1 teaspoon salt depending on your tastes
vanilla extract or whiskey if desired
Supplies:
tall and thick pot
heat proof spatula
oven mitts
Method:
Use a small pan to heat up the cream. Once you see it steam, take it off the heat immediately and set it aside.
Heat up the granulated sugar on medium heat in a tall pot. It will get clumpy but you don't have to stir it vigorously. The outer edges will develop more quickly, use a spatula to drag this darker sugar into the center and then tilt pan from side to side to move the mixture around. If sugar does form on the sides, have a wet brush on  hand to move over.
Once the sugar is fully melted (it will be an amber colour, begin to smoke and foam a bit),  immediately add the butter. The mixture will start to sizzle and bubble up so be careful. Let it boil for 1 minute until everything is incorporated. Stir occasionally to break up the bubbles.
Nex, slowly pour in the cream. The mixture will bubble up again and this time it will be even higher. Let it boil for 1 minute. Stir occasionally to break up the bubbles.
Remove from the pan from the heat, stir again and add salt (½ to 1 tsp.) according to your tastes.
Add vanilla extract or whiskey if desired.
Leave the caramel on the counter to cool down. The caramel will firm up once it starts cooling down.
Tips for caramel success:
Always remember safety first. Caramel can be scorching hot! Have a bowl of ice water on hand in case there is splashing and use oven mitts to handle pots and while stirring.
Make sure pots are spotlessly clean before you start.
Use a large or tall pot in anticipation of mixture expansion. It will bubble up furiously and a thicker pot will help distribute the heat evenly. Do not use non-stick pans since high heat can damage them or cause them to release toxins. If using copper, make sure it is unlined copper.
Always use a medium (or even low-medium) heat to ensure you don't burn the sugar. Once it's burnt, there's no turning back.
When melting the sugar, vigorous stirring is not necessary since pushing the sugars together will re-crystalize it and cause it to form into clumps. Tilt pan from side to side to move the mixture around.
To avoid wide temperature fluctuations and make the cream easier to incorporate. Warm up the cream before you start making your caramel and slowly introduce it to the mixture by adding it in slowly. I like to heat the cream in a small pot with a handle and pour it in slowly. (The video shows me using a ramiken)
At each stage, do not let the mixture over boil, this can bring the caramel to a hard crack stage and it will harden up like hard candy making it unusable for filling macarons.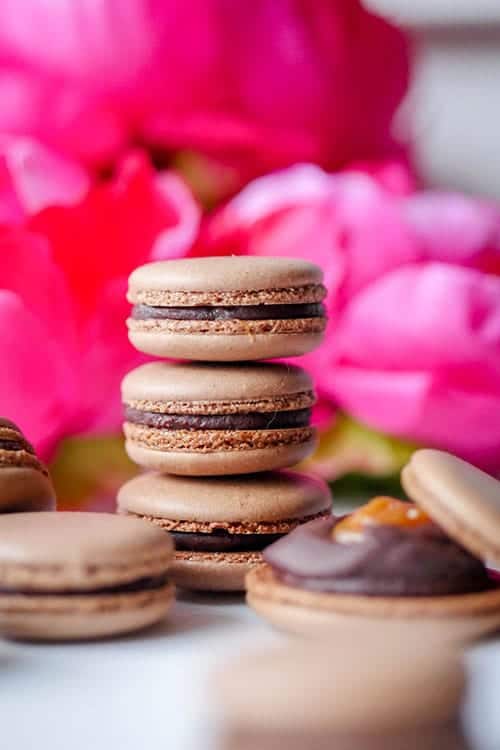 Wrinkly Chocolate Macarons
Question: Mimi, I have an extreme fear of making chocolate macarons because it tends to come out wrinkly on top regardless of how many times I've tried. I think it has something to do with chocolate because my other macarons come out nice. Do you have any tips or theories on that? Thank you!
Answer: I have made them so many times trying to figure out why this question gets asked so often. I finally had a case recently which helped shed some light on why my particular batch was wrinkly. This may not be applicable to you but here goes.
I have a dual oven, one on top and one on the bottom and I use it to bake shells from the same batch of batter. One of the ovens was running at 50F degrees lower than my usual baking temperature which caused my shells to be wrinkly. While baking with my usual baking temperature allowed it to baking properly with no hollows, wrinkles or beading. Since there were no additional problems, I can deduct that temperature is the culprit and not a case of a bad batter. Maybe you can try increasing your oven temperature too. I also suspect another reason may be due to the brand of cocoa powder you are using.
I hope you enjoyed this tutorial. Please leave me a message and tell me your experience with making chocolate macarons.
Xoxo
Mimi
[srp post_limit='5' post_random='yes' category_include= 25 widget_title = 'More Macaron How-To's']