Macaron making can be frustrating, brutal and at times impossible! I've listened as many have shared their macaron problems with me and a lot of these problems actually share a common theme so I wrote this post to help alleviate the toll that macaron baking may have taken on your wallet and sanity! Believe me, I had my fair share of macaron troubles so here are some of the methods I use in my own kitchen:
Use the right recipe
This is a no-brainer. The ingredients list is not the only thing that we're concerned about. The techniques used in making macarons are even more important. Make sure the recipe you use describes in detail what you need to do at every step. I would highly recommend that you follow ALL the steps carefully. That way, you don't have to wonder if the problems you encounter do in fact come from the skipped step.
My recipe also uses the smallest quantity of ingredients you can successfully use to make one batch of macarons, allowing you to practice many more times without wasting so much ingredients.
Get a Kitchen Scale
Get a kitchen scale and weigh out all your ingredients. So many things can go wrong and you don't want to know that your macarons didn't work due to something that is so simple and easy to do! Accurate ingredients are very important to ensure you don't have too much or too little of one thing. Ingredients can weigh differently depending on how you scoop it. This is the version I use in my kitchen:
Disclosure: this is an affiliate link
Dry & Clean tools
The meringue is perhaps the most important foundation element in macaron making and it does not like water! It won't form properly when it comes into contact with oil or water. So that means no yolks in the egg whites! And to dry your tools quickly, any metal utensils like metal bowls and balloon whisks can be placed inside a heated oven for 5 minutes. Make sure you use oven mitts to pull it out and don't use it right away since it will be scorching hot, you also don't want to cook your egg whites.
Buy Small Eggs
Unless otherwise stated, recipes that use eggs are generally referring to large sized eggs. My macaron recipe uses 50 grams of egg whites per batch that means you can use two small eggs instead of 2 large ones since small eggs contain approximately 25 grams of egg whites, this will eliminate the wasted overage from using 2 large eggs.
Save those leftover egg yolks for use in other desserts or make a French buttercream filling for your macarons with them. A French buttercream involves pouring hot sugar syrup onto egg yolks while beating. Here is a discussion of how the French buttercream stacks up against the other types of buttercreams for use as macaron fillings.
You can also freeze yolks for future use too. Beat your yolks with ⅛ teaspoon salt or 1 ½ teaspoons sugar or corn syrup per ¼ cup of egg yolks (approxinately 4 yolks), then freeze. Use salt in anticipation of savory dishes or sugar for desserts.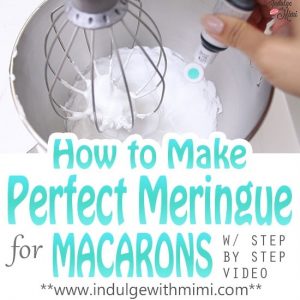 Perfect Your Meringue
Always start with aged egg whites. Some bakers don't, but why tempt fate? It's an added insurance that you can't afford not to have when you're starting out with macarons. This post will teach you how to Age Egg Whites for Macarons.
When you get to beating your egg whites, a meringue with a stiff peak is what you're ultimately looking for. Here is a post which will take you step-by-step to whipping up a perfect meringue for making macarons. You'll learn what speed to start at and what visual cues you need to recognize at each step.
Lemon Juice
You don't necessarily need to buy cream of tartar for whipping the egg whites. A half teaspoon of lemon juice works just as well!
Granulated Sugar
Berry Sugar or extra fine granulated sugar can cost three times as much as regular castor sugar. I have now switched over to using granulated sugar and found no difference with my macaron making.
Make Your Own Almond Flour
Making your own almond flour will help cut down costs dramatically since almond flour is perhaps the most expensive ingredient you'll encounter while making the macaron shells. I actually prefer making my own almound flour since I can maintain a consistent quality. Some pre-made flours may be too oily and cause your macarons to become blotchy on top. Talk about a waste!
Learn how to make your own almond flour here.
Sift Once
Yes, it's enough. All my flour is only sifted once. Here are my macarons on the left. Not bumpy right? Simply throw out what you can't sift and grind a bit more almond along with icing sugar to compensate for the discarded amount. If you're left with an un-siftable amount of less than two teaspoon, I wouldn't bother.
Pre-sift and Pre-make Almond Flour
Measuring all the ingredients and sifting the dry ones can be so tedious. If you have extra time when you're making a batch of macarons, measure out 2 or 3 times the amount of almond flour and icing sugar you actually need. Sift them and store them away in portioned amounts in anticipation of each use. This will save you a lot of time since you don't have to measure, sift and clean up your food processor again. I always think of it as a little gift I'm giving to the future me who wants to make macarons without the fuss 🙂
Use a Stand Mixer
You can definitely whip the French meringue with a handheld mixer but your counter top mixer can act as your little kitchen helper. As the mixer beats the meringue, you can take that time to measure your ingredients, get ready piping tips and clean the dishes. If you don't want to splurge on an expensive mixer because you don't do any other baking (my question is why not hehe) then you can still buy an inexpensive lower-powered one. You can get away with it since you're only beating pillowy soft meringue. I use a Kitchenaid Professional version like this one:
Disclosure: This is an affiliate link.
Use Disposable Piping Bags
I personally use recyclable multi-use ones since I find its quite easy to wash because meringues don't contain any oil. A quick rinse is all that is needed. But if you find you are already juggling a lot while baking macarons, use disposable piping bags until you're ready to take on a little more in the kitchen.
Disclosure: This is an affiliate link.
Here is a VERY handy tool for piping macarons which is resuable.
Use Parchment Paper instead of Silpats
2 words - less cleanup. I do, however, prefer Silpats more for creating a more round shape. Paper will save you time but reusable Silpat mats will save you money. Here's a video on how to store and clean your Silpats if you do use them.
Here are the mats I use in my kitchen. You'll recognize them from all my macaron videos. Disclosure: these are affiliate links
Use a Template
Having a guide will help you pipe more deliberately and faster. Here's a template for you to use:
Know When to Stop Folding the Batter
This is probably the most "ambiguous" part of macaron making. Most instructions describe the finished batter as being able to flow like "molten lava." I've never seen molten lava in real life so here is what I do in my kitchen:
Rest Your Macarons
Your cracked macarons will usually be a result of this (and not banging out the air). Rest the shells until it is firm and the batter doesn't transfer to your fingers. Sure, there are some recipes that say resting is not needed. In those cases, you do not know the condition of their particular batter or meringue. Trust me, you won't regret having this extra insurance. Here's a post about why your shells aren't drying properly.
Use Your Oven Properly and Find the Right Oven Temperature
Your oven's temperature can affect how your macarons develop once baked. I would err on the side of using a higher temperature. You can test your oven temperature with a small tester batch first before baking the whole tray. Here are two detailed post about on using your oven for baking macarons:
♥How to Use Your Oven Properly for Baking Macarons
♥Controlling the Oven Temperature for Baking Macarons
[srp post_limit='5' post_random='yes' category_include= 25 widget_title = 'More Macaron How-To's']