A healthier smash cake for baby's first birthday. The pretty pink color comes from dehydrated strawberry powder while the cake base consists of bananas, Einkorn whole wheat, oats and contains no added sugar. Happy Birthday little one!
Jump to:
Happy First Birthday Bibi
It's my baby's first birthday so I decided to make her a healthy birthday cake with strawberries and bananas which she could enjoy smashing and eating as well. Unlike at her half birthday celebration, this time, Bibi would get to enjoy eating the cake too. This would be the day we introduced her to some frosting and "cake".
Prior to her birthday, her diet consisted almost completely of homemade foods so her exposure to foods with added sugar were almost nil. For her birthday, a little indulgence was understandable 🙂 I decided the cake base would be something healthy but the frosting could be a little on the dreamy side - and pretty!
Healthy and Nutritious Banana Cake
For the "cake" base, I made it using my nutritious Banana Oat Muffin Recipe. Bibi eats it on a regular basis and I love it because it contains oats, Einkorn whole wheat flour and has no added sugar. It is also super easy to put together in under half an hour using 2 mixing bowls and simple kitchen tools.
The frosting is made with my 3:2:1 Ratio Swiss Meringue Buttercream. It uses 3 simple pantry ingredients: butter, sugar and egg whites. I know there are healthier alternatives for a frosting but I really wanted to make a very pretty pink cake for her using a frosting that can be piped into intricate designs. I used a 4B Open Star tip to pipe little stars in a horizontal pattern. This design is very easy to pipe but makes a nice impact.
Moreover, the frosting for this cake had to be low in moisture because of the macaron topper. It needed to sit on top of the frosting without breaking down from the moisture transfer. If you don't plan on using a macaron topper, you can choose a healthier frosting like this stabilized whipped cream that I used for Bibi's half birthday and omitting the sugar. Or you can try this creamy stabilized mascarpone whipped cream.
Coloring a Pink Cake Without Artificial Food Dyes
I knew from the beginning that Bibi needed a PINK cake. I mean, I have been telling her it's her favorite color for the whole year now 🙂 All kidding aside, she is definitely free to make up her own mind on what color she likes when she can talk. Until now, I will assume she loves pink.
I usually have no problems using artificial food coloring but since it's for Bibi, I wanted to color the cake as naturally as possible. The pretty pink color comes comes from a dehydrated strawberry powder. It gives the buttercream a great true-to-taste strawberry flavor while coloring it a sweet rose pink at the same time.
A New Piggy Macaron Template
I decided to make a macaron topper that would remind my little 'year of the piggy' of a time in her life when she could be found wearing her signature winter hat with 2 pompoms and with her nose in her books. This piggy macaron was baked as per my Best Macaron Recipe and piped using this new Bibi's Celebration Template which you can get access to once you subscribe to my newsletter. After baking, I used ready-made fondant to sculpt the details of the pompoms and her book. The eyes were drawn with this edible pen.
A Sustainable Celebration
The "ONE" topper was kindly shared with us by my friend whose own baby recently turned one as well. We had a conversation on the worries we had about the carbon footprint left behind after each new little human is born into the world. Therefore, it made sense for us to borrow this 'one-time' use item when she offered. After some more thinking, the other details of Bibi's party started to focus more around sustainability. Although we initially wanted balloons too, we decided on just a simple banner which could be reused year after year. I have plans to add some other little decorations on it with each use so we can remember all the celebrations we've had with it.
Make Advance and Freeze for Busy Moms
As a busy mom, I knew it would be too ambitious to make this cake the week of her birthday. I ended up making the cake in stages whenever I could find slivers of time at night after Bibi had gone to sleep. I was able to make the cake, the macarons and frosting all ahead of time and keep it in the freezer until I was ready to assemble it the day before her party.
How to make this cake in advance:

- Bake the cake as per the recipe below. After it comes out of the oven and cools down completely, wrap tightly with plastic wrap and then wrap again with aluminum foil. It can be kept frozen for up to 3 months. Take out to defrost in the fridge overnight the day before assembly.

- Prepare the buttercream frosting as per the recipe below omitting the freeze dried strawberry powder. On a piece of plastic wrap, shape into a ball and flatten. Wrap again tightly with plastic wrap. Place in the freezer for up to 3 months. Take out to defrost in the fridge overnight the day before assembly. Let it come to room temperature before re-whipping. Whip the buttercream to add back volume and make it smooth again. Add strawberry powder and whip until incorporated. Use a spatula to fold the buttercream until the small pockets of air inside the frosting is deflated. This will help smooth out the frosting for piping designs.

- Prepare the macarons as per My Best Macaron Recipe and freeze the shells by itself or with filling inside in an airtight container. It can be frozen for up to 3 months. Take out to defrost in the fridge overnight the day before assembly. Add fondant decorations and color in the eyes at that time. Read more on How To Make Freeze Macarons and Make Ahead of Time.
I can't believe how fast time has passed. Every parent says this and now I really understand that sentimental look on my aunt's and uncle's faces when they would reminisce on the fact that they knew me since I was 'only this big' while placing two open palms about a foot apart. Oh gosh, do I ever understand that same feeling now. I hope you've enjoyed this post as much as I have while I prepared it all for my sweet and now not so little Bibi.

XOXO,
Mimi

Recipe
Yield: 6 slices
Healthier Smash Cake for Baby's First Birthday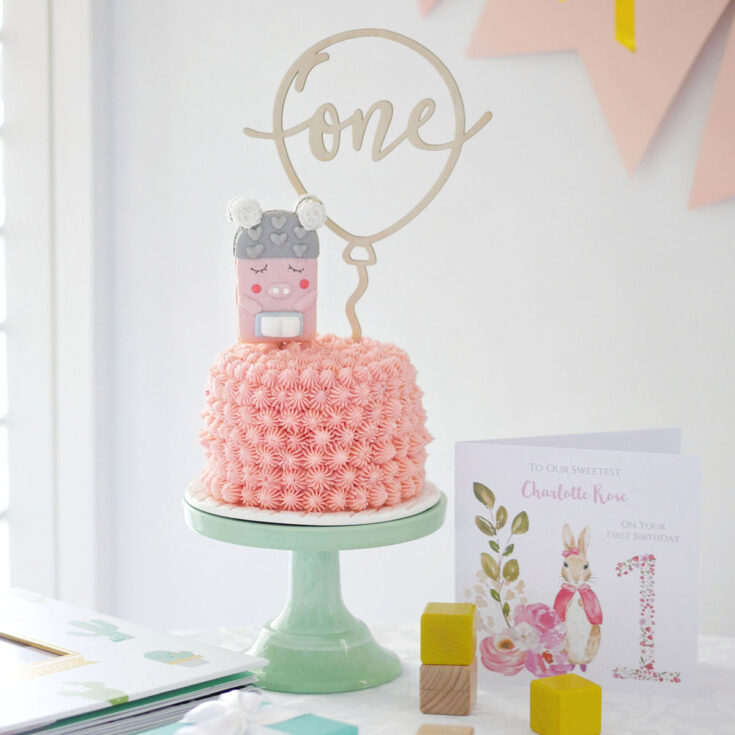 A healthier smash cake for baby's first birthday. The pretty pink color comes from dehydrated strawberry powder while the cake base consists of bananas, Einkorn whole wheat, oats and contains no added sugar. Happy Birthday little one!
Total Time
1 hour
10 minutes
Ingredients
Healthy Banana "Cake" for Baby
100 grams whole wheat Einkorn flour
100 grams quick cooking steel cut oats
3 teaspoon baking powder
½ teaspoon ground cinnamon
460 grams ripened bananas (approx. 4 bananas)
4 large eggs
40 grams melted butter (OR 28 grams avocado oil)
3:2:1 Ratio Swiss Meringue Buttercream
98 grams egg whites
196 grams granulated sugar
294 grams butter at room temperature
1 tbsp. dehydrated strawberry powder
Instructions
Instructions for Banana "Cake"
Pre-heat oven to 375F.
Melt butter in the microwave on high for 15-25 seconds until fully melted. (Skip if using avocado oil)
In a small bowl, mix together flour, oat, baking soda and ground cinnamon.
In a large bowl, mash banana with a spatula or potato masher, add eggs and stir until incorporated.
Add melted butter (or avocado oil) and stir together.
Add dry ingredients, gently stir until just incorporated.
Pour batter into two 4.5" cake pans buttered or lined with parchment paper.
While it's hot, use a long serrated knife to cut off the domed part of the cake until it is leveled.
Place on cooling rack until cooled. If desired, freeze according to instructions in post.
Instructions for Swiss Meringue Buttercream
Set butter out at room temperature.
Bring a small pot of water to a boil.
Place egg whites and sugar into a heat proof bowl. Stainless steel is light and safe. Gently whisk the whites & sugar mix over the boiling water. Pay attention to whisking the mixture when it starts getting hot, you don't want to cook the eggs.
Whisk the mixture until the temperature reaches 160F* (Note 2)
Pour the mixture into the counter top mixer with the balloon whisk attached.
Whip on low to start, then increase to medium.
Once the mixture is stiff and the bottom of the bowl is cool to the touch, stop mixer.
Change the whisk attachment to the paddle attachment.
Add butter a little bit at a time while beating with the paddle attachment on medium speed. The mixture might look curdled or separated for a while but keep mixing. It will all come together.
Add dehydrated strawberry powder. Whip until incorporated.
Using a flexible spatula, fold out excess air in the frosting so that it can be piped or spread smoothly. Use immediately or freeze according to instructions in post.
Assembly:
If desired, make macarons according to the My Best Macaron Recipe and download the Bibi Celebration Template in the Subscriber's Only Area.
Apply a little bit of buttercream frosting to the cake stand, gently place one of the cakes on top.
Apply a generous layer of buttercream on top and then gently lay the second layer on top.
Place a small amount of buttercream in a separate bowl and use an angled spatula to apply a thin layer of buttercream onto the entire cake. This "crumb coat" will hold the crumbs in place when you pipe the decorations. Using a separate bowl for this will ensure no crumbs come into contact with the frosting that will be used for piping later.
Place it in the fridge to set.
Transfer frosting to a piping bag fitted with a 4B Open Star piping tip.
Pipe the stars in a horizontal fashion.
Serve immediately or keep in fridge for up to 3 days for maximum freshness. Apply cake toppers and enjoy.
Notes
1. For further detailed instructions for the cake, frosting, and macarons please see these recipes from which this recipe is derived:
Einkorn Banana Oat Muffin
3:2:1 Swiss Meringue Buttercream
Best Macaron Recipe
2. This is the temperature generally regarded to be able to kill salmonella in eggs. Caution should always be taken when serving meringue based desserts to children, pregnant women or those with a compromised immune system. 
Nutrition Information
Yield
6
Serving Size
1
Amount Per Serving
Calories

838
Total Fat

51g
Saturated Fat

30g
Trans Fat

2g
Unsaturated Fat

17g
Cholesterol

244mg
Sodium

679mg
Carbohydrates

89g
Fiber

8g
Sugar

43g
Protein

15g
This information is provided as a courtesy and is an estimate only. This information comes from online calculators. Although indulgewithmimi.com attempts to provide accurate nutritional information, these figures are only estimates.