Wondering how to bake macarons that are smooth and round? Tired of baking bumpy, irregular, lopsided macarons? Here are some tips, video and recommended tools for baking smooth and round macarons shells.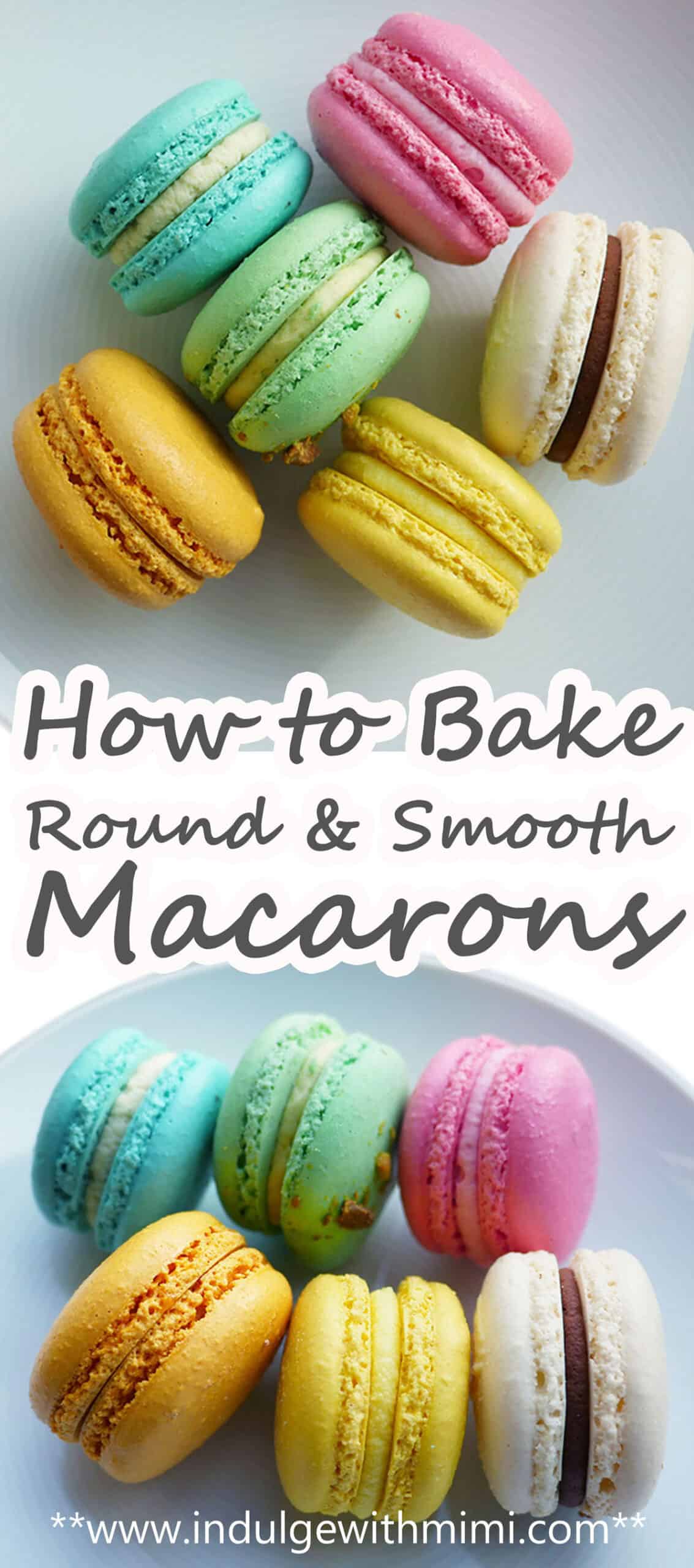 Fixing Bumpy, Irregular, Lopsided Macarons
Bumpy, irregular shaped and lopsided macarons can be fixed with a little bit of practice and using the right tools. There are several steps during the macaron making process which can affect how round and smooth your macarons are:

Sifting/grinding of almond flour:
This stage affects the bumpiness of the macaron shells. If the almond flour is not fine enough or clumpy, it will leave the top of the macaron shells bumpy and rough. The almond flour should ideally be fine, not too oily and sifted at least once.

Meringue:
This stage affects the roundness of the macaron shells as a soft meringue won't be able to hold a nice round shape when piped.

Folding/macaronage:
This stage affects the bumpiness and roundness of the macaron. If the almond flour/sugar mixture hasn't been fully incorporated into the meringue, this can make the shells look bumpy and also harder to pipe into nice round shapes as it won't pipe out as one cohesive batter.

Piping/proper tool usage:
This stage affects the roundness of the macaron. After the almond flour is prepared properly and fully incorporated into the meringue, using the right piping technique and tools will help achieve a rounder macaron shell. There are several tools I include below which will help.

Resting/drying:
This last stage affects the smoothness of the macaron. At this stage, we need to make sure all the excess bubbles that may still be trapped in the shells are released.

To achieve ideal conditions for baking round and smooth macaron shells, please follow the guide below:
Bonus Tip for Macaron Colors that Fades After Baking
These festive red shells were made by adding a generous amount of Americolor's "Super Red". About 4-5 drops will do the trick. I find Americolor's gel colouring to be very stable when baked and I don't lose too much of the colour in the baking process. When I first started baking macarons, I often heard that you need to add a LOT more colour than you actually need because the colour will fade after baking. After baking many a batches with Americolor, I haven't found any problems with my shells losing its colour after baking.
One of the interesting tidbits that arose in the discussion some of my IG baking friends had on one of my posts was that certain gel colour brands just don't work as well. Another issue I can think of is that when shells get over-baked, they also tend to "lose" it's colour because it has started to brown. So watch out for those two issues. One, you'll need to get yourself some quality gel colours and two, you'll need to know how to use your oven properly to bake macarons. Click the link to read that post.

I hope this post on how to bake smooth and round macaron shells have helped you. If you have any further questions, please leave them below.

XOXO,
Mimi

Note: This post was originally published on December 6th, 2015
Recipe
How to Bake Smooth and Round Macaron Shells
Tired of baking bumpy, irregular, lopsided macarons? Here are some tips, video and recommended tools for baking smooth and round macarons shells.
Instructions
If making own almond flour, use blanched (skinless) almonds to make it.
Always grind almonds together with the powdered sugar to prevent it from become too buttery or gummy. Here's how to grind your own almond flour.
Don't forget to grind store-bought almond flour too! This will remove clumps and further refine it. As stated before, do not grind almond flour by itself, grind it with some of the powdered sugar from the recipe.
Always sift the almond/powdered mixture to aerate it and isolate large pieces. This basic strainer type works efficiently without clogging.
Discard what can't be sifted.
Make sure the meringue is stiff enough. If the batter is weak and too soft, it doesn't hold a nice round shape when piped.
Use proper macaronage techniques to fully incorporate the almond/sugar mixture into the meringue. Here's more on How to Macaronage.
Transfer batter to a good quality piping bag. It will provide more control and stop the batter from flowing out in an uneven fashion. (Ziplock bags are too flimsy and don't provide good control while piping.)
Pipe shells onto a silicone mat for rounder shells.
If using parchment paper, use good quality ones. If it comes in a roll, flatten it out ahead of time but placing heavy objects on top of it. Secure the paper onto the pan with magnets or some wet batter.
Pipe batter evenly from the top down starting in the center, not on an angle.
Pipe with an injection syringe for more control. See it being used in the video below and buy it here.
Rap the tray hard against the counter to pop any trapped air bubbles.
To prevent nipples/points on the batter, proper macaronage is key. If the points remain even after rapping the tray on the counter, it can be smoothed out with a wet finger but know that next time, more folding is needed.
Use a toothpick to pop any leftover air pockets.
Let the shells dry until they have developed a "skin". This will prevent them from cracking in the oven.
Recommended Products
As an Amazon Associate and member of other affiliate programs, I earn from qualifying purchases.