Tonight, I will be releasing the video tutorial to these super adorable Tiffany Blue Rikuma Bear Macarons. It builds upon the skills that I have taught you in my previous YouTube videos so it will be a fun tutorial for those of you who have been following my channel. The design of these bears utilize the all-batter technique which to me, is the best way. Royal icing, chocolate and fondant decorations on macarons can be very lovely and create the same depth and dimension as batter but it can also rub off easily or add extra sugar, which you may not want, to your finished product.
The great thing about macarons, unlike sugar cookies, is that you can literally pipe out any type of design you desire with your batter. No cookie cutter needed so you can be as creative as you like! You want to make a teal coloured bear bear with pink ears? Well, here it is! No cookie cutter?  No problem! Can't pipe the heads so uniformly? Just scroll down. I made a template for you 🙂
So armed with all this information and my video tutorial, I hope you'll get a chance to make these adorable little guys too. Ultimately, I used my little bears in a permanent macaron tower for my mantle because I'm still trying to fill up the extra gaps I have there. Slowly but surely I shall turn my humble little home into a magical macaron factory. You know... kinda like Charlie and the Chocolate Factory but without the Oompa Loompas. But hey... some days I do wish I had some extra kitchen helpers like them. Especially I'm scrambling to finish these projects before the sun goes down in order to use the last bit of natural light left for filming LOL.
Make sure to let me know how your bear bears turn out! And if you haven't yet, subscribe to my blog newsletter or YouTube channel. You'll be the first to know when I post new material!
XOXO,
Mimi
♥
ORIGINAL Best French Macaron Tutorial can be found here
♥
♥ MIMI'S TIFFANY BLUE RIKUMA MACARONS RECIPE ♥
Makes 24 Bear Macarons
♥ BLUE BATTER INGREDIENTS:
- 130 grams almond flour
- 130 grams icing sugar
- 90 grams castor sugar
- 100 grams aged egg whites
- ¼ teaspoon cream of tartar
- Blue Gel Colour (1 generous drop Turquoise from Americolor)
♥ PINK BATTER INGREDIENTS:
- 65 grams almond flour
- 65 grams icing sugar
- 45 grams castor sugar
- 50 grams aged egg whites
- ⅛ teaspoon cream of tartar
- Pink Gel Colour (1 drop of Soft Pink from Americolor)
♥ EXTRA SUPPLIES (besides ones needed for regular macaron making):
- Blue & Pink Gel Colour (I used Turquoise & Soft Pink from Americolor)
- 1 Bear Template - Download it for FREE below
- Wilton 5 piping tip for piping snout and eyes
- Wilton 12 piping tip for piping the pink ears
- Black Edible Pen
Here are two of the supplies I used in the video:
♥ DOWNLOAD FREE TEMPLATE:
WATCH VIDEO TUTORIAL HERE: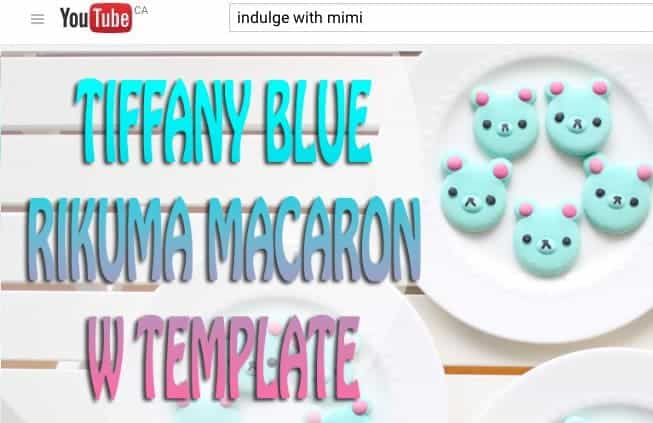 [srp post_limit='5' post_random='yes' category_include= 24 widget_title = 'Other cuties you might like']