One of the questions that I've been asked the most is "How do I make chocolate macarons?". The answer has always been so simple that I've never thought to dedicate a post to it. Yes, my method is really simple. There are other more elaborate methods but here's my short and simple version which will help you get started on creating macaron shells incorporating different flavours.
The catalyst which really prompted me to write this post were recent notes and messages I received from fellow bakers on how their chocolate macarons would crack in the oven. I found this to be quite odd since I've never had this issue with my chocolate recipe before. I decided I needed to make them again to see if I could bring any additional insights to the table.
For my double chocolate macarons, I add 1 tablespoon of cocoa powder to the dry mix in my Best French Macaron Recipe and then I fill it with a chocolate ganache. That's it! So if you've made macarons with my recipe before, then you are well on your way to making wonderfully delicious double chocolate macarons. Another great thing about these shells is that they are naturally colored by the cocoa powder so no additional colouring is needed.
Ironically, I wanted my macs to fail this time so I could recreate the problems that others were having with chocolate macs but this batch baked without any problems and they were fully set with no hollows as well. I even used a cocoa powder from the grocery store (i know, gasp!). I think using the right techniques and ingredients is always the most important step towards macaron success. Here are some things you need to watch out for:
Make sure you've tapped your piped shells hard enough and given your shells enough time to dry.
Use the proper measurements of ingredients. Always use a kitchen scale to weigh your ingredients. No cups please!
Dutch processed cocoa powder was used in this recipe. It has a neutral PH that is a perfect balance with the other ingredients in this recipe. I used the Fry's brand which you can usually buy from any North American grocery store.
During baking, if you find that your macarons are sinking, try to increase your baking temperature by 50C to help them develop and fully set.
Good luck and fill me in on your macaron journey.
XOXO,
Mimi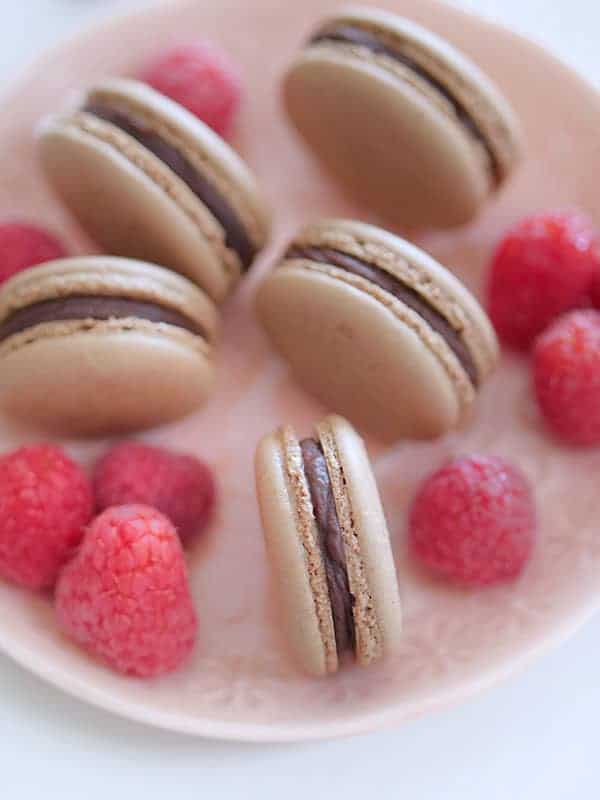 Recipe
Yield: 12 macarons
Double Chocolate Macarons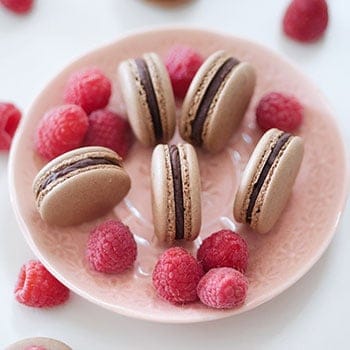 A classic chocolate macaron with double the chocolate goodness! The macaron shells are baked with cocoa powder and they are then filled with an easy chocolate ganache.
Total Time
1 hour
30 minutes
Ingredients
Chocolate Macaron Batter Ingredients
65 grams almond flour
65 grams powdered sugar
1 tbsp. Dutch processed cocoa powder (Note 1)
45 grams castor sugar (Note 2)
50 grams aged whites, aged (Note 3)
⅛ tsp. cream of tartar
Basic Chocolate Ganache Ingredients
50 grams couverture, semi-sweet
50 grams of heavy cream
10 grams butter
Instructions
Chocolate Macaron Batter Instructions
Set aged egg whites out at room temperature.
Pulse almond flour and icing sugar together in a food processor to further break down any large pieces of almond flour. (Note 4)
Sift dry ingredients: almond flour, icing sugar and cocoa powder. Discard big pieces of almond that can't be sifted.
If you are new to making macarons, please read the instructions to my BEST MACARON RECIPE before attempting to follow the rest of the instructions since it is condensed for the advanced macaron baker.
With the balloon whisk attached, whip the room temperature egg whites on low-medium speed.
Add cream of tartar when it becomes foamy.
Turn up the speed to medium.
Once the whisk starts to leave tracks in the egg whites, add sugar a little at a time.
Turn the speed up to medium-high and whip until firm peaks, stop mixer and add gel food color if desired. Continue whipping on medium-high until stiff peaks.
Fold the dry mix and meringue together until the batter becomes a "lava" or honey-like consistency.
Transfer batter into a piping bag fitted with a round piping tip.
On parchment paper or silicone mats, pipe out round shaped macarons.
Rap the tray hard on the counter to remove any excess air bubbles. Use a toothpick to pop any remaining bubbles.
Wait until the shells become completely dry before baking.
Bake at 325F for 12-14 minutes. Every oven is different, you may need to adjust your own temperature settings. Please read How to Use Your Home Oven Properly for Baking Macarons if you are unsure.
Macarons are done when the foot doesn't push back and the tops don't move when you wiggle it.
Once baked, let cool completely before removing from the baking mat/parchment paper.
Pair two similar sized shells together, fill them with the Chocolate Ganache filling. Place in an airtight container in the fridge and give it 12-24 hours to mature before eating.
Basic Chocolate Ganache Instructions
Chop up the chocolate and place in a heat safe bowl
Heat up the heavy cream in a small sauce pan on low heat, watch it so that it doesn't over boil
Once it comes to a light simmer, immediately pour it over the chopped chocolate.
Let it sit on the chocolate for 1 minute
Blend with a spatula until the chocolate is melted.
Add the butter and incorporate.
Place it in the fridge and let it cool off and firm up before piping (20-40 min.)
Notes
1. For example: Fry's Dutch Cocoa Powder
2. Castor sugar is also known as extra fine granulated sugar or berry sugar. Regular granulated sugar can be used but castor sugar is preferable.
3. Measure 50 grams fresh egg whites, then age it. 
4. This must be done with the powdered sugar together since processing almond flour alone can result in almond butter. 
Nutrition Information
Yield
12
Serving Size
1 grams
Amount Per Serving
Calories

89
Total Fat

5g
Saturated Fat

2g
Trans Fat

0g
Unsaturated Fat

3g
Cholesterol

7mg
Sodium

7mg
Carbohydrates

11g
Fiber

1g
Sugar

9g
Protein

1g
This information is provided as a courtesy and is an estimate only. This information comes from online calculators. Although indulgewithmimi.com attempts to provide accurate nutritional information, these figures are only estimates.
[amazon_link asins='B072FT9DFV,B00282JLDK,B00EQB0ZOA,B00DNGXCA8,B07B27ZTXY|B00282JLDK,B01FUGGBVA,B06XGKF7GV' template='ProductGrid' store='indulgewith05-20|indulgewithmi-20' marketplace='US|CA' link_id='072b2738-8260-11e8-ace0-8d7a701c4bf4']
Reader's Share Their Work
Readers submitted their work to me using this tutorial. You can also share with me by mentioning me on INSTAGRAM, TWITTER OR FACEBOOK.