Stunning 28-layer Matcha green tea crepe cake filled with a light Chantilly cream. It melts in the mouth, the secret is to make the crepes extra thin, this tutorial will show you how.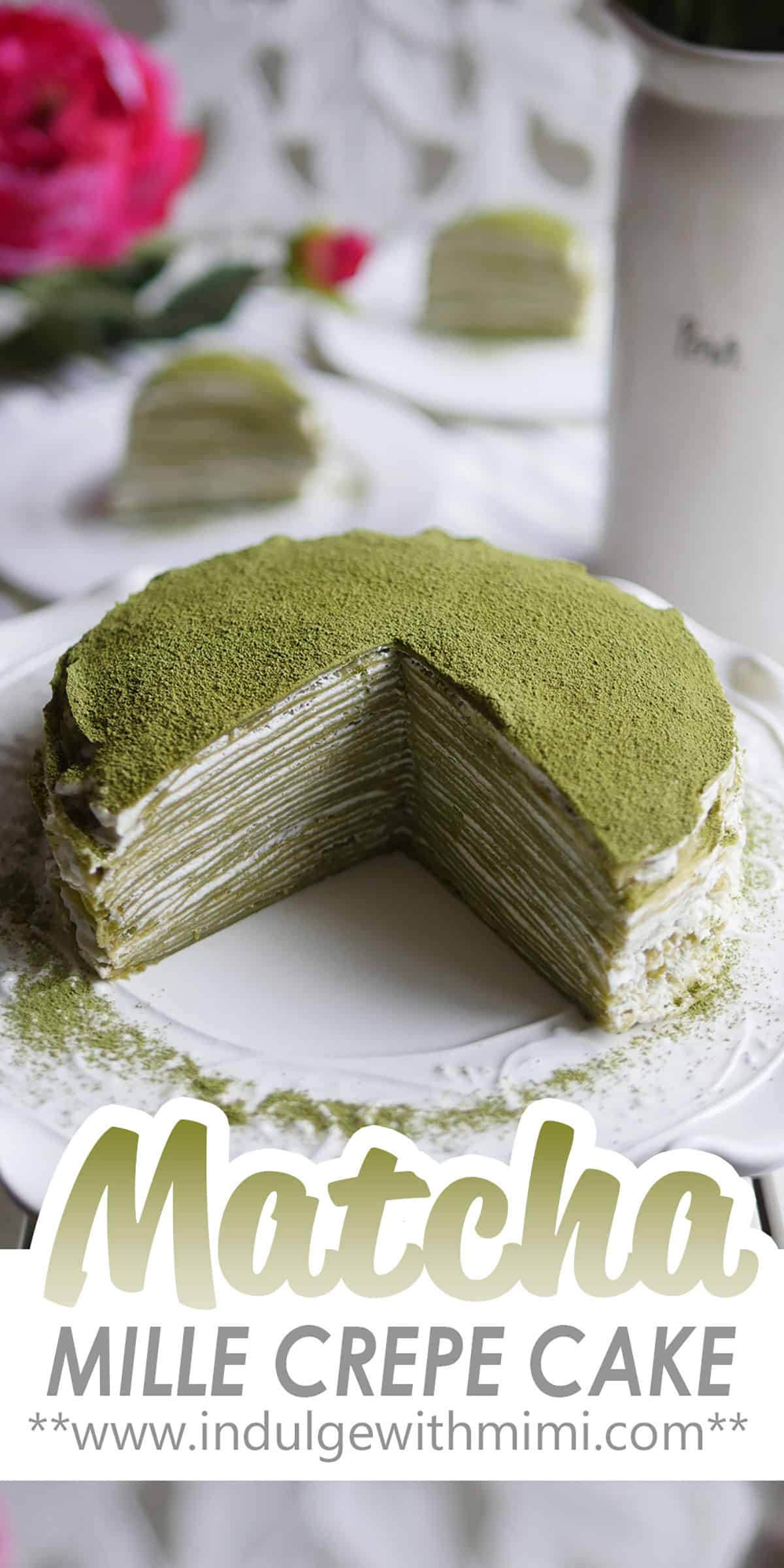 Jump to:
Why Are Mille Crepe Cakes So Expensive?
The first time I ever had a matcha mille crepe cake, I remember being surprised that each slice of cake cost between $9.50-$13.50 CND at the specialty dessert shops that sold it (which in Vancouver, isn't many). By the looks alone, I knew it involved extra care to make mille crepe cakes because of the multitude of layers that comprised this special cake.
What I didn't know was how long it actually takes to pan fry each and every single crepe needed to make up just one cake. From my own experience, each crepe took approximately 2-3 minutes to prepare and pan fry. If you take that and multiply it by the amount of crepes you'll actually need, (in this recipe, I used 28) it will take almost 2 hours just to make the crepes alone!
Mind you, it's not like a regular cake that you can put it in the oven, set it and forget it. You literally need to stand in front of the stove watching over the crepes the entire time so you won't be free to use your time for other more productive endeavors like doing the dishes or cleaning the kitchen. You'll also need to factor in the time it takes to prepare the crepe batter, wait for it to develop and after making the crepes itself, you'll need to assemble it with filling, layer by layer. It's very labor intensive but I adopt the same view towards it like I do for good Macaron Art - the results are well worth the challenge. (If you love matcha and would like a less challenging dessert, try my easy matcha cream cheese pound cake.)
After having made this cake everyday for a week to develop this recipe, often times, making several in one day, I really learned to appreciate the time and skills needed to make a truly good mille crepe cake.
If you enjoy light Asian-style desserts, take a look at Asian-Bakery Fresh Fruit Cream Cake.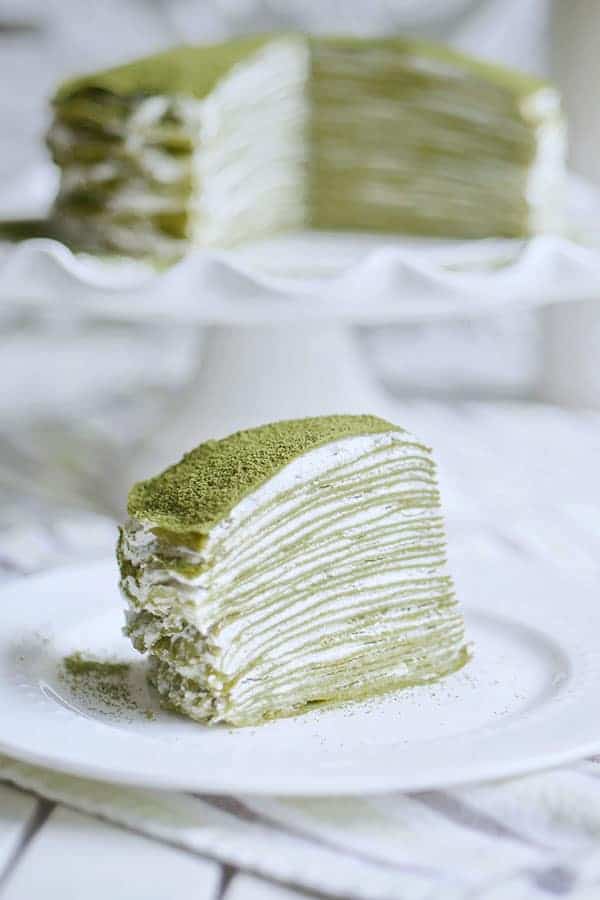 What Makes a Good Mille Crepe Cake?
I must admit, I arrogantly thought the first crepe I made was a huge success. There were no tears in the crepe, it was ever so slightly golden brown and it tasted delicious. I thought, "Perfect! Now I just need to slap these layers together with filling and I've got myself a cake!" But the next day when I tried the cake after it had time to set in the fridge, I heard the dessert Gods telling me, "Oh no, not so fast, little grasshopper." My first crepe cake was hard and not at all fluffy. Because the layers were so firm, the slice of cake broke apart as I tried to run my fork down through it. I even looked up #crepecake on Instagram to see if other crepe cakes could be broken down easily with a fork and sure enough, it can (and it should). My problem was that my crepes were too firm and way too thick! I think my first cake had about 10 layers when it really should have double that amount while keeping the height the same. I set about to rework the recipe to make the crepes less firm and utilized some other cooking techniques to make a much thinner crepe.
In short, a good crepe cake should consist of many layers of extra thin crepes filled with an appropriate ratio of filling. Assembled together, a fork should be able to easily break it down without disassembling it in the process. The texture should be soft and not too hard or chewy. And, of course, the flavor of the cake should also come through as well.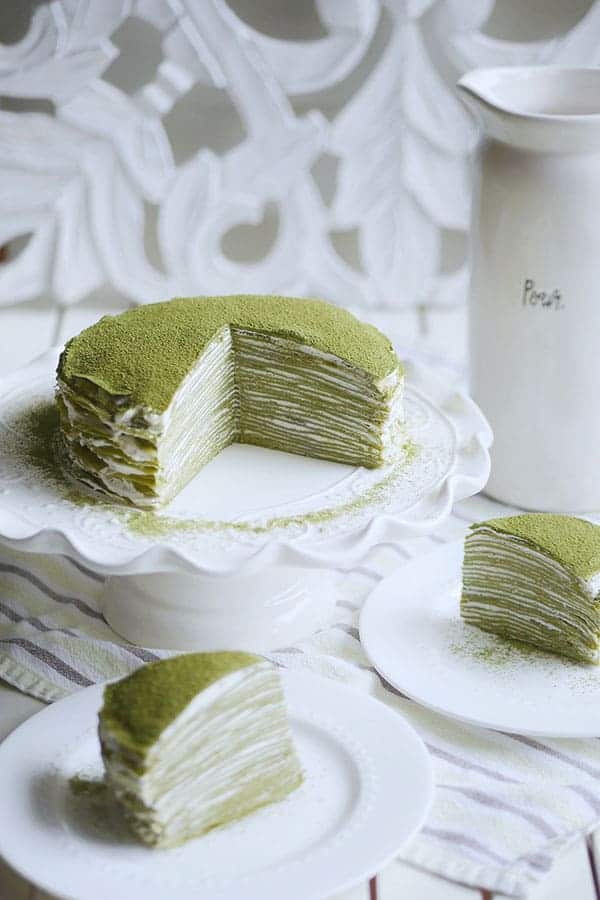 Tips on Making a Good Mille Crepe
Allow the crepe batter to rest at least one hour before using to allow the dry ingredients to be fully saturated with liquid and to rid batter of extra air which could cause the crepe to tear.
Use a undamaged non-stick pan to prevent crepes from tearing. They are very delicate! It doesn't have to be fancy, just one like this 8" one will work great.
Butter the pan generously for the first crepe and then add a very small dab onto the pan for subsequent crepes. Use a pastry brush to spread the butter around evenly.
Practice on a few sacrificial crepes first to find the perfect temperature, time and amount of batter needed. Use a timer to keep track of time and a small ladle to keep the batter amount consistent.
Cook crepes on a non-stick pan on low heat. I used number 4 heat (out of 10) on my stove top. The batter should sizzle as it hits the pan but not set completely. A lower cooking temperature may be needed if the batter sets too soon.
Cooking time will vary as you keep cooking since the pan will become hotter. It may take up to 3 minutes to cook the first few and 1.5 minutes for the last ones. The first side usually takes longer.
Try to avoid brown spots on the back side of the crepe by watching it closely after flipping.
Extra thin crepes are desirable for a soft and tender mille crepe. Each crepe by itself should almost be too thin to handle and translucent like a stretched out balloon. While cooking, it may take some skill and practice to flip such a thin crepe. When the edges can be picked up with silicone tongs without tearing, it can be flipped with a flat spatula.
To make extra thin crepes, immediately before cooking, add some of the water to the batter to thin it out. The batter should look runny and not gooey. Immediately as it hits the pan, it should sizzle. Tilt the pan to swirl the batter around so it coats the pan evenly. If it sets too soon, either lower the heat or add more water. If the batter sits for too long, more water may be needed so only use half of the batter at one time.
Place finished crepes on a cooling rack before stacking together on a plate. This will prevent them from getting soggy.
Add an appropriate amount of filling in between each layer. Soft fillings like cream should be thin as the cake disassembles more readily without support.
Before cutting, allow the cake to fully set by refrigerating it overnight.
For more details read this detailed post: How to Make Great Crepe Cakes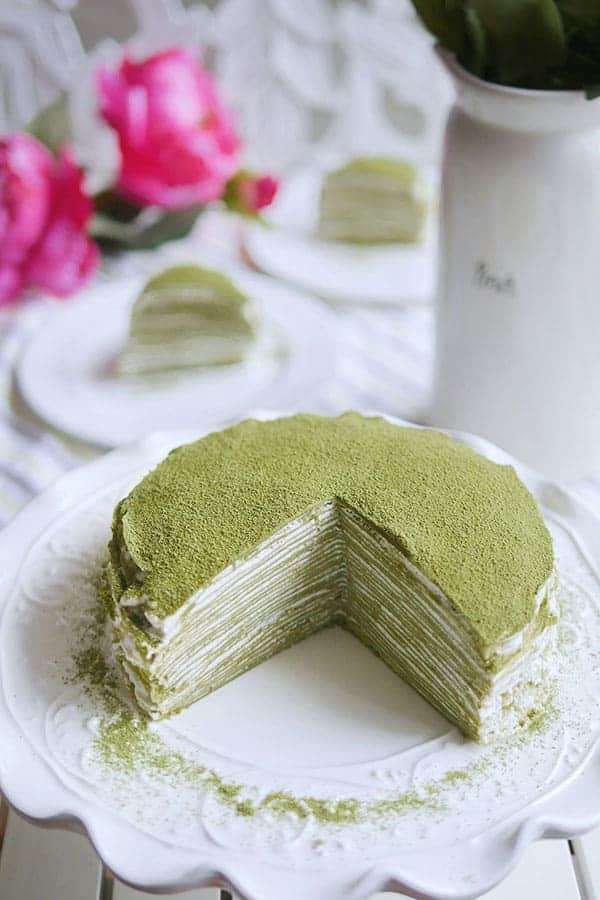 This cake is not only super photogenic, it's also very delicious with a unique texture that only a pancake crepe cake can offer. Due to the high cost and special technique involved in making such a cake, it's not one which one can find readily at the stores. So take this opportunity to practice making such a unique cake for your next special occasion. What's more, for those who don't consider themselves a good baker, you don't even have to turn the oven on for this one!

I hope you enjoy it.
XOXO, Mimi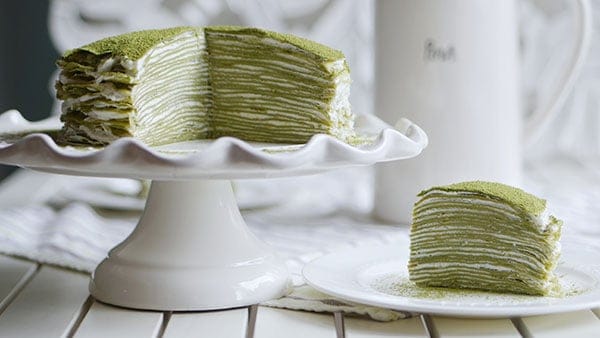 Recipe
Yield: 8 people
Japanese Matcha Green Tea Mille Crepe Cake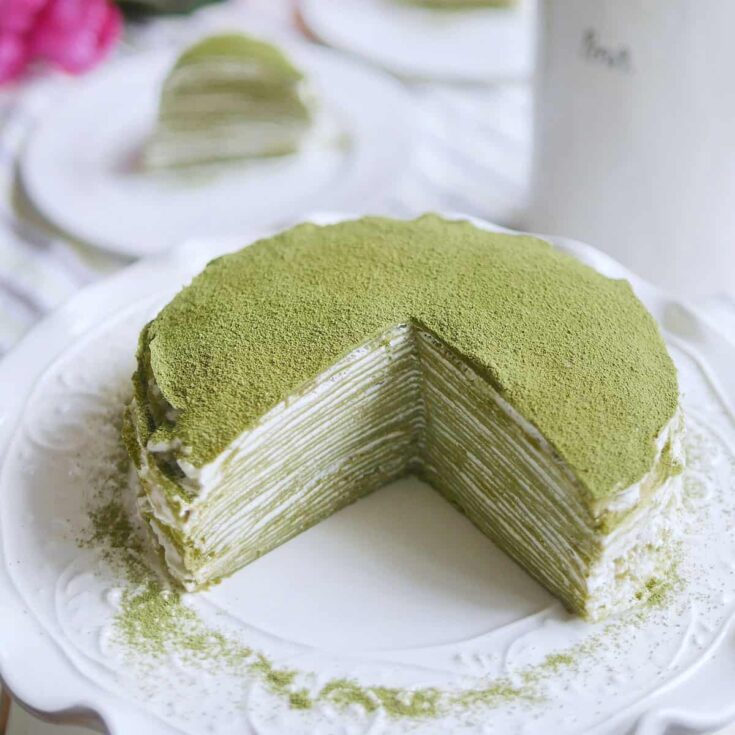 28 layers of soft and tender matcha crepes make up this delicious Japanese Matcha Green Tea Mille Crepe Cake that requires no baking at all. Filled with a light chantilly cream, it is both tasty and visually impressive.
Cook Time
2 hours
35 minutes
Total Time
3 hours
55 minutes
Ingredients
Matcha Mille Crepe Cake Ingredients for 28 Crepes
190 ml heavy cream
190 ml milk
5  tbsp  granulated sugar
3  large eggs
35  grams  vegetable oil
120 grams cake flour
2 tablespoon matcha green tea powder
6 tablespoon water
Butter for frying pan
Matcha powder for dusting
Chantilly Cream Ingredients
360 ml heavy cream
105 grams powdered Sugar
Supplies & Tools
Pastry brush
8" Round non-stick pan
Blender
3 Mixing Bowls
Medium-sized pot
Silicone tongs
Hand held mixer
Sifter
Sieve
Spatula
Instructions
Matcha Mille Crepe Cake Instructions
Heat milk, cream and sugar on medium heat until sugar is fully dissolved. Take off heat immediately once sugar is dissolved, do not bring to a boil.
Allow milk and sugar mixture to come to room temperature.
Pour into blender.
Add egg, oil, cake flour and matcha powder into blender.
Blend until the mixture becomes homogenous. A few pulses should do, do not over blend.
Pour equal amounts through a sieve into two mixing bowls.
Let rest for 1 hour or overnight in the fridge.
Immediately before cooking, add 1-3 tablespoons of water into one bowl of the crepe batter to thin it out.
Heat a pan on low-medium heat, using a pastry brush, coat pan generously with butter for the first crepe. Pan is ready when the butter sizzles as it hits the pan.
Using a small ladle, pour batter onto pan, swirl the batter around until it coats the pan evenly.
Set timer for 3 minutes. Cook first side for approximately 2 minutes. The crepe will bubble up and once the sides can be picked up with a silicone tong without tearing, the crepe can be flipped with a flat spatula. It will look slightly golden.
Watch the second side closely. It will cook much faster, about 1 min. Remove from heat before it turns brown.
Place on cooling rack to cool before stacking on plate.
For subsequent crepes, coat the pan with a very small dab of butter and repeat steps #10-13.
Once all the crepes are finished (26-28 in total), set them aside and prepare the cream filling.
Chantilly Cream Instructions
Place a mixing bowl and beaters in the freezer to chill. It will help the cream whip better.
Place cream in the chilled mixing bowl, then beat on low speed until the beater starts leaving light tracks in the cream. Add icing sugar.
Increase speed to medium-high.
Stop beating when the cream starts to get stiff and turns from glossy to matte. Do not over whip.
Assembly
Once cream is completed, use immediately.
Spread a thin layer of cream in between each layer of crepe.
Place in an air tight container and let set overnight.
Before serving, dust some matcha powder onto the top layer with a sifter.
Cut into 8 slices. Enjoy!
Nutrition Information
Yield
8
Serving Size
8 people
Amount Per Serving
Calories

499
Total Fat

35g
Saturated Fat

19g
Trans Fat

1g
Unsaturated Fat

14g
Cholesterol

159mg
Sodium

107mg
Carbohydrates

40g
Fiber

1g
Sugar

24g
Protein

7g
This information is provided as a courtesy and is an estimate only. This information comes from online calculators. Although indulgewithmimi.com attempts to provide accurate nutritional information, these figures are only estimates.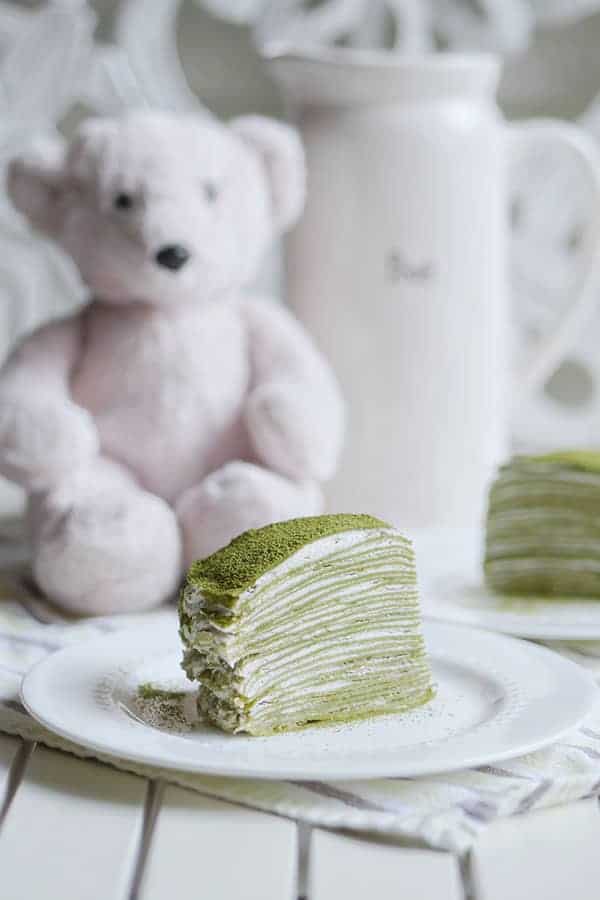 If you're a big matcha fan like I am, here is another matcha recipe that you'd be interested in. It's my very Matcha-y Coconut White Chocolate Cookie recipe.