A modern festive Silent Night pattern cake roll filled with whipped peppermint cream. Perfect for Christmas dinner, potlucks and holiday gift-giving.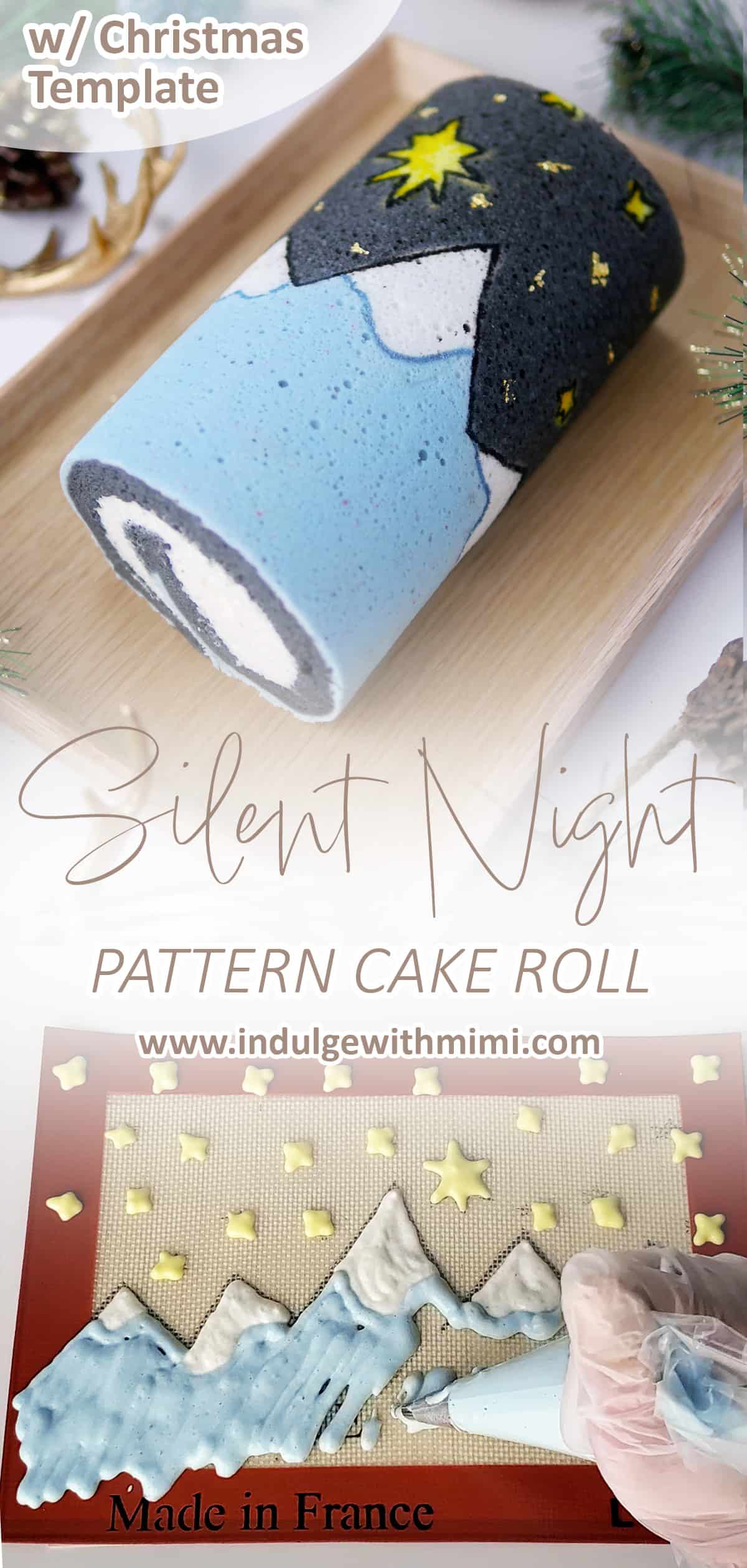 Jump to:
With this Silent Night cake roll I wanted to challenge myself to create a Christmas cake that uses non-traditional Christmas colors and motifs. It also gave me a chance to break out the edible gold leaf and use it in a very fitting way. This was my last holiday bake last year but I didn't have a chance to share it here until a whole year later! It was our first Christmas with the twins so things were a bit hectic. As with many of you, it was a busy year indeed. I hope you'll have a chance to make this cake for the holidays or at the very least, I hope it inspires you to make your own modern interpretation of a Christmas cake. Happy Holidays!
XOXO,
Mimi
Why You'll Love This Recipe
Festive theme that is appropriate for all winter events.
Pattern paste is stretchy making it easy to roll
Flexible cake base prevents cracking
White pattern paste uses no yolks - perfect for adding colors
Extra painting step after baking allows for finer details on cake
Delicious tasting cake base with flavors of egg and vanilla.
Adaptable flavor - just change the filling flavor. Read more below.
How Does This Cake Differ to Other Rolls?
This recipe utilizes a combination of these two recipes: Japanese Cake Roll with Fresh Cream and Fancy Pattern Cake Roll. If you're not familiar with the cakes in my cake roll series, here are the distinctive features you'll find in each. For the pattern paste in this cake, I used the one from the Fancy Pattern Cake Roll recipe. Because it is yolk-less, it is ideal for blending colors more accurately. For the cake base, I used the one from my Japanese Cake Roll recipe for its taste. It's a richer tasting cake with flavors of eggs and vanilla which some readers prefer. However, it does contain egg yolks so it may be a tad bit more difficult to blend colors accurately. (This Silent Night roll uses a black color in the base so I didn't have any problems coloring it for this particular design.)
Ingredients & Substitutions
Pattern Paste
Gel color - gel colors are a potent form of food coloring that doesn't add excess moisture when added to baked goods. I usually use this brand.
Dry Ingredients for Cake
Cake flour - a low protein flour which will help make this cake softer than if using AP flour. It usually has a protein content between 6-8% while pastry flour, also a lower protein flour, has a protein content between 8-9%. Grocery stores usually sell a combination of cake and pastry flour at 7-9% protein. It can be substituted with all-purpose flour but the cake will be a little tougher than if using cake flour.
Baking powder - helps leaven the cake in case there is any weakness in the meringue.
Fine Sea salt - provides a nice contrast to the sweet taste in the cake and brings out the flavors. Use half the amount if using table salt.
Wet Ingredients for Cake
Whole fat milk - can be substituted with 2%, 1%
Neutral flavored oil - neutral tasting oils like canola, grapeseed, vegetable and avocado are all good choices.
Egg yolks - emulsifies cake and adds flavor.
Granulated sugar - this first set of sugar is added into the wet ingredients to help add moisture and break up the grains when the dry ingredients are added.
Vanilla extract - adds flavor to the cake, this can be substituted with other flavors of extract.
Meringue for Cake
Egg whites - from large eggs. Egg whites whip better at room temperature so keep it out on the counter for about half hour before whipping.
Cream of tartar - is an acid that helps to stabilize the meringue. It can be substituted with double the amount of lemon juice or vinegar.
Granulated sugar - adds stability to the meringue and tenderizes the cake.
Stabilized Peppermint Whipped Cream
Unflavored powdered gelatin - is used to stabilize the cream. This will keep the cake roll nice and round for several days. If you aren't too picky with the roundness, you can skip this process. Only use unflavored gelatin, do not use Jello powder.
Whipping cream (33% M.F.) - has milk fat content of 30-35%. This milk fat percentage will allow the cream to whip to volume. Do not use half & half or regular milk.
Granulated sugar - adds sweetness and stability to the cream.
Vanilla extract - adds flavor, can be substituted with other flavors.
Peppermint extract - adds flavor, can be substituted with other flavors.
Step By Step
How to Paint on Cake Roll
For this Silent Night pattern, I used black and light blue to outline the design. It makes the nativity scene more beautiful and defined but you can also leave it unpainted. Painting should be done after the cake has had a chance to "set" in the fridge. If you try to paint on the cake or cut it right after rolling, it might be too soft to handle. You also won't get the clean cuts you see in these photos.
To paint, mix some gel food color with water and use a very fine paint brush to paint the outline of the stars, mountain and snow. I achieved the best results from using a much finer brush with only a few tiny hairs on it. I dabbed the color on using small brush strokes applied with gentle pressure. Lastly, I recommend painting the cake on the same day you serve it to prevent bleed over time.
Must Read Tips for Great Pattern Cake
This recipe doesn't use a separate "thicker" paste for the Silent Night pattern, we use a near similar cake batter throughout the entire cake. This makes the cake easier to roll and less prone to cracking. Here are some tips on making the pattern roll without a thick paste:
To prevent cracking, use a proper cake roll recipe. Not all cake recipes are meant for rolling because the cake base is not flexible enough. I've tested this recipe many times with various designs and it works!
After baking, there is no need to roll up this cake for "muscle memory". You can let it cool down on the wire rack while making the cream. Assembling it right away with the cream eliminates the amount of times the cake is handled.
To help the design stay in place without the need for a thicker pattern paste, pipe the colored cake batter onto a silicone mat instead of on parchment. The Silpat toaster-sized silicone mat fits perfectly into my 8x12" cake pan.
Optional: To further set small details, the design portion can be chilled before pouring the rest of the batter and baking. Take the silicone mat with the piped design and place it in the freezer for 10-15 minutes.
Can I Make this Cake a Different Flavor?
Yes, the flavor of the cake rolls can be altered by changing the flavor of the cake base or the filing. Keep in mind the flavors of some cake bases like Matcha, green tea, carrots, or chocolate can affect it's coloring. Here are some of my cake roll recipes to help guide you in the process: chocolate cake roll, Matcha green tea cake roll, carrot cake roll, coffee cake roll, cheesecake roll, gingerbread cake roll, pumpkin cake roll, cotton candy cake roll, peach cake cup and Earl Grey tea cake roll.
Silent Night Cake Roll Template
I used the Silent Night Cake Template below to create this design. You can download it for free once you become a member by subscribing to my newsletter.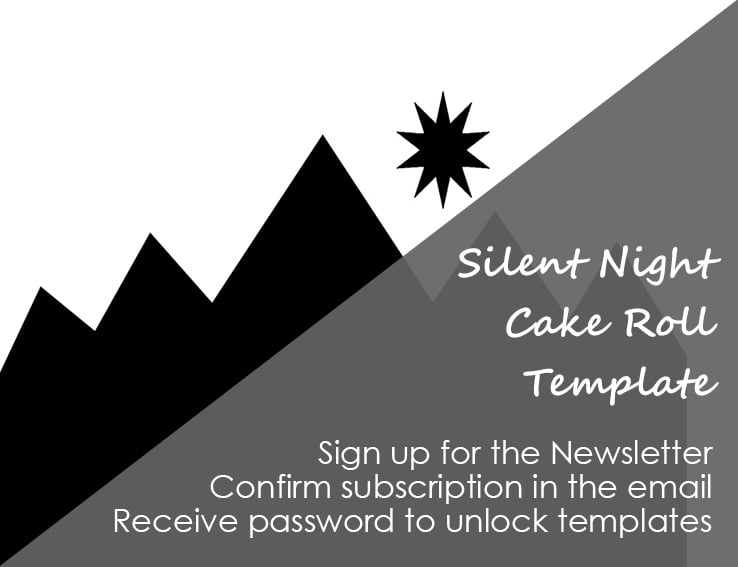 Recipe
Yield: 8 slices
Silent Night Pattern Christmas Cake Roll
A modern and festive Silent Night pattern cake roll filled with whipped peppermint cream. Perfect for Christmas dinner, potlucks and holiday gift-giving.
Total Time
2 hours
45 minutes
Ingredients
Pattern Paste
20 grams cake flour
2 teaspoon granulated sugar (1st set)
1 tablespoon + 1 teaspoon milk
1 teaspoon neutral flavored oil*
2 egg whites
1 tablespoon granulated sugar (2nd set)
Gel food color
Dry Mix for Cake Base
45 grams cake flour*
1 teaspoon baking powder
¼ teaspoon fine sea salt
Wet Mix for Cake Base
25 grams granulated sugar
50 ml whole fat milk
3 egg yolks
40 ml neutral flavored oil
½ teaspoon vanilla extract
Meringue for Cake Base
4 egg whites
50 grams granulated sugar
¼ teaspoon cream of tartar*
Stabilized Peppermint Whipped Cream
1 + ¼ teaspoon unflavored powdered gelatin
5 teaspoon water
1 ¼ cup whipping cream (33% M.F.)
1 tablespoon +¼ teaspoon granulated sugar
½ teaspoon vanilla extract
¼ teaspoon peppermint extract
Supplies
Regular baking tools PLUS:
8"X12" cake pan
Toaster oven silicone mat or parchment paper
Round piping tip #3 or #4
Piping bags or Ziplock bags
Instructions
Pattern Paste
Print out Silent Night cake roll template from post, trim to size.
In a small bowl, combine 1st set of sugar, milk and oil together.
Sift in flour, stir until combined.
In a mixing bowl, whip 2nd set of sugar and egg whites together until stiff peaks form.
Gently fold meringue into the wet flour mixture until just incorporated. Don't overdo it as you can fold a bit more later.
Split the pattern paste into separate bowls and add desired color. Gently fold again to incorporate color.
Transfer into piping bags and pipe desired design onto silicone mat with template placed underneath as guide. Discard leftover pattern paste.
10-15 minutes before pouring cake base over design, place it in the freezer to set small details. It should be dry to the touch.
Fluffy Cake Base
Preheat oven to 325 F.
In a small bowl, combine the wet mix together until combined.
In a large mixing bowl, sift in dry mix. Stir to combine.
Create a well in the center. Inside it, add the wet mix.
Stir to combine until no traces of flour can be seen. Do not overmix. Set this milk-flour mixture aside.
Now make the meringue. In a clean and dry, non-plastic mixing bowl, whip egg whites on slow speed until frothy, add cream of tartar.
Increase speed to medium, once the whites become opaque and bubble size have decreased, add sugar a little bit at a time.
Increase speed to med-high, whip until stiff peaks.* This is the meringue.
Gently fold ⅓ of the meringue into the milk-flour mixture to get it moving. Once incorporated, fold in the rest of the meringue until no clumps of meringue are visible. Do not stir. Use batter immediately.
Transfer some of this cake batter into a piping bag fitted with a small round tip (e.g. round #10).
Place mat with frozen pattern paste design into cake pan. Carefully pipe cake batter around design.
Gently pour the rest of the cake batter into cake pan, spread out the batter evenly with an angled spatula.
Very lightly tap the pan on the counter to release large air pockets.
Bake for 14-16 min. at 325 F until a skewer pulls out clean and cake springs back in the center.
Let cool 5 min. in the pan before removing.
Place cooling rack over cake pan.
Flip cake over onto the rack, gently remove paper.
The side facing up will eventually become the top of the cake roll. Let it sit on cooling rack while making the cream filling.
Stabilized Peppermint Cream
Refrigerate mixing bowl and beaters in the fridge for a minimum of 15 minutes. This will help cream whip better.
Place water in heatproof cup and sprinkle gelatin on top to bloom. Wait 5 minutes.
Place cup in a small sauce pan filled with simmering water. Once gelatin becomes liquid, take it out of the water. Let cool on the counter.
Immediately start beating the cream and sugar in a stand mixer fitted with the chilled bowl. Whip on low speed and then increase to medium.
Check on the gelatin. It should no longer be warm but still runny.
Once the beaters leave tracks in the cream, pour the gelatin into the bowl slowly and steadily. Aim for the area in between the whisk and the bowl.
Once the cream has gained volume and is at a soft peak stage, add the extracts and whip on med-high until stiff peaks. Do not over whip.
Use cream to assemble the cooled cake immediately.
Assembly
Lay plastic wrap on the counter and flip cooled cake on top with design side facing down. Spread an even layer of cream on the cake.
Carefully roll up the cake from the short edge using the plastic wrap to help push the cake onto itself.
Wrap with plastic wrap and place in refrigerator to set before painting and cutting.
Optional: on the same day the cake is to be served, dilute the gel color with a tiny drop of water until it is a paintable consistency. Use an extra fine food grade brush to paint on the outline of the design. Add gold foil to the night sky.
Before serving, cut off sides for a cleaner presentation.
Notes
Cake flour is a low protein flour which will help make this cake softer than if using AP flour. It usually has a protein content between 6-8%. It can be substituted with all-purpose flour but the cake will be a little tougher than if using cake flour.
Neutral flavored oils include: canola, grapeseed, vegetable and avocado. Do not use peanut or sunflower oil.
Stiff peaks stage in meringue making is reached when the whisk is pulled out and meringue points upwards without drooping on itself.
This whipped cream is stabilized to keep the cake roll nice and round for several days. If you are not too picky with the roundness, you can skip using the gelatin.
Recommended Products
As an Amazon Associate and member of other affiliate programs, I earn from qualifying purchases.
Nutrition Information
Yield
8
Serving Size
1
Amount Per Serving
Calories

289
Total Fat

21g
Saturated Fat

10g
Trans Fat

1g
Unsaturated Fat

10g
Cholesterol

112mg
Sodium

185mg
Carbohydrates

21g
Fiber

0g
Sugar

14g
Protein

6g
This information is provided as a courtesy and is an estimate only. This information comes from online calculators. Although indulgewithmimi.com attempts to provide accurate nutritional information, these figures are only estimates.