Matcha macarons has green tea infused into the shells making them extra flavorful. White chocolate ganache is sandwiched in between for a delicious Japanese-bakery-inspired flavor pairing.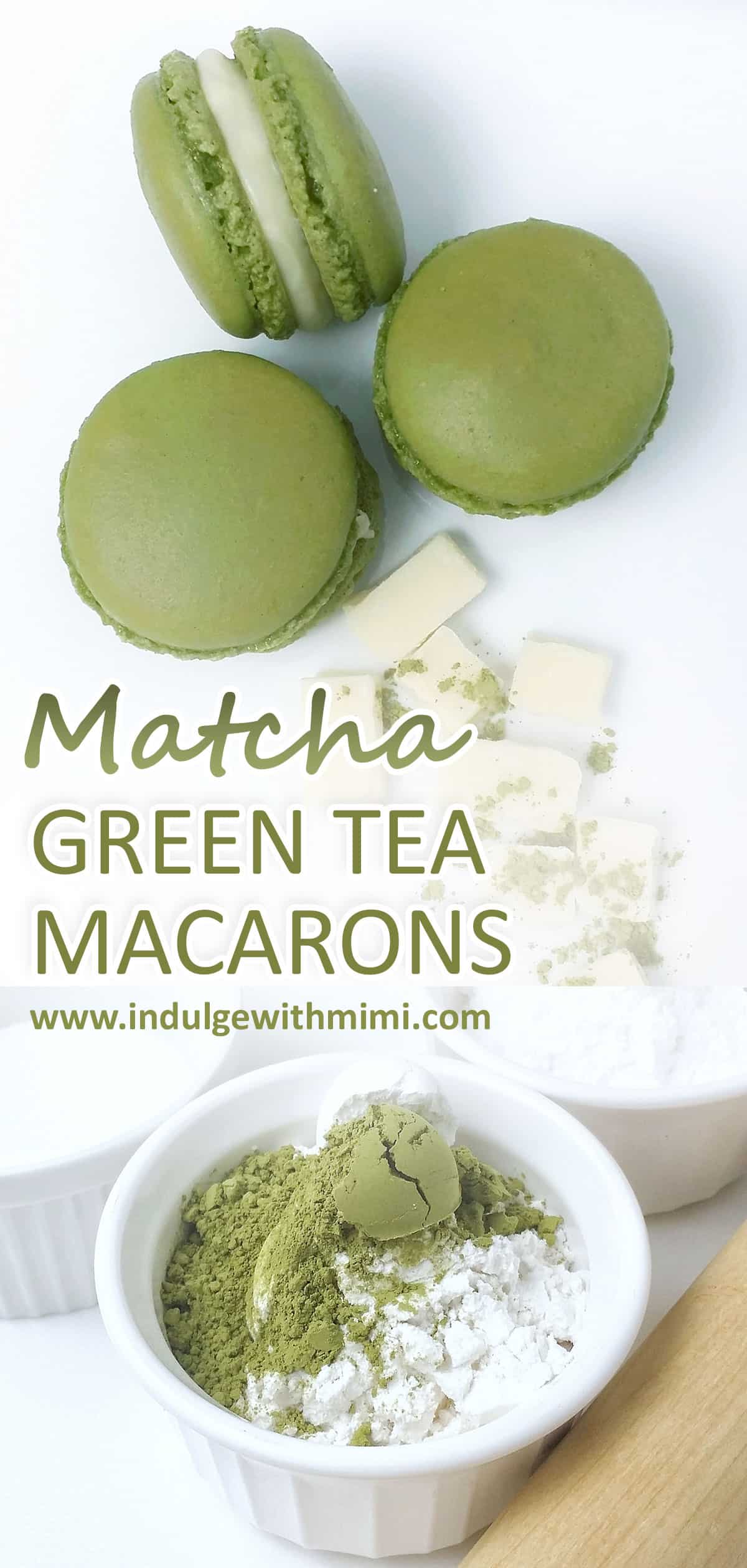 Jump to:
Tea Infused Macaron Shells
Matcha green tea macarons is one of the most popular macaron flavors and for good reason. Matcha green tea has a slightly bitter taste and is a great contrast to sweet macaron shells which are comprised mainly of sugar and almonds. Green tea and white chocolate filling is a great pairing, especially so for those who find macarons to be "too sweet". The astringency from the matcha powder will help to balance out the sweetness.
Matcha powder is one of my favourite flavourings to use in baking because the flavour is so stable and comes out true to taste across a variety of different baked goods. This is the case for matcha macarons as well.
What is Matcha?
Matcha is a powdered tea specially cultivated from green tea leaves that have been shaded from the sun for several weeks before undergoing a special processing technique which involves stem removal and de-viening. It is then ground up into a fine green tea powder that has a beautiful vibrant green tea color. Popular culinary usage of matcha can be seen in a wide range of drinks an desserts like matcha latte, matcha crepe cakes and matcha cookies. It is also a beloved flavor used in desserts because the earthy profile and astringency contrasts extremely well with the sweetness in desserts. Here are a couple of my most popular matcha recipes: Matcha cake roll with red bean cream, Matcha pound cake.
Where Can I Buy Matcha Powder for Baking?
Matcha powder is an easy product to find in Japan where it is used for the elaborate traditional tea ceremony or for regular use in brewing everyday tea or baking desserts. I am able to find Matcha powder that is sourced from Japan in my hometown of Vancouver, Canada because we have a large population of Asians here. I can usually found it in Japanese convenience stores and other well-stocked Asian food stores. If you have difficulty finding matcha powder in your city, try this highly rated one with Japanese origns which you can find online.
The packaging will usually tell you if it's either ceremonial grade or culinary grade Matcha. Ceremonial grade matcha is usually reserved for drinking on its own so many discerning connoisseurs look for the very best. For our use in matcha macarons, a culinary grade matcha is sufficient, especially if you want to cut down waste if you're in the practice stage of macaron baking.
What Filling is Best for Green Tea Macarons?
I've tried pairing this matcha macaron with both a chocolate ganache and white chocolate "ganache". The white one was the hands down winner because it did the best job in highlighting the distinct characteristics of the bitter matcha flavour. This will be the recipe that I will be sharing with you today.
Another classic flavor inspired by Japanese baked goods is matcha macarons filled with Adzuki red bean cream. I don't have a dedicated recipe for this yet but the red bean cream can be easily made with this recipe for Matcha cake roll with red bean cream. Just make the red bean paste portion only and then use the white chocolate filling in this recipe to pipe a hollow circle to create a dam. In the center, add a dollop of the red bean cream. (I don't recommend using the paste on it's own as will be too soft.)

I hope you enjoy this new recipe for Matcha green tea macarons too.

XOXO,
Mimi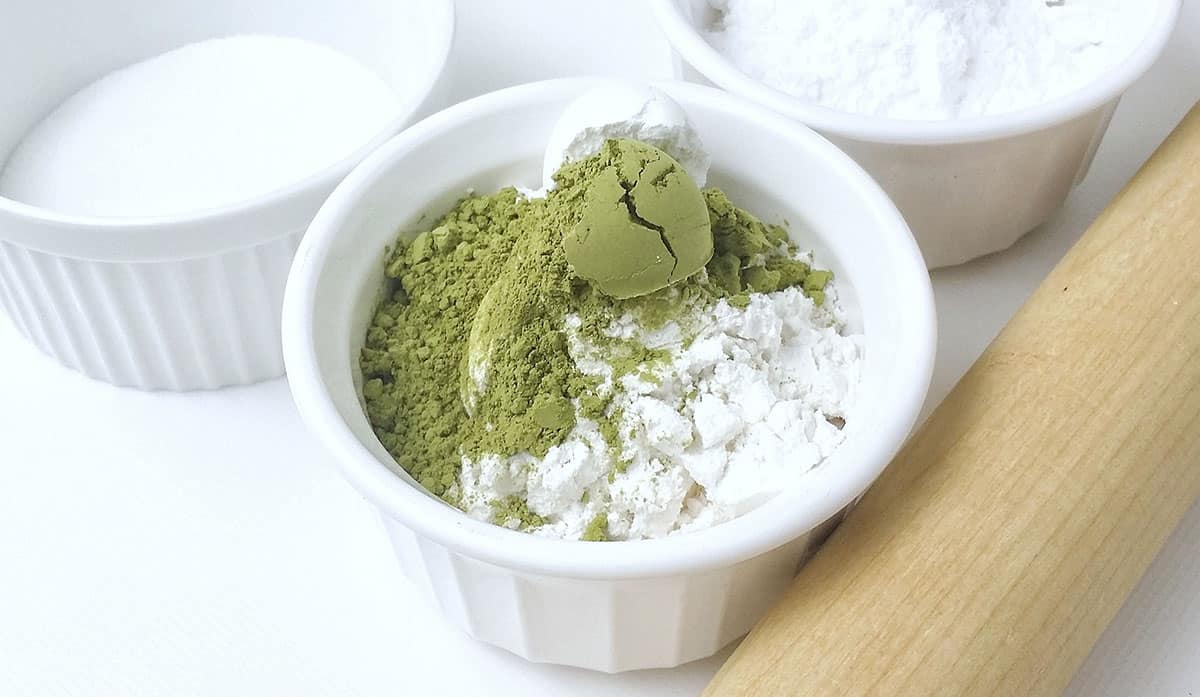 Recipe
Yield: 12 assembled macarons
"Matcha" Green Tea Macaron Recipe
A beloved Japanese flavor in macaron form. Matcha green tea is infused into the shells making the macaron extra flavorful. White chocolate ganache is sandwiched in between for a delicious flavor pairing.
Additional Time
1 hour
30 seconds
Total Time
1 hour
44 minutes
30 seconds
Ingredients
Ingredients for the Shells:
65 grams powdered sugar
45 grams castor sugar (or a.k.a "berry" sugar or extra fine granulated sugar)
⅛ teaspoon cream of tartar or 1 teaspoon of lemon juice
Green GEL Colour of your choice (DO NOT use liquid color)
1 tablespoon matcha powder
Ingredients for the Filling:
100 grams chopped white chocolate
30 grams heavy cream
Instructions
Matcha Macaron Shells Instructions
Set aged egg whites out at room temperature.
Print out free macaron template in the Subscriber's Only Area.
Pulse almond flour, icing sugar, and matcha powder together in a food processor.
Sift dry ingredients. Discard big pieces of almond that can't be sifted.
IF YOU ARE NEW TO MAKING MACARONS, please read the instructions to my BEST MACARON RECIPE before attempting to follow the rest of the instructions since it is condensed for the advanced macaron baker.
With the balloon whisk attached, whip the room temperature egg whites on low-medium speed.
Add cream of tartar when it becomes foamy.
Turn up the speed to medium.
Once the whisk starts to leave tracks in the egg whites, add sugar a little at a time.
Turn the speed up to medium-high and whip until stiff peaks.
Add green gel colour if desired to meringue.
Fold the almond flour and meringue together until the batter becomes a "lava" or honey-like consistency.
Transfer batter into piping bag fitted with a round piping tip.
On parchment paper or silicone mats, pipe the round macaron shells.
Wait until the shells have developed a "skin" and have become completely dry before baking. This is critical to prevent cracking.
Bake at 325F for 12-14 minutes. Every oven is different, you may need to adjust your own temperature settings. Please read How to Use Home Oven Properly for Baking Macarons if you are unsure.
Once baked, let cool completely before removing from the baking mat/parchment paper.
White Chocolate Ganache Macaron Filling Instructions
Chop up or grate white chocolate into fine pieces.
Heat up the heavy cream in a small sauce pan on low heat, watch it so that it doesn't over boil.
Once it starts to steam and small bubbles appear on the side, immediately pour it over the chopped white chocolate.
Blend well with a spatula until fully incorporated.
Let it cool and firm up a bit before piping
Assembly:
Find two similar sized macaron shells.
Pipe a dallop of the the ganache in the center of one of the shells, assemble with the other shell.
Place in an airtight container and let mature for 24 hours before serving. Enjoy!
Notes
*Egg whites should be measured first and then aged. DO NOT use meringue powder as a substitute.
Nutrition Information
Yield
12
Serving Size
1
Amount Per Serving
Calories

123
Total Fat

6g
Saturated Fat

2g
Trans Fat

0g
Unsaturated Fat

3g
Cholesterol

5mg
Sodium

15mg
Carbohydrates

15g
Fiber

1g
Sugar

14g
Protein

2g
This information is provided as a courtesy and is an estimate only. This information comes from online calculators. Although indulgewithmimi.com attempts to provide accurate nutritional information, these figures are only estimates.