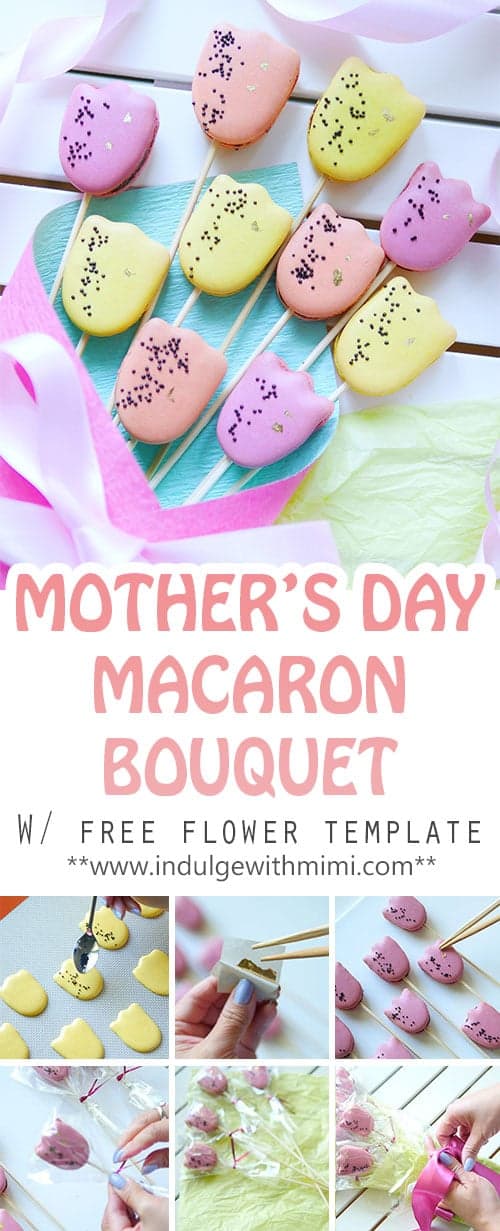 Today we celebrated mom's day way up high in Top of Vancouver Revolving Restaurant. It was a lively get together which included our two moms, my family and hubby's family. We presented our moms with these flower macaron bouquets I created for them.
I'd like to say that somehow I inherited mom's skills towards working with my hands. She is perhaps the most handiest woman (or person) I have ever known in my entire life. I'm not kidding. Sometimes professional tradespeople whom we'd dealt with for construction or repairs would comment that she had a remarkable knowledge of their trade. Not only could she fix and build innumerable things around the house but she is also very capable in divulging in more feminine pursuits like sewing, knitting and most recently, baking! Sometimes when I'd show mom some of my baking projects, I could see how she would look over them very intently and almost appeared to be silently critiquing them in her own head. For some special items that she liked, she would look at them with a sort of appreciation and break just a small smile at them. I almost wonder in those moments, did she marvel at somehow passing me a small sliver of her special talent?
Well, I know that's enough gushing about moms. I believe that in every child's heart, their own mom is the best mom in the whole world and I hope you had a wonderful day celebrating. For those who are reminiscing with only memories or those who are hoping to be moms one day, you are in my thoughts ♥♥♥
XoXo,
Mimi
Here are some photos I took today from our brunch and the flower bouquets. There are some free flower macaron templates at the very bottom for you to download too!
Follow my Best Macaron Recipe on how to make the flower shells.
[srp post_limit='5' post_random='yes' category_include= 24 widget_title = 'Other cuties you might like']