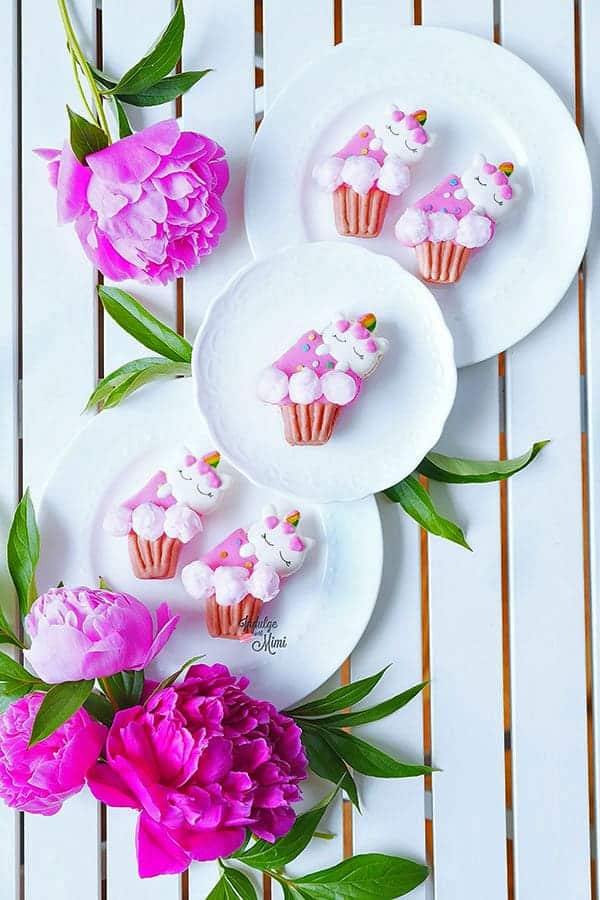 Unicorn macarons are definitely good but unicorns with rainbow horns hanging onto a cupcake topped with cotton candy are GREAT! Ever since I created Tri-color Unicorn Macarons over the holidays, I've been thinking of new ways to incorporate this magical creature into my creations. Another project I did was the Double Unicorn Macarons which was a collaboration with Christina's Cupcakes |(see it here) . Today's project is unicorns hanging onto one of the most photogenic treats out there - sweet pink cupcakes! I think it has everything I ever wanted in Macaron Art.
How to Prepare Multiple Batter Colors
You'll need to prepare three sets of batters using my Best French Macaron Recipe. Pay attention to the ingredients for the pink batter, you'll need a little bit more of it. For macaron art, I like to prepare different sets of batter separately instead of dividing them up into small amounts and folding in the color. I think there is too much room for mistakes that way. Over folding is a big concern since you're adding colour to the finished meringue and not during the whipping process. I prefer to prepare different batters the longer and more reliable way. After all, it's macaron art. It requires patience to realize the vision. Plus, you will realize very quickly that there will be much more tears in the kitchen when you've spent lots of precious time piping your little works of art only to find that they don't bake properly.
I always have everything weighed out and ready to go. As soon as I have added the gel colour and finish whipping up a batch of meringue to stiff peaks, I will start folding it along with the almond flour. During this folding time, I already have another batch of meringue mixing in the Kitchenaid Mixer. It helps to work pretty quickly so the folded batter doesn't have to wait too long and dry out. To further prevent this, I transfer the batter into the piping bag. And of course, it helps to have a stand mixer and several Kitchenaid bowls at your disposal.
So that's how I do it and that's one of the ways I found to keep me sane while making macaron art 🙂
My Preferred Method 
have everything weighed out and ready to be used.
Whip egg whites and add cream of tartar and sugar at the appropriate stages. After adding gel colour to the meringue and it has reached stiff peaks, stop the Kitchenaid stand mixer, take out the bowl and start whipping another bowl of aged egg whites.
Start folding the meringue with the almound flour.
All the while, pay  attention to the second batch of meringue that is currently being whipped. Continue to add cream of tartar and granulated sugar as per recipe instructions.
Go back to your folding whenever you can. Once you've folded to the honey or lava stage, transfer the batter into a piping bag to prevent it from drying out.
The second batch of meringue should be ready to be used now. Continue steps 2 to 5 until you've created all the colors you need.
A Simpler Method
A simpler method to creating multiple colored macaron batters is to make one big batch of meringue and then split it up amongst bowls filled with equally weighted almond flour. Please read my brand new tutorial on How to Create Multiple Colored Macaron Batters.
Adding Cotton Candy
The cotton candy is optional. I added it because I had it on hand from my afternoon experience at Trump Hotels and thought it was a great opportunity to experiment with it. It's so fluffy and make the design really Pop! However, please note it needs to be added on immediately before consumption since they deflate within half an hour.
Video & Template
I've included a video to show you the steps in piping this character. Pipe each part according to the steps shown since you'll need to wait until certain parts dry up before adding more batter to it.
As for the template, make sure you print out BOTH of the unicorn cupcake templates. It's an assymetrical design so that's the way to make both the top and bottom shell match when they're assembled. This situation actually arose with one of the readers who used my Over the Rainbow Macarons, the clouds weren't matching up after baking because they had missed reading the instructions to print out BOTH templates.
Giveaway
Lastly,  I'm going to be drawing a winner in four days for my latest Giveaway. There's still time to enter. Get the instructions here.

Good luck!

XOXO,
Mimi
Piping Step By Step
Unicorn on Cupcake Macaron Templates
Sign up for the newsletter, wait for the confirmation email, confirm your subscription and you will be sent the password to exclusive templates for subscribers only.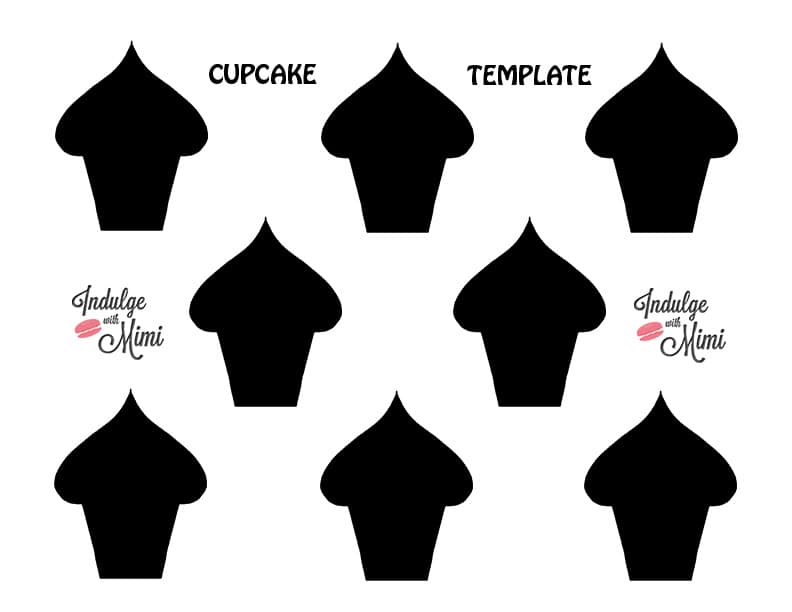 Recipe
Yield: 18 Macarons
Unicorn on Cupcake Macarons
Cute Unicorn on Cupcake macarons using multi-colored batters.
Prep Time
1 hour
30 minutes
Total Time
2 hours
15 minutes
Ingredients
Supplies
Kitchenaid stand mixer or handheld mixer and a mixing bowl
food processor (if making own almond flour)
spatula
heavy duty baking pan
silicone SILPAT mat or parchment paper
gel food colours
fine piping tip (ex. Wilton 4)
medium piping tip (ex. Wilton 10)
piping bag
rainbow confetti sprinkles
edible pen
tweezers
White Macaron Batter
65 grams almond flour
65 grams icing sugar/confectioner's sugar
50 grams egg whites, aged
45 grams castor sugar*
⅛ teaspoon cream of tartar
Pink Macaron Batter
85 grams almond flour
85 grams icing sugar/confectioner's sugar
65 grams egg whites, aged
58 grams castor sugar
¼ grams cream of tartar
1 drop pink gel colour (Deep Pink by Americolor)
Brown Macaron Batter
65 grams almond flour
65 grams icing sugar/confectioner's sugar
50 grams egg whites, aged
45 grams castor sugar
⅛ grams cream of tartar
1 drop brown gel colour (Warm Brown by Americolor)
Small Batch Edible Glue
20 grams icing sugar
1 ½ tsp. of meringue powder
water in a spritzer bottle
Instructions
Basic Macaron Shell
Set aged egg whites out at room temperature.
Pulse almond flour and icing sugar together in a food processor to further break down any large pieces of almond flour.
Sift dry ingredients: almond flour, icing sugar. Discard big pieces of almond that can't be sifted.
If you are new to baking macarons, please read the instructions to my BEST MACARON RECIPE before attempting to follow the rest of the instructions since it is condensed for the advanced macaron baker.
With the balloon whisk attached, whip the room temperature egg whites on low-medium speed.
Add cream of tartar when it becomes foamy.
Turn up the speed to medium.
Once the whisk starts to leave tracks in the egg whites, add sugar a little at a time.
Turn the speed up to medium-high and whip until firm peaks, stop mixer and
add gel food color if desired. Continue whipping on medium-high until
stiff peaks.
Fold the dry mix and meringue together until the batter becomes a "lava" or honey-like consistency.
On parchment paper or silicone mats, pipe out round shaped macarons.
Rap the tray hard on the counter to remove any excess air bubbles. Use a toothpick to pop any remaining bubbles.
Wait until the shells become completely dry before baking.
Bake at 325F for 12-14 minutes. Every oven is different, you may need to
adjust your own temperature settings. Please read How to Use Your Home
Oven Properly for Baking Macarons if you are unsure.
Macarons are done when the foot doesn't push back and the tops don't move when you wiggle it.
Once baked, let cool completely before removing from the baking mat/parchment paper.

Small Batch Royal Icing
Combine the dry ingredients in a glass bowl.
Spritz the water onto the dry ingredients a little at a time and then blend everything together until you reach a thick consistency. If it's too runny, add more sugar. A spritzer is great for controlling the amount of water you are adding at one time.
Notes
Castor sugar is also known as extra fine granulated sugar or berry
sugar. Granulated sugar can be used by castor sugar is preferable.
Nutrition Information
Yield
18
Serving Size
1 grams
Amount Per Serving
Calories

231
Total Fat

6g
Saturated Fat

0g
Trans Fat

0g
Unsaturated Fat

5g
Cholesterol

0mg
Sodium

16mg
Carbohydrates

43g
Fiber

1g
Sugar

40g
Protein

4g
This information is provided as a courtesy and is an estimate only. This information comes from online calculators. Although indulgewithmimi.com attempts to provide accurate nutritional information, these figures are only estimates.
[pt_view id="fadd1270n6"]